Do your kids have to have a nightlight on at night while they sleep? Mine did when they were younger and even now, I keep a nightlight burning in the bathroom so that it's easier for my family when they wake up in the night, as opposed to leaving the light burning all night. I was thinking about that nightlight recently and wondered just how easy it would be to DIY a new one to better match my bathroom décor. Would you believe I found 25 easy DIY nightlights that will match any décor?
I did and I couldn't be more excited. Not only are these great for home, they make wonderful gifts, too. I found a lovely nursery nightlight that you can make in a matter of minutes. If you have a baby shower coming up this season, this is a wonderful gift. These are all really easy to DIY and many of them are great for kids' bedrooms. Some of them are even great for adults' bedrooms! Whatever your current home décor, there is definitely a DIY nightlight in here that will match it. And, you need to be sure to check out these 15 candles and votives you can DIY, too.
I love DIY lighting. Whether it's for indoors or out and these DIY nightlights are all so fabulous. From cheap and easy five minute nightlights to some that will take a bit longer but definitely look much more professional, you will find a DIY nightlight to match every style, every décor and every single person in your home. Fun kids versions are great for helping your little ones to feel safer in their beds at night and they are so much fun to make. Also, if you love DIY lighting, you will want to take a look at these 20 DIY garden lighting projects that will illuminate your outdoors beautifully.
1. DIY Three Minute Nursery Nightlight
These easy DIY nursery nightlights can be made in just three minutes each and they are gorgeous. You can make these for your own nursery or make a couple to give as gifts at an upcoming baby shower. Nightlights in the nursery are a wonderful idea – they don't give off too much light so they won't keep baby awake but they give off enough light so that you can see when you have to go in late at night.
Tutorial: themaven
2. Cute DIY Book Nightlights
If you have kids, or if you love the written word yourself, these DIY book nightlights are the perfect project for you. You need a hardback book for this one and if you don't have one on hand that you want to use, check your local thrift stores. They normally have them for a dollar or less per book. These are super easy to put together and look so lovely just sitting there on the dresser with a little light coming out.
Tutorial: grathio.com
3. Pint Sized Mason Jar Clear Nightlight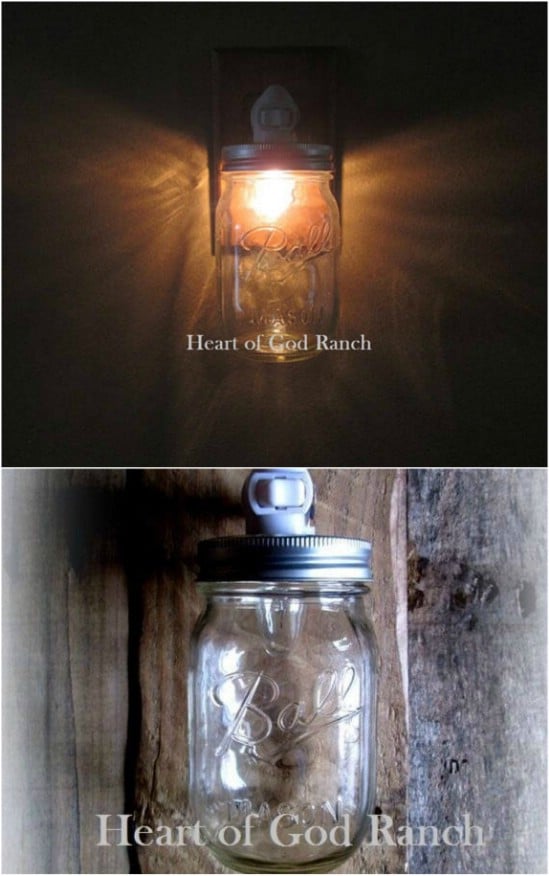 I love this little mason jar light. You just add an LED candle or some string lights and then hang it on some rustic wood. You can even do it with an ordinary nightlight so that you have an easy to access on and off switch. This would be such an easy DIY project, or you can just check out the one that I found on Etsy. It's under $20 and comes in a variety of different colors and just plugs into a standard outlet. Definitely add this one to your list of DIY mason jar home décor projects.
Source: etsy.com
4. Fun DIY Constellation Jar Nightlight
For kids, this DIY constellation jar nightlight is perfect. You can make this with a small mason or jelly jar and it's a super easy DIY project. You just need the jar, a disposable cake pan and some lights, along with a few craft supplies. Make any constellation that you want or invent your own. Kids will love the soft light that this gives off and they will adore watching the stars dance on their walls and ceilings at night.
Tutorial: designmom
5. Whimsical DIY Motel Sign Nightlight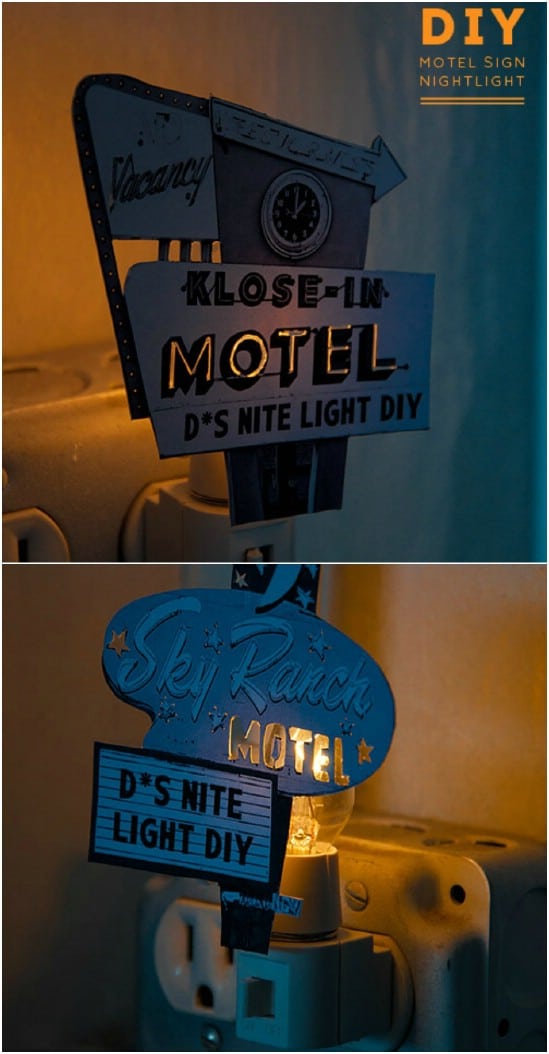 I adore this little nightlight that looks just like an old fashioned motel sign. This is a super easy DIY nightlight to make and it fits over a standard nightlight that you can pick up at the Dollar Store for around a dollar. You can print the design off of your computer and onto thick craft type paper or use an old postcard if you have one.
Tutorial: designsponge
6. DIY Cloud Nightlights
Kids are going to love these DIY cloud nightlights. They are super easy to make and when it's finished, the nightlight looks like a real storm cloud…minus the scary thunder. You need just a few things to make these and they are really cheap materials. With some batting, a string of lights and a few paper lanterns, you will be well on your way to creating the ultimate DIY cloud nightlight.
Tutorial:
7. Upcycled Plastic Bottle Fairy Nightlight
If your kids love fairies…and most do…then these little DIY fairy nightlights that you make from upcycled plastic bottles are perfect for their bedrooms. Or, you could leave one of these in the bathroom to light up the way for when they get up at night. These are so easy to make and so adorable when they are finished. You just need plastic bottles, LED lights, silk flowers and a bit of imagination – as well as a few basic craft supplies – to make these.
Tutorial: craftsbyamanda
8. Adorable DIY Olaf Nightlight
If your little ones adore Frozen, they are really going to love this little DIY Olaf nightlight. It looks just like the lovable snowman from Frozen and it is really easy to make. For this one, you just need a couple of polystyrene cups, some tape, pipe cleaners, google eyes and a few basic craft supplies. Any lover of Frozen will love having this little Olaf nightlight in their bedroom.
Tutorial: sunhatsandwellieboots
9. Frosted Beach Theme Mason Jar Nightlight
I love a good mason jar DIY project and this little frosted jar with a beach theme is one of my favorite nightlight ideas. This is a super easy project if you want to make it. You just gather some empty mason jars, frost them with appropriate paint and then add your beach themed decoration. You can also check out this lovely one with flamingos that I found on Etsy for just $14.
Tutorial: etsy.com
10. DIY Light Up Fireflies
Your kids are really going to adore these little fireflies that serve as nightlights. You make these with plastic Easter eggs and they could not possibly be more adorable. You don't even need a lot of materials or supplies to make these and there is no glue required. You just need a battery powered light, a plastic egg for each one that you want to make and then a few craft supplies to decorate them and turn them into adorable little fireflies.
Tutorial: diyncrafts
11. Cute DIY Hot Air Balloon Nightlight
For kids, this DIY hot air balloon nightlight is perfect. It's really colorful so it's perfect for décor during the day and the balloon lights up at night to give them a soft glow in their bedroom. You can make this from upcycled tin cans, which makes it even better in my book because it turns trash into treasure. This is great for nurseries or toddler's bedrooms especially.
Tutorial: alinakelo
12. Frosted DIY Fairy Lanterns
Here is another wonderful way to incorporate fairies into your DIY nightlight. These little frosted jars have actual fairies living in them…well, not really, but they look like they do. You do these with fairy cutouts and LED lights, as well as empty glass jars and when they are finished, they are gorgeous. This is such a simple project and perfect for kids' rooms or bathrooms.
Tutorial: pixiehill
13. DIY Gem Nightlight
This DIY gem nightlight is perfect for bathrooms or hallways and it is super easy to make. You make this with cardstock and vellum, along with a standard plug in nightlight. You could do any gem that you wanted and in any shape as long as you have a template to get the right size. These take very little time and are so adorable when they are finished.
Tutorial: almostmakesperfect
14. Gorgeous Glass Block Nightlight
Who knew that a simple glass block could produce such a lovely nightlight? This one is so simple. You just add string lights to a glass block, which you can get at any home improvement store, and then add whatever decorations you want. I love this "Home" nightlight that I found on Etsy. You can get this one, if you don't want to do this on your own, for about $20 and it comes with the lights and decorations.
Tutorial: etsy.com
15. DIY Glittering Canvas Nightlight
I love the idea of turning your DIY nightlight into a work of art, which is exactly what this glittering canvas light does. You just choose the design that you want your lights to take on and then create it by poking holes in a canvas and adding string lights. How easy is that? You can add as few or as many lights as you want, depending on how much light you need in a nightlight.
Tutorial: apartmenttherapy
16. Easy DIY Glowing Rope Rug
There is absolutely no rule that says your DIY nightlight has to sit on a dresser or be plugged into a wall outlet. Just take a look at this lovely glowing rope rug. This is super easy to make and the most unique nightlight that I have ever seen. To make this one, you just crochet around a rope light. It's pretty easy, even if you don't crochet a lot and it's great for practicing your stitches! These would make wonderful DIY crochet gifts, too.
Tutorial: grosgrainfabulous
17. DIY Lighted Canvas Nightlight
A simple canvas and a light bulb give you just about all you need to make this lovely lighted canvas nightlight. You just create the message that you want with canvas and then add your light. Well, there is a bit more to it than that, but you get the picture. It's a super simple DIY nightlight that is perfect for hallways or even bathrooms…wherever you need it.
Tutorial: designsponge
18. DIY Starry Pyramid LED Nightlight
This little DIY pyramid nightlight has a lovely design of stars and it's perfect for bedrooms, dens or other rooms that you need to light up just a bit. This one is really easy to make, too. You make this with a print off of the stars, or any other design that you want, and then fold it into a pyramid shape. The light comes from a battery powered LED light. You can even design this one to attach to the wall.
19. Cute Hand Folded Origami Nightlight In A Jar
These little origami cranes are the cutest things that I have ever seen, especially since they are in a jar and surrounded by lighting. You can easily create your own DIY origami nightlight, too. If you know how to do origami, just fold your papers into the design that you want and then add some dainty lights to your jar. Or, check out this one that has origami cranes. I found it on Etsy for just $30.
Source: etsy.com
20. Easy DIY Wired Nightlight
This little nightlight is made from a standard plug in nightlight and some wire. You can shape wire into just about any shape that you want and then attach it to the nightlight base to give it a bit more of a decorative touch. This one is super easy and really cheap. Those nightlight bases are just a dollar or so and wire is really inexpensive. You could make a DIY shaped nightlight for every room in your house for just a few dollars.
Tutorial: craftsunleashed
21. Simple DIY Glow Jar Nightlights
These little glow in the dark jars are perfect as DIY nightlights. This is one of the simplest projects and you don't have to worry about plug ins or batteries. And, you can use upcycled glass jars that you might otherwise throw out. Keep those pickle jars, glass mayo jars and any other jars that you don't need and turn them into lovely glow in the dark nightlights!
Tutorial: latesthandmade
22. Cute Vintage Camera Nightlight
If you love taking pictures then you are going to adore this DIY nightlight that you make from an old vintage camera. This is such a cute project and so very easy to make. If you don't have a vintage camera, I suggest checking with your local thrift stores. They always have a lot of vintage stuff for really cheap. Once you have a camera, you can turn it into the perfect DIY nightlight for photographers.
Tutorial: instructables
23. So Easy DIY Wine Bottle Nightlight
This DIY wine bottle nightlight is honestly the easiest thing in the world to make, and you don't need a ton of supplies and materials to do it, either. You just need an old wine bottle and some clear lights. This is a great DIY nightlight for the hallway table or for bathrooms or bedrooms. They just don't get any easier than this one and I love the appeal of a lit up colored wine bottle! I love DIY wine bottle projects.
Tutorial: witandwhistle
24. Retro VHS Tape Nightlight
How adorable is this retro VHS tape nightlight? If you love old movies, or are a fan of cinema at all, you are bound to love this one. You can do these as gifts and give them out to movie lovers, too. Just find those old VHS tapes in your closet or check local thrift stores. Ours has them for less than a dollar per tape, so they are super cheap. I love the idea of giving the gift of a vintage movie! And, if you don't want to make these yourself, check out the ones that I found on Etsy for under $21.
Tutorial: etsy.com
25. Repurposed Wire Basket Light
So I found this DIY light project and thought that it would make an excellent DIY nightlight as well. You just need to use a smaller basket. My Dollar Tree has a set of three tiny baskets for just a dollar, so you could easily make three of these for under $5 even after you buy the lights and other supplies. These are really cute and are perfect for your little ones' bedrooms or for a bathroom nightlight.
Tutorial: poppytalk