Crocheting is quickly becoming a favorite hobby for many.
Even if you're relatively new to the yarn game, there are so many wonderfully easy patterns out there. In fact, there are a number of things that you can easily crochet right now and have them finished by the end of the day.
I've collected 30 of my favorite beginner crochet patterns to share with you.
These are things that would make wonderful gifts too so if you're in a pinch and need a gift quickly, grab those crochet hooks and get started!
Jump to:
1. Easy Crochet Laptop Case
This gorgeous laptop case can easily be crocheted in just a couple of hours and it gives you the opportunity to work with different colors of yarn.
It's a simple case that the laptop slides into and then it has a nice secure latch that you'll sew on a button for.
It really is easy and it's a lovely case that is perfect for anyone who carries a laptop with them regularly – the soft yarn will also help to keep the laptop protected.
Pattern/Source: rusticstitches
2. Foolproof Crochet Infinity Scarf
This gorgeous infinity scarf is as easy to make as it is fun to wear. It's literally foolproof so even if you mess up a few stitches, it won't show. Plus, it's a super easy pattern.
The scarf is about 50 to 60 inches long when it's finished and there's an additional pattern to create the button tie embellishment. If you need a quick and stylish gift idea, this is it.
Pattern/Source: mooglyblog
3. Adorable Crochet Baby Cardigan
If you have an upcoming baby shower and you want an adorable homemade gift, this baby cardigan is perfect.
The pattern includes step by step instructions written out completely so there's no confusion. It's a super simple little sweater to make and could be for a boy or girl depending on the yarn you choose.
Plus, it will only take you a couple of hours to finish even if this is your first crochet project ever.
Pattern/Source: thespruce
4. Snowflake Shaped Crochet Trivet
This snowflake trivet can be used as a last minute Christmas gift or anytime throughout the year. It's a mixture of crochet and sewing and uses upcycled bottle caps and a few other tricks to make it.
It's really easy though and gives you a wonderful opportunity to practice your simple crochet stitches.
Plus, you'll have a nice little trivet to give out as a gift when you're finished, and it won't take you long – you could turn out a few of these in a day's time.
Pattern/Source: thespruce
5. Lovely Crochet Beaded Necklace
This project is a bit different but it's just as easy as the others. Instead of crocheting with yarn, you're actually crocheting the beads onto this necklace. It's a wonderful gift idea and it's so easy to do. Even if you have never crocheted or never even made jewelry, you can do this in just about an hour or so and it will make a wonderful gift for anyone you know who loves unique jewelry.
Pattern/Source: notesfromthesomething
6. Beginner's Crochet Chain Necklace
This chain necklace crochets really easily and you can complete it in an afternoon. If you need a unique gift idea for someone who loves jewelry, this is perfect. The pattern instructions are really easy to read so there's no confusion throughout and it makes a beautiful crochet necklace that has interlinking chains. Do two different colors and practice on color changing.
Pattern/Source: sharalambethdesign
7. Simple Crochet Hot Pad
One of the first things I remember seeing that was crocheted was my grandmother's hot pad. Well, she had several that she had crocheted and I remember thinking how detailed and beautiful they were. Any woman would love receiving a hand crocheted hot pad for her kitchen and you can make these in just about an hour each. The design is lovely in the shape of a flower, and it's the perfect last minute gift for someone who has everything.
Pattern/Source: freecraftunlimited
8. Easy Crochet Grocery Bag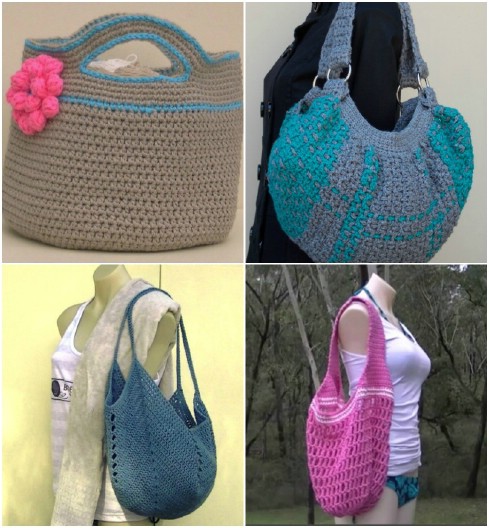 Give a gift that your recipient will use over and over. This grocery bag is so easy to crochet and you can make a couple of these in a day.
You use two colors to give it a great contrast and it really is a simple pattern to follow.
This could also be a beach bag or just a regular tote, depending on how it's used. If you need an awesome and easy gift idea to crochet, this is it.
Pattern/Source: bobwilson123
9. Easy To Crochet Hook Case
If you're looking for a great gift idea for a fellow crochet lover, this easy crochet hook case is just what you need. With separate sections for crochet hooks, it will help to keep those hooks handy and organized.
This is such an easy pattern that you may just want to make one for yourself. It's worked all in one piece and when it's finished, it folds over like a book. You won't find an easier pattern for crochet lovers.
Pattern/Source: ravelry
10. Rose Hook Or Pencil Holder
This one is great for fellow crochet lovers or anyone who needs a beautiful pencil organizer. The pattern is really simple and the rose shape is simply gorgeous.
The holder stands up with the help of a bread crumb holder or there is an alternate pattern if you want to use stuffing instead. It really looks much more complicated than it is. You could easily have this finished in a day.
Pattern/Source: ravelry
11. Easy Crochet Yarn Holder
This simple project is great if you need something for someone who enjoys crocheting as much as you do. It's a holder for your yarn that keeps center pull yarn from getting tangled as you crochet.
You can also tuck your crochet project into it to keep it from getting tangled or unraveled and your hook will fit in here as well. If you're looking for a gift idea for someone who really enjoys crocheting and you need something simple that won't take you more than an hour to finish, this is it.
Pattern/Source: talesofthehook
12. Crochet Dragon Egg Bag
This little mini bag makes an adorable wristlet. The pattern is a tribute to Daenerys' dragon eggs from Game of Thrones. If you need a fast and easy crochet gift idea for a Game of Thrones fan, this would be a great project. It's a really easy pattern and won't take you long at all to finish. Note that if you work the bag from the outside it will make the petals lay down but if you work it from the inside, the petals stand up. You'll have to decide which one you want to do before you begin.
Pattern/Source: ravelry
13. Easy Crochet Headband
This little headband is the perfect crochet gift for a pre-teen or teenager and gives you the chance to practice crocheting chains and double crochet stitches. It's a really simple pattern and lets you get comfortable working turning chains. It also doesn't take much yarn so if you have scrap yarn left over from other projects, you can make this. Make a few of them and keep them on hand for quick gifts when you need them.
Pattern/Source: midwesternmoms
14. Super Easy Crochet Dishcloth
Years ago I received a crochet dishcloth as a Christmas gift and I loved it. Those little things really do a great job of scrubbing dishes or you can use them as a washcloth. They're also the easiest things to crochet. This pattern is labeled as a very easy beginner's pattern so you can make these even if you've never held a crochet hook. You can also turn one of these out in about 15 minutes so if you have an hour or so, you can make an entire set of dishcloths or washcloths as a gift.
Pattern/Source: thespruce
15. Easy Crochet Ear Bud Covers
If you've ever used ear buds, you know how easily they can get tangled. These easy crochet ear bud covers take care of that, and this is a super easy pattern. There's just one stitch and it takes very little yarn. It makes ear buds nearly impossible to tangle and keeps them strong so they don't break as easily – if you have teenagers you know how many of these you can go through in just a couple of months. This is the perfect gift idea for teens and it's something you can finish in less than an hour.
Pattern/Source: mooglyblog
16. Crochet Baby Blanket – Easiest Blanket Ever!
Here's another wonderful gift idea for an upcoming baby shower and it's one of the easiest blanket patterns ever. This soft and cuddly baby blanket won't take you long at all to crochet and the stitches are really simple. The pattern is a breeze to read, too. It has a really easy repeat and you only need to know basic crochet stitches. If you want to give something that new moms will treasure forever, this blanket is an excellent choice
Pattern/Source: leeleeknits
17. Adorable Crochet Gecko Bookmark
This little gecko is so easy to crochet and he would make a wonderful gift for the book lover in your family.
He's perfect for kids of all ages and even adults. The pattern is so easy and you'll be able to get him finished in about an hour or so depending on how fast you work.
If you want a unique gift idea, and one that has a super easy pattern, this little guy is the perfect choice.
Pattern/Source: lionbrand
18. Easy Half Double Crochet Placemat
This placement pattern lets you practice your half double crochet and it's perfect beginners. It's also a wonderful gift idea.
You can easily make a set of four of these and have them done in a weekend, or sooner if you work fast.
It has a gorgeous scalloped edging that is super easy to do and you can work it in any color that you want, even in multiple colors if you're comfortable changing colors while you crochet.
Pattern/Source: thespruce.
19. Crochet Stuff Unicorn
If you need a quick gift for a child, Hermione the unicorn is a wonderful project to crochet. This little unicorn is so easy to make and she stands up three dimensional style any child would love receiving it – it would even be a great handmade gift for a baby shower.
You'll love how easy the pattern is to follow and you don't need to know any complicated crochet stitches. This one is perfect for beginners.
Pattern/Source: ravelry
20. Hook Shaped Crochet Hook Case
This is another great gift idea for someone who crochets – or make it and give it to yourself! It's a crochet hook case that is shaped like a hook. It's such an easy pattern and one that won't take you an hour to finish.
It holds up to 20 crochet hooks of different sizes and buttons closed to keep those hooks from falling out. There's absolutely nothing complicated at all about this one!
Pattern/Source: ravelry
21. Simple Crochet Slippers
Okay, crocheting slippers sounds complicated but it's really not. The only complicated part of this project is assembling the pieces after you've crocheted them.
For a beginner, this really is the perfect project and it makes a lovely set of slippers that make an excellent gift.
The pattern is really easy to follow and there are picture tutorials throughout to help you as you work it. You can make these in a couple of hours easy and that's including the time it takes to assemble them after their finished.
Pattern/Source: goodknits
22. Crochet Apple Cozy
If you need a gift for someone who brings fruit to work, this apple cozy is a great idea. It's a really easy pattern, too. If you know basic stitches, you can make this is no time.
You could do it for apples, oranges, or any other round fruits and just choose your yarn color and button based on the type of fruit you want to keep cozy.
The pattern is on Etsy for $5 and comes with all the instructions you need to give someone a wonderful fruit cozy.
Pattern/Source: etsy.com
23. Easy Crochet Mug Cozy
This easy crochet mug cozy works up really quickly and make the perfect gift for any coffee or tea lover. You use only single crochet stitches, so it's perfect for beginners.
You could easily work this up in an hour or so. It attaches to itself with a button and button hook so there's no complicated turning or stitching to finish it. You can easily make a set of two in an afternoon
Pattern/Source: ravelry
24. Cute Crochet Owl Cell Phone Cozy
This little cell phone cozy would make a wonderful gift and it's a relatively simple pattern. It lists as a medium difficulty but if you know your basic crochet stitches you should be able to work it up pretty quickly.
Anyone who has a cell phone knows how important it is to protect them and this little guy will certainly do the trick. It's the perfect crochet gift for teen and pre-teens.
Pattern/Source: craftyarncouncil
25. Easy Massage Soap Saver
This crochet massage soap saver has cluster stitches on one side and gives a wonderful massage when you're using it.
Who wouldn't love receiving one of these as a gift? It's also a really easy project and you can pair it with a nice bar of soap to make the perfect gift. it shouldn't take long at all to work it up and there's a tutorial included to teach you how to do cluster stitches if you've never done them before.
Pattern/Source: mooglyblog
26. Super Easy Crochet Coasters
When you need a gift for someone who seems to have everything, coasters are a wise choice.
This is especially true when you crochet those coasters yourself. These little round coasters are super easy and they work up so quickly that you can have a matching set of four done in no time at all.
I found this easy pattern on Etsy for $3 and it only takes knowledge of basic crochet stitches.
Pattern/Source: etsy.com
27. Flower Scrubby Crochet Dishcloth
This adorable little dishcloth would make a wonderful homemade gift for an upcoming bridal shower. It's easy and only requires you to know basic crochet stitches.
It's also very colorful so you get to practice working different colors while you crochet it. Best of all, you can use scrap yarn because it doesn't take that much to finish it and you can easily have this done in under an hour.
Pattern/Source: mooglyblog
28. Crocheted Knitting Stitch Markers
If you know someone who knits and you need a quick and easy gift for them, you'll want to take a look at these crochet stitch markers. They'll help knitters to keep track of their stitches and because they're crocheted, they help to protect knitting needles from scratches.
This is such a simple pattern. I mean honestly, you could probably do a couple of these in an hour.
Pattern/Source: ravelry
29. Crochet Snail Tape Measure
This little snail is so helpful in keeping your tape measure safe – he's also quite adorable, don't you think? This is a really simple crochet project. You work it in a single round with no increases or decreases.
This one will also help you to practice your gauge as the gauge is important in order for the snail to fit the tape measure. It's the perfect quick and easy crochet gift for anyone who knits, crochets, or sews.
Pattern/Source: karensknittincrap
30. Easy Beginner Crochet Wrist Warmers
If you want a quick and easy gift idea for someone who loathes cold weather, you just have to make these wrist warmers. This is an easy pattern that only requires basic crochet skills and knowledge.
Each one works up pretty quickly and since winter is a few months away, you have plenty of time to make a few pairs of these for last minute gifts. Or make yourself a pair – they're easy and keep you nice and toasty. You can get the pattern on Etsy.
Pattern/Source: crochetdreamz
Conclusion
I have to admit, I absolutely love receiving handmade gifts and I'm willing to bet that I'm not the only one.
No matter who you may need a gift for, I promise that there's a pattern here that will help.
Most of these only take an hour or so to finish so they're quick gifts that are also easy to crochet. There are also many great gift ideas in my 100 free crochet patterns for beginners.
They're also easy patterns and things that you can easily finish in an hour or less in most cases.
When you're first learning how to crochet, patterns for beginners is crucial. They're easy to read and you'll be able to practice basic stitches and master them before moving on to more complicated patterns.
Of course, you want to learn more than just the single crochet, so this collection has patterns that use different stitches – they're all easy, beginning stitches but you won't be stuck repeating the exact same stitch in every one of them.
They're also great for those of you who have mastered crochet and just want some fast and easy patterns for gifts.
You can also check out these 25 arm knitting projects – they make wonderful gift ideas as well.
So, if you're in a pinch for time and really need a great gift that you can make right now, these patterns are definitely for you.
They're all so easy and there are some wonderful ideas in here for kids, teenagers, and adults. There are even a few patterns to make accessories for your crocheting friends.