If you have a kitchen bar, or one in the dining room, you need barstools, right? I priced a few barstools recently, just to add extra seating in the kitchen for when we have huge extended family dinners, and those things can be expensive. Pottery Barn has a beautiful set for $200 each. I found the same price at Anthropologie and while they are beautiful stools, that's a bit pricey for my blood.
So, I decided to see what I could find in the way of DIY barstools. I am so excited to share with you these 15 gorgeous DIY barstools that I have found. They are all pretty easy to make and they are all absolutely stunning. Forget paying $400 or more for a set of four barstools. You can just make them yourself and add comfortable extra seating to your kitchen or dining room. You know how I love to DIY things – just check out these 20 DIY slipcovers. They let you add style to any room without spending half your paycheck.
The thing is, I don't have to have barstools – I want them. So, I just can't justify spending hundreds of dollars on them. I would much rather save my money and then brag as I show off the DIY barstools that I made all by myself! If you love DIY furniture or if you just need a great set of barstools but don't want to spend a fortune buying them, these DIY barstools are perfect. You can make them with such inexpensive wood and other materials and they really do add style wherever you put them. Also, check out these 25 DIY kitchen remodeling ideas that will go beautifully with your new barstools.
1. DIY Adjustable Height Industrial Barstool
This adjustable barstool is perfect for sitters of all sizes. It's made of wood and metal and it's a pretty easy DIY project. Plus, the barstools have the most gorgeous wood design that gives them a wonderful farmhouse appeal. If you want to add that farmhouse décor look to your kitchen, these adjustable industrial barstools will certainly help you to do just that.
Tutorial/Plans: ana-white
2. DIY Distressed Chalkboard Paint Barstools
You can take those cheap barstools that you get from Walmart and turn them into something spectacular with a bit of chalkboard paint. I love distressed furniture and these barstools are perfect for adding a touch of rustic charm to your home. Cheap barstools at Walmart are about $40 for a set of two, so they're much cheaper than anything in a furniture store and you can make them look fabulous with this little DIY project. You have to love chalkboard paint projects.
Tutorial/Plans: etourneau
3. Easy $5 Concrete Barstools
For just $5 each, you can make these concrete barstools that are perfect for adding a more industrial touch to your kitchen. These are also great for outdoor bars or even in the garage. You make them with concrete mix and a five gallon bucket and the process is pretty simple. You just have to choose your legs and if you want to really make them look fancy, paint the concrete when you're finished making them.
Tutorial/Plans: homemade-modern
4. DIY Wooden Patio Barstools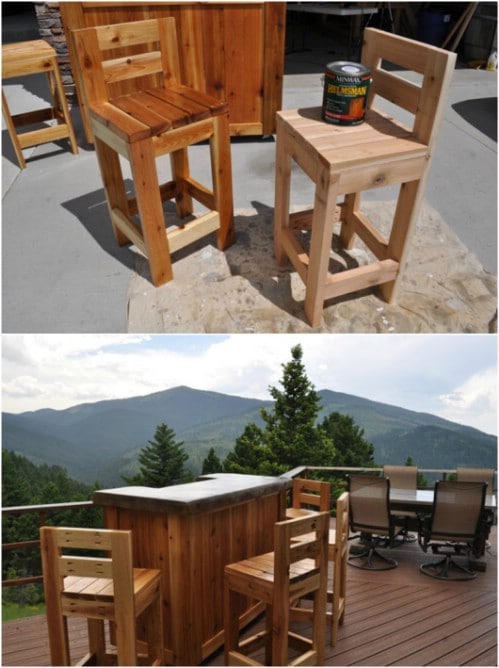 Patio barstools are great for adding extra seating – especially if you have the room for them. These in particular have such a nice rustic look to them and they're pretty easy to build yourself. You could also use these in the kitchen if you wanted. Paint or stain them to match your kitchen or give them a nice distressed look for a more rustic design.
Tutorial/Plans: diypete
5. DIY Repurposed Pallet Stools
There are a couple of different ways that you can turn your old pallets into barstools. Whether you want stools with a backrest and footrest or you just want something a bit simple, that stack of pallets in your back yard have been waiting for a DIY project like this. These are perfect for the kitchen or patio and they are all so easy to make.
Tutorial/Plans: 99pallets
6. DIY Swivel Barstool
You can turn a cheap, ordinary wooden stool into one that has quite the swivel. I love this project. I turns one of those really inexpensive $20 wooden barstools from Walmart into a gorgeously colored and painted wooden stool that has a swivel seat. You just need an extra piece of wood for the seat and then some imagination for creating the design that you want.
Tutorial/Plans: instructables
7. Simple Wooden Barstools
You can make these barstools for less than $10 each and the process is really easy. They have a simple design that is perfect if you just want to add some extra seating or just a bit of design around your patio or kitchen bar. They're really sturdy too, despite their simple design. You just won't find an easier barstool to build than these – and they're among the cheapest DIY barstools, too.
Tutorial/Plans: rogueengineer
8. DIY Industrial Pipe Barstools
If you love the industrial look, you are really going to love these DIY industrial pipe barstools. You use actual metal pipes and fittings to make these and they have a gorgeous wooden top. If you want something really unique, these are perfect. They're not nearly as difficult to DIY as you may think and they really do add some personalized design to your home.
Tutorial/Plans: lovegrowswild
9. Wooden Barstools With Metal Rod Accents
If you really want a wooden barstool but you want one with a bit of unique design, you have to check out these wooden barstools with their metal rod accent. These are gorgeous – whatever color you stain or paint them, and they are really easy to make. The metal bar gives them such a great industrial look but the overall design pairs perfectly with your DIY farmhouse furniture and décor.
Tutorial/Plans: remodelaholic
10. Easy Modern Barstool
This easy to build wooden barstool is perfect for the kitchen bar or you could use it as a desk stool, too. There is a great little cutout in the front for your feet! If you want something really comfortable, this is a great one to build. You can leave the wood in its natural state or paint or stain these to make them more decorative.
Tutorial/Plans: abeautifulmess
11. Simple DIY Grooved Barstool
I love the look of these grooved barstools. You make these with wood and the process is pretty simple. The tops are grooved in to make them really comfortable for seating and of course, you can paint or stain them any color that you need to match your existing kitchen or dining room décor. These are perfect for adding comfortable seating around the bar or table.
Tutorial/Plans: lazylizonless
12. DIY Rag Rug Barstool
You make these amazing rag rug barstools from existing stools and then add the top, which is so colorful and comfortable. Creating the rag rug top is really easy, and so much fun. You will need a set of barstools, which you can build yourself or buy on the cheap at Walmart or check your local thrift store. If your current barstools need a new makeover, this is the perfect project.
Tutorial/Plans: thingslikeskeletonkeys
13. Savvy Southern DIY Barstools
These savvy barstools have such a gorgeous painted design. The distressed look gives them just the right touch of rustic appeal and they are so comfortable. You can do the paint with existing barstools or make your own set and paint them when you're finished with the building. These are perfect for adding a bit of style to the kitchen or you could throw on a coat of all weather protectant and use them on the patio.
Tutorial/Plans: savvysouthernstyle
14. Lovely Spindle Leg Barstools
If you want something with a lot of design and style, you have to try these spindle leg barstools. They are gorgeous and the legs are already made for you, so you don't even have to know how to use a wood router. You can buy legs or stairway spindles at any home improvement store and once you have those, you just have to build the top of the stool and choose your stain color.
Tutorial/Plans: shanty-2-chic
15. Cheap And Easy 2X4 Barstools
You can make these barstools out of 2X4s and they are as cheap to make as they are easy to DIY. These are probably the easiest barstools you could possibly create and at just $6 each, you really can't find anything cheaper. You will need to know how to use a few power tools but once you master that, you can build these in an afternoon and they are perfect for the kitchen, dining room or patio. You just won't believe the furniture that you can DIY from 2X4s.
Tutorial/Plans: