What isn't to love about chalkboards? They're versatile and adaptable, and they remind us of our school days and the fun, bright years of childhood. With chalkboard paint, you can now add that flair of whimsy and fun to practically any surface in your house! Handwriting is a wonderful way to customize and create, and brings a personal touch to any living space.
Not familiar with chalkboard paint? It's this amazing stuff you can add to a surface of your choice. Once it dries, you get a surface that looks just like a good old-fashioned chalkboard. Better yet, you can use it like one! You can draw on it with chalk and erase anytime. You can buy the stuff at a hardware store or you can make it at home using paint and powdered tile grout. You can purchase or make it in any color of the rainbow, which makes it even better than a traditional chalkboard (note that if you prefer dry erase boards, you can buy dry erase paint as an alternative).
Ready to get started and need some inspiration? Check out these easy, fun and creative chalkboard paint projects!
Great Organizing DIY – Chalkboard with Key Hooks

This is another great organization project from Shanty 2 Chic. You can make your own chalkboard with key hooks to hang in the kitchen or just anywhere you may want to hang it. The chalkboard is great for keeping memos and reminders and it has handy little shelves that can hold mail or just anything that you may need to remember to grab before you head out in the morning. Key hooks are a must for those of you who tend to misplace your keys on occasion. This neat little project can be completed in no time and it is really inexpensive.
DIY Instructions and Project Credit - Shanty 2 Chic
Get your dresser drawer organized.

Do you tend to make a mess of your dresser drawer? Wish you had an easy organizing system where you never again will forget where everything goes? This system using chalkboard paint is genius! Take everything out of your drawer and paint the bottom. Now, purchase a plastic organizer with different bins for different items. Then grab some chalk and write in where everything goes and place the clear organizer on top. You will never again forget where things belong!
DIY Instructions and Project Credit - Tealandlime
Chalk the outside of your dresser drawers too.

While chalk makes a great organization system for the inside of your dresser drawers, it also looks fabulous on the outside! Isn't this dresser adorable? We love all the cute fonts and embellishments that she wrote her labels in. And once again, this is easy to change anytime you choose to reorganize and put something else in your drawers. Just erase and write something else!
DIY Instructions and Project Credit - Thegunnysack
Framed chalkboard.

Earlier we showcased an idea for framing a chalkboard in an old window frame. While that is still a cute idea, using a fancy picture frame works just as nicely, especially if you don't need different "windows" to write in. This picture frame really embellishes the chalkboard, and you can use it to write or display anything you want.
DIY Instructions and Project Credit - Craftberrybush
Label your herbs (or other plants).

Do you grow herbs in your kitchen? Can't keep track of what's what? It's easy to mix up herbs, and it's too late when you put the wrong ones in your recipe and ruin your dinner. Stop yourself from making those mistakes by labeling your pots. You will never choose the wrong one again. You can use these in your garden shed as well to help you keep track of other plants or seeds.
DIY Instructions and Project Credit - Robinbecksnest
Chalkboard labels for containers.

One of the great things about chalkboard paint is that you can use it to cover a curved surface and not just a flat one. That's what makes it such a great solution to labeling cans, jars, and the like. Occasionally you might decide to repurpose a container and fill it with something else. Since you can erase and write something new on the label, you can reuse the label, which makes for a neat, easy solution. This is a wonderful way to stay organized in the kitchen, and another great idea from Our Fifth House, the same site that featured the wonderful chalkboard wall calendar!
DIY Instructions and Project Credit - Ourfifthhouse
Turn your fridge into a chalkboard.
We love this idea! If you enjoy putting artwork, calendars, and more up on your fridge, but you're tired of shuffling around magnets and papers, this is a great alternative. No more magnets falling on the floor, no more picking up fallen artwork and trying to find a better space for it. Instead, just paint your entire refrigerator with chalkboard paint. You can write and draw directly on it—fun for the whole family! This is a great way to beautify your fridge and share reminders. You can even write on the sides. And your magnets will still work on here, so you can still tack things up the old-fashioned way if you want to.
DIY Instructions and Project Credit - Erinlauray
Decorate your favorite mug

Want to have the most fabulous mug at the office ever? Instead of ordering a customized mug online, why not make it yourself? Then you can put anything you want on it. Pay close attention to the instructions on this one, since you have to bake the mug with the chalkboard paint on it so that the paint will be dishwasher and microwave safe. Since you can chalk and erase your mug at any time, watch out for the temptation to send passive-aggressive messages to your co-workers via your mug!
DIY Instructions and Project Credit - Witandwhistle
Chalkboard washi tape for gifts

Want to add a really cool personal touch to a gift package? Buy some washi tape and paint it with chalkboard paint. Wait for the tape to dry, and write or draw on it! You can write a quick note, the recipient's name, draw a picture, or whatever you want. You can also do this with gift tags.
DIY Instructions and Project Credit - Inspirationave
Give your filing cabinet a makeover.
The surface of a filing cabinet gives you a lot of room to play around, so you can really do pretty much whatever you can imagine here (including fill up the sides, which this person didn't). I just love the style here, though—simple, minimalist, and instantly grabs your attention with those big labels. The nice thing about chalk and filing cabinets is that you can easily repurpose any of the drawers at any time and then erase and write something new. Another blogger used the side of their filing cabinet as an ongoing to-do list. Very cool idea!
DIY Instructions and Project Credit - Moxandfodder
Make use of inside cabinet drawers.

Painting the outside of filing cabinets is fun, but painting the inside of other types of cabinets can be fun too. Take the inside of this medicine cabinet. It'd just be wasted space if not for the chalkboard. Now it can be used to leave notes and reminders. Very handy! This would also work great inside pantry doors.
DIY Instructions and Project Credit - Inspiredesignandcreate
Handy reminders in the kitchen.

In fact, here is a similar project on the inside of a kitchen cabinet. How annoying is it to have to squint at the numbers on your measuring cups and spoons to remind yourself what size they are? With this setup, you never have to again; you can just keep right on cooking.
DIY Instructions and Project Credit - Everydayhomeblog
Chalkboard calendar.

Everyone always says you should put a handy calendar in your mudroom or entryway, but what if your entryway is really narrow and you don't want any hooks or anything protruding? This clever do-it-yourselfer solved the problem of her narrow hallway by creating a chalkboard calendar directly on her wall. It's a very cool invention because you can see effortlessly what you need to do for the rest of the month, and you can easily erase and rearrange the dates as needed each month. A great way for everyone in the household to stay on the same page! Add to that the fact that it's really visually appealing, and you have a recipe for awesome.
DIY Instructions and Project Credit - Ourfifthhouse
Chalkboard window.

Here is a cute way to repurpose an old window frame! Old window frames, like chalkboards, give us an air of nostalgia. The old-style charm of the window frame can make your home feel cozy, and the chalkboard paint can turn it into something useful!
DIY Instructions and Project Credit - Theshabbycreekcottage
Chalk in décor that you're missing in your home.

This is just one example of this fun, clever décor solution! If you wish you had something you're missing—like a pretty wall mount for your spices, a headboard for your bed, a nonexistent lamppost or umbrella stand, whatever—just chalk it in! The result is something simultaneously ornate and minimalist, three-dimensional and flat, humorous and surreal. If you spend time looking at chalk projects for inspiration, you will run into a ton of these. Some people even decorate entire rooms this way. You can bet that you'll get a lot of fun reactions from visitors checking out your house!
DIY Instructions and Project Credit - Apartmenttherapy
Chalk your walls as a substitute for wallpaper.

Love the patterns you get on wallpaper, but don't actually want wallpaper on your walls? Who can blame you? Wallpaper is expensive and easily damaged. It's much easier to just paint your walls with chalkboard paint and draw patterns directly on them. Check out this bathroom project. The pattern has all the simplicity and repetition of a wallpaper pattern, but has more of a whimsical feel from the fact that it has clearly been hand-drawn. The bathroom is an excellent place for this since wallpaper in the bathroom is particularly prone to moisture damage. You get around that with the chalked walls. Tired of your current pattern? You can change it anytime by erasing and drawing a new one?
DIY Instructions and Project Credit - Designsponge
Inspire yourself with an uplifting quote.

This person has painted a full wall with chalkboard paint and inscribed a quote from Emerson on it. What a wonderful way to inspire yourself each day. Consider putting an inspirational quotation next to your bed where you will wake up to it every day, or maybe in your office or kitchen or somewhere else where you spend a lot of time.
DIY Instructions and Project Credit - Secondhandrosebuffalo
Copy a recipe onto your kitchen wall.

Doesn't it drive you crazy having to run back and forth between your recipe on your computer and your cooking? Sometimes it can even be hazardous; nothing is worse than ruining a recipe because you forgot the next step and can't do it in time! Now that never has to happen again. Put a chalkboard on your kitchen wall above your stove or countertop, and just write up the recipe you are making before you get started. There it is in big, bold letters, easy to read no matter where you are standing in the kitchen. Forgot what you needed in the cupboard? Just glance at the wall. Not sure which ingredient to put in your bowl next? Just look at the wall!
DIY Instructions and Project Credit - Amerifirst
Paint your car.

If you want to customize your vehicle, chalkboard paint is an easy way to do it. Of course, you're practically inviting other people to have a go at writing on your car … so you never know what it will say when you get back to it each day.
DIY Instructions and Project Credit - Cumminsforum
Customized wall clock.

With chalkboard paint, you can customize a wall clock to say whatever you want it to say. This math clock doesn't make a lot of sense, but it is pretty cool. You could put any artwork you wanted on a wall clock this way too, or even use a wall clock as a message board (which makes sense, since everybody is going to be looking at it to see the time anyway).
DIY Instructions and Project Credit - 4growingboys
Paint a door.

Doors are useful, but as the author of the Domestic Diva blog points out, they can be a tad boring. Why not turn all that empty space into an even more useful surface where you can take notes? As she states, a door can turn into a learning space for children, a home office bulletin board, and more.
DIY Instructions and Project Credit - Thedomesticdiva
Decorate a chair.

Do you have a chair or another item of furniture which is just kind of "blah?" Make it exciting, fun and colorful with chalkboard paint! This chair has adorable designs on it, and it really grabs your attention right away. How cool would it be if you did over an entire table and chair set with beautiful patterns like these?
DIY Instructions and Project Credit - Chicagonow
Paint a vase.

Have a vase which isn't too exciting to look at? Why not jazz it up a bit by turning it into a chalkboard and decorating it with designs? We love these vases! They have such a cool modern vibe!
DIY Instructions and Project Credit - Rustybluebird
Do math equations.

If you're a mathematician, physicist, engineer, or student, you know how important it is to have a lot of space when you are doing math equations. The more you can spread out, the better! Nothing is worse than trying to solve a big problem in a confined space. Imagine how much easier it would be to learn and remember things if you had your very own chalkboard on your wall at home! Well, now it's easy, with chalkboard paint! Check out this fabulous chalkboard math wall. It has a certain nerdy decorative flair too, and looks as fantastic as it is functional!
Chalkboard playroom.

"Don't draw on the walls!" That's what you probably heard when you were growing up! Wouldn't it have been awesome if you could have, though, consequence free? Now you can give that gift to your own children by turning their playroom or bedroom walls into a giant chalkboard. It doesn't get more fun than that! Now you can encourage them to draw and write on their walls. What a way to stimulate creativity from a young age!
DIY Instructions and Project Credit - Design-59
Don't forget to use color!

While most chalkboard paint comes in black, you can mix your own colors, and some stores are now selling colored paint directly. Don't confine yourself to just black and white if you don't want to. You can get the same awesome look in any color you choose.
DIY Instructions and Project Credit - Abeautifulmess
Add architectural motifs.

This is a pretty specific idea that the blogger at House of Chic and Penoche was inspired to do by a movie. She reproduced ionic and Corinthian columns on her wall in a technical style that looks both fun and sophisticated. This is definitely one of the coolest projects we've seen!
DIY Instructions and Project Credit - Houseofchicandpenoche
Chalk your ceiling.

This nifty chalkboard ceiling is (or was, it appears) at a restaurant. This would be a very cool thing to do with your own ceiling too. Just looking at it, it puts me immediately in mind of the night sky. Imagine covering it with stars and planets and constellations. How awesome would that be?
DIY Instructions and Project Credit - Perpetuallygreen
Label the tops of jars.

If you have a drawer full of jars or bottles, you know what a pain it can be to find what you're looking for. You have to keep lifting them all out and checking their contents and putting them back. Want an easy way to label them (without little post-its you are just going to lose)? Chalkboard paint does the trick.
DIY Instructions and Project Credit - Curbly
Chalkboard wine bottles.

Hosting a party with wine? Here is a really adorable way to make your wine bottles more interesting. These bottles will instantly grab your guests' attention. We love how homey and welcoming they are. Of course, you may want to be sure to label at least one side with the contents or you will have mystery drinks.
DIY Instructions and Project Credit - Nookandsea
Personalize candles as gifts.

This is a pretty specific idea, but a cute one for party favors. Those little candles in the glass bottles make for popular gifts, because they are cheap, fun, and useful. But let's face it, they are not the most personal gift to give, because they are such a common one! With chalkboard paint, you can coat them and then write on them. While these are labeled with numbers and scents, an even more fun idea would be to label them with scents and the recipient's name—or maybe a short message. These make great holiday gifts too!
DIY Instructions and Project Credit - Number-2-pencil
Chalkboard art wall for kids.

This is similar to the playroom idea from earlier, except that it is an unused space in a hallway. This is a fun alternative to the playroom concept, especially since everyone in the household can participate. This makes the wall great for messages as well as artwork. And you can show it off to your guests so they know just how creative your little artists are!
DIY Instructions and Project Credit - Kristendukephotography
Get seasonal with chalkboard art.

It's so much fun decorating your house for the holidays, but the whole problem with seasonal décor is that you can't keep it up year round. And usually it is so much work putting it up and taking it down! That's why chalkboard art makes a great medium for seasonal décor. Putting up this cute Thanksgiving turkey is as effortless as taking it down later. Just draw and erase. Every holiday you can use the chalkboard for something else.
DIY Instructions and Project Credit - Inmyownstyle
Chalkboard tree ornaments.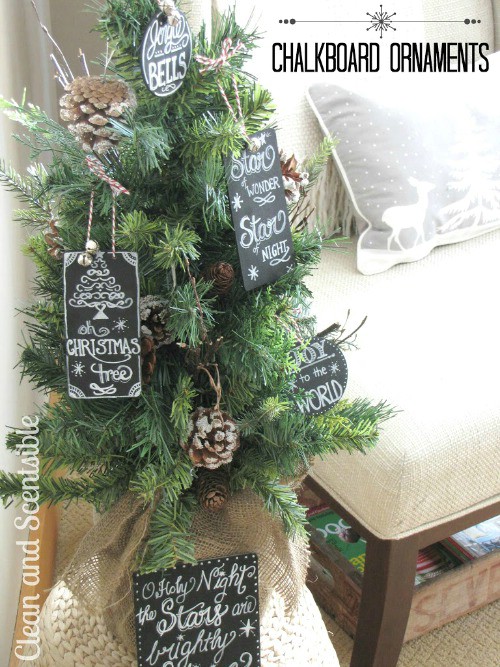 Here's another seasonal idea! Want to spruce up your Christmas tree and make it beautiful for the holidays? Chalkboard Christmas ornaments are a fun project for the whole family. Your kids will have a great time making these with you. And guess what—they make an incredible gift!
DIY Instructions and Project Credit - Cleanandscentsible
Chalkboard on a log.

Never forget that you can paint on just about anything with chalkboard paint! Utilize unique surfaces and turn them into something creative and original. Check out this chalkboard log! Hang it on a wall, and write whatever you want on it!
DIY Instructions and Project Credit - Maisondepax
Cutting chalkboard.

Decorchick found a cute chalkboard embedded in a cutting board for sale at World Market, and realized she could make something like it herself with an old cutting board. This is a wonderful use for a cutting board that isn't up to its old job anymore. Perfect kitchen-themed décor!
DIY Instructions and Project Credit - Decorchick
Chalkboard drink coaster.
Earlier we shared a chalkboard mug which is such a cute idea for the home or office. Want to personalize your drink coaster as well as your mug? Chalkboard paint is an easy way to do it. This is great if you live in a household where people argue about which drink coasters and mugs are theirs.
DIY Instructions and Project Credit - Settingforfour
Easter chalk eggs.

Here is yet another seasonal idea. This is a fun easy way to decorate Easter Eggs! If you have artistically minded children who try to do detailed designs but aren't able to because Easter egg paint doesn't let them, this is a wonderful alternative. Just paint the eggshells with chalkboard paint and let them draw directly on them.
DIY Instructions and Project Credit - Parenting
More chalkboard tree ornaments.

If you liked the chalkboard Christmas tree ornament idea from earlier, you will want to check this one out as well. The ornaments featured earlier were painted on flat cards, but remember, you can put chalkboard paint on curved surfaces too. So why not get some of those plain ball ornaments and jazz them up a bit with chalkboard paint? You can purchase any color of paint you want, and decorate them with winter patterns or illustrations. This is another fun Christmas activity to do with your kids.
DIY Instructions and Project Credit - The36thavenue
Chalkboard sign

Need to make a temporary sign? This wedding sign is a brilliant idea. Instead of going to the trouble to create a temporary sign from scratch that you will simply have to throw away later, why not chalk the wedding message onto a re-usable sign, and point the way to the event? At the end, you can erase it and use it for something else. Very handy, and if you originally made it for your wedding, it becomes a keepsake for your special day later. You can use it around the house for whatever you want, or bring it to future events.
DIY Instructions and Project Credit - Iheartnaptime
Create a vase from a bottle with chalkboard paint.

Earlier we talked about painting over plain vases with chalkboard paint and drawing on them to make them more exciting. What if you don't even have a vase, but you want one? If you have an old bottle, some paper, and chalkboard paint, you can make a pretty exciting vase from scratch.
DIY Instructions and Project Credit - Dreamsiclesisters
Paint your stairs.

So this one may not be the most practical idea out there, but it's still fun, and it does make a boring staircase more interesting. Here the approach was one of minimalism, but you could paint anything onto your stairs, and from the bottom, you'd be able to see it all the way up to the top. You could put patterns, illustrations, words, or whatever you want on them. You could even write a few words in each so that they read as a message from the top down. Very fun.
Chalkboard pendants.
Here is a cute idea for a jeweler who also loves everything to do with chalkboards. Personalized jewelry is always fantastic, but wouldn't it be cool if you could personalize the jewelry anytime, however you wanted? These chalkboard pendants let you carry around any message or art you want. If you want to change it, you can do so anytime. These make awesome gifts too!
DIY Instructions and Project Credit - Lilblueboo
Chalkboard game table.

Play a lot of board games, and need to keep track of scores, dice rolls, and more? The chalkboard game table is a totally brilliant idea! No more little scraps of paper to keep track of, and everyone can see your notes all the time. This keeps everyone on the same page. When you finish the game, just wipe it off and start anew.
DIY Instructions and Project Credit - Shearerpainting
Paint a cabinet.

When you get into chalkboard art projects, you start paying more attention to the space around you, and you start to notice all the unused surfaces in your house! If you have a cabinet like this one, you have plenty of room to write or draw. This is a very cool artistic cabinet!
Decorate a table.

This is a bit like the game table we featured earlier, except more pretty and less functional. This table would make a wonderful design element on a balcony or patio. Leave a piece of chalk handy and family members, friends, and guests can all add their creativity.
Another chalkboard chair idea.

Earlier we shared a chalkboard chair which had been painted in its entirety with colorful designs on it. Here is another idea if you don't want to paint an entire chair. This chair is already a cute lime green color, and painting it over would take away some of its uniqueness. But painting just the back looks great. The black makes a nice contrast with the green, and draws attention to the name.
Chalkboard placemats.

Add a cute, personalized touch to any place setting with a chalkboard placemat. These placemats feel like they are just welcoming everyone to the table (incidentally, this would be a brilliant idea for restaurant owners, who could leave chalk at the tables for the children).
Chalkboard welcome sign.

Want to really spruce up your doorstep? One wonderful way to do it is with a framed chalkboard welcome sign. Imagine seeing a sign like this if you were on your way to a party at the owner's house. You'd feel welcome and you'd immediately get into the festive atmosphere! Best of all, if you owned this sign, you could change it anytime to say whatever you'd like.
DIY Instructions and Project Credit - Homedepot
Chalkboard serving platter.

Here is another great idea for when you are planning a party. Think about the parties you've been to. Did you ever get to the cheese table, for example, and wonder what was what? Let your guests know exactly what everything you're serving actually is by writing on a chalkboard serving platter. Check out the neatly labeled cheeses! You could do this with cheeses, cookies, crackers, anything you want!
DIY Instructions and Project Credit - Witandwhistle