Decorative plates are great for entertaining or just adding decor to your home. Of course, these things don't come without a price and often decorative plates are a bit more than we like to spend. If you want to add some beauty to your dishes, you can DIY them and give them a beautiful hand painted look, without actually paying the outrageous cost for hand painted dishes.
I recently came across some plain white plates that I wanted to give a more custom look to, so of course, I started looking for a DIY way to do so. I found 25 of the most creative ways that you can add decorations to your plates and turn them into beautiful handcrafted pieces.
ou can start with cheap white plates that you find at thrift stores or the Dollar Store. You know how much I love my Dollar Store crafts. Just look at these 49 amazing Dollar Store hacks that will save you time and money. You can turn any ordinary Dollar Store find into something spectacular.
This is also a great repurposing idea. If you have a set of plates that is missing a few pieces, just turn those left over plates into decorations and hang them throughout your home. I do love a good repurpose DIY – just take a look at these 20 carpet repurposing ideas.
They will also save you time and money. Not only are these DIY decorative plates great for decorating your own dinner table, they are perfect for giving out as gifts to your friends and family. I love DIY gifts that are cheap and look expensive and these decorative plates certainly fall into that category!
1. DIY Cookie Exchange Plates
Turn those boring white plates into gorgeous cookie exchange plates for the holidays with just a bit of acrylic paint. You don't have to use these for your cookie exchange. These also make wonderful serving plates for the holidays and they only take about half an hour to make. Just get cheap plates from the Dollar Store or a thrift store and use stencils to create your holiday pattern or draw them on freehand if you're a bit of an artist.
Tutorial: 30minutecrafts
2. DIY Swan Appetizer Plates
Plain plates plus some acrylic paint, an artistic vision and a copper leafing pen for the edging give you all you need to create beautiful swan appetizer plates. These really are gorgeous and are perfect for dinner parties or giving out as gifts. You could do these on salad plates or create serving plates with larger ceramic plates. Imagine serving your homemade zucchini balls on these gorgeous swan plates!
Tutorial: akailochiclife
3. Easy DIY Watercolor Plates
If you prefer a more colorful and somewhat eclectic style, these watercolor plates are perfect. They're really easy to create and you can do this design technique on your plates as well as bowls and mugs to give yourself an entire new dish set. This is great for a gift for someone who seems to already have everything and all you need are plain white dishes and some water based porcelain paints in various colors.
Tutorial: sugarandcharm
4. DIY Decorative Marble Plates
Could you just imagine how much a full set of real marble plates would cost? Luckily you can make this DIY version for much cheaper and get the same beautiful look. You need wood rounds to make these – not plates – and some marble contact paper and a few basic craft supplies. These are perfect for serving holiday meals or anytime you want to add a little extra sparkle to the dinner table. They would be great for weddings.
Tutorial: sugarandcloth
5. Decorator Hanging Plates
For this DIY project, you'll need to have a few decorative plates on hand. You can pick up beautiful plates at thrift stores for under a dollar each and then use those to make this wonderful kitchen hanging. Just cut out stencil letters for the message that you want to display…I love the "EAT" sign. Then use your stencils to draw the letters on your plates and paint over them with acrylic paints. Easy! And you'll save a fortune over buying this sign in the store.
Tutorial: angelinthenorth
6. Easy DIY Decorative Christmas Plates
The Christmas season is nearly upon us, so these decorative Christmas plates are just in time. You can easily make these with some plain white plates and a bit of red acrylic paint – or vice versa if you want to be really creative. Just draw polka dots on the edges of your plates with a multi surface craft paint and that's it! You can make an entire setting of these, enough for your huge Christmas dinner, for less than $20, counting the cost of the plates.
Tutorial: simplykierste
7. DIY Color Edged Plates
Take some acrylic paint and color just the edges of your plain white plates. You can do this in any color or color scheme that you want and make them perfect for any number of occasions. Need something cheap yet elegant for a wedding? Do these in gold or silver, or try red and green for the holidays or bright pastel colors for Easter. You can also do this on white plastic plates and really make the project cheap.
Tutorial: studiodiy
8. Easy DIY Decorative Fall Plates
I love DIY fall décor projects. It's so much fun to have a craft project planned when the weather turns cooler and this decorative fall plate DIY is perfect for cold days. You use stencils to create the leaves and acorn and then just add in your fall message. This would be perfect for a Thanksgiving serving plate or you could use it as décor and just hang it wherever you want to add a bit of extra fall color.
Tutorial: premeditatedleftovers
9. Kate Spade Inspired Plates
These little dachshund plates are inspired by a set of Kate Spade plates that cost much more than this DIY version. You can easily make these with a dachshund template, which you can print right off of your home computer. Then just fill in the little silhouette with black acrylic paints. There are so many ways that you can do these and you can even add the silhouette to bowls and cups to make a complete set.
Tutorial: thepartygirl
10. 15 Minute DIY Porcelain Plates
All you need to make these plates are the plates themselves and a porcelain pen. Use your imagination to create the design or style that you want and then just fill it in with your pen. Porcelain pens are not terribly expensive and let you design so many wonderful things. Once you have your design finished, you just let these dry for 24 hours and then bake them for 35 minutes to set in your artwork.
Tutorial: decoratorsnotebook
11. DIY Decorative Thanksgiving Plates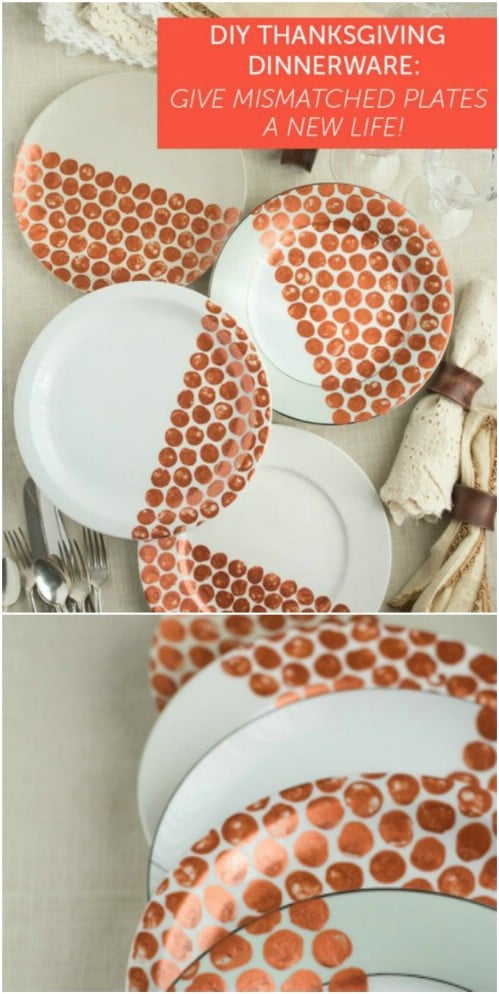 I love the look of these Thanksgiving plates and I love even more that you can create an entire setting for less than $20. To make these, you just create a uniform design on cheap plates using a porcelain pen or porcelain paint. You can even use plates that don't really match each other – as long as they are all white. They'll look like they belong in a set when you're finished decorating them.
Tutorial: babble
12. Easy DIY Halloween Silhouette Plates
I really love these spooky yet adorable Halloween silhouette plates, which are so easy to make. You just print off the images that you want to use and then use mod podge and sealant spray to adhere them to your plates. What a wonderful way to create your own DIY Halloween decorations! These would be wonderful serving plates for your homemade Halloween candy or you can use them as décor.
Tutorial: boxwoodavenue
13. DIY Abstract Tableware
Take some plain ceramic or plastic plates and make them very artful with some ceramic paints. This abstract idea is great because you can be as creative as you want and still create a beautiful plate set. Just paint away! You don't even have to have rhyme or reason to your painting, as long as you add different colors to make the abstract really stand out.
Tutorial: burkatron
14. Summery DIY Citrus Plates
What a wonderful idea for summer barbecues! These DIY citrus plates are super easy to make and would be wonderful for any summertime parties that you have planned. You make these from colored plastic plates, which is even better because those are really cheap. Just take white acrylic paint and use it to color in your design. Use green and yellow plates for limes and lemons or you could even do red with black paint for a watermelon look.
Tutorial: craftingintherain
15. Easy DIY Sharpie Plate
Turn a couple of ordinary white ceramic plates into beautiful serving dishes with a black sharpie marker. This is such an easy DIY idea and one that will take you less than 15 minutes to create – and that's for both plates. Just draw large polka dots on the outer plate and smaller ones on the smaller plate. Do this with an entire set of dinner and salad plates and you'll have designer plates for less than the cost of a cup of coffee.
Tutorial: emma-courtney
16. DIY Vintage Inspired Floral Plate
This floral plate reminds me of a set that my grandmother had years ago, except this one is a DIY project. It's an easy one, too. All you need to create these stunning floral plates is a floral template and some mod podge. You'll also need tissue paper – the cheap stuff from the Dollar Store and a few minutes for each plate. You can do an entire set of these for much less than it would cost to buy one vintage plate in this design.
Tutorial: freeprettythingsforyou
17. DIY Nautical Charger Plates
I love these charger plates with the nautical look and they are really easy to make. I bought a few larger gold plates at the Dollar Store a few years ago for just a dollar each. They would be perfect for this project. You just tape off a section of your gold plate that you will paint blue and then add the decorative anchor, which is actually a vinyl piece. You could do these in any number of colors and styles.
Tutorial: frogprincepaperie
18. DIY Decorative Photo Plate
Add your own photo to those plain plates and make them really special. You could do these with any image that you want. Imagine an image of the bride and groom for a wedding – those would be the perfect wedding gift! You just print off the image that you want to use onto decal paper and then heat the paper so that it will adhere to the plate. It's actually really easy to make photo plates and they make wonderful gifts for every occasion.
Tutorial: marthastewart
19. Cheap $1 Decorative Christmas Plates
Turn a cheap one dollar plate – or cheaper if you can find them – into the perfect repurposed Christmas craft with just a little paint. I love this reindeer look, although you could also do these in Santa, elves, Christmas trees or any other design. You just use a stencil or template to create the design and then fill it in with a colored marker or acrylic paints. This one is so easy – it'll take you about 10 minutes.
Tutorial: downhomeinspiration
20. DIY Gold Star Plates
These golden plates are perfect for parties or special gatherings and they are really easy…not to mention cheap, to make. You start with plain white ceramic plates and use gold markers and gold star stickers to embellish them. Once you heat these in the oven to set in the design, they will stay designed for years and you can do them in various different colors if you want – just use different colored markers.
Tutorial: instyle
21. Simple DIY Painted Plates
Here's a DIY plate that you can make with a plain or decorated plate. The gist is to add even more decoration using a porcelain paint pen or porcelain paint and a paint brush. You can also add dishwasher safe mod podge to these after you design them so that your designs will stay intact…even after washing them in the dishwasher. Use tape to section off the plate in the design that you want and then paint.
Tutorial: lanaredstudio
22. DIY Boho Plates
You can make these boho plates with a few plain glass plates, some doilies and a collection of spray paints in whatever colors that you want to use. You'll need to choose the images that you wish to display on your plates and then add them to the center of your plates. The edges are decorated by spraying spray paint over the doilies to create a beautiful lacy design.
Tutorial: markmontanoblogs
23. Cheap Stenciled Dollar Store Plates
Cheap Dollar Store plates combined with cheap Dollar Store stencils and markers give you the makings for this gorgeous dinnerware. Just choose your stencils and then use colored sharpies to create the look. You can get all of the supplies for this project at the Dollar Store for less than $2 per plate and then all you have to do is just print off your template and start coloring.
Tutorial: cuttingedgestencils
24. DIY Ikat Inspired Plates
Turn your ordinary dinner plates into an Ikat inspired collection with just a little paint. I love the look of these and they really do look like an expensive dinnerware set. Just use porcelain paint to create the look and brush it on so that the brush strokes show for a gorgeous edging on all of your plates. You can do these in any color and also paint your bowls, saucers and cups to match so that you have a complete set.
Tutorial: nouba
25. Anthropologie Inspired Hand Painted Plate Set
I love Anthropologie, but they're pretty expensive for my taste. So, I love Anthropologie DIY knockoff projects even more and these plates fall right into that category. You make them with food safe markers so your plates are not only gorgeous, they're safe to eat from. Just choose the design that you want and then get to town decorating with the markers. I love this floral look and it really does resemble those Anthropologie floral plates that cost about ten times more to buy than these do to make.
Tutorial: abeautifulmess
Other lovely painted plates bu 5mincrafts