One of my favorite things about Thanksgiving is dessert. I mean, what's not to love about dessert, right? Of course, we always have the traditional pumpkin pie and normally a sweet potato pie as well. I recently starting wondering about other desserts. I mean, we'll still have those pies but there are bound to be other delicious Thanksgiving desserts besides pumpkin pie, right? Right! I found 25 of the most mouthwatering desserts that are perfect for your Thanksgiving feast and none of them are pie.
These are great if you are looking for something to take to the in-laws that will really impress. Surely someone else handles the pies, right? That leaves you to make some of these delicious treats; like an apple cinnamon streusel or maybe a chocolate pumpkin cake. There are so many things that you can make besides pie and people are going to love you for your creativity. If you do want a more traditional pie, I highly recommend this delicious blueberry pie. If you are looking for a dessert however that isn't pie, then I have just the recipes for you.
Whether you want something to add to your own dinner table or something that will travel, these are some of the most scrumptious Thanksgiving dessert recipes I have ever seen. And, they do away with the belief that all desserts on this holiday have to be in pie form. I mean, cheesecake brownies or pumpkin panna cotta also seem like Thanksgiving foods, right? And if you want something really special, be sure to check out these 8 delicious desserts in jars. They're the perfect touch for a smaller gathering. For now, let's take a look at some yummy Thanksgiving desserts that don't take a lot of work and are so much better than pie.
1. Apple Cinnamon Streusel Galette
This apple cinnamon streusel is definitely something that you want to add to your Thanksgiving menu. With tart apples and a layer of cinnamon streusel, this may just make it to your top dessert list. It's quick and easy to bake and if you top it with vanilla bean ice cream, it's absolutely Heaven.
Recipe: twopeasandtheirpod
2. Delicious Baked Apple Cups
Here's another wonderful apple dessert that is pretty easy to put together and simply packed with flavor. Not only are these baked apple cups tasty, they're also really pretty to look at. It only takes about half an hour to fix these and they're perfect for Thanksgiving with their puff pastry crust and yummy apple filling.
Recipe: foodiecrush
3. Butternut Squash, Apple, Pear Crisp
Squash is such a wonderful fall food and when you pair it with apples and pears, it becomes a delicious Thanksgiving dessert option. This is really easy to make and has a wonderful topping with oatmeal, pecans, walnuts, coconut and cinnamon that makes it a warm and delicious treat. Serve it plain or top with vanilla ice cream for a real crowd pleaser.
Recipe: edibleperspective
4. Caramel Apple Blondie Cheesecake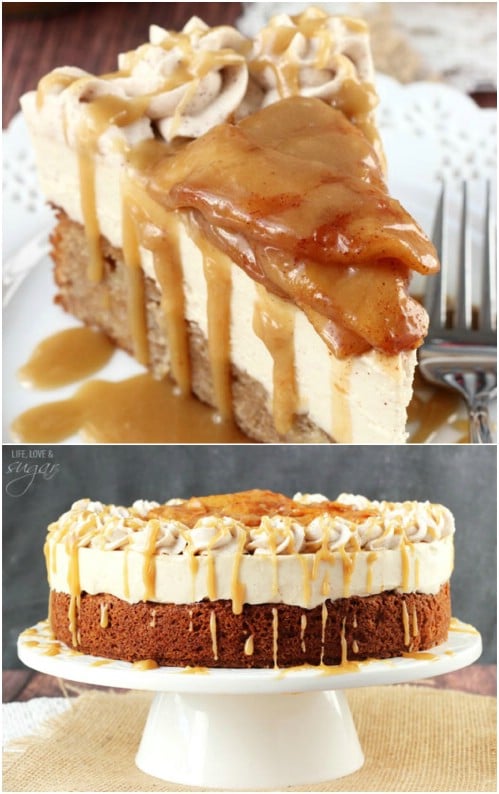 I love making homemade cheesecakes. We make several every year at Christmas but I've never tried this caramel apple blondie version and it looks absolutely divine. Caramel apple is a wonderful fall flavor so this one is perfect for Thanksgiving. Plus, it's cheesecake and who doesn't love cheesecake? The blondie crust makes this one so amazing!
Recipe: lifeloveandsugar
5. Caramel Cake With Apple Cider Whipped Cream
Here's another delicious caramel apple dessert that is not like anything you've ever tried. The apple cider whipped cream makes this one really special and the recipe is so easy to follow. With oozy caramel and loads of apple cider whipped cream, this is the perfect finish to your Thanksgiving feast.
Recipe: iambaker
6. Chocolate Dipped Pears
Pears are also a great fall fruit, especially when you combine them with chocolate. I mean, anytime you have something dipped in chocolate it's a good thing, right? These pears are dipped in chocolate and topped off with a delicious almond crunch that makes them perfect for serving after your Thanksgiving dinner…or anytime you want something sweet.
Recipe: bakersroyale
7. Chocolate Pumpkin Cake
So, you can have your pumpkin in cake form and still sort of stick with tradition. This chocolate pumpkin cake is Heavenly and so very easy to make. Both the cake and the whipped cream have pumpkin in them, so you get a really nice pumpkin flavor. Plus, buttermilk in the cake makes it super moist and…it's chocolate. What more could you want from a Thanksgiving dessert?
Recipe: iambaker
8. Chocolate Pumpkin Cheesecake
Chocolate and pumpkin pair so well together, especially in this delicious cheesecake recipe. This is basically two layers of the moistest chocolate cake ever (seriously it will stay moist for days) combined with a layer of pumpkin cheesecake for a dessert that is sure to have you licking your lips for days. Don't let the look fool you. As delicious as it is, this is not at all difficult to make.
Recipe: lifeloveandsugar
9. Chocolate Pear Custard Tart
There's a reason that people say you should always have dessert…and that reason is this chocolate pear custard tart with a delicious almond shortbread crust. If you have never considered combining chocolate and pears, you are in for a real treat. The crust is made from almond shortbread cookies and the chocolate custard filling gives it such a wonderful flavor.
Recipe: alwaysorderdessert
10. New England Style Cinnamon Sugar Doughnuts
These little doughnuts don't have to be just for breakfast. They're a nice little treat to add to your Thanksgiving dinner dessert menu as well. With cinnamon and sugar, and apple cider, I promise these are unlike anything you've ever tried and they are amazing. They're definitely going to be something that you make regularly once you see how very easy they are.
Recipe: saveur
11. Classic Carrot Cake
What better addition to your Thanksgiving desserts than a traditional carrot cake, complete with cream cheese frosting? I love carrot cake and this one is super easy to make. Carrot cakes aren't nearly as difficult to make as people think and they are super moist and delicious. Even the cream cheese frosting is easy and this is definitely going to be a huge hit at your dinner table.
Recipe: alwayswithbutter
12. Cranberry Upside Down Cake
So you've heard of pineapple upside down cake. How about a cranberry version? This one is perfect for Thanksgiving and it's a really sweet treat with just the right amount of tartness. This one also has apples and you make it in an iron skillet, which gives it that great country cake taste. This is certain to become a favorite recipe!
Recipe: sallysbakingaddiction
13. Cranberry Sauce Cheesecake Brownies
These brownies are perfect if you want something a bit less messy than cake or cheesecake. But wait…they combine brownie with cheesecake and add in a bit of cranberry sauce to make them a great dessert choice for Thanksgiving. With a chocolate brownie bottom, a cheesecake middle and cranberries on top, these are sure to be a huge hit at your Thanksgiving dinner.
Recipe: damndelicious
14. Pumpkin Caramel Panna Cotta
These pumpkin caramel panna cottas are like little shots of Heaven. Their creamy texture and bold taste are sure to be a great addition to your Thanksgiving dessert table and they're really easy to make. There's no baking required and these have just the right amount of pumpkin without making them too sweet. The caramel gives them such a wonderful flavor and it pairs really nicely with the pumpkin.
Recipe: foodnessgracious
15. Gingerbread Cake With Butter Rum Toffee Sauce
Gingerbread is an excellent dessert choice for Thanksgiving and this gingerbread cake is so simple to make. It's topped with a delicious butter rum toffee sauce, which is also easy to make. The cake is so moist and the flavors blend very well together. The sauce really makes it a star with hints of vanilla and rum.
Recipe: boulderlocavore
16. Low Fat Healthy Apple Cake
So you know how we all complain about gaining weight over the holidays? That's likely because of the rich, delicious desserts. This apple cake is just as delicious as any other dessert but has less than half the fat of normal Thanksgiving yummies, so it's healthy, too. Granny Smith apples and lemon zest give it just the right amount of tartness and the white or brown sugar (your choice) gives it just a bit of sweetness.
Recipe: aseasyasapplepie
17. Molten Chocolate Pumpkin Streusel Bread
One of my favorite Thanksgiving desserts is banana nut bread. Along those same lines, this molten chocolate pumpkin streusel bread is a definitely plus for your dessert table. This is a delicious twist on traditional pumpkin bread with its creamy chocolate filling. And, the streusel topping really takes it over the top.
Recipe: halfbakedharvest
18. No Bake Bourbon Pecan Cheesecake
Cheesecake is an excellent alternative to pie – at least in my book it is, and this bourbon pecan cheesecake is delicious. Plus, it's a no bake recipe so it's really simple and fast to whip up. You make these up in dessert dishes and you can make them up ahead of time so you aren't in the kitchen making dessert right after dinner. You can also leave out the bourbon if you prefer.
Recipe: howsweeteats
19. No Bake Sweet Potato Cheesecakes
Here's another cheesecake recipe that you don't have to bake. These are also made in dessert dishes and can be done a day ahead of time. Plus, they taste like sweet potato pie so that's a huge plus if you ask me. They're quick and easy to whip up and have such a wonderful flavor with sweet potato puree, cinnamon, and topped with graham cracker crumbs and whipped topping.
Recipe: howsweeteats
20. Cinnamon Roll Apple Cake
This nutty cinnamon roll apple cake is perfect for fall and filled with delicious flavors. With canned cinnamon rolls, apples, pecans and dark brown sugar, it's a wonderful alternative to pies and it's perfect for breakfast the next morning, too. It takes about an hour to make, but
that includes cooking time and it's one of the easiest desserts to put together.
Recipe: nutmegnanny
21. Pecan Bread Pudding
I love bread pudding on Thanksgiving. There's just something so traditional about it and there are so many different recipes. This pecan bread pudding is really simple to make and so delicious. It's a great twist on traditional pecan pie and combines two classics…pecan pie and bread pudding…into one fabulous dessert.
Recipe: callmepmc
22. Pecan Pie Cheesecake
Here's another great twist on traditional pecan pie. This pecan pie cheesecake is so decadent and delicious and not as difficult to prepare as you may think. It has a traditional graham cracker crust and a luscious pecan filling that is sure to be a huge hit at your Thanksgiving dinner. Plus, it's cheesecake, and who doesn't love cheesecake?
Recipe: food52
23. Pecan Pie Rugelach
With a dough that includes cream cheese and butter, this rugelach is absolutely amazing and filled with wonderful pecan pie flavor. You roll these up like crescent rolls and they are so light and delicious. Not quite a cookie yet not really a pie, these are sure to satisfy that pecan pie craving and they're pretty simple to make. They also travel much better than pies so they're perfect for taking along to the in-laws for dinner.
Recipe: buzzfeed
24. Classic Pumpkin Roll
Who doesn't love a good pumpkin roll at Thanksgiving? My mom makes these from Thanksgiving until Christmas and they're a huge hit with friends and family. You can make your own wonderful pumpkin roll that combines pumpkin cake and cream cheese filling. They're rich and so delicious and they're the perfect alternative (or companion) to traditional pumpkin pie.
Recipe: gimmesomeoven
25. Sweet Potato Layer Cake With Molasses Buttercream
Sweet potato pie is my favorite Thanksgiving dessert and this layer cake with molasses buttercream is a great alternative if you want something other than pie. The molasses is a great companion for the sweet potato cake and the entire dessert is absolutely divine. It's pretty easy to make and won't take all day in the kitchen, either. Plus, you know you have to have a sweet potato dessert of some sort on your Thanksgiving dinner table.
Recipe: loveandoliveoil