The weather turned a bit cooler today and it made me so happy. Cooler weather always makes me long for the holiday season, and it also prompts me to begin my DIY Christmas gifts.
Do you make your own Christmas gifts? Don't get me wrong, I do buy a lot of things in stores.
I mean, it's really difficult to make a video game, but there are things that I simply adore creating myself.
Take these 25 knit Christmas gift ideas that I have found.
All of these are easy to make and won't take you long, so you have plenty of time to stockpile a bunch of them before Christmas.
Jump to:
1. Easy Knit Book Cover
This book cover won't take you long at all to knit and it really is the perfect gift for the book lover in your life. You could also toggle the pattern just a bit to make it a wonderful cover for an iPad or other tablet.
You only need to know the most basic stitches, and that includes the tiny pocket that goes on the front that is perfect for holding highlighters or pencils for studying.
Source/Pattern: molliemakes
2. DIY Knit Ribbed Scarf
This scarf is a really easy one to knit and it's absolutely stunning when it's finished. You can work this one up really quickly.
You just do a simple 2X2 rib stitch using two skeins of yarn and it works up into a chunky and really comfy scarf that anyone is sure to adore. If you have teenagers or pre-teens on your gift list, this is the perfect scarf to knit for them.
Source/Pattern: ladybythebay
3. Cozy Knit Slipper Boots
Honestly, who wouldn't love a cozy pair of slipper boots for Christmas? These are so comfortable to wear and so easy to knit. You don't even have to be a seasoned knitting enthusiast to make them.
You'll need to choose your color and a chunky weight yarn and you can have these finished in a weekend. This is a great project to snuggle up with when the temperatures get cooler.
Source/Pattern: diyncrafts
4. Adorable Hand Knit Baby Booties
Do you have a baby in the family who is celebrating a first Christmas? These little booties are the perfect gift. They would also work well for a mother to be. They're adorable and so easy to knit.
You don't need to know any complicated stitches and you can work them up in just a few hours. Grab those knitting needles and make several pair for all of the little ones on your holiday gift list.
Source/Pattern: etsy.com
5. DIY Knit Cup Cozy
This is a great gift idea for the coffee or tea lovers in your life. It's also a nice idea for a man's gift, and it's very easy to knit. This one works up really quickly…so quickly that you could turn out several of these in a long afternoon. The great thing about this one is the buttons.
You can totally customize the buttons for your gift recipient. You could even do these for kids and use cartoon character themed buttons!
Source/Pattern: settingforfour
6. Quick And Easy Knit Plant Cover
If you have a plant lover in your life, these knit plant covers are the perfect gift. Plus, they're super quick and easy to knit.
You just need to know knit and purl stitches to make them and they're so simple, you can do an entire set in an afternoon. Choose chunky yarn to make them a bit sturdier and if you're a seasoned knitter, you could do multiple colors in each cover.
Source/Pattern: themerrythought
7. Easy DIY Fingerless Knit Mittens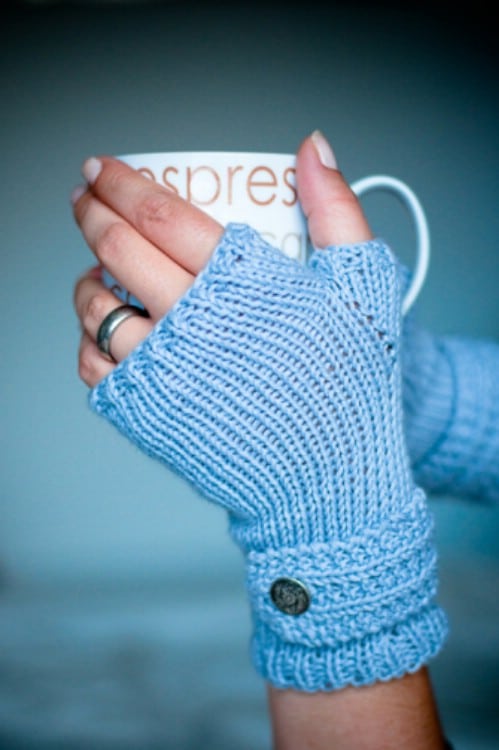 Fingerless gloves or mittens have become so popular and for good reason. They're super adorable. These DIY fingerless mittens are also super easy to knit and you don't need to know any complicated knitting stitches. These are great gifts for any fashionista on your gift list and they take so little time to work up that you could do several pair to treat everyone on your list.
Source/Pattern: justadaydreamarts
8. Extra Large Farmer's Market Tote
If you know any women who love oversized bags or who visit the farmer's market quite often, this is the perfect knitting project.
This one is rated for intermediate knitters and doesn't require any complicated stitches. It's a gorgeous bag that you can work up in a weekend and it makes the perfect gift for anyone who loves fashion…or shopping.
Source/Pattern: lionbrand
9. Easy Knit Hat With Pom Pom
This little hat really is adorable and it's pretty easy to knit, despite it's rather complicated appearance. I love the little pom pom on top! You could do this one in different sizes to match your gift list.
It's perfect for little ones or adults who love to keep warm in the winter. It has a nice contrast with the two colors, too.
Source/Pattern: purlsoho
10. DIY Long Knit Tassel Scarf
This lovely scarf is not only easy to knit, it's really fashionable. I love the darker contrasting color at the bottom.
This one can be worked up really quickly and let's face it, anyone on your gift list would really love a new cozy scarf, right?
You have time to do several of these before Christmas so you could create matching scarves for the entire family.
Source/Pattern: flaxandtwine
11. Hand Knit Washcloths
Washcloths make a wonderful gift, especially when they are hand knitted washcloths. If you have ever knitted a washcloth, you know that they're probably the easiest things in the world to work up and they're so fast that you could make an entire set for someone's Christmas gift.
These daisy knit washcloths are really simple and so gorgeous. Anyone would love receiving them! You don't even have to do fancy stitches to make a nice set of washcloths. Just do whatever stitch you know.
Source/Pattern: nourishandnestle
12. Multi-Colored Honeycomb Knit Headband
Any little girl, or big girl for that matter, will adore these colorful honeycomb headbands. Now, you could easily just do one or two colors if you prefer not to work with multiple colors and it would still look gorgeous.
The pattern is pretty easy and you only have to knit eight rows, so it's a really quick workup, too. You could even do these in Christmas colors and add festive buttons or bows!
Source/Pattern: ballstothewallsknits
13. Simple Two Needle Knit Handbag
So you could go into a department store and buy a knit handbag – and probably spend around $50 or so.
Or, you could just knit one yourself. If you have someone on your gift list who loves knitted handbags, this is the perfect one to try.
It's a really simple pattern and there's so much room for customization with colors and design. You can easily work this one up in a weekend, or faster if you're a really seasoned knitter.
Source/Pattern: mysimpleknitting
14. Hand Knit Stress Ball
Honestly, anyone would love receiving this little knit stress ball for Christmas. It's adorable, in the shape of a lemon, and stress balls are so useful! You could also do a green one and make it a lime stress ball.
However you do it, this is certain to be a favored gift by anyone on your list and this is so fast and easy to work up. You may just want to knit a stress ball for everyone on your gift list.
Source/Pattern: allfreeknitting
15. Easy Knit Pouches
Turn these little pouches into purse sized makeup bags or coin purses. They're super easy to knit and will be perfect for stocking stuffers. These are so quick to work up that they are a great last minute gift idea, too. If you have time now, finish off a few of them and have them on hand. They're perfect for teacher's, school friends or anyone you know who would really appreciate an attractive pouch.
Source/Pattern: marthastewart
16. Simple Knit Toys
These patterns can be used to knit adorable little Santas, elves, snowmen or angels. These make wonderful stocking stuffers for your little ones and they work up really fast.
You have time to do several of these before Christmas and you can make them in different characters so everyone gets something different. This pattern is on Etsy and it's less than $4. Plus you get an instant download so you can get started right away.
Source/Pattern: etsy.com
17. Gorgeous DIY Knit Dogwood Blossoms
These dogwood blossoms are super easy and take very little time. You can use them to put together a lovely knit flower bouquet or use them to decorate any number of your other knitting projects. If you need embellishments for a hat or scarves, these are perfect.
And, since they take very little time to make, you can have several on hand to decorate all of your other knit Christmas presents.
Source/Pattern: purlavenue
18. French Knit Knotted Coasters
Coasters, particularly hand knit coasters, are always a great gift idea. These French knit coasters are knotted to give them a really lovely appearance and they're really easy.
French knitting or spool knitting is actually easier and faster than knitting with needles and it looks fabulous when it's finished. If you have a French knitter or a knitting dolly, you can turn out a set of these in no time at all.
Source/Pattern: mypoppet
19. Easy Hand Knitted Terrarium Hanger
This is a gift that is perfect for someone who seems to have everything. It's a knit terrarium hanger and you can make it even more special by adding the terrarium.
Terrariums are so easy to put together and this little hanger won't take long at all to work up. It has that great vintage macramé look but it's actually knitted and you don't need to know any complicated stitches to finish it up.
Source/Pattern: pampowersknits
20. Adorable Knit Dog Reindeer Hat
Even your fur babies need Christmas gifts and this little reindeer hat is the perfect present for your favorite pooch. It's a really easy knit and looks so adorable. I found the pattern on Etsy for under $10 and it's really not complicated at all.
This is also a nice gift for anyone on your list who has a dog that they love to give gifts to. The pattern is for small to extra small dogs but you may be able to make it a bit larger for bigger pets.
Source/Pattern: etsy.com
21. Ribbed Knit Yoga Socks

Yoga is huge right now and if you have someone on your Christmas gift list that loves doing it, these knit yoga socks are a great gift idea. They're pretty easy to knit and so comfortable!
They're great for doing all sorts of yoga poses and will help to keep their feet and legs warm while they workout. The pattern can be adjusted for size by simply increasing or reducing the number of cast on stitches.
Source/Pattern: twistedfibersdesign
22. Easy Knit Striped Garter Throw
A throw is always a nice gift idea. I've gotten so many throws over the years from friends, family and coworkers and always give them out myself at the holidays. Of course, they're not cheap…at least the good ones aren't.
But, you can cut down on the cost by simply knitting your own and this pattern is super easy. Just choose the colors that you want to use and you can have this one finished in a long weekend.
Source/Pattern: nobleknits
23. Fisherman's Rib Two Color Cowl
Cowls are also a great gift idea for anyone who loves fashion. This one is pretty simple and uses the fisherman's stitch so if you have never done that stitch or you need some practice with it, this is a great project.
While still not difficult, this one is a bit more complex than others so give yourself plenty of time to finish it. It's beautiful when it's done and sure to bring a smile to anyone you decide to gift it to.
Source/Pattern: purlsoho
24. Plush Hand Knit Gigantic Blanket
This huge blanket is knit by hand but you don't need needles; well, not traditional needles anyway. This is the coziest blanket I think I've ever seen and is sure to bring a smile to anyone on your Christmas gift list. It looks much more complicated to make than it is and you can bet that it will be a favorite gift for years to come.
Source/Pattern: mamabee
25. Knit Tissue Box Cover
My aunt used to make these amazing toilet paper and tissue box covers and give them out at Christmas.
You can now do the same thing and these are really easy patterns. This is listed as very easy so you can do this whether you have experience with knitting or this is your first time.
Just choose a yarn that you can easily work with and you can turn this one out in just a few hours.
Source/Pattern: lionbrand
Conclusion
Whether you need something for your family, friends or coworkers, you can knit so many wonderful gifts for everyone on your holiday gift list.
I love knitting and although I don't consider myself a professional by any means, there are things that I can knit that look pretty good.
That's what I love about all of these knit Christmas gift ideas. They are all so very easy to do and you don't have to have years of experience to make them look great. And if you love knitting, you should also take a look at these 16 adorable knitted Christmas socks and gloves.
They make wonderful gifts, too.
There are ideas in here to knit anything for just about anyone. From scarves and blankets to iPad covers and beautiful coasters, you are sure to be able to knock a few gifts off your list and you have plenty of time before Christmas to get them all finished.
Even if you have just begun knitting, you are going to find these so easy to do.
There is even an adorable set of baby booties that is perfect for baby's first Christmas and a great market bag that will thrill all the ladies in your life.
And, while you have on your DIY hat, be sure to also check out these 40 amazing Dollar Store decorations that you can make yourself. They're cheap and easy and the perfect way to dress up your home for the holidays.
So if you're ready, we'll take a look at 25 wonderful Christmas gifts that you can knit in a jiffy. You'll have so many gifts ready in no time and give yourself a little break from all that hustling and bustling holiday shopping.