It's that time of year again – the time when I bring you loads and loads of DIY Christmas projects. I absolutely adore making my own decorations not to mention the baking and candy making. The holiday season is seriously my favorite time of year.
Whether you're planning a downhome family celebration and want some vintage or rustic decor, or you just want to spruce up your old decorations, these 40 Dollar Store decoration projects are perfect for putting the finishing touches on your holiday decorating. They're easy of course, and because you make them with items from the Dollar Store, they're also really inexpensive.
I collected so many great projects with this one. There are wreaths, snow globes, and even a few things the kids can help with, so you can make it a family affair. Get out the hot cocoa and let's get started making a few DIY Christmas decorations.
Whether you want some new decor to set around your Elf on the Shelf, or you just really like tinkering with all those red berries and gold garlands, we're going to create some seriously gorgeous décor for the upcoming season. So, grab your pen and paper and let's make a list of all the things you can pick up the next time you visit the Dollar Store or Dollar Tree. You'll find everything you need to make all the decorations on this list, and again, it will all be so cheap you may just want to make everything. I can't wait to get started!
1. DIY Candlestick Holders
These DIY candlestick holders or candy dishes are so easy to make and you can create one for around $2. You just glue the candlestick to the glass candle holders. Top them off with ribbon and fill with candles, candies, or whatever you want. These are so gorgeous and so cheap and easy to DIY.
Tutorial: tidymom
2. Berry Wreath
The Dollar Store always has these amazing red berries (not the real kind, mind you) that you can use to add a splash of color to flower arrangements. You can also use them to create this amazing Christmas wreath. The berry sprigs are about $1 each, and you use as many as you want to make the wreath as thick as you want. You'll also need a wreath form and some hot glue.
Tutorial: thatswhatchesaid
3. Winter Vases
Those cylindrical clear vases look beautiful when you add snow effects and turn them into these winter vases. These are so easy to make with Snow Tex by DecoArt and a brush. Just create the snowy effect in whatever pattern you want and then fill them with ornaments, pine cones, whatever. These would also make wonderful gifts and cost around $2 each to make.
Tutorial: designdininganddiapers
4. Framed Reindeer Silhouettes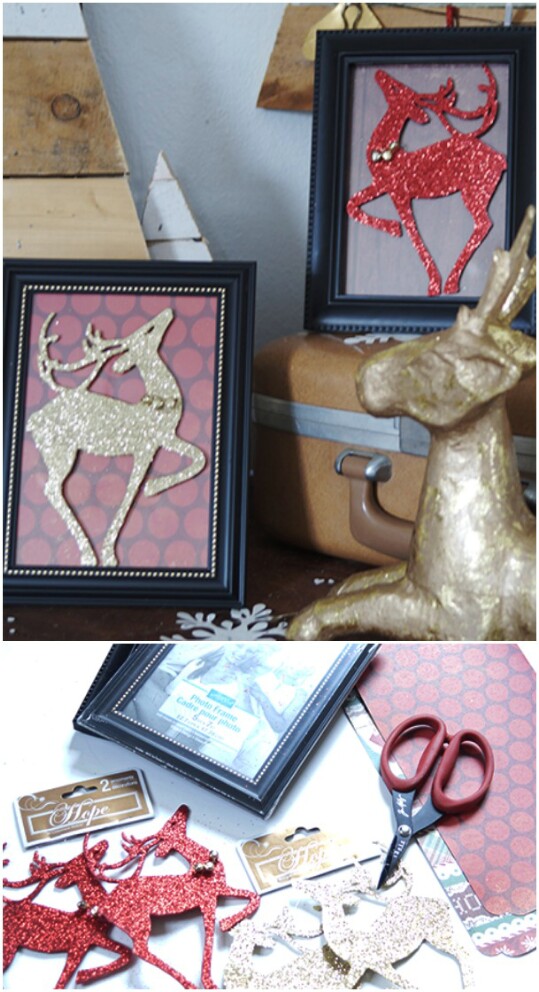 Take those red and gold sparkly reindeer that you get at the Dollar Store – they're normally 2 in a pack for $1, and turn them into gorgeous hanging prints when you frame them. Really, this is the easiest thing and it's so cheap to make. It turns out so elegant and perfect for hanging near the tree, over the mantel, or giving away as a gift.
Tutorial: savedbylovecreations
5. Glitter Candlesticks
Those inexpensive candlesticks can look like you bought them at a high end department store when you add just a bit of glitter. Just coat them in gold or silver, or even red, glitter and they'll be the perfect complement to your Christmas décor. This is a project the kids will love to help with, and it's really easy. You just paint them with glue and add your glitter.
Tutorial: ilovetocreateblog
6. Handwritten Christmas Plates
Take some inexpensive white plates and add your own holiday message, turning them into gorgeous accents for the dinner table. These would also make a wonderful gift for friends and family, and they're really cheap and easy to create. Use paint markers or Sharpies to create your message. Kids will also love this one as they can create Christmas pictures and give them to parents or grandparents as gifts.
Tutorial: pitterandglink
7. Mini Stocking Table Décor
You don't really even have to do anything for this project. Just pick up a few of those smaller stockings from the Dollar Store, they're normally around 50 cents each, and use them for utensil holders at your dinner table. You can decorate the stockings if you wish, but they're lovely just the way they are, and they are the perfect accent for your Christmas dinner.
Tutorial: princesspinkygirl
8. Snowflake Wreath
So, Dollar Store has these really cute snowflakes that you can use for decorating the tree. You can also use them to create this amazing wreath. Just later them in a wreath shape and glue them all together. Top them off with decorations or leave them plain and just add a nice bow or ribbon. You can get several in a pack for around $1, so this is a really inexpensive wreath but it looks really elegant.
Tutorial: mamainthedeep
9. Dollar Store Angel
This adorable little angel is made from Styrofoam and other supplies that you can pick up at your local Dollar Store. I love this project! It's so easy to do and the angel is such a sweet addition to your Christmas decorating. You can use her as a tree topper or just place her on the mantel.
Tutorial: organizedisland
10. Snowman Mason Jar Lotion
This is a really cute idea, and one that won't cost you much time or money. You can turn an ordinary mason jar into this adorable snowman lotion jar. Imagine giving these out as gifts. You can even fill them with lotion that you get from the Dollar Store and one large lotion jar will fill a couple of snowmen. Or, fill it with homemade lotion and make it extra-special.
Tutorial: momspark
11. Paper Cube String Lights
Add a special element to your Christmas lights with these easy to make origami cubes. The lights are a couple dollars at the Dollar Store and you just add the origami cubes in plain white or if you really want to be creative, draw on them or color the paper before you make the cubes.
Tutorial: witandwhistle
12. DIY Snow Village
Take those really inexpensive village pieces from the Dollar Store and add a snowy effect to create this gorgeous snow village. A little Mod Podge and white glitter, and you've got a gorgeous snow village that will perfectly accent any table, mantel, or bar. Add some white or silver trees and fake snow and you're all set.
Tutorial: confessionsofaplateaddict
13. Star Wire Ornaments
These wire star ornaments are a bit more complicated than many of the DIY Christmas projects on the list, but they're definitely worth the extra time. You'll need the wire of course, and a template to create them. Once they're done, they're gorgeous and you can customize them in so many different ways.
Tutorial: alyssaandcarla
14. Mason Jar Snow Globe
This mason jar globe is such a cute little project and so very easy. You can add whatever you want inside it, but I really like the little Christmas wreath hanging from the center. Mason jars are so inexpensive when it comes to crafting, and you can get an entire case at the Dollar Store for less than $10. Imagine creating a case of these to give as gifts! Each one will cost you less than $3 to make.
Tutorial: foxhollowcottage
15. Gem Icicle Ornaments
I love how elegant these DIY gem icicle ornaments are. You just take the gems and create an "icicle" using wire and tacky glue to hold them all together. This is such a neat idea and really makes your tree look sophisticated. You could use different colored gems but I love the look of the all clear ones.
Tutorial: madincrafts
16. Chalkboard Countdown Plate
Kids will love this countdown plate that you can make with an inexpensive plate from the Dollar Store. Just cover the plate on the inside with chalkboard paint, which you can get at any home improvement store, and write "Days Til Christmas" with white paint pen. You can add decorations like a bow or just leave it plain. Kids can count down the days until Santa comes!
Tutorial: lizziscreations
17. Sequin Sparkles Ornaments
If you like your tree to be decorated with unique ornaments, this one is definitely for you. Just add sequins to a foam ball and embellish however you want. These are great for decorating trees indoors and out, and they leave you so much room to be creative.
Tutorial: caughtonawhim
18. Wooden Snowman Spoons
Cheap wooden spoons from the Dollar Store make wonderful snowman decorations. If you're making a baking basket for someone special as a gift, these are a must to add in. You just paint the spoons, which you can get for around $1 for 2, and draw the faces on with Sharpies. Add a ribbon, too to make them extra-special.
Tutorial: eyeballsbydaycraftsbynight
19. Giant Glitter Ornaments
I really love these giant ornaments! Decorate the porch or windows with ornaments that you make from giant Styrofoam balls and glitter. Do them in a range of colors or stick with one color if you want something a bit more elegant. You can find Styrofoam balls of different sizes and create loads of them for decorating.
Tutorial: freshpoppydesign
20. Glitter Fruits
Glitter just screams Christmas and these glittered fruits scream easy and inexpensive Christmas décor. You just take some cheap fruit from the Dollar Store, cover each with glue and add your glitter. Use them to decorate the tree or place them in a bowl on the dinner table. They're also great for creating wreaths.
Tutorial: laurengeige
21. Coffee Filter Wreath
This may just be the most creative wreath I've ever seen. And, it's made from coffee filters! You'll need a bit of time to put it all together but once you're done, you'll be amazed at how lovely it looks. Add some inexpensive bulb decorations and hang it above the mantel. Since it's coffee filters, I don't recommend putting it outside. Besides, you'll want this where you can see if often.
Tutorial: ourprairiehomeblog
22. Potpourri Christmas Trees
So you can get a huge bag of potpourri from the Dollar Store for just $1. Use that to create these rustic looking Christmas trees that smell as good as they look. You'll need a bit of time for this one, as well. You basically glue potpourri to a cone shaped Styrofoam form and end up with a gorgeous and great smelling tree.
Tutorial: carolynshomework
23. Toothpick Snowballs
Toothpicks are really cheap. I mean, you can get hundreds of them for a dollar. Use them to create these really unique Christmas snowball ornaments. Just grab a few Styrofoam balls and get started sticking in those toothpicks. Create a design or just cover the entire ball. These look so vintage, I love them! And they're easy to make, although they do take a bit of time.
Tutorial: somewhatquirkydesign
24. Festive Magnets
Those glass stones that you get in bags at the Dollar Store are perfect for creating these tiny Christmas magnets. You can do so many things with these. Use them to decorate the fridge, mirrors, or give them away as gifts. They would be great for teachers, and they're really easy to make.
Tutorial: http://ingeniousinkling.typepad.com/ingenious_inkling/2007/12/magnet-mania-tu.html
25. Decorative Recipe Holder
This recipe holder is so festive, and so very easy to make. You use a handled cutting board and then just Christmas it up. This is great in the kitchen or you could hang it anywhere for decoration. It would also be a good addition to a food or baking basket if you're inclined to create those as Christmas gifts.
Tutorial: wordsuponwheels
26. Glitter Stars
You gotta love all the different ways we can use glitter this holiday season. Here's yet another way to really get your décor sparkling. All you literally do is hot glue a glittery star onto a cone shaped ornament. These are great for filling in around other decorations, or you could create an entire centerpiece with them.
Tutorial: usefulbeautifulhome
27. Framed Ornaments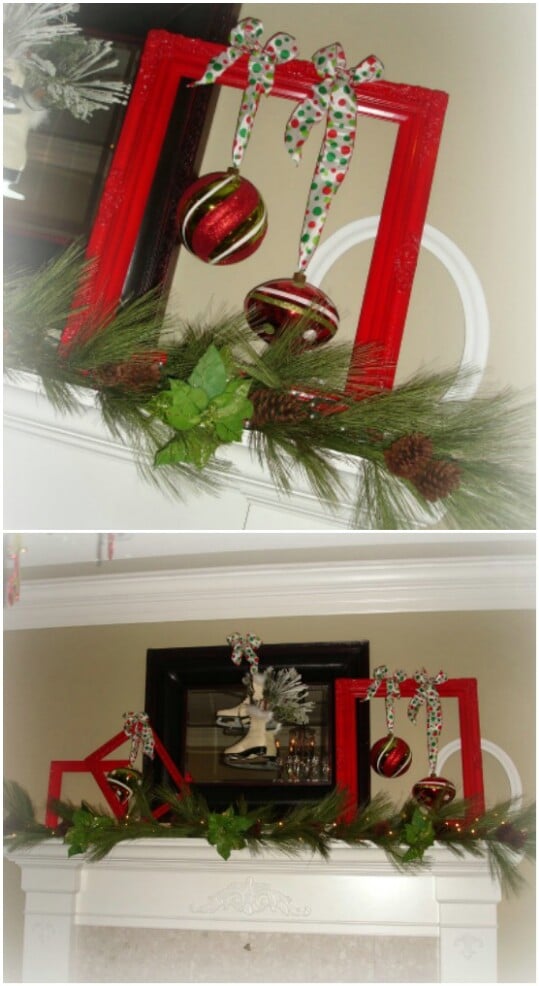 To create this lovely display, you just spray paint a cheap Dollar Store frame in any Christmas color of your choosing, remove the glass of course, and then tie ornaments to it with festive ribbon. I love how easy this is, and it's perfect for decorating side tables or mantels.
Tutorial: foreverdecorating
28. Wine Glass Holiday Diorama
These holiday candle/dioramas are beautiful and really inexpensive to make. You'll need wine glasses, some sugar (or fake snow if you prefer), candles, and some tiny decorations. Just fill them with the scenes you want and add your candles to the top. This is a really easy DIY project, and doesn't take any time at all to complete.
Tutorial: popsugar
29. Glass Jar Centerpiece
Here's another really easy DIY Christmas project, and a cheap one, too. Just pick up a glass jar at the Dollar Store and fill it with pinecones, ribbon, or whatever you want. I think the pinecones and ornaments look great, and you can add beads, ribbon, or even a small string of Christmas lights.
Tutorial: nonbelligerents
30. Dollar Store Bulb Wreath
Turn those cheap Dollar Store ornaments into this gorgeous wreath. This one will cost around $6 to make. You'll need a wire hanger and Christmas bulbs. It takes a bit of time but it's definitely worth the effort. You could also add bells, ribbon, burlap, or anything you want to customize it and make it match your other Christmas décor.
Tutorial: sixsistersstuff
31. North Pole Street Sign
This North Pole street sign is made from a Dollar Store solar light, and it's sure to be your favorite DIY Christmas project this year. They'll cost a couple dollars each to make and are great if you need a cordless nightlight. Since it's solar powered, you can put it in the window and it will turn on when it gets dark out.
Tutorial: dollarstorecrafts
32. Jingle Bell Napkin Rings
Imagine how elegant your dinner table will look with these golden jingle bell napkin rings. You can pick up the jingle bells at most Dollar Stores, and if your store only has them in silver, you can paint them gold, red or whatever other color you need. Then just attach them to your ribbon and you've got a lovely place setting for all your holiday meals.
Tutorial: sandandsisal
33. Feather Tree
Those little feathers that Dollar Stores put out around the holidays come in really handy for creating all sorts of DIY projects. These feather trees can be made easily, and they're perfect for the mantel. You just attach the feathers to a Styrofoam cone, and then use a candlestick to display them.
Tutorial: laurieslittlebitsofcreativity
34. Ornament Garland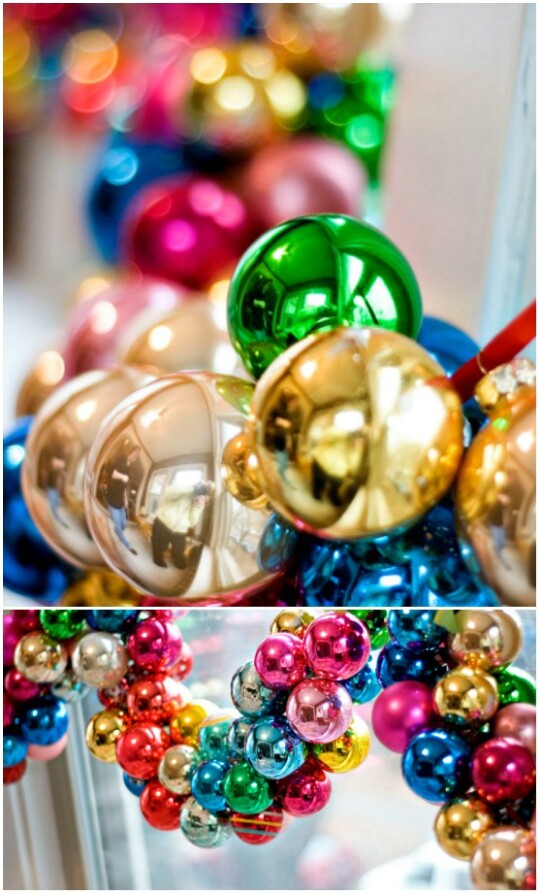 This ornament garland is perfect for decorating the porch or deck, or you could hang it from the fireplace as well. You'll need wire or ribbon and several inexpensive ornaments to create it. Make it as short or as long as you need.
Tutorial: pretty-quirky
35. Decorative Candles
Take those wide pillar candles that you get at the Dollar Store for around a dollar each and embellish them with ribbon, glitter, and even wrapping paper (although you shouldn't burn them if you decorate with paper). Once you've got them decorated how you want, you can display them in a sleigh or other rectangular holder to create a gorgeous centerpiece.
Tutorial: imperfectlybeautifulms
36. Christmas Tree of Presents
My Dollar Store normally has bags of these little foil presents and you get several presents in a bag for around a dollar or so each. Take those presents and fashion them into a Christmas tree. This is a fun and really colorful way to decorate and kids will love it.
Tutorial: thriftyrebelvintage
37. Jar Lid Ornaments
Okay so you've got all those mason jars for the other DIY Christmas crafts, what do you do with the lids? You make these amazing little ornaments! These are completely customizable and perfect for kids to do. Just hot glue a pipe cleaner for the hanger and get to work turning those lids into beautiful ornaments. You can also use the lids from old candles that you may have lying around.
Tutorial: notimeforflashcards
38. Christmas Sock Wreath
For the easiest ever DIY Christmas wreath project, take a look at this sock wreath. You just take some Christmas socks (which you can get at the Dollar Store for a dollar per pair, sometimes a dollar for two pairs) and cut the ends off. Then just push them onto a foam wreath form. Tie on a ribbon and maybe even add an ornament or two to decorate.
Tutorial: favecrafts
39. Christmas Ornament Refrigerator Magnets
So, take those cheap ornaments from the Dollar Store and simply glue magnets onto them to create these lovely kitchen decorations. You're going to be in the kitchen baking and making candy, and cooking up a delicious Christmas dinner. You deserve a little decoration in there with you. These fridge magnets are the perfect way to bring the holiday spirit into the kitchen.
Tutorial: redcouchrecipes
40. Picture Frame Luminaries
These luminaries are great for any time of year, but particularly for holiday decorating. They're really inexpensive and make the most wonderful gifts! You'll need four 5X7 frames for each one that you want to make, plus tealight candles and a few other supplies. This is really a great gift for grandparents and is as easy to make as it is beautiful.
Tutorial: Tutorial: thatswhatchesaid