This adorable water bottle pig flower planter is a fun way to liven up your home, office, or garden space. This one-of-a-kind Planter is handmade from a few recycled water bottles, so not only are you creating something beautiful, you are giving this trash a second life.
Pig Flower Planter
This Planter is sure to bring a smile to anyone who sees it because it is just so cute. The pig shape is so adorable, and the flowers just add to the cuteness factor. Plus, it's a great way to show off your green thumb! The pig planter would make a great gift for any plant lover in your life.
This pig garden planter is perfect for anyone who loves gardening, crafting, or just wants to add a little bit of personality to their home. It's also a great way to reuse old water bottles and help reduce waste.
The best part is that this project is super easy – even if you've never crafted it before. You can complete it in just a few simple steps, and it makes a great project that you can finish in just a short time. Of course, if you like this idea, then you might like our donkey garden planter or this even more adorable plastic bottle elephant planter idea! Add a menagerie to your garden!
What Size Water Bottle Should I Use?
Technically you can use whatever size bottle you have. I used a gallon bottle because I wanted to make a larger pig flower planter. You can use smaller bottles to make a smaller version.
This would be so cute on a desk with a cactus or small succulent. You can make a larger version to place larger plants on the patio. The goal is to reuse something you would otherwise be throwing away. Look at all of the empty bottles, jars, or tins you have on hand and choose the one that works best for your idea.
What Can I Use for the Pig's Feet?
When you are making the pig's feet on these planters you can use almost whatever you have. I am using empty bottles as the legs and feet of the planter. Below are some more ideas that could work well to create the legs or base for your pig. Some are even better since they can hold more weight than the bottles.
Use small real terra cotta or plastic flower pots.
Cut a branch into four pieces and use it, or look to your firewood pile and see if you have a smaller piece that would work when cut into 4 pieces.
You even grab leftover wood scraps from a recent project.
Thick dowel rods or railing spindles work great, but you could even use the wooden feet that often go onto tables and chairs.
Mason jars or empty plastic jars from condiments or sauces can also work great if used all the same size.
You can use just about whatever you have on hand that can support the pigs.
Can This Hold Real Plants
Since the pig flower planter is made with a plastic bottle you can use it to hold real plants. You will want to make drainage holes in the bottom of the pig so that your plant doesn't drown or get root rot from too much water.
If planting live flowers inside your planter, you'll want to remember to consider the weight of soil and ap lant. Some will be heavier and may require a more sturdy base than just the plastic bottles.
You can also use the planter as a vase. Do not add the drain holes and this plastic bottle will hold the water to keep the flowers looking fresh.
Of course, another common idea is to tuck fake flowers into the hole on the top and use it year-round for a bit of brightness in your lawn and garden.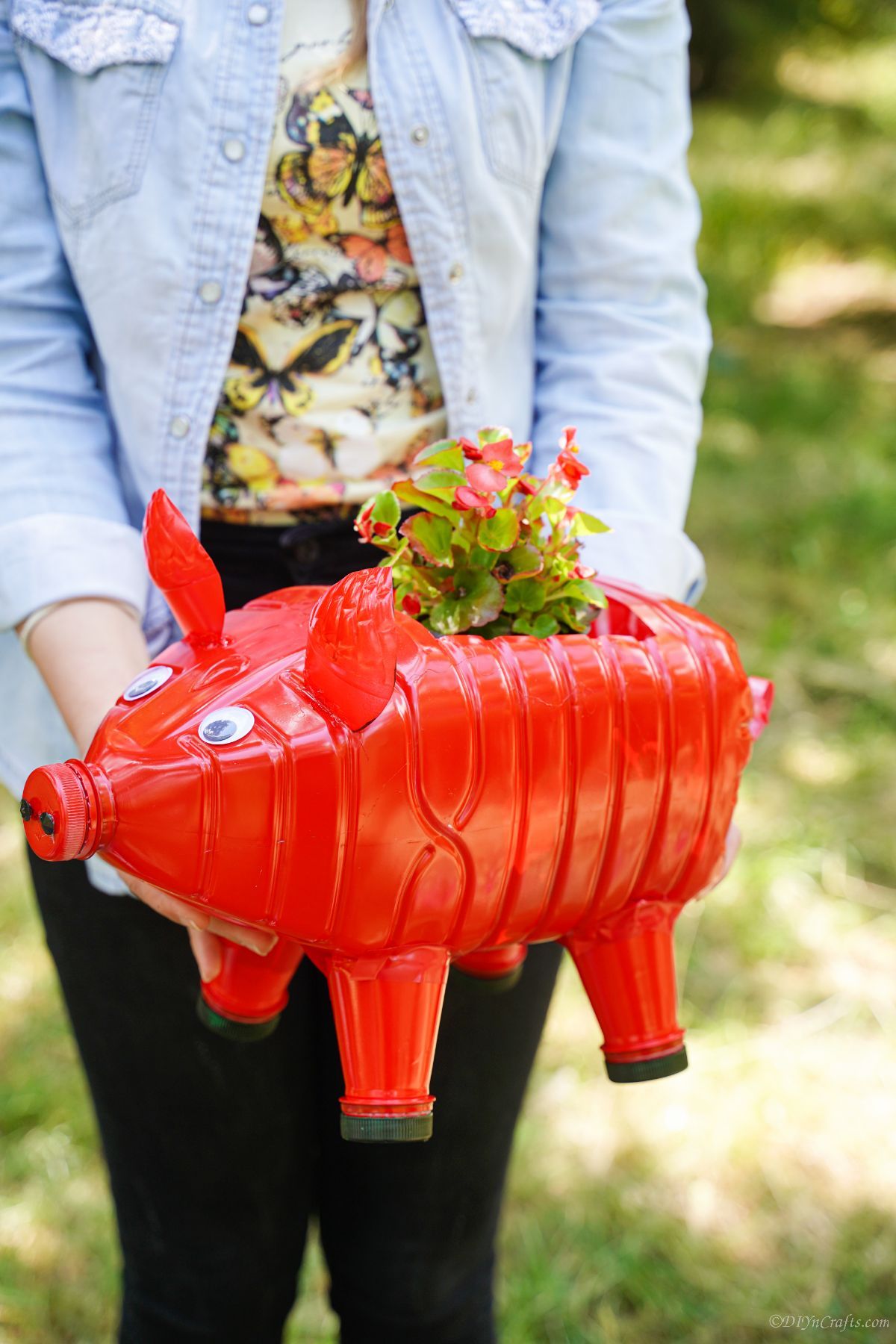 Are These Safe For Displaying Outdoors?
The pig flower planter is a perfect decoration for the outside on your deck, porch, or even in the lawn and garden spaces.
The spray paint will stick well to the plastic bottle and this planter can last for years to come. After a few years, the paint might need to be touched up to make it look as good as new. Another idea is to add a sealer over the top of the paint to help it last a little longer. A simple spray sealant is a great idea to use since it too is fast and easy to apply to the whole thing.
Supplies Needed
Empty gallon bottle
1 (20oz) empty bottle
4 (16oz) empty bottles
How to Make a Pig Planter
Clean and remove the labels from the bottles you will be using. I recommend letting them dry out, but it is not necessary. It just helps them to not get moldy later. Now, cut the top ½ off of four smaller bottles. Discard the base or set it aside to use in other projects.
Now, on one side of the gallon bottle, you will glue these, lid side down, so there are two "legs" on either edge of that side of the bottle.
Flip the bottle over so it is standing on the feet you just glued, then draw a square or rectangle on top of the bottle pig body. Mine was around 4" wide by 6" long, but you can make it smaller or larger. This is the hole you will use to put your flowers inside the pig.
Using the 20-ounce bottle, or scrap plastic from other bottle projects, draw large oval ear shapes. Mine is around 5" long and 3" wide in the middle. Then, cut these out and set them aside.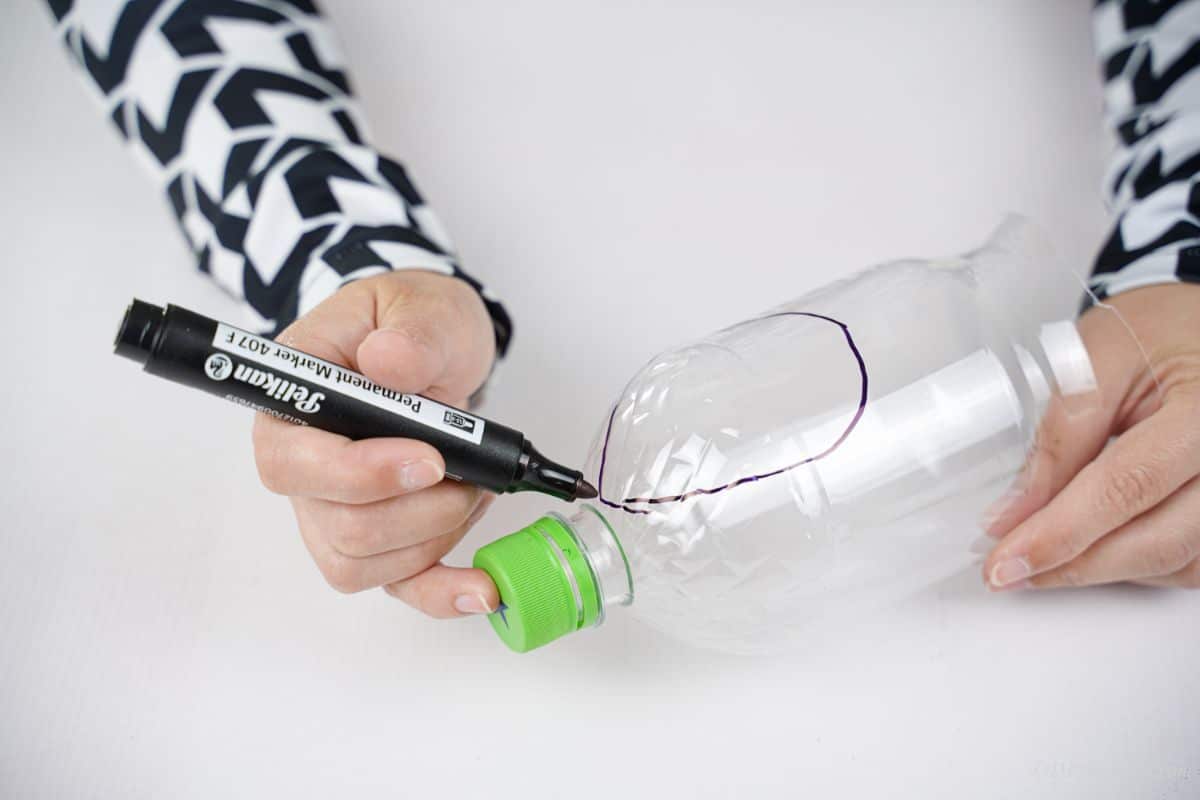 Using part of the bottle of one of the other bottles not used, cut a strip of plastic that is around ¼" wide. Now, roll this piece onto itself then let it unroll.
Once it unrolls, twist it around so it forms a pigs tail shape.
Then, glue this to the back end of the big bottle, opposite the lid.
Now, glue the two ears at the top of the pig, just before the neck of the bottle starts narrowing.
Before painting the pig, remove the lids from the "feet" and spray paint them black then set them aside.
Now, spray the rest of the pig red and let it sit aside to dry completely.
When everything is dry, put the lids back onto the feet. Then, you'll begin making the face.
First, glue the buttons on the lid and nose end of the pig.
Then, glue on some googly eyes on top of the neck, just below the ears.
You can add accent paint if desired, or simply fill the back with flowers and display it as is.
More Easy Craft Ideas
If you love turning trash into treasure, then you will love our ideas using those empty plastic bottles of water or soda. Below are a few of our favorite ideas to add to your next crafting project day! Make sure that you bookmark these to make soon! You can also print out the tutorials (with or without images), and pin them to Pinterest!
Yield: 1
Upcycled Water Bottle Pig Flower Planter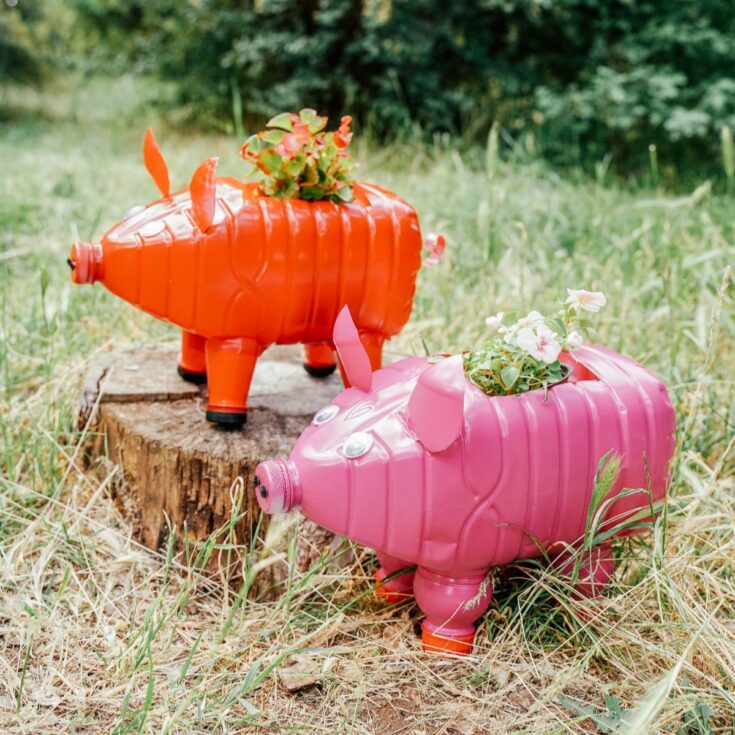 Turn a gallon water bottle into a gorgeous pig flower planter with just a bit of imagination and paint! A cute garden decoration!
Additional Time
30 minutes
Materials
Empty gallon bottle
4 (16oz) empty bottles
1 (20oz) emtpy bottle
Instructions
Remove the labels from the bottles you are using and clean them out and set them aside to dry. Then, starting with the four smallest bottles, cut off the bottoms leaving just the lid end. This is only if the lid is larger and flat. If using a traditional bottle, cut the top off and use the end.
Now, glue these, 2 per side, on one side of the gallon plastic bottle.
Flip the bottle over, draw then cut out a square on the top. This will be for it to hold the flowers later.
On the scrap plastic bottles, draw and cut out two large oval ear shapes.
Then, cut another bottle into a spiral ring for the pig's tail.
Roll the spiral onto itself, then unroll and twist it into a spiral pig tail shape.
Glue this to the back, opposite the end with the lid, on the pig.
Then, glue the ears onto the top of the neck end of the pig.
Remove the lids from the feet and set them aside.
Spray paint the entire pig red then set it aside to dry.
Now, spray paint the lids black and set them aside to dry.
Once everything has dried, you will assemble the pig face. Screw the lids back onto the legs. Then, glue black buttons to the front lid of the pig.
Then glue the googly eyes just in front of the ears.
Notes
Your pig can be painted any color you prefer.
Recommended Products
As an Amazon Associate and member of other affiliate programs, I earn from qualifying purchases.
Finished Project Gallery
You can paint your pig any color you like, whether it is natural or bright and colorful.
Make these in different sizes to create a pig family to display!