Take your space adventures to the next level with this DIY plastic bottle jet pack rocket! Such a fun idea that is perfect for kids to play with, and really shows how you can turn trash into treasure. I really just love how this is so easy to make and that it's the ideal project to create with your kids! Plus, it makes a great costume base for Halloween or costume parties!
Plastic Bottle Jet Pack
When my kids were little, being an astronaut was one of their dreams. So, making their own jetpack was something I know a bit about. In the past, we've used all sorts of things to make them, but this tutorial is the easiest and definitely the most affordable. It's a perfect plastic bottle craft for aspiring astronauts and just for kids who love science crafts.
If you are using this for costume inspiration, you may want t check out our other easy DIY Halloween costume ideas. We even have cute costume ideas for pets that you can make!
What Size Bottles Should I Use for My Jet Pack?
When you are making this jet pack, you can use whatever size bottles you like. If you are making this as a wall decoration, personal-size water or soda bottles in the 16 to 20-ounce range will work perfectly. If you are making this as part of a Halloween costume, you will want to make this craft with 1 or 2-liter bottles.
If you have tiny bottles, like sample size bottles, this craft can be used as a jetpack for dolls and action figures. Make the craft with everything in a tiny size that will fit the smaller figures. A fun addition to your kid's Barbie or GI Joe clothes and costumes!
The best part of this plastic bottle jet pack is that you can make it in so many different sizes all depending upon what you have on hand!
What Should I Use for the Rocket Flames?
The rocket flames add realism to this jet pack. I recommend using construction paper or stiffer foam paper to make the flames. You can also use felt to make the flames if you want something that isn't as stiff.
I like foam as it holds the shape so well and comes in a multitude of colors. You can always make them out of fabric, but know that the fabric will move around more. This might look more realistic to you, but can also be not as sturdy depending on what you plan to use this rocket craft for. If you want it to be a bit stiffer, you can always coat it in Mod Podge or good spray starch.
How Can I Customize My Jet Pack?
This is a basic setup that is ideal for making with scrap craft supplies and empty plastic bottles. You can also customize this with many different and unique additions to the pack. Below are a few ideas that are fun to consider.
Paint the bottles a different color such as white, gold, bronze, or even colors of your favorite sports teams.
Add stickers or stars and stripes painted onto the "rockets" to mimic the rockets used in the Apollo missions.
Glue or stick on NASA or various space-related patches or mission stickers.
Use streamers or strips of gold and red ribbons on the bottom of the jet pack instead of the flames shown.
Add suspenders or similar style real clothing options that are adjustable on the back of the pack so it's easy for anyone to wear.
What Can This Jet Pack Rocket Be Used For?
This jetpack is perfect for imaginative play. Kids can use this when they are pretending to be an astronaut or flying into space. It can also be used as part of a superhero play. Everyone wants to pretend to be that superhero saving the world, and this is a fun way to make that happen.
Other ideas include using this for a space-themed party decoration or for a kid's bedroom that has a space or astronaut theme. It's super cute and easy to customize.
Lastly, the plastic bottle jetpack rocket can be used as part of a DIY Halloween costume. It will bring the outfit together and kids can show off that they are ready for space.
Supplies Needed
Empty plastic bottles
Cardboard box
How to Make a Homemade Jet Pack Rocket
Rinse out the bottles well and then remove any labels and glue from them. Make sure they are completely dry before spraying them with silver paint and setting them aside to dry for around 30-minutes or until no longer tacky.
While the bottles are drying, you will make the flames for the bottom. I folded the different colors (orange and yellow) of foam paper in half, and then cut out a flame shape from them. If you didn't cut the folded edge, you can cut through it to separate them.
You want to have 2 yellow and 2 orange flames, with the flames of slightly different sizes for a layered look.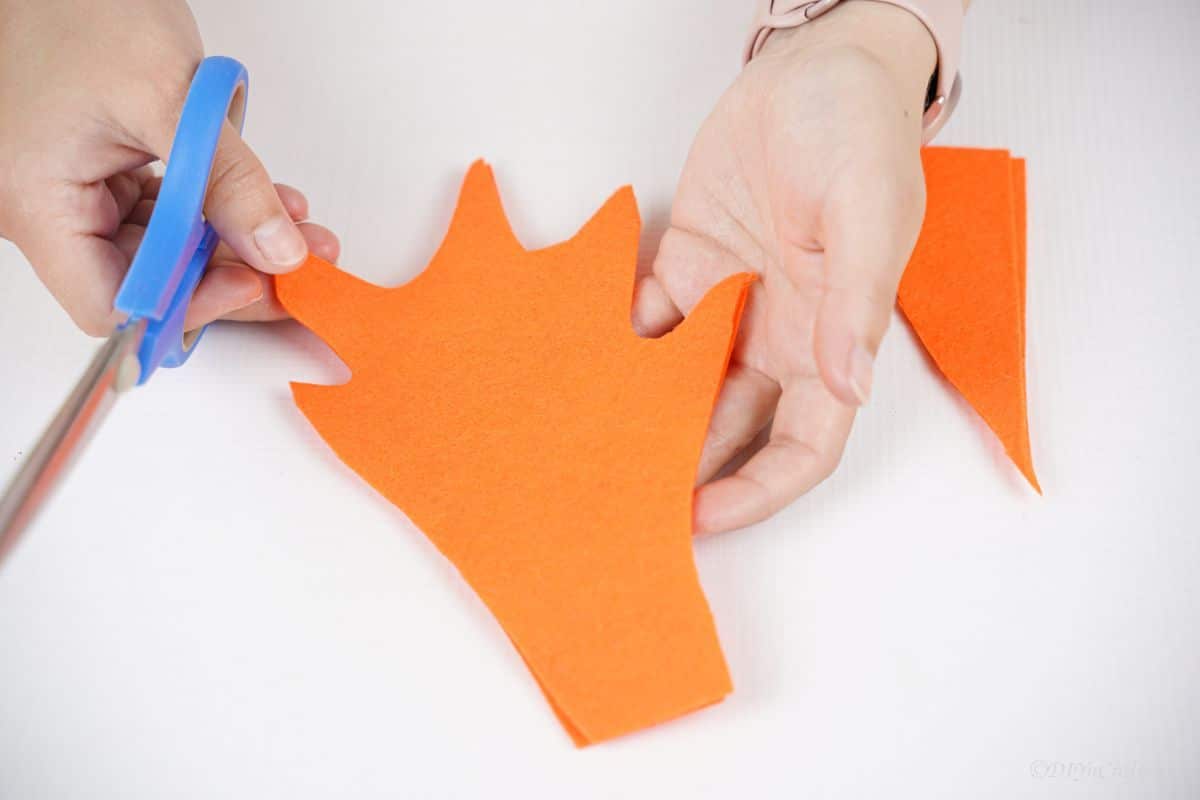 Now, measure the length of the bottles and the width of the two of them laying side by side. Use this measurement to cut a piece of cardboard that is around 2" shorter than the length of the bottles and just as wide.
Once the silver bottles are dry, glue them to the cardboard side by side.
Stack the yellow and orange flames together, one of each, and glue them together at the narrow top end.
Then, glue the flames inside the open lid end of the bottles.
Cut or punch a hole into the cardboard piece, between the bottles, on the top/closed end of the bottles.
Slide your twine or rope through this, then over and underneath each side of the bottles to create straps for wearing the rocket pack.
Tie or glue to secure the straps, and then display them or let the kids have fun playing!
More Bottle Crafts
Whether it is an empty bottle or a soft drink can, you probably have a few of these in your trash or recycling bin. Put them to use to make something fun and unique like this or the crafts below. Make sure that you bookmark the ideas, print out the tutorials, or pin them to an appropriate board on Pinterest.
Yield: 1
DIY Plastic Bottle Jet Pack Rocket
A DIY plastic bottle jet pack rocket is the perfect kids' upcycling craft to make for summer playtime and adventures!
Additional Time
30 minutes
Materials
Empty plastic bottles
Cardboard box
Instructions
Spray the plastic bottles silver then set them aside to dry completely.
Now, fold the yellow foam paper in half, and cut a jagged shape along the bottom to create a flame look. Cut it in half at the fold.
Repeat this process with the orange foam paper, making it slightly larger than the yellow flame.
Cut a rectangle of cardboard that is the width of the two bottles side by side, and about 2" shorter than the length of the bottles.
Glue the bottles onto the cardboard.
Now, glue the orange and yellow flames together, creating two flames that are two-toned.
Glue the flames, narrow end, into the open end of the bottles.
Now, punch a hole through the cardboard, between the bottles on the closed end.
String a length of twine through the hole, then under and over the bottles to create two straps on the back of the rocket jet pack.
Notes
Decorate the outside of the rocket bottles with different names or mission names from various NASA projects.
Recommended Products
As an Amazon Associate and member of other affiliate programs, I earn from qualifying purchases.
Finished Project Gallery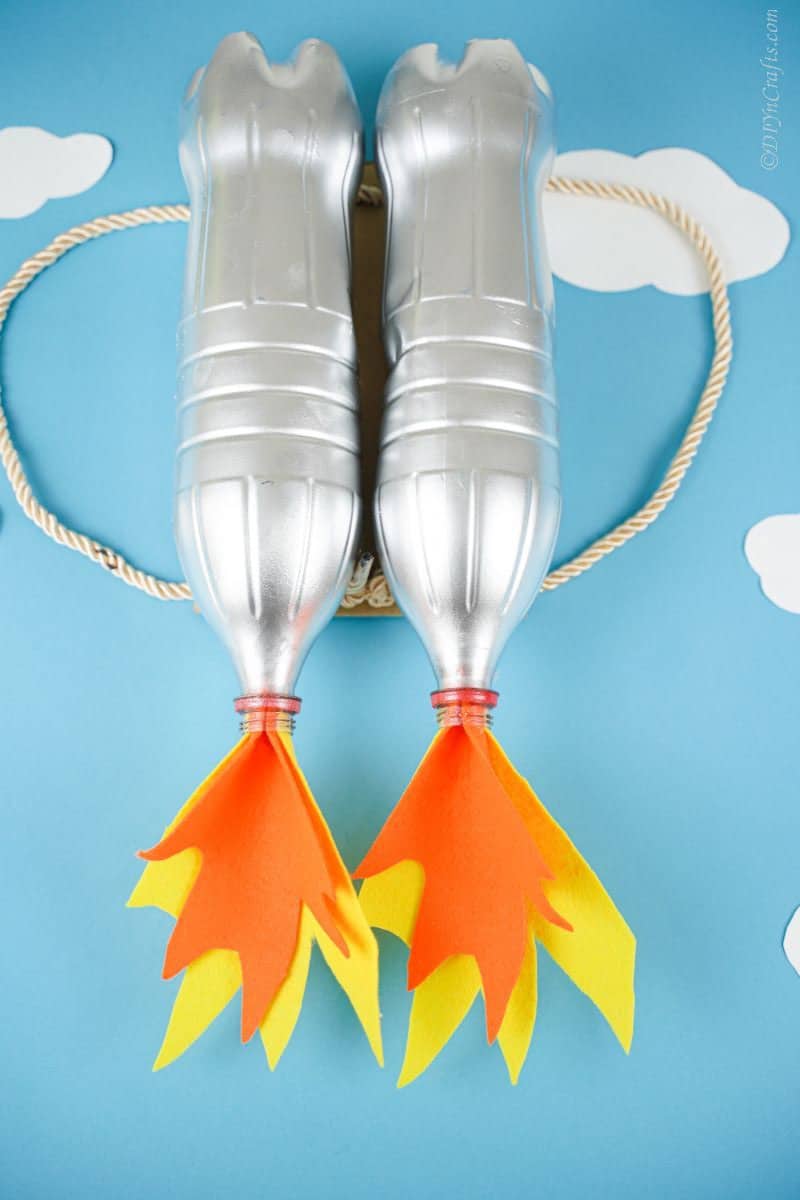 These can be painted any color you want, or have different decals added to them for a unique look.
You can make them using different-sized bottles to suit a small child or an adult.