Halloween is literally just around the corner and instead of spending a small fortune on buying the kids a costume this year, why not just make the costume yourself?
Even if you don't typically sew a lot, we have a list of costumes that are adorable and really easy to make.
Making a costume is something that you and your children can do together. It's fun and they will really get a thrill out of helping you to create their trick or treat outfit. Have a look at some of the fun and easy costumes that we've found for you to try. No matter what age your kids are (even if they're teenagers) we're sure that there is a costume in the list that you and they will love. Note that some are a bit more complicated than others but most are easy even for those who rarely sew and they are so unique and adorable that you know you really want to try one.
Spelling Bee
How adorable is this little bee that is actually a spelling bee? You just have to make a regular bee outfit and then add a few words for the spelling part. This is great for costume contests and everyone is sure to get a real kick out of the spelling part. If your little one loves to spell, this is a great costume choice and it's relatively easy to make. Via – Realsimple
Director
This really cute director's costume is super easy to make. The clothing and hat can be purchased or you can sew them yourself if you want. Just add the megaphone and clapboard and you're all set. The great part about this costume is that you probably already have the clothing on hand and the megaphone and clapboard can easily be made from cardboard and painted or colored to make them authentic. Via – Realsimple
Lego Man
What little boy wouldn't love to be a Lego for Halloween? You can make this Lego costume with cardboard and then just paint it the color that you want. Add a sweat suit of the same color and some matching sneakers and your little one will love his Lego look. Via – Mercedesmorcerf
Dice
This is a great costume idea for twins. Just put them in white sweat suits and make the dice out of cardboard. Add black construction paper dots for the numbers. You just have to cut a cardboard box to allow for it to be worn and then paint it white or cover it with white construction paper. Add your black dots and you are ready to go. Via – Ehow – Photo
Spaghetti and Meatballs
Spaghetti and meatballs are yummy and make an adorable Halloween costume. You will need a red checkered table cloth with a hole cut in for your child's head to poke through. A pan, a paper plate, some yarn and Styrofoam balls painted brown for the meatballs complete the ensemble. This is a really fun and really simple to make costume that your little one will love. Via – Parenting
Hippie
Ok, so a hippie is one of the easiest and most popular costumes to make. You just have to have the right clothing and your child can easily be a hippie. If you don't have anything too flowery, just use some old fabric and sew it on to a denim vest. Add the fringe, wide-legged jeans and sandals and remember the John Lennon sunglasses. Via – CRAFT
Bubble Bath
Complete with a rubber ducky, this bubble bath costume is great. You need an inflatable bathtub with a hole cut in so that your child can wear it. Bubbles are made from balloons and you can accessorize this one however you want. Tape shampoo bottles to the tub or just use bath scrunchies to dress it up. Via – Parenting
Mad Scientist
A lab coat, khakis, bow tie and the right accessories will give you everything you need to make your child a mad scientist for Halloween. You can even get a plastic beaker and fill it with yummy gummy worms or some other type of candy that will look a bit eerie for the holiday. Via – Realsimple
Paper Doll
Make your little girl a living paper doll for Halloween with just a bit of cardboard and a little imagination. Draw out the dress, purse or anything else you want her to wear and be sure to leave the tags on. This is a great costume that can actually be taped to her clothing which will make it look even more paper doll-ish. Via – Amazingezone
Safari Guide
Put those stuffed animals to good use with this safari guide costume. You just need khaki shorts and vest, binoculars, a safari hat and a few stuffed giraffes, elephants or any other animal that you want – think African safari animals. Remember to use long socks and boots to complete the look. Via – Realsimple
Pig in a Blanket
This is absolutely one of the most adorable homemade costumes ever. You just have to dress your little one all in pink and then add ears and a piggy nose. Add a pink or white blanket and you have a cute little piggy in a blanket. The ears and nose can be purchased really inexpensively or you could just make them yourself. Via – Realsimple
Snowball
Who says you have to wait until Christmas to see snow? This adorable snowball costume will be the hit of any Halloween party. You just need a large light blue sweatshirt, some white felt, Styrofoam balls and a few other supplies. This is the cutest little outfit that is easy to make and will look great on kids of all ages. Via – Parenting
Pinocchio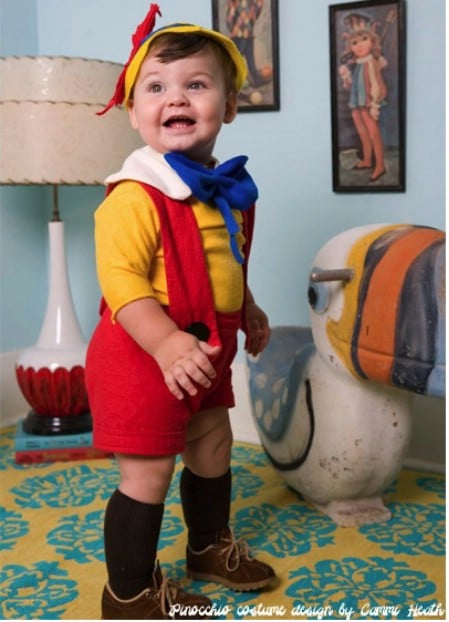 This sweet little Pinocchio costume is great for little boys. With some red overall shorts, a yellow shirt and some white and blue felt to make the collar and bow, your little one can look just like the fabled wooden boy. Add some rosy cheeks and a cut little hat and you're all set. Via – Eonnisworld
iPod
You can create so much with a cardboard box, even this great iPod costume. Just paint the box red and then add the dialers and such. Remember to stencil in the Apple insignia and add some headphones to make it really look authentic. This is a great costume and is really easy, not to mention cheap, to make. Via – Lilsugar
Raining Cats and Dogs
Make it look like it really is raining cats and dogs with this adorable costume. You will need a clear umbrella, black felt and a little imagination to draw out the animals. Add a raincoat and rain boots and your child will really look like its pouring. This is another really easy and really inexpensive costume that is sure to be a hit. Via – Parenting
Fluffy Cloud
This fluffy cloud is really cute and really unique. You will need a large light blue sweatshirt, some batting and white felt and a sewing needle. You can also add a toy plane or helicopter to make it look like they are flying around the clouds. This is a great costume that is easy to make and a great choice for those who have younger kids – the toy plane and helicopter could keep them busy while you are making your trick or treating rounds. Via – Parenting
Slurpee
Older kids will love this Slurpee costume. You will need to create the "cup" that the Slurpee goes into. The straw can be made from a swimming noodle – you can get these for around $1 – and the Slurpee is actually tulle that is really inexpensive. Just choose whatever colors you want and have fun with this one. Via – Crapivemade
Mr. Robot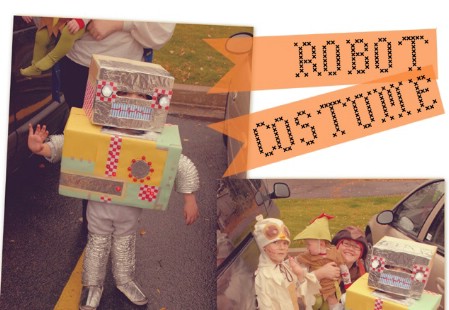 This is a classic costume – it is really easy to make and very popular. To make a robot, you just need a couple of cardboard boxes. Your child can help you to draw, paint and/or paste things to the boxes to make them look like robot parts. Add some silver colored flexible tubing for arms and legs and you have an authentic and classic robot. Via – Lorajeansmagazine
Tornado
The tornado costume is very easy to make and you only need a few supplies. Pick up a large oversized black shirt, heavy cardstock, batting, black gloves and silver lame. You can add toy houses, cars, people or whatever you want that your twister may have picked up in its path. Via – Parenting
Ruffled Skeleton
Add a special twist to a classic skeleton by using ruffles for the bones. Instead of plain old bones, just sew on ruffles in a skeleton pattern and you have a great skeleton that is perfect for little girls. You will need a black sweat suit as well as white ruffles for the bone pattern but this is easy and if you prefer not to sew, just attach the ruffles with fabric glue. Via – Fiskars
Easy Bumble Bee
You don't have to buy a bumble bee costume if your little one wants to sport a stinger for Halloween. You can add black ruffles to a yellow shirt and then simply add the wings (which you can craft from card stock) and the antennas. This is an easy costume that is great for last-minute needs because it literally takes less than an hour to put together. Via – Fiskars
Little Miss Sunshine
What better way to show off your new baby girl this Halloween than in her own Little Miss Sunshine costume? This little costume is great and the crown and sash can be made from things that you have lying around the house. Just add a yellow dress and tights and you have a bright shining star to tote around the neighborhood. Via – Realsimple
Little Devil
The devil is a classic Halloween costume that will simply never go out of style. This is a really easy to make costume, too. You just have to dress your little one in all red, add the horns and a pitch fork and you are ready to go. You can buy devil accessories where most costumes are sold or just make them yourself. Via – Parenting
Saturn
If your child is a lover of the universe, this Saturn costume is a great choice. You just need black sweats, and some star stickers of different sizes. You can paint the Saturn bands on the sweatshirt and then add a small pillow for stuffing. The rings are actually hula-hoops and you can add as many of those as your little one can carry. Via – Realsimple
Scuba Diver
You can do a scuba diver costume in a couple of different ways. Either dress your little on in all black to resemble an actual scuba diver's uniform or you can just add swim trunks instead. A snorkeling kit and an oxygen tank made from two-liter soda bottles that are painted black complete the ensemble. Via – Realsimple
Frankenstein
Go classic Halloween with this adorable Frankenstein costume. You will need brown pants and a brown jacket, a white shirt and Frankenstein's head which you can create from green and black felt. Go creative if you want and simply paint your child's face to resemble the classic character. This is a great little costume that takes very little time to create. Via – Parenting
Little Drummer Boy
Create this little drummer boy with a uniform that you can easily make out of regular clothing and tape. You just have to add red utility tape to black pants and a white shirt to create the uniform. They just cover a tall oatmeal box with paper to create the hat and make the drum out of another round cardboard container. Via – Realsimple
Bum
The Bum look is a classic one for Halloween, mostly because it is so very easy to make and costs very little (or nothing at all if you have the supplies on hand). You just need to dress your child in clothing that is torn or otherwise not in perfect shape. Add a ski cap and a five o'clock shadow using Halloween makeup and give him or her a cute little cardboard sign to hold. Via – Jokeroo
Ghost
You don't have to cut holes in your favorite sheet to send your child off trick or treating dressed as a ghost. There is a better way. How about a white sweat suit along with some white tulle that will give a great impression of flowing? Just add white tights or you could do any color you want if you want your ghost to be a bit out of the ordinary. Via – Parenting
Baby Peacock
Peacock feathers can be bought at just about any craft store and you can just glue those feathers to a pale blue or bluish/green onesie to make your little one a beautiful peacock for Halloween. Add some flesh colored tights for the legs and a headband with a few smaller feathers to complete the look. Via – Creativelychristy
Owl
Owls and Halloween seem to go hand-in-hand so what better way for your child to express his creativity than with this adorable owl costume? The costume itself is easy to make and you just have to pair it with brown pants or tights to complete the look. Add a mask for the face and your child will be the most adorable owl on the block. Via – Parenting
Chicken
This awesome chicken costume is made from white trash bags and yellow cleaning gloves. Really, what better way to use those kitchen supplies than to make your little one the most adorable chicken ever? This is great and easy to make and you can send along an egg basket for a trick or treat bag to collect their candy and make the entire outfit really authentic. Via – Marthastewart
Dots
Dot candy is very colorful and your child will be too when they sport this Dot Candy costume. You just need a plain white dress and then add the "dots" by pinning or gluing Styrofoam balls that you have painted various different colors. Add a colorful wig tights and anything else that you want to pull the outfit together, including candy necklaces and bracelets. Via – Dollarstorecrafts
Rocket Man
A rocket man is every little boy's dream. Most little boys want to grow up and go to the moon at some point and this rocket man costume is a great start for him. With white pants and shirt, Pringles cans painted silver and some red and yellow streamers, you can make your own little rocket man costume and really make him the hit of Halloween. Via – Realsimple
Hot Air Balloon
With a large basket, some yarn or ribbon and a large helium balloon, you can create a cute little hot air balloon. Add some goggles and your little one will look like he's ready to take to the air. This is an easy costume to make and takes just a few inexpensive supplies. Some brown paper bags can be tied up to resemble sand bags and could even double as candy bags. Via – Rookno17
Tomato
This tomato costume requires absolutely no sewing so if you are not really the sewing type, this is a great project. An oversized red sweatshirt, red tights or pants and felt are all you need to make your little one a great garden tomato. You just have to cut green felt for the top and neckline and glue it on with fabric glue. Via – Parenting
The Little Mermaid
If your little girl adores the Disney Princesses, you can make her very own Aerial costume using some tulle and a few other supplies. Just gather the tulle together with elastic for the waste and the ankle line. Add a purple sparkly top and a headband and you have a great Little Mermaid costume that takes very little time to create.  Available on- Etsy Little Mermaid Tutu Costume
Carrot
What better way to get your toddler to appreciate carrots than to make her one for Halloween? This is a no-sew costume project so it's great for those of you who prefer fabric glue to needles and thread. You just need an oversized orange sweatshirt to make the costume. Add the green on top and you have a cute little carrot that is sure to get compliments. Via – Parenting
Mommy's Little Angel
Ok, so even if your little one is not always an angel, you can make her look like one. This costume is great. It is easy to make and very inexpensive. You can create the wings and halo using pipe cleaners, coffee filters and cardboard and then just add an all-white ensemble. To be really creative, throw in a few leaves that are the result of when your little angel fell to earth. Via – Realsimple
Little Piggy
This little piggy costume does not require sewing so it is another one that is great for those who prefer not to sew. You start with an oversized pink sweatshirt and then just add the tail, nose and ears. This is a great little costume for babies who are not yet walking or you could make it a bit larger for older kids who still love the barnyard animal look. Via – Parenting
Corn on the Cob
Here is another great garden vegetable costume that is so adorable and easy to make. Again, no sewing required. You just begin with a green oversized sweatshirt and add egg cartons that have been painted yellow for the corn. Top it off with some silks and you are ready to go. This is easy and so adorable that your child is bound to love it. Via – Parenting
White Rabbit
Make a white rabbit costume for children who love the Alice in Wonderland story. Even if your child is not a fan of Alice, he will love sporting the white rabbit costume for Halloween. You need a white oversized sweatshirt and a few supplies for the hat, all of which you can pick up at any crafts store. This great little costume is fast and easy to put together and is sure to be a hit. Via – Parenting
Brave Knight
Your little boy will adore being a brave knight and saving the fair princess. This knight costume is easy and uses things that you probably already have in the house. The supplies list is a bit long but don't let that scare you. It is really easy to make and your little one will love looking like his favorite fairy tale knight. Via – Parenting
Pony
Let him be a pony with this easy to make costume. You don't have to sew anything and you just start with an oversized brown sweatshirt. You will need dark brown yarn for the tail and mane. Incidentally, you can do this in any color so if your little girl loves My Little Pony, you can create this for her in an assortment of colors or do it in any color that you choose. Via – Parenting
Enchanted Princess
Every little girl wants to be a princess and this no-sew costume is great. You will need table skirting, tulle and a few other supplies but nothing has to be sewn. Everything is glued in place and you can choose any color that you want. This beautiful little princess costume is great for girls of all ages, even grown-up girls love to feel like a princess now and then. Via – Parenting
Toadstool
With a white sweat suit and a few other supplies, you can create a great toadstool costume. This is great for boys and girls alike. You will need fabric that is red with white polka-dots or you could just use red and white paint. Styrofoam works well for the hat because it is lightweight and can be painted or covered, however you choose to do it. Via – Spoonful
Dwight
Dwight from The Office is a very popular character and many kids would love to be him on Halloween. To make a Dwight costume, you just need business slacks, a dress shirt and tie. Just add glasses and you have a Dwight look going on. This is a great costume because it can be made with things that you already have on hand and it's really easy and fast to throw together. Via – Babble
Pretty Clown
If your little girl wants to be a clown, but a pretty one, you can easily create a costume for her by using a lot of different colors. A colorful tutu is a great start and then just pair it with a colorful top, clownish makeup and a huge colorful bow in her hair. This is a great twist on the traditional clown costume and is very flexible so you can be as creative as you want. Available on – Etsy Clown Costume Petti Tutu
Cow
You can make a cow costume easily and without having to sew anything. You will need an oversized white sweatshirt and black fabric or felt to make the spots. Just pair with black sweats or even jeans if you want. Add the big floppy cow ears, which are really easy to make by the way, and black socks for the hands so that they look like hooves. Via – Parenting
Shark
Make a shark costume easily with a gray zip up sweatshirt and gray sweat pants. You will need to add the "teeth" which can be done by gluing white felt to the hood of the sweatshirt. Then simply add a fin on back which you can create from cardboard covered in gray paper or fabric. This is a great costume that is inexpensive and can be put together in just a few minutes if needed. Via – Fiskars
Gold Fish
Imagine a beautiful gold fish costume that you don't have to sew. This project is really simple and takes just a little time. The fins are made from fabric covered paper plates and the stripes are simply ribbon that has been glued on to the sweatshirt. A ping pong ball makes a great eyeball for the face and the entire project is really cute and really easy despite its complicated look. Via – Parenting
Astronaut
Little boys and girls alike will love this adorable astronaut costume. You can make it easily with white sweats, white tennis shoes and a little imagination. Just add the insignias and such using fabric paint or glue and add a helmet made from an oversized hooded sweatshirt. This is a great project that is both easy and inexpensive and will make your child's dreams of being an astronaut come true. Via – Potterybarnkids
Court Jester
Make your class clown a court jester for Halloween. Supplies for this project include felt, pom-poms in various sizes and colors, grosgrain ribbon, jingle bells and a few other things that you may already have in the house. This is a very colorful and very creative costume that your child is sure to love. Striped pajamas and boots perfectly complete the look. Via – Parenting
Sandwich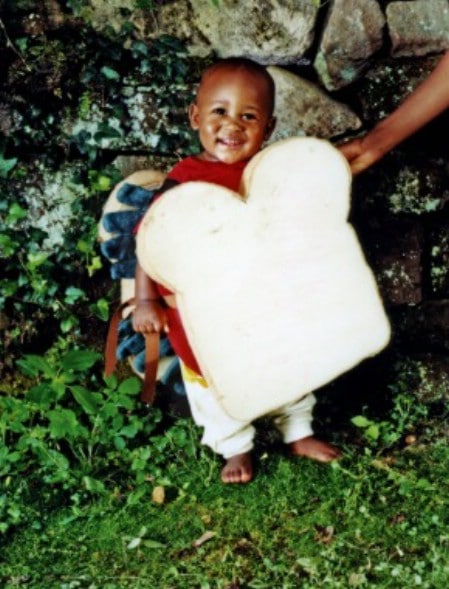 Make an adorable sandwich with some thick foam, felt, fabric and glue. This is a project that requires no sewing whatsoever. It is easy and so adorable. If you want something really unique and something that no one else will think of, the sandwich costume is a great choice and it can be customized to your favorite sandwich by changing felt colors for the ingredients. Via – Parenting
Washing Machine
This washing machine costume is really cute and relatively easy to make. You need a cardboard box that acts as the machine and then a few supplies to fill it up with clothes, detergent and water. Add a small sample box of your favorite detergent and a few clothing on top and you have a great little washing machine costume that will be sure to be a big hit. Via – Spoonful
Skunk
Make your very own (non-smelling) skunk with black sweats and a few other supplies. This little skunk is really adorable and can be made with faux fur that really looks authentic. Add some whiskers with eyebrow pencil and stuff some fabric with packing peanuts for the tail to complete the look. Via – Slunk
Mouse
What an adorable little mouse your child could be for Halloween! This easy to make mouse costume uses sweats and felt along with glue and other supplies to pull off the look. Socks work to cover hands and feet and you can get really creative and do this mouse in just about any color you want. Incidentally if you add the right coloring, you could create a Mickey or Minnie with this one, too. Via – Spoonful
The Wild Things
Where the Wild Things Are is a really popular movie and if you have a group of children who need costumes, this movie has a number of great characters. You could have your own little version of Where the Wild Things Are. Some sweats and a lot of stuffing may be required and you can create one or all of these adorable little creatures, depending on how many costumes you need. Via – Nicolehill
Cat
With a black oversized sweatshirt, a few socks for paws and whiskers drawn on with eyebrow pencil, you can create a very cool cat costume. A black boa works well for the tail and you can add rosy cheeks and a black nose if you want. Ears are easy to make from remnants of the sweatshirt. The entire look is adorable and can be done in different colors. Via – Parenting
Lightning Bolt
If you want a no-sew project, this lightning bolt is great. It just takes black sweats, black felt, gloves, cardstock and batting, along with a little silver lame to make the spark. This is a great, easy to make costume that is inexpensive and perfect for those little ones that are full of energy. Via – Parenting