Looking for a fun and eco-friendly way to add some green to your home décor? Craft your own plastic bottle rhinestone vase! This easy project is perfect for upcycling those plastic water bottles you were going to throw away. Plus, it's a great way to add some fun decor to your space without spending a lot of money. Bonus? Kids will love helping you with this!
Plastic Bottle Vase
This is a unique and easy way to make a vase out of a recycled plastic bottle! All you need is a recycled plastic bottle, an old cd, some scissors, rhinestones, glue, and a few minutes of your time. It's an easy way to upcycle something, and even easier to customize for your decor. This vase can hold fake flowers or just sit and look pretty on a shelf.
I love making things like this with the kids because they love anything sparkly. Other easy vase ideas include this twisted paper straw vase or even this wooden mason jar vase holder.
Can This Hold Real Flowers?
While this is a great craft to use with fake flowers, it also works with real flowers. Because this is made with a plastic water bottle, it is able to hold water without leaking. That makes this even more special if you decide to give it as a gift. Give the plastic bottle vase with fresh-cut flowers and it will certainly make someone smile.
While it can hold a few real flowers, be careful to not overload it. I also recommend using it only as a vase and not as a planter. It will be difficult to make drainage holes that will work well for a live flower plant.
What Can I Use for the Vase Base?
I am using an old CD as the base of this vase. It is a great way to give the vase stability. The cap of the water bottle fits perfectly in the hole of the CD and it is a fun way to recycle old CDs or even scratched DVDs. I found that the kids thought this was especially cool to do.
However, if you don't have old CDs sitting around, you can also use other things that you may have around the house. The goal is to upcycle and repurpose as much as you can. In this project, a small saucer or plate works as a great base. Other ideas include cutting out cardboard into a circle, using plastic as you would find on a binder, or even using a block of wood for the base.
What Else Can I Decorate This With?
Rhinestones are a sparkling addition that makes this look a bit fancier. If you don't want to or don't have rhinestones on hand, you might reach for other crafting items you have available. Below are a few ideas that I think work especially well with this project.
Use colored gems, beads, or sequins in place of the rhinestones.
Take apart costume jewelry and use the pieces to cover the face.
Spray with paint and then coat in glitter instead of the rhinestones.
Cover the whole bottle vase with miniature artificial flowers or roses.
Use Mod Podge to add fabric or paper prints onto the outside of the vase.
Get creative and use this as a base for your own customized vase. Match it to your decor or even let kids use it to make as a gift to give to grandparents or family members.
How Can I Use This Vase?
The options are endless on how you can use this vase. You can use it to hold flowers or as decoration in your home. It would also make a great gift for someone special.
I have found that this also works well for things like makeup brushes in the bathroom. Or, put it on your desk to hold office supplies such as pens, markers, or even just items like paper clips. Whatever you decide, remember that it is just a basic plastic bottle base, so don't overload it or it will fall over or fall apart.
Supplies Needed
Empty bottle
Old CD or DVD
How to Make a Plastic Bottle Vase
Start by washing out a large empty plastic bottle such as a 2-liter soft drink bottle. Remove any labels and glue from the bottle. Then, use a craft knife to cut ¼ of the bottom of the bottle off and discard it. You want the lid end of the bottle to be the base of your vase.
Now, use craft glue or hot glue to add rhinestones around the bottle. I started at the top and worked my way around the bottle in even lines.
Continue gluing on the rhinestones side by side until you get to the neck of the bottle. Cover all the way down to the lid, but not the top of the lid, just the sides.
Set the bottle aside, and do the same thing on the top of an old scratched CD. I like to work around the edge gluing them in a circle or spiral until it reaches the center. When you get close to the center of the CD, check and leave a space large enough for the lid of the bottle to fit.
Now, glue the bottle, lid end down, onto the center of the covered CD.
Finally, add something more to the outside. I added silk flowers along the side starting at the top edge and gluing them in an angle down to the bottom. A curve of flowers that wraps around half the vase.
Once everything is in place and dry, fill it with your favorite flowers to display.
More Easy Flower Holders and Vases
I love fresh flowers and fake flowers as decor in my home. If you do too, then you'll love some of my fun ideas below for decorating with vases, flower holders, or even simple planters. Make sure that you bookmark these ideas, print out the tutorials, or pin them to Pinterest to make soon.
Yield: 1
Sparkling Plastic Bottle Rhinestone Vase
A sparkling plastic bottle rhinestone vase is a fun addition to your home decor that is frugal and fast to make!
Materials
Empty bottle
Old CD or DVD
Instructions
Cut the bottom ¼ of the plastic bottle off leaving the lid end intact.
Start along the edge you cut, and begin gluing rhinestones in lines around the plastic bottle.
Continue gluing rhinestones in lines covering the entire bottle, right down to the sides of the lid. Do not add rhinestones on top of the bottle cap/lid.
Set the bottle aside, and repeat this process, gluing the rhinestones onto the top of a CD. Cover all of one side, leaving the very center open.
Now, glue the bottle with cut end up, onto the CD.
Then, you can glue the silk flowers along the side of the vase, in a curve from top to bottom.
Fill with fake flowers and display!
Notes
For solid coverage, you can spray paint the bottle the same color as your rhinestones before gluing them into place.
Recommended Products
As an Amazon Associate and member of other affiliate programs, I earn from qualifying purchases.
Finished Project Gallery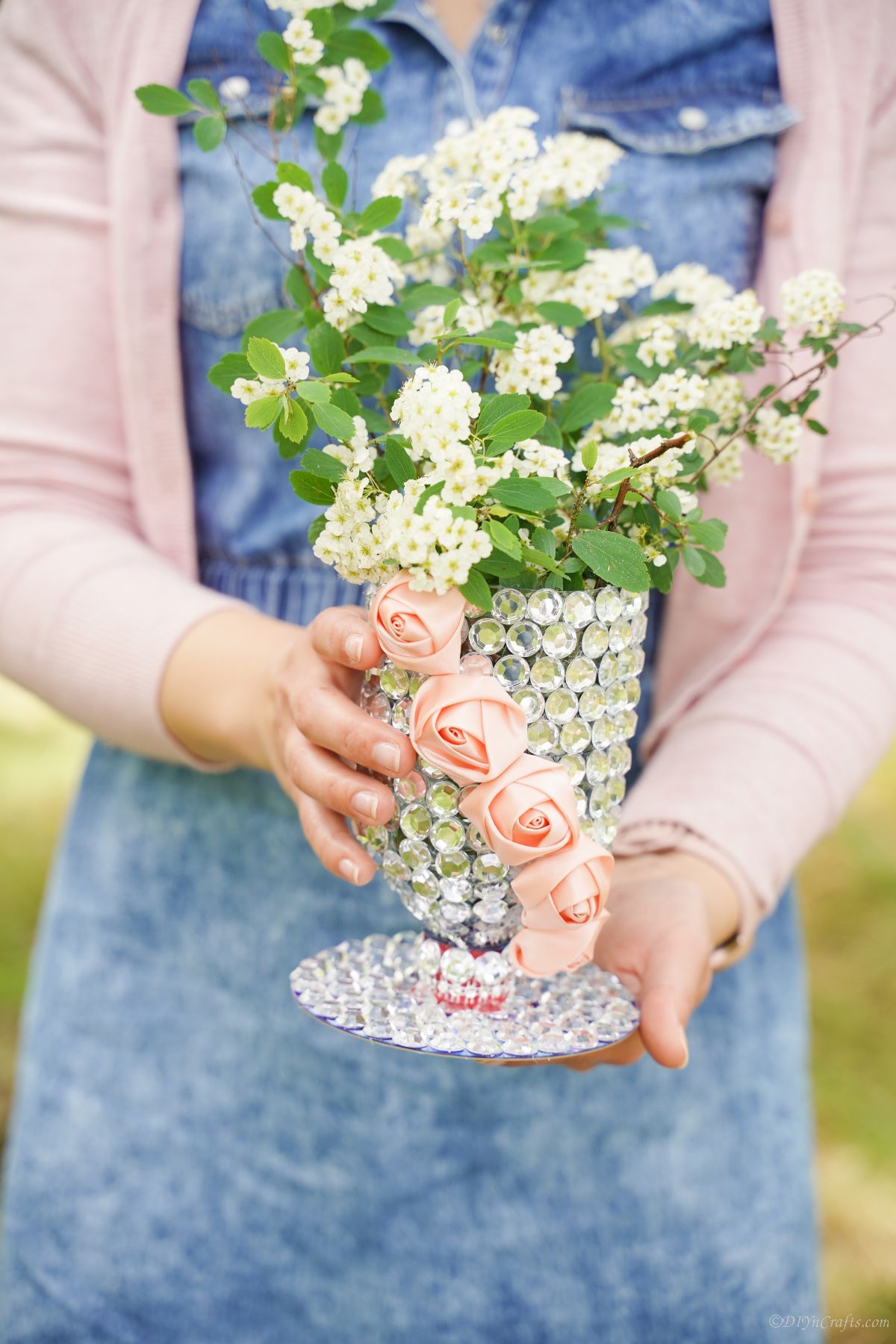 Fill the vase with real or fake flowers to display on a table.
Create a rainbow effect with different colors of rhinestones.