'Adorable' isn't even enough to do these friendly-looking fall friends justice! I adore these super cute scarecrow jar crafts for fall! They've got all the farmhouse charm you could ever want, in an easy to make project!
These things would be a fortune store-bought, but luckily for you, it doesn't take much more than a few old jars and some creativity. Get yourself inspired for some fall crafting fun with these cute DIY jar scarecrows!
Upcycled Super Cute Scarecrow Jar Craft for Fall
Into harvest season canning? You're not alone! Use your leftover mason, pasta sauce, and jam jars to create lovely fall-themed characters. They make for wonderful décor pieces that will bring some cute handmade charm to any room in your home.
What's better than a crafting project that uses up some of the old recyclables you've got lying around? Breathe some new life into ordinary objects like jars for a memorable and eco-friendly craft project.
You could put these little guys just about anywhere, too! They'd look particularly good in the kitchen on a shelf or open pantry where they can smile at you and your guests all season.
hey're already the perfect size, too! Experiment with different places around the house, see where this cute little fall fella fits! Craving more simple fall crafts? These paper Halloween fans will do just the trick!
What Else Can I Use This Craft For?
Besides making the most adorable pieces of decor in your fall tote, these have a lot of other uses, too! These little upcycled scarecrow jars are perfect for autumn gifting!
Use these to gift candies or treats to friends and family this fall!
Fall birthdays, housewarming parties, Halloween get-togethers, and Thanksgiving dinners could all be made better by gifting a batch of these to your friends and family!
Better yet, you can gift them personally as well. Load them up with your recipient's favorite type of candy or treat, (sealed in a bag, of course) for the ultimate 2-in-1 surprise!
How Can I Add to This Cute Craft?
There's a bunch of ways to add even more loveable character and charm to these craft decorations! Rummage through your craft supplies a bit, you'll be surprised at what you can come up with. Below we'll dig into more detailed instructions on how to make these to look as adorable as they are, but there are more ways to bring them to life!
Consider using craft implements like battery operated tea lights (electric, NOT real ones), or, a strand or two of fairy lights! Electric, battery-operated tea lights glow and flicker to imitate a real flame.
Place one inside the jar to give your little scarecrow friend a warm glowing aura. Alternatively, try using a strand of fairy lights either on the inside or outside of the jar for a dazzling and unique effect!
More Ideas for Your Craft Project
There's no limit to what you can do with these things! Make a set of them to give them some buddies, and make for an adorable decoration display! If you decide to upcycle some more of your jars, consider some different thematic and seasonal designs for these as well!
With some simple swaps like colors and decorations, you can easily make other fall favorites! Use black paint and white foam pieces to make a friendly skeleton jar, or orange paint and black stripes for a smiling plump pumpkin.
Let your creativity flow, and see what else you can come up with. If you're anything like me, you've definitely, got a few old jars sitting around!
Supplies Needed
How to Make Your Own Super-Cute Scarecrow Jar Craft For Fall
First, start by wiping the inside of your jar. As soon as it's dry, apply a coat of orange paint to the interior of the jar.
After that, measure the amount of burlap you need for the top of your scarecrow jar! Do this simply by wrapping it around the top of the jar and pinching where the material meets itself again. Cut at this point.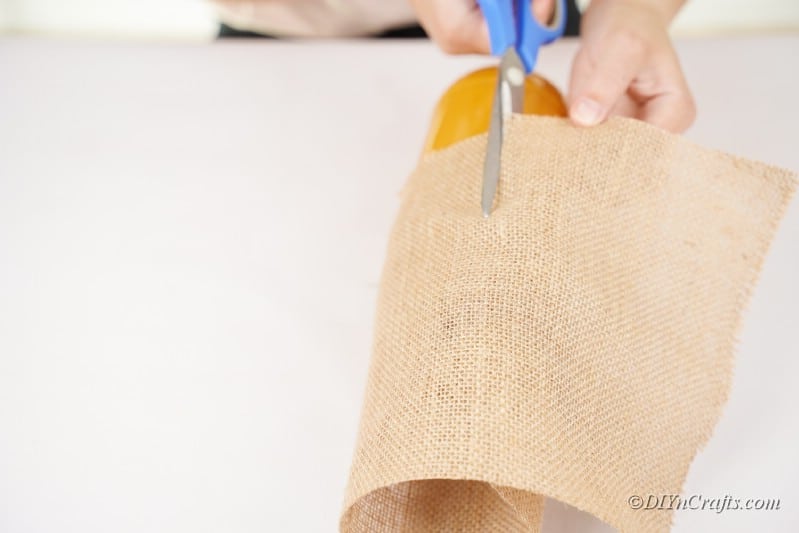 Now, use the hot glue gun to apply a small strip on the bottom half of the burlap, securing it together around the top of the jar. If desired, apply more glue where the burlap meets the jar in some places.
Do not, however, apply glue to the entire circumference, since we want this part of the material to be able to lift from the jar later on!
After that, tie a piece of twine at the top of the burlap. This should be somewhere in the middle of the burlap piece. All this string is doing, is adding some shape to our piece of material which will serve as a hat for the scarecrow!
Apply a dab of hot glue, and attach one end of a length of orange ribbon to the dot. Slowly work the glue around the entire surface until the ribbon meets the starting point again. This should be placed on top of the burlap around the very top of the glass jar.
Next, add a couple of stripes of hot glue under the burlap, but don't press down! Stuff pieces of straw into that spot, about an inch or so wide, pressing and pushing up into the burlap. This will create our scarecrow's signature straw hair!
Repeat the last step, except on the other side of the jar. They are in between is where we'll create the face of our scarecrow jar. Apply hot glue, and press two eyeballs down next to each other.
Take a piece of foam craft paper, or felt and apply it between the eyes to create a nose.
Use a permanent marker to draw a warm smile onto your scarecrow!
This is what your finished scarecrow jar should look like!
Yield: 1
Super Cute Scarecrow Jar Craft For Fall
Adorable scarecrow craft made from upcycled mason jars and a few simple craft supplies!
Materials
Instructions
Start by painting the inside of the jar with orange craft paint.
Place the burlap onto the outside of the top of the jar, cutting after you wrap it around once. Glue the burlap where the two ends meet.
Tie the top of the burlap loosley with a string to give the scarecrow's hat some shape. After that, glue orange ribbon around the top of the jar, on the outside of the burlap. This will make up the hat's brim.
Flare the brim of the hat, the part where the burlap meets the jar. place some stripes of hot glue on either side of the jar, and stuff with straw to imitate hair.
Use your hot glue gun to apply two googly eyes, and the orange nose.
Lastly, draw a friendly face on your scarecrow with a permanent marker!
Notes
Have fun with this one! Making this adorable fall-themed jar craft is all about adding personality to a cute, friendly character who'll quickly become one of your favorite pieces of autumn decor.
Recommended Products
As an Amazon Associate and member of other affiliate programs, I earn from qualifying purchases.
Finished Product Gallery
Place this friendly decoration anywhere you'd like a cheerful piece of fall decor!
This is a simple and adorable piece of handmade farmhouse decor you can use anywhere!
What will you use this cute upcycled jar craft for?