This may very well be one of my favorite types of Christmas crafts out there! It's an adorable, easy customizable Christmas snow jar craft idea you can make at home! This decorative piece looks great just about anywhere, and it has one special and lovely feature! It includes a small led tealight that makes it shine bright alongside your lights and decorations. Enjoy this heartwarming and easy to make decoration that's perfect for gifting, too.
It doesn't take much to create this adorable little Christmas craft jar. All it takes is a few pieces you've probably already got laying around, and a few basic craft supplies. This is one where you can really let your creativity shine! In the detailed step-by-step instructions down below, we'll show you how to create a lovely reindeer scene. Otherwise, you can use these instructions to create something that's all your own!
Christmas Snow Globe Craft or Gift
If you're looking for a charming DIY craft project that also makes a great gift, you're in luck! This jar decoration has all of the holiday charms you could hope for, in a craft that's easy enough for anyone to make themselves. We'll break down some of the supplies and accessories you can use to create your own, so you can deck the halls in style this year.
What Do You Use to Create the Snow?
There's a number of different things you can use to create the loose snow effect in this jar decoration. I recommend using loose pieces, so that you can easily change the scene, and create a dazzling effect of the reindeer prancing through snow. Fake snow is the most obvious choice, and you can typically find it in most craft stores.
However, if you need something a little more practical, you can always turn to styrofoam. Using a cheese grater, score and grate the surface of a block of packaging styrofoam you may have laying around. This should create small pieces you can use to fill the jar and create the dynamic snow effect. You can also use small pieces of packaging foam, and break them up by hand! (Wash your kitchen tools thoroughly afterward if you decide to go this route!)
What Other Ways Can I Decorate a Homemade Snow Globe?
In the photos, you can see we've used some fake pine tree accent with a small pinecone. This adds the perfect natural element to this craft, complimenting the piece on the diorama scene inside. It ties it all together and makes it a lovely piece of decor that goes well with other holiday-themed decorations.
You can of course use real pieces, although they may deteriorate over time. The other option is to reach for something different. Nutshells can be found in a lot of Christmas crafts to add natural, rustic elements. Twine, branches, and holly have a similar effect as well. Experiment, and use your creativity to come up with something that best suits your sense of design!
Can I use a Different type of Light?
Small, battery-operated tea lights are incredibly easy to come across nowadays. That being said if you want something a little brighter or more dynamic, there are options. Try using fairy lights! If desired, these can be strung throughout the entire diorama. Creating a soft glowing and dazzling display that will light the scene up for a magical effect.
The other option is a mini-sized strand of Christmas lights. depending on what you find, you may have to create a small opening in the lid for a chord to run through. If you're using a fairy light, you should easily be able to adhere to the battery pack and switch to the inside of the lid to keep it from being visible.
Other Ways to Personalize This Craft
Besides small changes to your craft supplies, this project scales very easily too! By picking up a larger jar, you can create more intricate, detailed, and brighter scenes inside. If you love the concept, experiment with different glass jars to see what you can come up with! Half the fun is coming up with something creative that will dazzle your guests. (You may even be able to incorporate some of your regular ornaments into something like that as well!)
Don't shrug ribbon, twine, or lace, either. You can apply materials like this to the outside of the jar to add an element of texture, depth, and other interesting features. You could of course always paint the jar to add some color and interesting patterns.
Supplies Needed
How to Make a Homemade Snow Globe
The first thing to do is to cut the foam craft paper into shapes that will cover the entire lid of your jar! Since most jars will be of different sizes and shapes, you'll have to use the circumference of your lid to trace a shape you can cut out. Cut on the strip the width of the lid on its side to cover the whole side. The next, the round top of the jar lid. Adhere these to the lid of the jar to cover it.
Next, add a small decoration to the lid. This can be a natural element such as pictured, or something of your own preference.
The next thing to do is add a tea light to the inside of the lid. You can use two sided tape on the battery compartment, so that you can 'slide' the light off of the lid to turn it on or off.
After you're done with the lid, you can fill the jar with fake snow of your choice. Place a decoration in side of the snow, as well as a piece of fake pine to create a tree, snow and prancing reindeer scene.
This is what the finished product should look like! This jar is incredibly simple to make, and the decoration is totally up to you to personalize if you so wish.
Yield: 1
Festive Upcycled Jar Christmas Snow Globe
This adorable an dazzling holiday jar craft is perfect for decorating! Plus, they make a great gift. You won't believe how easy these are to make for yourself.
Materials
Instructions
First, you should take the lid of your jar and use it to cut a circle for the top, and a strip the same width as the jar lid on its side. Apply these strips to cover the entire surface of the jar with craft foam sheet.
Now, add a decorative piece to the side of the lid for a natural touch. On the bottom of the lid, adhere a battery operated tea light.
Fill the jar with fake snow, and add descorative pieces to create a winter scene.
Recommended Products
As an Amazon Associate and member of other affiliate programs, I earn from qualifying purchases.
Finished Product Gallery
This jar is perfect for decorating on Christmas eve! Place it with some of your other lights, and glowing decorations for a dazzling display.
Use these decorative, cheerful jars for gifting, too!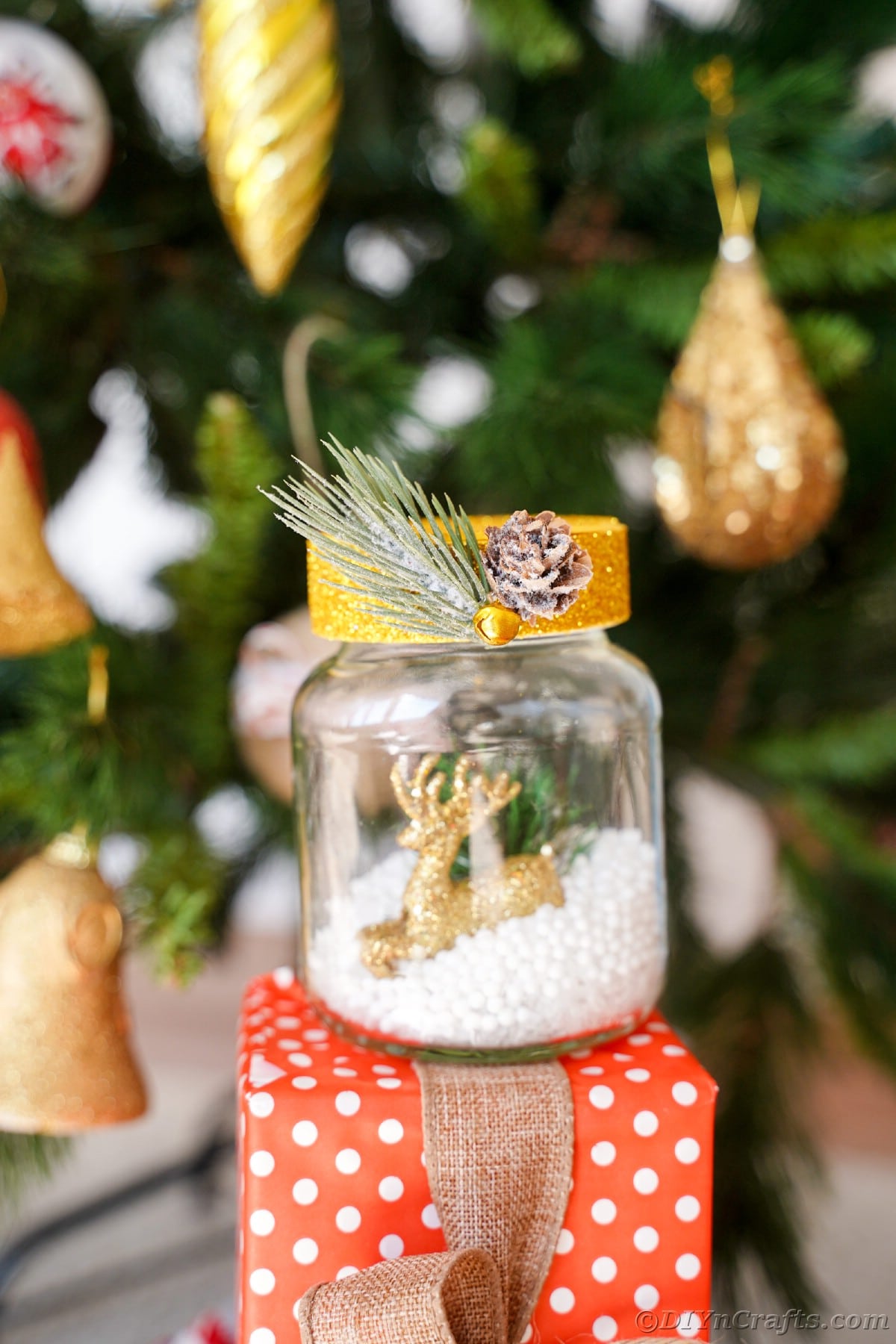 Use them as a part of your decorative display each year, and experiment with making different scenes.