This adorable Christmas candy holder craft idea is incredibly clever! I love how practical and cute this craft project is! Place it in your entryway, on your coffee or in your kitchen for greeting guests with a tasty treat. If you're anything like me, you'll have a blast decorating it as well. This is one of those craft projects that's perfect for adding to your decor collection. It's sturdy and robust, so you can rely on it lasting for quite a while.
Plus, it's one of those pieces that has your guests asking just where you bought it! Get creative with it, and see whether or not you've already got most of what you need. One great option is to swap this clay plant pot out for any old one you've got lying around. Just make sure it's not larger than your glass bowl!
DIY Christmas Candy Dispenser Craft
Upcycling never got cuter than this! Give some new life to a neglected flower pot sitting in the garage, or on the porch. All it takes is a fresh paint job, and a few decorations to make this into the perfect craft project for candy lovers! Have something of a sweet tooth yourself? Make one of these for your office desk to treat clients and coworkers! On that note, it also makes a great handmade office gift exchange idea!
We'll offer some detailed step-by-step instructions below, as well as some tips and tricks on how to decorate these cute gumball machine candy holders this Christmas!
Can I use Glass, or Plastic to Make This Craft?
Either or will do the trick, really! It depends on what you can find, and what you've got available! Look around for some jars around your house, you're looking for something globe-shaped or wide, even with a screw-top lid. (If you prefer). If you're fresh out of luck, these are a staple you can easily find at dollar stores, and some craft stores as well. Our craft uses a small fishbowl, with the base of the flowerpot serving as the lid.
As a rule of thumb, just make sure the width of the container is larger than your pot, otherwise, it won't look much like a gumball machine. Plastic is a great choice if you want to make it lighter, and/or you have young children and pets in the house who might take a swing at it! At the end of the day, it's up to you! There are lots of different containers you can use to make this craft.
Are There Other Ways to Paint This Project?
Yes, but spray painting will likely be the quickest. You can shop around for different types of paints to suit your needs, though! If you want something textured, there's plenty of spray paints that offer this as an option. Otherwise, craft paints will do the trick, too! It will take a bit more time, but you can get the look you want using an alternative method.
If you really want to play into the gumball machine look, simply look for something with a metallic finish. This is available in both acrylic craft paints, as well as spray paints.
What Other Ways Can I Apply the Base?
Most flower pots you'll find come in two pieces. One is a saucer-like base that the pot sits in to elevate it and allow excess water to escape. In this case, we'll be placing it on the top of the fishbowl to provide for a lid of the top of the gumball machine. By flipping the flower pot on its head, we'll have a surface that we can adhere to the fishbowl to in order to keep is safely in place. We do not recommend making this craft without first securing the glass bowl, as it could otherwise fall over easily!
You can easily use super glue to attach it safely to the base. All flower pots are different, so where your bowl meets the clay flower pot may look a bit different from ours. Wherever the glass meets the base of the flower pot, just apply a liberal amount of superglue, and hold it firmly in place until it dries.
Supplies Needed
How to Make an Adorable Christmas Candy Holder Craft
First, begin by prepping your clay pot for spray painting. Give it a quick wipe down, and let it dry before setting it down to paint. Apply a generous, even coat of red spray paint. This piece will serve as the base of our gumball machine candy holder.
Next, use your hot glue gun to carefully attach a wine bottle cork to the bottom of the clay flower pot's tray. This will act as the lid of our candy holder. If you're at all worried about it shifting during use, opt for superglue instead for a more sure hold. Give this ample time to dry and adhere.
After it's attached, spray the two pieces with your red spray paint. Apply an even coat, ensuring it looks uniform all the way around.
These are how your two pieces should look after they're dry.
Apply the Christmas decorations to the outside of the pot. Create a design that suits your taste, depending on what you've got available. Check out our supplies list for some decorations you can use to spruce up this craft.
Here you can apply something decorative to the rim of the clay pot. We've opted for false snowflakes, although ribbon, lace, or fake snow will also do the trick.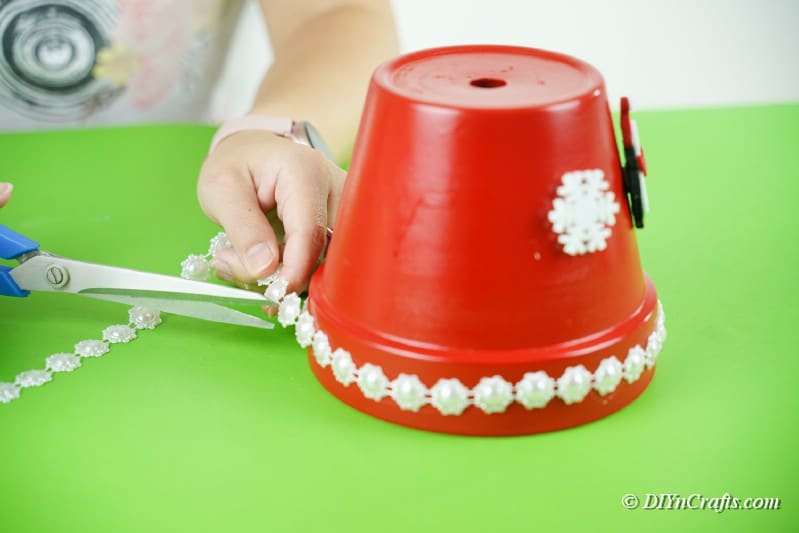 Place the bowl on top of the clay pot. Use glue to secure it safely in place.
And there we have it! You should have something that looks similar to an old-fashioned gumball candy machine.
Yield: 1
DIY Christmas Candy Holder
This candy holder ressembles an old fashioned gumball machine! It only takes a few basic craft supplies, and some creativity!
Materials
Instructions
Start spray painting both pieces of the clay plant pot. The base will have a wine bottle cork hot glued to the 'bottom' of the base to resemble a lid.
Once these have dried adequately, you can begin to attach decorations to the outside of the pieces however you like!
Adding the fake snowlfakes.
Adding the lace decoraions.
Place the glass bowl on top of the clay pot, ensuring to glue it so it stays safely in place.
This is what the final product should look like! Place the lid on top to finish the look.
Recommended Products
As an Amazon Associate and member of other affiliate programs, I earn from qualifying purchases.
Finished Product Gallery
Fill these with some of your favorite treats! Gumdrops, candy canes, and small chocolate ornaments are all great choices! Whatever you decide to fill it with, this candy holder looks great wherever you set it.
Explore different options for decorating the outside of this gumball machine. Here we used Christmas themed decals, but there's no limit to the different types of things you can use to give it a bonus holiday flair. Try ribbon, lace, and any other Christmas-ey odds and ends you've got lying about.
If you're not incredibly keen on candy, you could always fill this thing up with something like fairy lights to give it a wondrous glow, without any of the tempting sweets!