I'm not sure why the bloodshot eye is a Halloween decoration, but it has always been recognized as a scary part of the holiday. No matter the reasons it is popular, this paper plate bloodshot eyeball is a perfect Halloween decoration. It is fast, easy to make, great for kids, and most of all, affordable. For the budget-minded mom, this is a perfect paper plate craft with supplies already in your home!
Paper Plate Bloodshot Eyeball
Halloween is one of those holidays that everyone can enjoy. You can create cute and cuddly little pumpkins and ghosts with tons of glitter and ribbons. Or, you can make it creepy and scary with blood, eyeballs, severed hands, or scary ghosts. It can be anything you want, and that makes it a favorite for most.
This eyeball craft fits into the section of creepy and scary and is a perfect choice for crafting with kids. Kids are always curious about a bit of scary, but this one doesn't end up being too spooky. That means it can appease the kids wanting a scary Halloween, but still end up being a cute and creepy decoration for your haunted house or just because.
How do I Use This as Part of Halloween Decorating?
You may be wondering how a bloodshot eyeball can fit into your decor. Well, it's not something you want to have hanging around every day, but for Halloween it easily fits into that slightly creepy theme. I love that it's so easy to hang from the ceiling, but that's not all! Below are a few ideas that you might want to consider when making this paper plate craft.
Hang from the ceiling around a room hosting a Halloween event.
Add to twine or ribbon and create a Halloween garland to hang from the mantle.
Make in a variety of sizes and add to a wreath form for a spooky eyeball wreath.
Hang on room doors, cabinet doors, filing cabinets, and shelves.
Add to a plate holder or miniature easel.
This would go great on your mantle along with this popsicle stick spider web or the clothespin monster kids craft. All of these are still Halloween themed, but more fun and cute than scary.
Can I Make This With Plastic Plates Instead?
You can definitely use a plastic plate instead of the paper plate if you want something a bit sturdier. I love this idea for making them in different sizes using white charger plates, white dinner plates, white saucers, and white dessert plates. You can then use them to create a giant display of eyeballs in different shapes and sizes.
You can also make this with ceramic or glass plates if you plan to put them on a plate stand. Just use good paint, and if you plan to wash, cover with some Mod Podge Dishwasher Safe product. This will make it easier to clean and use over and over again. This cute Halloween ghost plate is a great example of how a more traditional plate can work and be displayed.
Another fun idea is to use a plate to trace the shape onto cardboard. Cut out the cardboard circles and paint to create another type of bloodshot eyeball. This is a way to use something you already have on hand instead of purchasing plates for the craft.
What Colors Should I Make the Eyes?
Traditionally, we think of eyes being blue, green, or brown. That's not the only way you can make these! You can easily use purple, pink, red, orange, or black and make it look even more unique. Try using different shades of the classic colors, or even create your own hazel eye color with hints of green, brown, and caramel throughout. The main thing is making a clear distinction between white and red for the bloodshot eye and the colorful pupil.
Supplies Needed
How to Make a Paper Plate Bloodshot Eyeball
Paint the center circle of a paper plate green or blue then set aside to dry.
Once dry, use a black marker to trace the outside of the painted area.
Add a small black circle into the middle of the painted eye and color it in to create the pupil.
Using a red marker, begin drawing squiggly lines moving from the edge of the black ring of the eye outward to create a bloodshot look.
Once all plates are painted, dried, and veins added, you can add to home decor or string up from the ceiling with fishing line.
More Halloween Craft and Decor Ideas
Halloween is tons of fun to decorate for in and outside the house. Yard decor, kids crafts, fun treats, and even costumes all bring out the creativity in you. This year, you can add even more fun to your Halloween decor with this cute craft as well as many of our other favorites. Below are some fun ideas that you will also love.
Crafting Tip

For any of your crafts for Halloween, always check for great deals on supplies at Dollar Tree online. I love that I can get cases of supplies shipped right to my door and don't have to worry about going out in the midst of the pandemic. Almost anything you can find in store can be ordered online!
Yield: 1
Paper Plate Bloodshot Eyeball Halloween Decoration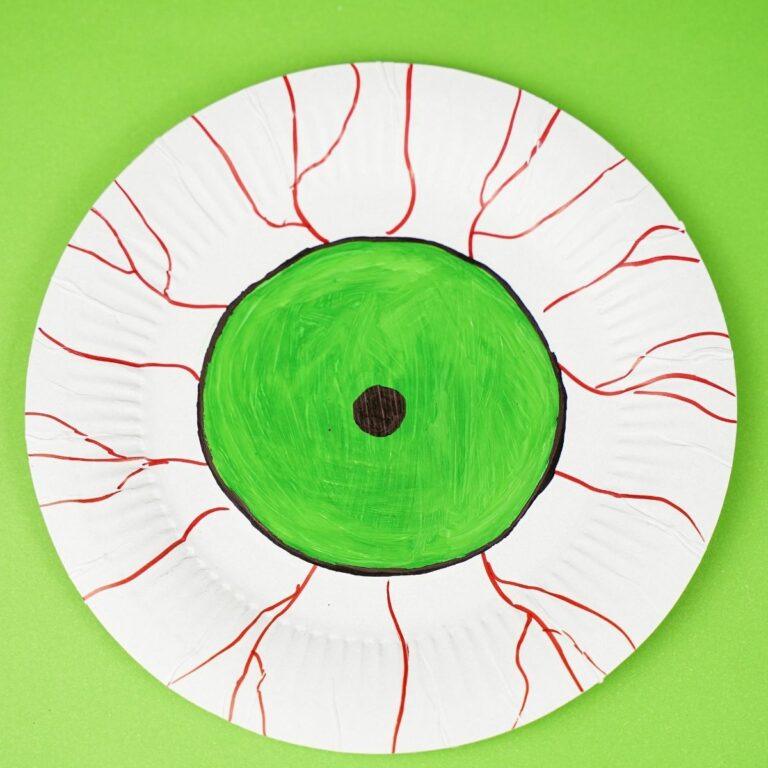 This paper plate bloodshot eyeball Halloween decoration is a favorite easy project kids will love helping you make!
Additional Time
15 minutes
Materials
Tools
Instructions
Paint the inner cirlce of each paper plate the color of the eye you prefer, I used green and blue, then set aside to dry;
Once dry, use a black marker to outline the colored circle and then add a solid black circle in the center for the pupil;
With a red marker or pen, create squiggled lines from the colored circle outward to create bloodshot veins;
Hang from the ceiling or decorate as desired.
Notes
You can also use a marker or crayons instead of paint for the center eye color.
Recommended Products
As an Amazon Associate and member of other affiliate programs, I earn from qualifying purchases.
Finished Project Gallery
Customize your bloodshot eyeballs with different colors for the eyes.
Add these to wreaths along with googly eyes or other eyeball decorations for a fun and spooky look on your front door.
These bloodshot eyeballs are a super easy kids craft that will be a fun addition to your Halloween decorating this year.