If you haven't guessed already, lanterns are one of my favorite things to create. This year, I picked up a bunch of disposable plastic cups and used them to create cute little Halloween lanterns. These upcycled plastic cups are a perfect addition to your Halloween party this year. Add a flameless candle inside and they add glowing light to after-dark events. On a counter, they look adorable in daylight!
Halloween Lanterns from Upcycled Plastic Cups
We've all had a bag of a pack of these "red solo cups" in our pantry at some point. In this case, you want the white or clear versions, but you get the picture. A simple cup you'd use for a party can easily become just the device you need to create adorable little additions to your Halloween parties.
This project is fast, easy, budget-friendly, and most of all, kid-friendly! You can keep them year after year to reuse, or not feel bad about throwing away after the holiday as they aren't a waste of money.
What Paint Sticks to Plastic Cups?
The paints that I typically use when painting things like plastic cups are acrylics or spray paints. Both work well to paint these plastic cups, but for this project, I stuck with spray paint. It simply made the task faster and easier to manage when working with numerous cups at a time.
If you have trouble getting the paint to stick to the cups, you can also use sandpaper to rough up the sides of the cups. Use a fine grit so that does not leave visible scratches and gouges in the cups. Then, all you have to do is spray or brush on the paint and voila, a cute base for your favorite Halloween characters!
How Can I Use These at Halloween?
Obviously, they are made to work as lanterns, but that's not all! When using as a lantern, you will paint the face onto the cup upside down so when the cup is turned so the bottom is at the top, it can cover a flameless candle and become a lantern. Below are some more ideas that are perfect for this project and add to your Halloween party plans.
Use as party favors and put the face onto the cups the other way so you can fill them with candy or treats.
Place them onto shelves, a mantle, table, or other areas as decor. Stacking or arranging as a Halloween "family".
String twinkle lights through the top of the cups and hang on a porch railing or mantle as a lit garland.
Stack in a triangle and use bean bags to knock them over like a "bowling" game.
Use them to catch ping pong balls or bouncy balls to win a prize.
Can I Make Different Halloween Characters With These?
You can definitely make different characters. The Frankenstein, pumpkin, and ghost are the easiest as they don't need any additional hats, capes, or hair. You could add paper wings to one and turn it into a bat. Another option would be a cape for a vampire. My favorite would be the witch using orange paper or yarn for hair and a little paper hat. You could even turn one into a spider if you wanted.
Supplies Needed
How to Make a Pumpkin Halloween Lantern
Spray paint cups orange and set aside to dry.
When dry, flip the upside down so the bottom is facing up.
Draw on two triangles for eyes then a jagged mouth to look like a jack o lantern.
How to Make a Frankenstein Halloween Lantern
Spray paint cups green and set aside to dry.
When dry, flip the cup upside down so the bottom is facing up.
Draw jagged edges across the front top of the cup and color them in for hair.
Add two half moon shaped eyes just below the hair.
Draw a small triangle and fill it in just below the eyes.
Add a squiggle line mouth below the nose.
If desired, draw on stitches or bolts on the sides.
How to Make a Ghost Halloween Lantern
Turn a white cup upside down so the bottom is facing the top.
Using a black marker draw two round or oblong eyes on the upper half of the cup.
Draw a round or wiggly shape for the mouth.
To use as lanterns, place a small flameless candle underneath the cup.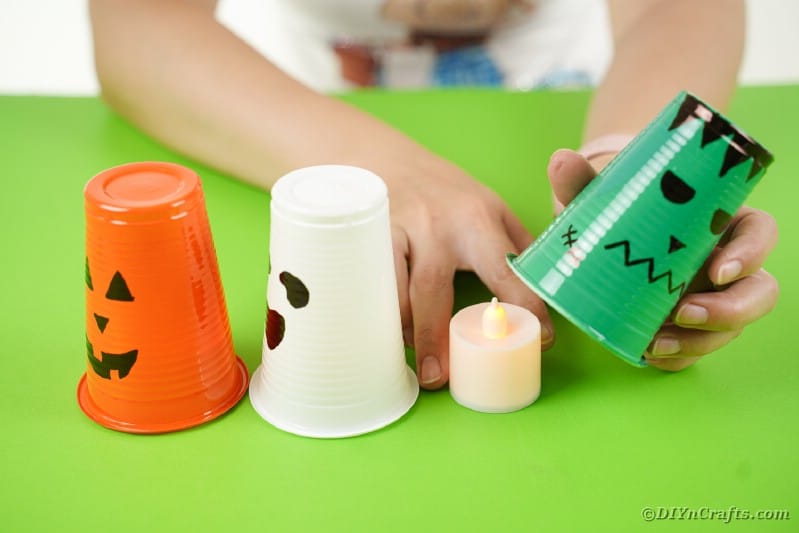 Make one of each, or as many as desired, and add to your Halloween decor or party.
More Halloween Ideas
If it's Halloween crafts and decorations you are looking for, then look no further! I have tons of ideas to share with you from spooky and scary to cute and fun. Whether it is dressing up a front door, costume ideas, or a great treat to bake, we have you covered. Mixed into the list you'll find kids crafts, home decor ideas, and a few ways to add a touch of fun to your party.
Crafting Tip

I love the idea of making these for kids, and sometimes with kids. That means the spray painting part may be a bit too much. That's when I pick up plastic cups in various colors at Dollar Tree and use instead! They often have colored choices in their party supply section.
Yield: 3
Fun Halloween Lanterns from Upcycled Plastic Cups
Turn ordinary plastic cups into adorable Halloween Lanterns! Follow this simple tutorial for a cute lantern or decoration for your Halloween table.
Additional Time
20 minutes
Instructions
Spray paint the cups orange, green, or white as needed, spraying 1 cup per character planned;
Once the paint has dried flip the cup upside down so that the bottom of the cup is now the top;
For the ghost, add two oddly shaped eyes and a round mouth;
The pumpkin can have triangle eyes, a jack o lantern smile, or a happy face;
For the Frankenstein, add a line of jagged hair at the top and fill it in then add eyes, nose, and a stitched mouth;
Display your Halloween lanterns with a flameless candle inside.
Notes
Add happy, spooky, or funny faces on your characters to match the mood of your party or decor.
Recommended Products
As an Amazon Associate and member of other affiliate programs, I earn from qualifying purchases.
Finished Project Gallery
I love the idea of using these out on a back deck or a porch for fall evenings. A perfect cute decoration and light!
You can line them up on a table and use them as a centerpiece.
Or add to your mantle as a cute addition to a Halloween garland or display.