You may have noticed that I have a mild obsession with candles and lanterns. This upcycled pistachio shell candle holder is just one more of my fun projects that include two of my favorite things. Upcycling something that would otherwise be trash, and creating a place for a candle to glow. Whether you make just one of these or create dozens of them to add to your home decor, it's a simple project anyone can make and have ready in minutes to display.
Upcycled Pistachio Shell Candle Holder
You may be wondering why use pistachio shells of all things, but the thing is, they are a great sturdy choice that is easy to add to crafts. The harder exterior shell is much sturdier than some other craft items so it ends up being really durable. That makes it ideal for using in crafting!
I love making rustic items, and this is a cute one that is great for decorating. It could also be easily customized and given as a gift or used just around the holidays. Make them in various sizes and use them as a centerpiece or focal piece in your home decor.
Can I Paint This?
Painting this is a great way to customize it and make it match your decor or a season. While craft paint is usually mo suggestion in most projects, it's not so easy with this craft. Craft paint works fine, but it takes a lot more time to get in the nooks and crannies.
For this project, I would recommend using spray paint. There are tons of types out there in almost any color you can imagine. I love the idea of making them silver or gold for holidays. You could even use something like a wood stain to add color to the shells. Get creative with your options to paint or add color to your candle holder.
How Can I Customize This?
As with most of my craft projects, I start with something basic as shown, then let you customize things how you like. This one is a great choice to really add your own unique spin. Whether it's a different color, size, or embellishment, the ideas below are a great starting point for personalizing your candle holder.
Paint in colors to match your home decor or to fit a holiday or season.
Glue beads or pearls on the sharp edges of the shells.
Spray with adhesive glue and sprinkle on glitter to make it sparkle.
Make larger to accommodate a votive or pillar candle.
Glue to a wooden slice base for a rustic look.
Add fake greenery or berries around the base for a more natural look.
What Size Candle Fits In This Holder?
I made mine to fit a tealight candle, but you can easily make yours fit any sized candle preferred. Just measure the base of your candle onto the cardboard so you can outline the edges you'll want to glue your pistachio shells onto. It's simple to adjust for any size with this method.
How do I Clean Pistachio Shells?
While pistachio shells are a great choice for creating something fun and unique, you still know they have to come from a snack. So, whether you are saving shells after you snack, or simply removing from pistachios just for this project, they will need to be cleaned.
The great thing about pistachio shells is that you can simply submerge them in hot soapy water and scrub gently to remove any bits of pistachio skin. Once washed, lay them out on a towel to dry. You definitely want them completely dry before using to create your candle holder.
Supplies Needed
How to Make an Upcycled Pistachio Shell Candle Holder
Trace a circle onto cardboard using an item about 3 times the size of the base of your candle.
Cut out the cardboard circle.
Place your candle onto the center of the cardboard, and trace around it.
Glue the pistachio shells around the outer edge of that circle marking where your candle will sit.
Continue gluing the pistachio shells so they pointed end is facing upwards and they are tightly sitting by each other.
Cover all of the cardboard on the outside with shells and fill in gaps as needed leaving only the inside open.
Place your candle on the inside and display it as a centerpiece or add a candle and light for light in your room.
Use any candle you prefer to make your candle fit your style.
More Unique Candle Holders & Lanterns
Adding the gentle glow of candlelight around your home is just part of making it more welcoming. I love candles and lanterns, and that means I often look to other things to create new looks. Twine, hot glue, tree bark, old books, and of course the pistachios mentioned in this project are all part of my crafting. Below are a few of my favorite creations that add both beauty and light to any room.
Crafting Tip

If you are like me and you love candles and lanterns, then the cost of candles can add up fast. I love grabbing cases of tealight candles from Dollar Tree online. They are shipped right to my door, and they are so much more affordable this way.
Yield: 1
Gorgeous Upcycled Pistachio Shell Candle Holder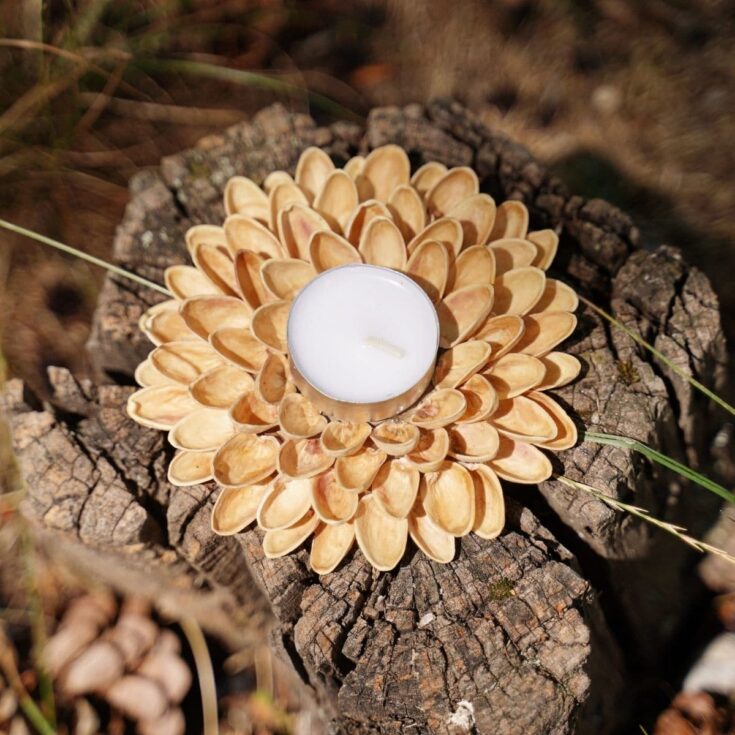 Have fun creating this rustic an nature inspired upcycled pistachio shell candle holder! An adorable addition to your home decor!
Materials
Instructions
Trace and cut out a circle from cardboard that is around 3 times the size of the candle you are using;
Use your candle and trace around it onto the cardboard to create a circle in the center;
Glue the pistachios onto the cardboard starting around the edge of the circle in the center;
Keep the pistachios pointed side up and continue gluing until all but the center of the cardboard is covered;
When done, add a candle to the center and display.
Notes
Adjust this to fit any sized candle you want to display.
Recommended Products
As an Amazon Associate and member of other affiliate programs, I earn from qualifying purchases.
Finished Project Gallery
Add these to a rustic tablescape alongside pine cones, nuts, and other natural elements.
These are a perfect addition to a gift basket to give family or friends.
You are sure to love the gentle glow this adds to any room.