One of the most iconic moments of a wedding is the toast to the bride and groom. This rustic fall leaf wedding stemware is a perfect way to celebrate that special day with a DIY project that doubles as decor and useful at the reception table. While this is definitely a one-time use project, you can create it to match your wedding decor so easily. I love the simple beauty of this project and know you will as well!
Rustic Fall Leaf Wedding Stemware
I am always on the hunt for inexpensive stemware of all kinds. My local thrift and second-hand shops are always full of aisles with discarded plates, utensils, and glasses. One of the best parts of that store is that stemware is usually 3 for $1! So, when I am looking to craft something new, those aisles are the first place I hit to grab supplies.
Turning old discarded items into something new and beautiful is one of my favorite things to do. I've been known to turn things I found in a dumpster into something gorgeous. This project was done using some basic stemware, and of course, you can buy brand new. However, there is something special about turning old and used into fresh and new!
How Can I Personalize My Wedding Glasses?
I went with a basic color scheme and style when doing this project. Fall leaves, a bit of dark red glitter, and a few berries work great with the rustic twine. You can, of course, turn them into a great way to showcase wedding colors. Below are a few ideas I love that really amp up the beauty and uniqueness.
Use ribbon or twine in wedding colors instead of twine.
Add a monogram to the glasses with glitter.
Attach a dangling monogram letter with the berries and bow.
Use acorns in place of berries.
Add glitter around the base instead of twine.
Attach the same flowers as your bouquet in place of the fake berries around the base.
What Else Can These Be Used For?
This project is so fun! While it is, of course, focused on being for a wedding, I'll share some other ideas for how you can use these little fall glasses. Whenever I create something like this, I try to keep in mind that it should be versatile for everyone. While I've been married for many years now, I would love to have these on display in the fall season in my home. So, of course, there are more than just weddings this can be used to the accent.
Make several and fill with acorns and add along with a fall table runner as part of a table centerpiece.
Fill with fall spiced potpourri and place it on shelves around your home.
Add to your Thanksgiving buffet table with spiced nuts, mints, or small candies.
Fill with chocolates and wrap to gift to friends and family.
Add a mini wine bottle or two to the inside and gift to a friend in a gift basket.
Can These Be Washed?
While the glass itself can be washed, once you add the leaves and glitter, these aren't easy to clean. Most wedding glasses are for a single-use, so rinsing the inside and wiping dry may be all you need to do once used. I would use a damp cloth to wipe off any dust between displaying. These are most definitely NOT dishwasher safe nor should they be submerged in water to traditionally clean.
Supplies Needed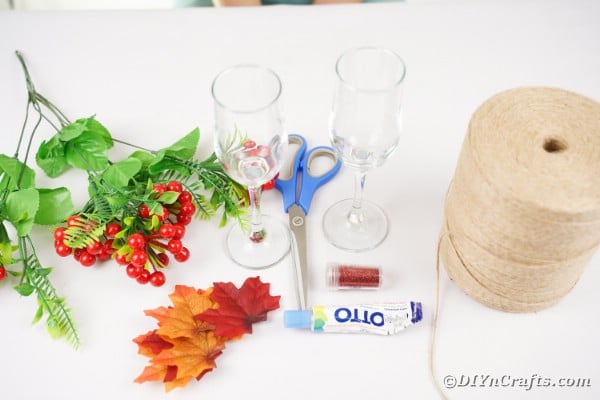 How to Make Fall Leaf Wedding Stemware
Using glue, add the end of twine at the base of the stemware and begin wrapping around the stem gluing occasionally to secure.
Continue wrapping the twine around the stemware securing in place as it meets the base of the glass.
Start adding the twine around the base, beginning just at the stem, and wrapping in a circle around gluing as you go until it is covering the entire base of the glass.
Using individual fall leaves, glue them around the bottom half of the glass so that their stems are under the glass and the leaves are covering the bottom and curving upward on the sides.
Add a bit of hot glue to the glass between the leaves in a dripping design.
Sprinkle red glitter (or your color choice) over the glue and shake off any excess.
Glue a small pearl or bead at the top of the glitter drips.
Cut or pull apart some fake red berry sprigs and glue onto the glass so the berries are on the side with the leaves but the base is underneath or secured to the stem.
Using twine or ribbon, tie a small bow.
Wrap a smaller bunch of berries in the center of the bow.
Secure the bow at the top of the stem of the glass.
On top of each of the glittered areas of the glass, glue a pearl or bead. Add additional embellishments, monograms, or ribbons as desired.
More Wedding Ideas and Fall Crafts
If you are here looking for more ideas to prepare for your wedding, I have tons of great additions. Not only are there tons of ideas for general wedding decor and gifts, but also a few more generic fall crafts that can easily be added to your wedding. Among this list you'll find ways to add more beauty to your special day!
Crafting Tip

An easy way to pick up stemware for your wedding is to check out the Dollar Tree online. They offer tons of glasses and stemware varieties at low prices that can be shipped directly to your front door. There are even plastic champagne glasses and similar options specifically designed for weddings that are even less expensive and come in bulk quantities for convenience.
Yield: 2
Rustic Fall Leaf Wedding Stemware
Follow this step by step video tutorial for making your own rustic fall leaf wedding stemware that doubles as a cute fall centerpiece!
Materials
Instructions
Glue twine to the base of the glass and begin wrapping around the stem gluing as you go along;
Once the stem is covered, secure and then begin wrapping twine around the base of the glass gluing to secure every inch;
Using fake fall leaves, attach their stems on the underside of the glass, and bring the leaf up around the base gluing in place so it covers the bottom half of the glass;
Continue this with 3-4 leaves until the bottom is covered;
Add hot glue drips above the leaves;
Sprinkle glitter over the drips then shake off any excess;
Add a pearl or bead at the top of each "drip";
Cut a few fake berries from a bunch and glue in place along the bottom and side of the glass;
Tie a bow with twine;
Wrap a smaller bunch of berries along the middle of the twine bow;
Attach this just below the base of the glass;
Add additional embellishments if desired.
Notes
This same tecnique can be used for any seasonal flower or leaf to create a unique look any time of year.
Recommended Products
As an Amazon Associate and member of other affiliate programs, I earn from qualifying purchases.
Finished Project Gallery
They look beautiful as part of a fall-themed display on a shelf or table in your home.
Or, welcoming guests with a bottle of your favorite wine and a few snacks.
No matter how you display or use this project, they will become a treasured part of your fall home decor.