I am 100% in love with this list of vintage porch decor ideas. So many are totally DIY projects you can work into your free time, but several are excellent for those flea market and thrift shop buyers. Whether you have a small or large porch space, you'll find something here to add unique looks that bring your vintage style to life.
Vintage Porch Decor Ideas
Farmhouse and vintage decor are taking over decorating trends in recent years. This is for good reason! The classic lines, simple styles, and basic colors really make for a lovely and homey appearance. Settle in for a comfortable afternoon on your front porch with these fun decor ideas.
More Porch Decor Ideas
Wooden Door and Table with Accents
A rustic weathered screen door frame, simple wooden table, and a few baskets and knick-knacks with vintage appeal create a fun look on this porch. This creation is simple and thrown together casually for the best look.
Old Milk Jug with Flowers
Whether you use it as a planter or tuck a few artificial flowers into it, an old milk jug is always a great choice for porch decor. I like this one sitting on a step. It adds a bit of character without taking up too much space.
Vintage Step Stool Plant Stand
An old weathered step stool is the perfect place to place a few small potted plants on your porch. It brings a rustic style to the area and is functional for elevating your flowers.
Source: Etsy
Stacks of Old Rusty Lanterns
It's easy to find old rusty lanterns in local flea markets. Stack a few together in a corner or nook of your porch for a fun look that costs only a few dollars and brings that rustic and vintage style to your space.
Vintage Porch Swing
This video shows a lovely porch tour featuring a beautiful rustic wood porch swing that fits easily into the vintage style.
Old Picture Frame Wreath
A weathered teal ornate picture frame is the perfect addition to a front door with a simple flower embellishment. This frames the peephole on your door, or simply doubles as a wreath that is vintage and unique.
Weathered Wooden Bench
A simple wooden bench with a weathered paint job and some vintage cushions is a welcome resting spot on any front porch. Add additional decor around the space to bring the look together.
Source: Another Stay at Home Mom Blog
Wooden Barrel and Boot Planters
An old wooden barrel is a great addition to a porch as a planter. Add flowers directly into the barrel or simply sit your flower pot on top using it for elevation. An old boot can be waterproofed and filled with dirt and flowers as a fun accent piece.
Avocado Ceramic Birds and Birdhouse
This vintage color and style of ceramic birds are a great addition to your porch. A simple side table can go between your favorite comfy chairs. This works well to bring a pop of color in a retro or vintage shade.
Source: Etsy
Vintage Ladder Flower Pot Stand
Old buckets hook easily on the rungs of a weathered vintage ladder leaned against the side of your house. This is a great easy to create look for any small space or front porch.
Source: Cassie Bustamante
Vintage Lamp Post
This is a Christmas decor idea featuring dollar store items that fit readily into a vintage porch style. I love the idea of adding this lamp post to a front porch this winter!
Vintage White Table and Shelves
A white table and shelf can be topped with similar vintage-styled buckets, milk cans, and planters to bring a lovely vintage look to a small space. I like the addition of milk glass or green pieces to add a mix to the look.
Source: Vibeke Design
Wooden Welcome Sign with Vintage Mason Jar Planter
This simple welcome sign is rustic and styled beautifully with a light yellow paint that is weathered on the mason jar. You could easily paint this to match your own siding or home decor.
All White Decor with Vintage Screen
This porch has a variety of textures and styles including wicker, wooden rocking chair, white shelves, and vintage additions. The real showpiece on this porch is the vintage ornate screen door that brings it all together.
Source: Warren Grove Garden
Weathered Shutter with Rusty Wire Table
An old TV tray is rusty enough to look unique and the weathered shutter in the background pull things together to create a unique look that works well with an old vintage traditional alarm clock.
Rustic Milk Jug Porch Game Table
What a cool idea using an old milk jug to create a fun game table! This is ideal for holding a classic game of checkers or chess to play while enjoying a beautiful sunset on your porch.
Basket with Flowers on Steps
A simple reed or wicker basket or "bag" can be filled with fresh-cut flowers and casually placed on a step or side of the porch. This look is great if you have a lot of flowers growing in your garden. It gives a casual look that also is functional.
Vintage Metal Wall Sconce Basket
This wall sconce is a great basket to hold a small plant on your porch wall. Vintage design and the mesh look are easy to fit with any color scheme or style you are using to decorate your space.
Source: Etsy
Vintage Ladder and Rusty Buckets
Buckets and pots in various sizes are a perfect accent to any porch. Grab vintage-styled and rusty or galvanized, and you bring the vintage style easily together with this weathered ladder.
Source: Funky Junk Interiors
Classic Wicker Furniture and Accents
Nothing screams vintage to me like white wicker on a front porch. This is the epitome of classic Southern style and is ideal for being functional to lounge as well as adding simple style to your porch.
Classic Croquet Games by Vintage Scale Planter
This look is a combination of many vintage items. An old croquet game in a wire basket is a great addition, but the old vintage scale with a few succulents is the real show piece in my opinion.
Source: Hoosier Homemade
Dollar Tree Farmhouse Lantern
This DIY is great for adding to any space, but I love the look on your porch. Ideal year-round, I especially love it in the fall and winter months.
White Metal Plant Hook
This vintage styled plant hook includes a metal basket for holding flowers or plants. A simple style that fits with most rustic and vintage looks and in white so it matches nearly any colors.
Source: Etsy
White Picket Fence Welcome Sign
A little length of a white picket fence is easy to transform into a cute little welcome sign. Add a painted milk jug with your house numbers and you have a great addition to any porch.
Upcycled Vintage Dresser Planter
What a fun idea for using a broken-down old dresser! Open the drawers a bit and turn them into planters with some mulch or moss and a few of your favorite plants. Add another vintage decor around the dresser to complete the look.
Source: Flea Market Gardening
Vintage Fruit Basket Flower Holders
Add a few potted plants or flowers inside a vintage thin board fruit basket. These two are just slightly different in size so they can be stacked by each other to create a unique elevated look.
Source: Etsy
Hanging Metal Wall Lanterns
A few black metal lanterns are a great addition to any space, but especially on your porch wall. These can be mounted and connected to your electrical wiring system or can be added for candles or LED lights instead.
Weathered Window with Grapevine and Burlap Wreath
This is a great way to reuse an old broken window. Weathered paint with a bit of chicken wire hold up an easy to make grapevine wreath. You could even use our tutorial for this rustic book page rose wreath for this decoration.
Source: A Pretty Life in the Suburbs
Fill an Old Wagon with Flowers
Nothing is more classic than the Radio Flyer red wagon. Dig up an old rusty wagon and fill it with flowers to prop on your porch for a fun vintage porch look.
Source: My Sunny Garden
Galvanized Wash Tub Planters
Old galvanized wash tubs or buckets make amazing planters to go on your porch. They are also excellent for holding umbrellas, canes, or other items you want to leave on the porch.
Source: Etsy
Black Window Frame Wreath Holder
This is another choice for using an old window to hold up a wreath on your porch wall. A black metal wreath is mounted above a bright teal painted chair with a lovely floral wreath to bring the look together.
Source: Debbie Doos
Hang Old Enamel Bowls
My Granny always had a few of these big white enamel bowls or washtubs. Add them to the wall of your porch on a hook or nail and you've created a perfect look for this space!
Old Metal Lawn Furniture and Wooden Table
This front porch idea is so cute! Pull out those slightly rusty old metal lawn chairs and add a comfy cushion alongside a simple weathered wood table and accents.
Source: Front Porch Ideas
Hang Cast Iron From an Old Box Spring
An old rusty single bed box spring can be leaned against the wall of your porch to be used as a way to hang old cast iron pieces. Nothing is more vintage than cast iron, so this makes for a great addition to any porch decor.
Source: Far Above Rubies
Frilly Fabric Covers on Porch Sofas
Adding a floral slipcover and pillows to your porch sofa pulls that lovely vintage garden theme to space in a way that you will absolutely love. Add small details of a vintage table, a fun wooden birdhouse, and more to bring the look together beautifully.
Source: The Cottage Market
Rustic Wood Farmhouse Bench
This porch tour features a cute little wooden bench that fits the vintage and farmhouse styles beautifully. Take note of her styling and add it to your own porch decor.
Wooden Chairs with Weathered Shutter Accents
This porch looks so homey and inviting. A few low wooden chairs are comfortable places to relax, and the weathered shutters above a small vintage vanity bring the look together alongside plenty of fresh flowers.
Source: DIY Morning
Add a Vintage Bicycle and a Basket Filled with Flowers
This bright white bicycle is a classic style from years ago that looks great with a wicker basket filled with fresh brightly colored flowers. This looks natural, casual, and fun for a vintage or retro style space.
Source: Sara Joy Blog
Fill a White Wooden Magazine Rack with Flowers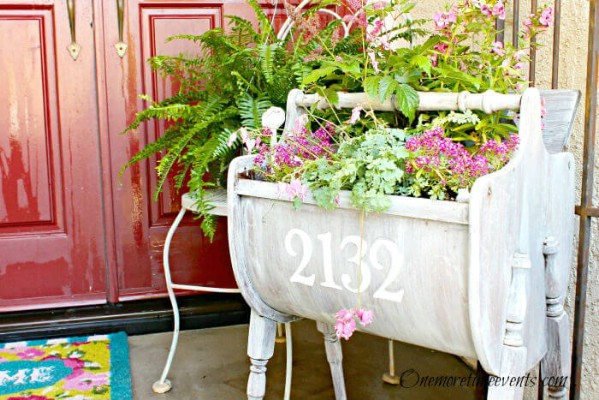 Whether you call this a magazine rack or a wood basket, this is a great addition to your porch. Painted bright white with your house numbers easily lettered on the side, it makes a perfect flower planter.
White Wooden Crates with Galvanized Bucket Planters
This is a super simple addition to any porch. Paint a few wooden crates and use them as a little elevated stand for buckets filled with flowers. Add a lovely grapevine floral wreath to the door to bring the look together.
Source: Our Happily Ever After Home
Wooden Furniture with an Old Sleigh Table
This cute little coffee table is made from painted wood slats or could be an old sleigh turned table. A beautiful farmhouse style vintage porch comes together with large ferns, galvanized accents, and white everywhere.
Source: Liz Marie Blog
Metal Daybed Porch Seating
This old vintage daybed is the perfect porch seating. Combine with the white and blue ceramic bucket table and some flowing white curtains and you have a stunning space for relaxation.
Vintage Red Truck Decoration
This tutorial shows you how to make your own cute little vintage red truck. I think this would be perfect to hang on a porch wall or front door for a vintage or rustic look!