Adding a few of these garden sign ideas to your lawn and garden turn a small space into something beautiful and fun.
Whether you decide to use these to mark the plants you have put into your garden, or you want to direct friends and family to where you have items planted, this list has something for you.
Rustic, wood, metal, clay, simple, or fancy - this list will provide you with great ideas to update your garden.
Jump to:
Garden Sign Ideas
Gardening isn't just about planting flowers or vegetables. It's about creating an oasis you will enjoy spending time relaxing inside. Adding signs to your garden isn't mandatory, but it can be a fun way to add a little life to the space.
This list has gathered various ideas to fit your needs and help you create a garden space you enjoy spending your days relaxing and viewing.
More Garden Decor Ideas
Painted Metal Box Sign
An old toolbox or metal box is easy to paint and turn into a garden sign. This one says flower, but you could add herbs, your name, an established date, or more. Do this with a few boxes and crates then add on a table or shelf in your garden area for a unique look.
Source: Organized Clutter
Painted Letter Stakes
The word garden is spelled out in painted letters attached to dowels creating a cute garden stake message.
Create any word you want and then place these into the garden soil, grass, or potted plants around your garden to create a message for visitors.
Source: Sew Country Chick
You Can't Buy Happiness Sign
This wooden sign is a beautiful addition to any garden. "You can't buy happiness, but you can buy plants and that's pretty much the same thing".
A great choice to add to any spot in your garden.
Source: Etsy
Painted Potted Plant Welcome Sign
Whether you sit these painted flower pots on your porch, deck, or in the garden itself doesn't matter. This is a super cute idea that takes little work and can be customized with various sizes of flower pots and paint colors.
Rustic Wooden Herb Sign
A little metal stake and a rustic slab of wood turn into a cute sign to add to your herb garden.
Using a wood-burning kit makes it easy to carve the words into the wood. You can also use weatherproof vinyl or even paint it in place if desired.
Wooden Family Name Sign
What a cute way to showcase your name and style in a beautiful sign!
A few minutes stenciling your family name and a cute accent drawing and you can burn the wood to make a sign that leads everyone to your garden.
Old Fence Rustic Sign
A portion of an old fence line is surrounded by rustic old items like birdhouses, shovels, and a rusty old wagon. On the fence is a simple painted sign that reminds you of what is planted nearby. This is a beautiful addition to any farmhouse style garden.
Source: Decoor
Corrugated Metal Garden Sign
This is a fun idea for a sign that not only says garden, but uses reclaimed items.
Corrugated metal, wood slats, and some carefully cut letters turn into a gorgeous addition to an outdoor space.
Source: Organized Clutter
Classic Metal Garden Markers
These cute little garden markers are great for any garden.
Simple herb and vegetable names cut out of metal are easy to add to a potted plant or herb garden. These fit a rustic or farmhouse styled garden perfectly.
Source: Etsy
Garden Tours Sign
A wooden stake is painted to offer garden tours. Add a few metal flowers in fun colors and you've created a cute look that looks great in any flowerpot or garden.
Source: Style Me Pretty
Twisted Wire Plant Marker
These cute ideas are a great reminder to water your plants! They can be made with "water me" or even "you grow girl" and added to a potted plant, flower garden, herb garden, vegetable garden, or any garden layout.
Source: Etsy
DIY Veggie Signs
Turn simple 2x4 wood pieces into cute little signs!
Stain, burn, or stencil the plant names onto the signs then add stakes and put them into your garden. This tutorial is easy to follow and helps you learn how to make custom signs you'll love.
White Wooden Slat Statement Sign
A vintage garden needs a vintage looking sign. This wooden slat was painted white and words stenciled onto the sign announce the look you are going for within your garden.
Source: Raggedy Bits
Hang a Welcome Sign on a Wooden Pedestal
Turn a simple 4"x4" post into a stand to hang your small wooden welcome sign.
Paint or ad vinyl letters to the wood slat to create the sign and hang with twine or rope. This can be painted or stained in custom colors to match your overall garden style.
Grammie's Garden Sign
The combination of weathered paint and flower accents makes this a beautiful choice for adding to any garden.
Hang on a tree, nail to the wall of your house, or add to a stake and put into the garden itself. This could easily be made with any name you preferred.
Source: Etsy
Hinged Message Sign
Adding hinges between wooden slats that have simple messages is a great way to add fun to your garden. Hang this sign on a fence wall or the wall of your home to announce your garden message.
Old Branch Garden Post Sign
Turn an old branch into a cute little sign with just a bit of carving! This is definitely a wood makers project but can be something anyone can learn to make in no time at all.
Twig Message on Garden Wall
Cutting twigs and gluing into the shape of a word is a perfect rustic way to add a fun sign to your garden or yard.
This can easily go on your house wall, fence, or even hung on a hook within your garden.
Source: Forum House
Potting Shed Sign
Weathered wood slats are hinged and hung together above the window of this potting shed.
A few stenciled words and some flowers on the sign are a perfect way to add character to an ordinary shed in your backyard.
Source: Funky Junk Interiors
Garden Rules Sign
I love the inclusion of whimsical garden rules. "Plant the seeds. Wish for rain. Listen to the birds. Relax.
Talk to angels. Feel the breeze. Enjoy the beauty." Hang this sign anywhere in your garden and remind everyone who enters that your garden is an oasis.
Source: Etsy
Fork Peace Sign Garden Decor
Turn an old fork into a cute little garden sign! Folding the tines down and cutting the word "peace" into the fork is a great way to add a whimsical addition to your garden.
This one is super cute, but you can make any message you want on yours.
Source: Etsy
Fresh Cut Flowers License Plate
While it isn't a license plate, it is designed to look like one. The smaller words on top with large in the middle are reminiscent of a traditional old fashioned license plate. This can be added to a stake and put into the garden or leaned against a stump like shown.
Painted Wooden Arrow Garden Signs
Cutting arrows from wood, painted to match your decor, and adding stenciled names is easier than you think! This tutorial is super easy to follow and will add fun to your garden in no time!
Garden of Weeden
Add a cute little wooden sign to an old shovel and put it right into the dirt outside your garden.
This message says the garden of "Weeden", but you can add any message you want! Such a cute rustic idea!
Source: Cat Patches
Painted Old Window Welcome Sign
Turn an old window into a beautiful garden sign by just painting a few flowers and a welcome message.
This looks beautiful in any corner of your garden and can be leaned against a fence, mounted on wooden slats or even hung on a wall.
Angels Dance Sign
Add this cute little plaque anywhere in your garden. I love the idea of this one going above a fairy garden or any pond or water feature. It just seems to fit the theme in my opinion. "Leave room in your garden for the angels to dance".
Source: Etsy
Metal Spoon Garden Sign
This tutorial is presented by a child and could not be any more fun or unique! I love the fact that this is totally free and so easy to make!
Stenciled Message on a Fence
A beautiful message or verse can readily be stenciled onto a garden wall or gate.
This can be a wonderful welcome message or a statement you love. Add any quote to the wall to remind you of peace and happiness every time you enter your garden.
Source: Deposito Santa Mariah
Painted Rusty Shovel Message
This rusty shovel tucked into a corner of the garden is a cute addition. Stencil or paint a message, name, or even additional flowers and add them to the shovel then prop it against a wall, fence, or planter.
Source: Bless My Weeds
Gardening is My Therapy
This metal sign can easily be customized with your own colors or even types of flowers. It's perfect as a sign to go on the garden gate, by the door leading to the garden, or even on an arbor in your garden.
Source: Etsy
Brush Lettered Garden Sign
A splatter of paint, some wooden slats, and your choice of words or sayings turn something simple into a beautiful addition to any garden. I love that this combines so many DIY and artistic styling.
Wood Burn Let it Grow Sign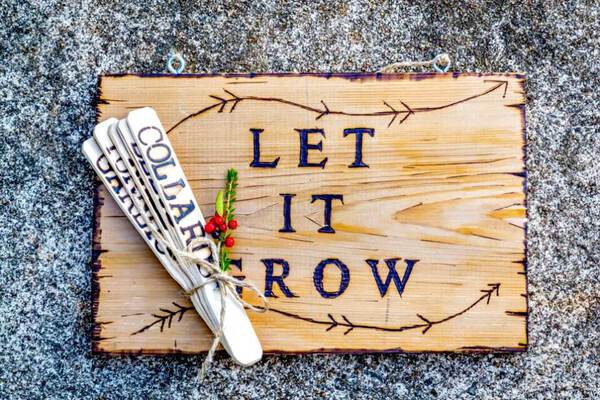 Wood burning is one of my favorite ways to customize rustic or reclaimed wood pieces.
This little sign is easy to hang in any garden space. A bonus part of this is the cute little craft stick garden markers.
Source: HGTV
Let the Bulbs Sleep Wooden Stake
What a cute idea! An empty patch in your garden is ideal for placing this little wooden painted sign! This one was made with a scrap of wood with a jagged edge, but you can use any wood piece for this addition to your garden.
Source: Sow and Dippity
To Plant, a Garden is to Believe
This little ceramic sign is a perfect addition to a potted plant or the wall of your garden. You can pick the color or even mix them to create a tie-dye effect if preferred.
Source: Etsy
Hanging Fresh Flowers Sign on Gate
A wooden slab with the words, "fresh flowers" painted across it and heavy wire hold it to the gate.
This sign is simple, easy to create, and can be customized with your name, the type of flowers, or even different colors to match your home siding or styles.
Rocking Chair Sign Holder
A white rocking chair is transformed into a beautiful planter and sign all in one.
Painted wood is stenciled and turned into a cute little sign announcing the Victorian style garden. Add embellishments around the sign to create a unique look.
Source: Flea Market Gardening
Mason Jar Lid Plant Markers
These markers are cute little signs made from an old mason jar lid that has been marked with the plant name and embellished with a cute little bead.
Source: The Micro Gardener
COVID 19 Memorial Sign
This sign is timely for 2020, but will readily fit into any garden for years to come.
"This tree was planted during the COVID-19 pandemic 2020. For all the lives lost and the heroes that saved so many". A great way to remember those who lost their battle for the lifetime of your garden.
Source: Etsy
Directional Mileage Family Name Sign
I love this idea! Show where your most cherished friends and family live by adding their location and the distance from your home.
This is a cute sign that fits easily into any garden or yard space. I especially love if this was painted rainbow colors!
Source: The Trending House
Metal Watering Can Welcome Sign
This little metal sign is such a cute addition to any garden. I love the sunflower and bee additions that make it feel more lifelike. You could easily paint this any color to match your garden and style with fun additions to make it sparkle.
Painted Wooden To The Garden Sign
A beautiful hanging wood slat sign is a perfect addition to your garden.
Propped against a garden fork with a few whimsical additions painted on the bottom, this is a beautiful choice that can be hung on a fence, on a hook, over a stake in the garden, or even tacked to the wall of your home.
DIY Direction Garden Sign
I love this cute little sign that shows which direction you go to find different parts of the garden.
Whether it is a chicken coop, the actual garden, trail, or pond, this shows you the way. Customize this to fit your own property and have fun adding unique looks to make it yours.
Garden Gnome Welcome Sign
You couldn't get any more classic than a garden gnome! This one is super cute and includes that welcome message you want in your garden. Find a ceramic shop locally and pour then paint your own for a fun experience!