I absolutely adore being outdoors, especially when the nights are warm. We spend so much time outdoors here that my indoors sometimes get lonely. That said, I've always wanted to really light up my outdoor living spaces with beautiful lanterns and lights, so I started looking for DIY garden lanterns that I could make myself. I was so excited to come across all of these 35 luminous garden lanterns. There is something in here to suit every home and every preference.
From repurposed chandeliers to full on DIY lights from twine and grapevine, there is definitely a lantern project in here that you're going to want to make. Here in the South, the bugs are horrible during the warmer months and getting outside at night can be a battle, which is why I've included a few citronella lanterns so you can enjoy your outdoors without worries of bugs and crawly things. I really do love any project that I can do myself, and particularly when it's a recycling or repurposing project. Oh and if you really want to dress up your outdoors, be sure to take a look at these 30 backyard succulent gardens.
Whether you've got a huge patio, a small deck, or something in between, there is going to be a lighting project in here that is perfect for it. I love being outside with just a soft glow of lights and many of these will give you the perfect glow without being too overbearing. Nights are for enjoying the stars, after all so you don't want too much light, right? You can upcycle some amazing things like glass bottles, tuna cans, and so much more to create your beautiful lights and you have plenty of time to get them done before the summer months are over. Also, if you want a soft glow with a bit of warmth, be sure to check out these 30 easy fire pits that you can DIY, too.
If you can't wait to sit outside and enjoy the warm weather, and you want to add some beautiful lighting just to give your outdoors a little pick me up, this is definitely the collection of ideas you want to see. I can't wait to hear which ones you have tried and which ones are your favorites!
1. DIY Grapevine Garden Lights
These gorgeous grapevine lights can be made from a grapevine wreath, a balloon or deflatable beach ball and some floral wire. You'll also add lights when you're finished. It works sort of like paper mache. You form the grapevine around the ball or balloon, holding it all in place with floral wire. When you've finished forming your garden light ball, just burst the balloon or deflate your ball and pull it out – then add your lights.
Source/Tutorial: lynneknowlton
2. Mini Fabric Garden Lamps
Fabric scraps, clear lights and some Mod Podge help you to turn plain plastic cups into these amazing mini fabric garden lamps. These are perfect for hanging on the deck or even stringing throughout your flower garden. The process is so easy, too. You just drill a hole in the bottom of the cup and use Mod Podge to adhere the fabric. Then string the cups up with your clear Christmas lights and you're all set.
Source/Tutorial: taylormadecreates
3. Upcycled Beer Bottle Garden Lights
Those empty beer bottles – or wine bottles if you prefer- can be used to create stunning lights for your garden. This is such an easy and quick project. You simply take empty – and clean – beer or wine bottles, line them up and then fill them with
clear or colored Christmas lights. You get beautiful lighting for your outdoors and you get to upcycle those empty bottles at the same time.
Source/Tutorial: snackerdoodles
4. Birthday Hat Café String Lights
Colorful birthday hats – or heavy cardstock – can be used to make lovely string lights for your patio or garden that are perfect for parties or just anytime you want something fun outdoors. You can punch patterns into the hats or leave them as they are and string them onto a clear set of lights. They're perfect for hanging from the porch or a tree limb.
Source/Tutorial: cremedelacraft
5. DIY Mason Jar Chandelier
I love doing projects with mason jars and this outdoor chandelier may just be one of my favorites. You can use as few or as many mason jars as you can fit together. Just tie them together by drilling holes in the caps and stringing lights through. You can paint these to give them a lovely translucent color or if you have old ones that are already colored, those would be beautiful as well.
Source/Tutorial: michelesapples
6. DIY Outdoor Cupcake Lights
If you have a party coming up, these outdoor cupcake lights will be perfect for lighting up the backyard or garden. You make them with cupcake liners and they're as useful as they are adorable. Just cut an X in the bottom of the liners and then string lights through them. These are quick and easy to make and really do light up your outdoors with some sweet lighting.
Source/Tutorial: cfabbridesigns
7. Repurposed Shot Glass Nautical Lights
If you love the beach and want to give your garden area a coastal theme, these nautical lights made from repurposed shot glasses are perfect. They have anchors, sailboats and other beach themed designs and they're glass so they're great for outdoor use and safe as well. They're also battery operated so there're no worries of trying to find somewhere to plug the lights in. You can get these on Etsy for just over $20.
Source/Tutorial: etsy.com
8. DIY Fabric Chinese Lantern
You can use those leftover fabric scraps from other projects to create these great Chinese lanterns. I found this project on Pinterest and it looks really easy to recreate. Just cut those fabric scraps into strips and wind them around wire to create the globes. You can make them in whatever size you need and then use Christmas lights to string them all together and light up your garden area.
9. Upcycled Outdoor Tuna Can Lantern
I absolutely love turning trash to treasure and this tuna can lantern idea is definitely one of my top picks. You can take an old tuna can, a really cheap glass globe and paint stick and turn them into gorgeous garden lighting. You can find glass hurricanes and other globes at yard sales and thrift stores for just around a dollar or so each and if you have empty tuna cans, this entire project won't cost more than a couple of dollars per lantern.
Source/Tutorial: inmyownstyle
10. DIY Glowing Garden Light Orbs
Some old glass shades and clear Christmas lights can be used to make these amazing glowing garden light orbs. You just stick the lights into the shade and that's it. You can find these white glass shades at most home improvement stores but if you don't want to buy them new, look around at thrift stores and yard sales. Light them up and stick them throughout your garden for wonderful nighttime scenery.
Source/Tutorial: theartofdoingstuff
11. Easy Glow In The Dark Planters
Turn those ordinary planters into beautiful garden lighting when you add a coat of glow in the dark paint. You'll need a can of glow in the dark spray paint and a handful of planters. Just add four or five coats of paint to each planter, letting them dry well between coats, and then set them outside in your garden or on your patio for beautiful lighting at night.
Source/Tutorial: rustoleum
12. DIY Hanging Railing Lanterns
You'll need some old jars – of all shapes and sizes to keep it really unique – some wire and a few other supplies to make these amazing hanging railing lanterns. They use votive or small pillar candles to light the way and you could opt for battery operated candles if you really don't want to have to light them all every night. These are great for hanging off your porch railing or the side of your deck.
Source/Tutorial: craftynest
13. Easy Succulent Chandelier
What better light for your garden than one that is also a planter? This succulent chandelier is beautiful and the perfect way to add some low key lighting to your patio or garden. Build the chandelier from leftover wood and then add your succulents. The lighting comes from candles or battery operated lighting that you stick in jars or small candle holders and the entire look is beautiful.
Source/Tutorial: erineverafter
14. Hula Hoop Garden Lighting
Turn an old plastic hula hoop into a gorgeous chandelier for your back deck or garden. This is a project that really doesn't take much time or effort and you only need a handful of supplies. You'll wrap clear Christmas lights around an old hula hoop and that's about it. You need to hang your chandelier of course, which you can do with rope or twine – which you also use to wrap the hula hoop to give it a really elegant look.
Source/Tutorial: sarahontheblog
15. Solar Powered Steam Punk Style Lighting
I love unique and one of a kind items and this garden lighting made from old metal pipes is certainly that. It has a nice steam punk feel to it so if you are into that style, this is a great lantern for your garden area. It's an old metal pipe with a handle fixture on it and it's completely solar powered. This would be quite an interesting lantern for your garden area and you can get it on Etsy for $135.
Source/Tutorial: etsy.com
16. Upcycled Liquor Bottle Light
Turn an old whiskey bottle into a great garden light – or use vodka, rum or any other favorite liquor. Many of these bottles are very decorative and would make lovely lighting for the yard and garden area. It's pretty easy to turn them into lanterns and then you can hang them directly from the porch or out in the garden from a post.
Source/Tutorial: instructables
17. DIY Decoupage Mason Jar Lanterns
These decoupage mason jar lanterns are the perfect way to light up your outdoors. You can use whatever pictures you want – from magazines and old newspapers to actual pictures of your family – and then add them to your jars with Mod Podge. Have I mentioned how much I love Mod Podge? Once your pictures are all added, just stick in a tealight or small votive candle for lighting and hang or sit the lanterns wherever you need them.
Source/Tutorial: bubbyandbean
18. Rustic Twine Jar Lanterns
Old mason jars – or whatever jars you have on hand to use – wrapped in twine make beautiful lanterns. This is one of the easiest and most gorgeous projects on the list and it's perfect if you're looking to add a bit of rustic charm along with garden lighting. Just wrap the bottom of the jars in twine and add some to the top for hanging. Then add tealight or votive or even battery operated candles for light.
19. Easy DIY Origami Mini Lanterns
You can create your own mini lanterns origami style which saves you loads of money over buying shades or lamps. Just use cardstock to create the little cubes and then string them up with clear lights. If you're planning an outdoor party, these little lights would be perfect or you could just hang them from the deck all year around. Kids will love helping to create the little mini cubes, too.
Source/Tutorial: witandwhistle
20. Pottery Barn Inspired Rustic Lanterns
These mason jar lanterns look just like the ones you can get from Pottery Barn, but at less than half the cost. These are really lovely lanterns with rope hangers and they hold a wider taper candle that lights up your outdoors. They're so easy to put together and when you compare them to the Hyannis Lantern at Pottery Barn which retails for around $70 each, you'll absolutely adore the savings in making these yourself.
Source/Tutorial: aloandbeholdlife
21. DIY Garden Polka Dot Mason Jar Lanterns
Here's another wonderful idea that involves mason jars. These polka dot lanterns are perfect for spring and summer and you can make them in no time at all. You'll need circle stickers to create the dots – which you can pick up at the Dollar Store for a dollar per pack, and some spray paint and of course, your mason jars. Create the design and then add tealights or small taper candles to create the lantern
Source/Tutorial: thesitsgirls
22. Easy Scrap Wood Luminaries
Make these rustic luminary lanterns from wood left over from other projects. You'll need a few scrap pieces of wood for each lantern and a tealight candle to light it up. The project itself is pretty easy and you can leave the wood unfinished for a great rustic look or paint it a bit and then distress it for an even better look. The lanterns are perfect for sitting on the porch or hanging from a pole.
Source/Tutorial: divaofdiy
23. Upcycled Bicycle Rim Lighting
This old bicycle rim has been cut in two and turned into a really unique chandelier type lantern for the porch or garden. It has small jelly sized mason jars hanging from it that each hold a small tealight candle. The entire thing is held up on the deck or porch with a cedar plank. It's a lovely light that would be perfect in the garden on a tree or pole.
Source/Tutorial: stylishnest
24. Glowing Seashell Table Lantern
Here's a beautiful way to light up a table or deck or you could even add this to your garden. Using oversized seashells, you create a gorgeous centerpiece with a shallow tray, sand, and your seashells. You can purchase large seashells at any craft or hobby store and when you add a votive candle to the center, you get a lovely beach type lantern that is perfect for those evenings out in the yard.
Source/Tutorial: marthastewart
25. Rustic Metal Star Lantern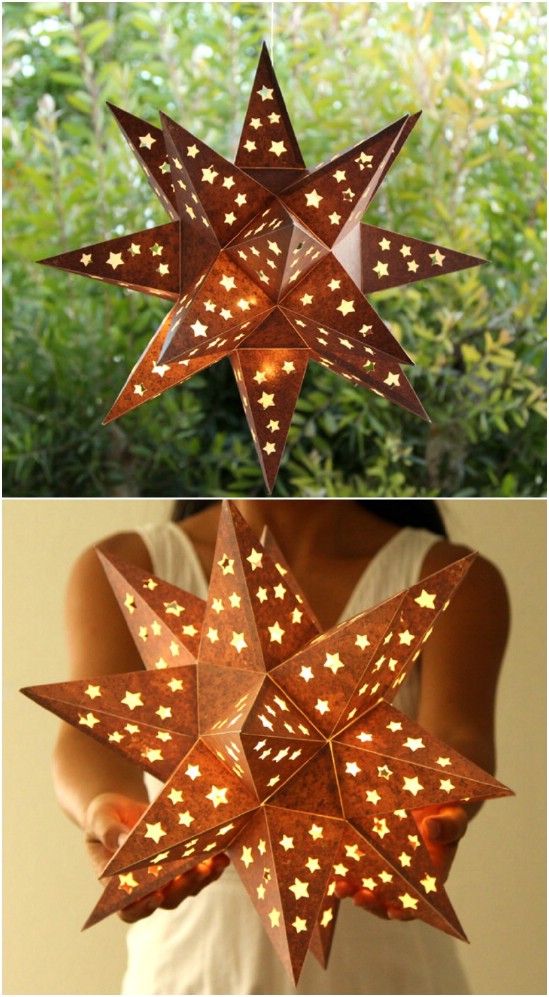 This rustic metal star lantern is perfect for hanging in the yard or garden. The best thing about this old lantern is that it looks like rusty metal but you actually make it from thick cardstock. You don't have to worry with cutting metal and possibly cutting yourself. You mold the pieces from cardstock and when it's all finished, it has a wonderful rustic country look and gives off a beautiful glow.
Source/Tutorial: apieceofrainbow
26. DIY Clay Pot Lamp Shade
If you're looking for a really easy and really unique way to light up the garden, this clay pot lamp shade is perfect. You turn it upside down, after painting it whatever color you want, and then add your lighting. This is such a beautiful garden light and you can get a large terra cotta pot at most Dollar Stores for just a few dollars each.
Source/Tutorial: theartofdoingstuff
27. Upcycled Tin Can Tea Lanterns
Those old cans that you would normally throw away can be turned into adorable little tealight lanterns with just a little work. You can paint the cans and then "rip" them to give them a really great look. You cut the cans vertically and then use a heavy object to crush them a bit. Then just add your tealights and string them up. These would be beautiful hanging in the garden from a tree or trellis or on the back deck.
Source/Tutorial: decoart
28. Tissue Paper Jar Lanterns
When you receive a gift in a bag, do you throw out the tissue paper? I never do and this project is one of the reasons why. You can take that tissue paper and use it to create beautiful jar lanterns that hold candles. You'll just need glue or Mod Podge. If you don't have any tissue paper, you can pick that up at the Dollar Store for a dollar per pack and some packs have more than one color.
Source/Tutorial: helloglow
29. DIY Tube Garden Lights
These tube lights are cheap and easy to make. They'll only take you a couple of hours and the skill level is marked as beginner so you can make these easily even if you've never built anything in your life. They're perfect for lighting up the walkway or putting in the garden to highlight your favorite flowers or plants. You can get all of the supplies from your local home improvement store, too.
Source/Tutorial: lowes
30. Rustic Twine Lights
Some twine and a balloon – or several depending on how many lights you want – are all you need to make these gorgeous rustic twine lights. Just blow up a balloon to however large you want the lights and then wrap them in twine. You need glue, starch and water to hold the twine in place. Once it dries, just pop the balloon and add some clear Christmas lights and hang. You can also use LED tealights for the light.
Source/Tutorial: sassymamainla
31. Burlap Ruffle Base Lantern
This burlap ruffled lantern is beautiful and adds such a nice rustic touch to your outdoors. You'll need a large glass vase, some burlap – enough to make a ruffle – and a light. Just wrap the burlap ruffle around the top of the vase and add an LED tealight candle for your light. You could also do this with twine instead of burlap if you wanted, and you can hang it with a piece of wire or twine.
Source/Tutorial: itstoilegood
32. Upcycled Solar Outdoor Chandelier
This solar powered chandelier is the perfect outdoor light and it's made from upcycled materials, which makes it even better. Take an old chandelier and add solar powered path lights, which you can get at the Dollar Store for around $5 per set. Then just hang and you're all done.
Source/Tutorial: simpledetailsblog
33. Recycled Wine Bottle Torch
That old wine bottle can be turned into a beautiful torch that you can fill with citronella oil to keep the bugs away while you're lighting up your garden. Just empty and then clean the bottle and add your oil of choice. Then add a wick and hang it on the side of your house or deck. These would be great for around pool deck!
Source/Tutorial: designsponge
34. DIY Wine Glass Lamps
Wine glasses, vellum and tealight or small votive candles make gorgeous outdoor lamps. You can use these on your deck or patio. They're also wonderful wedding table decorations, especially if you're planning an outdoor wedding. These are so very easy to make and would be perfect for those upcoming warm summer evenings out on the patio.
Source/Tutorial: popsugar
35. Easy DIY Garden Citronella Candles
You can always light up your garden area with candles and citronella candles are an excellent choice for the warmer months. Enjoy your time outdoors without worries of bugs while having all the light you need. These citronella candles are not only easy to make, they have a wonderfully rustic quality to them and are perfect for any outdoor activity that you may be planning after dark.
Source/Tutorial: gardentherapy