Lifehacks like these are so handy for making life easier to manage. While not everything on this list of summer life hacks is going to help you, but many will be handy. The thing I love about life hacks is that they suit different needs for different people. Go throw this list and make note of things that will help make your summer easier and happier!
Brilliant Summer Life Hacks
This list includes hacks I learned as a child growing up in the South. It also includes tons of great ideas found on Reddit, other blogs, online, and in groups where tips are shared with busy moms. In many cases, these are super easy things you can do that will save time or money. Other times they are ways to get around an issue you currently have. Use the ones you need, and share the others with friends and family!
Easy Hack for Deterring Ants
Pour coffee grounds in places you see ants coming into your home. The chemical component on coffee grounds will burn the ants preventing them from coming back. They can also be funneled into ant hills or sprinkled around doorways.
How to Trap Fruit Flies Easily
In a large jar, put a banana peel and apple cider vinegar. Next, roll a piece of paper into a cone shape with a small opening, and put it into the jar pointed end down. Tape around the top of the jar, and then let the gnats and fruit flies find their way into the jar but won't be able to get back out.
Difference Between How Bug Bites Appear
Keep this image handy as a reference for what bug may have bitten you. This is a great resource as summer arrives and more bugs are out and biting you.
Hack for Keeping Flies Out of Your Drinks
If you like to sit outside and enjoy a glass of lemonade or iced tea but worry about flies, bugs, or even just dirt getting in your drink, this is perfect! Use Pringles can lids as a cup lid! Slit a small hole in the middle to thread a straw through, or simply leave on until you are ready to drink.
Tip for Keeping Water Cool Outside
If you have a container of water that isn't insulated, use Reflectix to wrap around the container to help keep it cool while outside in the heat! Make sure to read through the comments for more information on best methods and tips for securing this.
Tip for Keeping Bottles Stacked in Your Refrigerator
Use a binder clip on the wire shelf in your refrigerator to hold bottles in place! This is perfect for beer and soft drinks to stay in place. I love that there are tons of sizes of binder clips, so you can do this with small and large stacks.
Source: Lifehacker
Tip for Cleaning Your BBQ Grill
Ball up a piece of aluminum foil and rub it back and forth over the BBQ grill grates. This will easily remove debris and can easily be thrown away when done cleaning.
Tip for Cutting Yard Trimmer String
If you never have a pair of scissors on hand when needed, add this cigar cutter to your weed whacker or trimmer spool. It makes it fast and easy to snip the end of the string or cable between uses.
Hack for Cleaning Patio Furniture Easily
Fill a spray bottle with distilled vinegar and spritz over patio furniture. This will break down mildew and make it easy to wipe off. I like to spray with vinegar, let it sit for half an hour, then use a spray bottle of water to remove. A terry cloth towel is easy to rub off any residual mildew or dirt.
Tip For Keeping Garbage from Smelling in the Summer Heat
If you eat a lot of meats and fish but hate how it smells up your trash can between pickups, use this hack. Wrap your packaging, skin, or raw meat scraps in a plastic bag and freeze until trash day. Then dump into the trash can before pickup.
Note: If you are able to compost things like fish heads and skins, do so, but if living in an area where you have to dispose of these items in the trash, this is a great tip.
How to Haul Plants in the Back of a Truck
If you are worried about plants falling over in the back of a truck on the way home, use this hack. Put them between the rungs of a ladder to keep in place while you drive. This hack is best for taller plants.
Repurpose Plastic Egg Cartons for Seed Starters
Close the egg carton then snip a hole in the top of the egg shape. Place your soil and seeds into each hole, then water and allow the plant to grow up and out of the hole on top. When ready to plant in your garden, open the carton and gently remove the plant!
Easy DIY Garden Markers
Use leftover corks and stick them onto the end of a skewer. Place these into the potted plant or ground by the vegetable plant. Any marker will add the plant name with ease.
Tip for Cleaning Vegetables Fresh From the Garden
Keep a large bucket and a laundry hamper with handles that fits inside it near your garden. Fill the bucket with water, then put your vegetables into the hamper and dunk into the bucket until the dirt and debris are removed.
Use Costco Apple Packaging as a Mini Greenhouse
If you're a Costco shopper, you know some of their produce, including apples, come in plastic packages. These are perfect to make little miniature greenhouses to grow seedlings. Just fill with soil, seeds, and water. This makes it easy to pop the seedlings out when ready to plant.
How to Know Ice Cream Hasn't Melted Before Purchase
Worried the ice cream you are buying has melted and been refrozen? Push down on the lid. If it is solid it has remained frozen. When the container depresses, it has most likely thawed and been refrozen.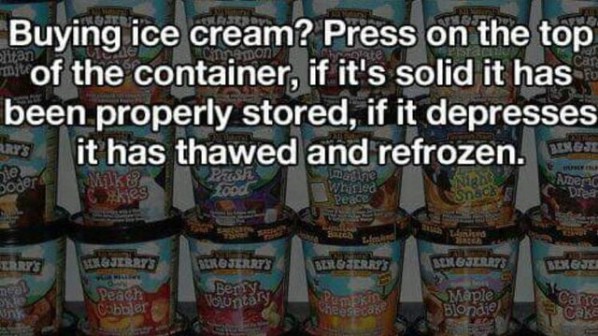 How to Keep Cuffed Shorts In Place
If your cuffed shorts keep coming unrolled, use a simple no-sew hem glue or liquid stitch to keep them in place! This also works great on pants or as a fast way to hem pants that are a bit too long.
How to Inflate a Pool Faster
Use your leaf blower to help inflate your small yard pools faster. Tape the end over the opening on the pool and turn on to force air into the pool. This works great if you don't have an air compressor or air pump on hand.
Hack for Centering Your Bicycle Wheels
Summertime means we dig out our bicycles for more rides in our area. This summer, we are spending even more time together as a family, so our bikes needed a bit of a tune-up. This hack is great for keeping your bicycle wheels center while you tighten things up.
Just cut a cork in half and place on either side of the bar to create equal spacing! Check the comments on this hack for more tips on making sure that your cork is cut evenly.
How to Make Light Without a Candle
If you live in an area that has electricity outages with summer storms, keep this hack on hand. If you run out of candles, use an orange (or any citrus)peel, and fill with olive oil then light. You can also add a bit of cinnamon to make it smell better. This will burn for a long time providing light to any room.
If you want more amazing life hacks, make sure to check out these posts also!