This adorable egg carton dragon is a fun recycled craft project that is sure to be a hit. These dragons are made in a short time and can be used as puppets, toys, or decorations. Make one at a time or by the dozen, it does not get cuter than these dragons. They are a perfect kids craft that teaches about recycling and adds to imagination play.
Egg Carton Dragon
Whether you are making this egg carton dragon for a fun summer craft or to celebrate Chinese New Year, this is a great project. Using inexpensive materials, most of which are recycled materials, kids are going to love making this simple craft. You will love that your kids are excited about crafting, and as mentioned, you can so easily teach them bout how important it is to recycle.
This is a great craft for birthday parties, summer camp, or in school. Since the materials are so cheap, it is easy to make these dragons for a lot of kids at once. I love that this is a paint craft that can help kids stay busy for a considerable amount of time. The best part though? Kids can truly customize their dragon to fit their personality.
What Paint is Best for Cardboard Egg Cartons?
The great thing about painting on cardboard egg cartons is that just about any type of paint will work. For my version of this dragon, I used spray paint I already had on hand. You might also find that acrylic or finger paints will have the best color, but even watercolors or water washable paint will work too. If you wanted to make a lot of these quickly, you can follow my example and also use spray paint and paint all the egg cartons at once.
I keep acrylic paint on hand at all times for crafting. They are inexpensive, come in tons of colors, and are easy to find at most stores. If you are working with kids who tend to waste a bit more paint when crafting, you may prefer to pick up the more inexpensive kids' washable paints or even tempera paints.
How Do I Cut Egg Cartons Apart?
It is easiest to cut the egg carton where the top and bottom along the crease. I prefer to use an Exacto knife or a craft knife when cutting the pieces of the egg carton apart. You can also use a pair of sharp scissors to cut down the crease. If you are cutting the egg cartons between the holes an Exacto knife might be the easiest way to cut it apart.
Variations for Decorating Dragons
I went very basic with my dragon using green paint and a classic red spike on the back. Dragons, however, are all fictional so can come in any color and style you prefer! That's one of my favorite things about this project - there is no right or wrong way for you and your kids to decorate their dragon.
Offer kids a variety of paint colors to use. They can add stripes, flames, or even polka dots. It doesn't have to only be a solid colored dragon. You will also want to offer up a variety of colors of cardstock, felt, or cardboard to create the tongue, eyes, and spike along the back.
You can add glitter, sequins, stickers, or felt pieces to add more realistic scales. Kids may want to make them a specific gender, so add in things like beads or jewelry, hats, or other embellishments that might help designate a gender. Whatever you do - make this a fun project that is ideal for letting kids use their imagination.
Can I Use Styrofoam Egg Cartons Instead?
You sure can! While I get only the cardboard egg cartons in my area, I know they aren't always available. If you only have Styrofoam cartons to use, feel free to use them instead. The only difference will be that water-based paints won't stick well. You'll want to pick up acrylic paint for these projects for the best results.
Supplies Needed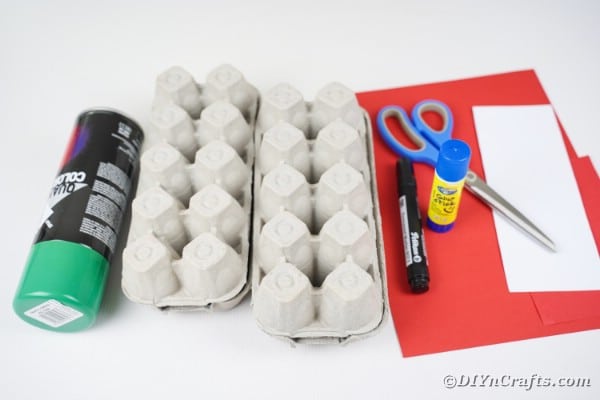 How to Make an Egg Carton Dragon
Cut apart two egg cartons. You will need 1 ½ egg carton per dragon you make.
Spray all sides of the 3 sections of the egg carton with paint (or hand paint if preferred). Set these aside to dry.
Once the paint has dried, you will glue pieces of one whole carton together.
Next, glue the bottom half of the second carton onto the top of the whole carton, sitting it bottom side up and halfway back on the first carton so it is offset.
On the front of the bottom carton, draw two large black circles for the nose.
Trace and then cut 2 white circles from paper.
Draw black circles onto the middle of the white circles.
Stick or glue the white circles on the front of the second carton on top to create eyes.
Cut out 3 strips of red paper 8-10 inches long.
Use a pencil to roll one end of each of the strips of paper.
Glue the three strips of paper together on the flat end so they overlap slightly.
Attach the three rolled pieces of paper to the bottom of the dragon to create a tongue sticking out.
Cut a length of cardboard or cardstock to fit the top carton, and then cut one side into spikes or large triangles.
Glue this in place in the center of the egg carton on top.
Continue decorating with added paint, sequins, ribbons, and similar items as desired.
More Egg Carton Crafts For Kids
If you have more egg cartons to use, check out my other fun projects! Start with these little egg carton toy cars! They are super cute and easy for kids to decorate. You can check out this list of creative projects you can make with egg cartons, but one of my favorites is this tutorial for how to make egg carton roses.
If you are interested in holiday-specific ideas, check out these little egg carton Easter bunny kids craft. Your kids might also like making this egg carton mini Easter basket. This little egg carton hen is adorable too! Of course, I love Halloween, so my favorite for the holidays has to be the monster egg carton treat boxes.
Crafting Tip

If you don't have egg cartons on hand but still want to make this project, you can actually buy empty egg cartons on Etsy! What a great way to help someone else out while providing the craft supplies you need!
Yield: 1
Fun Painted Egg Carton Dragon Project for Kids
Grab those empty egg cartons and turn them into this fun painted egg carton dragon project ideal for kids! Customize your dragon and give it a fun personality!
Additional Time
15 minutes
Materials
Instructions
Separate two egg cartons so the tops and bottoms are apart;
Paint all of one carton and only the bottom half of the second carton then set them aside to dry;
Once dry, glue the whole carton together, then glue the single carton half bottom side up onto the top of the whole carton, placing it off center so it creates a head and snout;
Draw two black circles onto the top front of the bottom carton;
Trace and cut out two white circles;
Draw black circles inside the white circles;
Glue or stick the eyes on the top carton piece;
Cut out 3 strips of red paper and then use a pencil to roll them;
Glue the strips of rolled paper together on the flat end;
Stick the rolled red paper tongue on the bottom of the carton below the black nostrils;
Cut the red cardboard to fit just a bit shorter than the top carton and then cut out triangles on one side;
Glue the spiked cardboard into the center of the top carton;
Add any further decorations and make your dragon unique then play with it or display.
Notes
Paint and decorate your dragon any color and style you prefer. It is easy to make these unique for every child.
Recommended Products
As an Amazon Associate and member of other affiliate programs, I earn from qualifying purchases.
Finished Project Gallery
YouTube Meta: