Do you have a stack of egg cartons gathering dust in your craft closet? Now is the perfect time to create these adorable repurposed egg carton toy cars! A bit of paint turns an old egg carton into an adorable little toy that kids will love. You can even let your kids help make them and customize them to their own preferred tastes.
Egg Carton Toy Cars
As a mom to two boys, I have spent many hours, probably even days, playing with toy cars. Whether they are expensive remote control cars or the cheapest plastic car from the dollar store, they always loved any car they could play with. Even, to this day, my teenager gets excited about fast cars and remote control cars.
My boys never minded what kind, they just enjoyed playing with them.So, turning some egg cartons into little cars is a great craft for my family to make. We could each easily customize our favorite colors and styles, and even though they aren't traditional, they are ideal for a fun playtime.
Gather up your egg cartons, paint, and little bits of scrap paper and buttons to create a unique car that fits your personality.
What Can I Use to Add Wheels to The Cars?
For my cars, I used buttons. They work great and are readily available. If you are like me, buttons are in abundance from collecting over the years. I always toss those extras that come with button-down shirts into a box in my sewing closet. (Yes, I have a sewing closet).
If you don't have buttons on hand, or just don't want to use them for this project, that's okay. Anything small and round can be used for wheels on your toy car. A few ideas are listed below.
Pony beads
Sequins
Paper
Cardboard
Pipe cleaners rolled into a circle
Ribbon
Fake flowers
Erasers
Fabric
Straws
Can I Use Styrofoam Egg Cartons Instead?
If you don't have cardboard egg cartons, you can definitely use Styrofoam cartons for these little toy cars. They work just as well for this and are even better for the environment since they are not biodegradable. Being able to use what you have on hand is a must when creating fun projects.
When using the Styrofoam egg cartons, you'll notice they may be harder to paint. In this case, the best choice is good acrylic craft paint. Watercolors that work great on cardboard egg cartons won't stay on the Styrofoam surface. Sometimes, you can find a good permanent marker that will stick, but it takes much longer to dry, and when playing, it is more likely to rub off the car.
You might also enjoy making some of these great unicorn crafts for kids. They are tons of fun!
How do I Make an Egg Carton Bus With These?
I've seen a ton of calls about making egg carton buses. While I never thought about doing it before, I can see how it would be a fun craft for the kids. You can make them into a bus, a train, or just a fun little minivan.
All you have to do is hot glue them together! Another option is to use a hole punch on the backside of each piece, then string them together with ribbon or twine. Both options work wonderfully to make this a longer car, train, or even into a bus.
I've also seen them stacked on top of each other and painted blue and red to look like a more traditional double-decker bus!
How Can I Customize My Cars?
Cars come in all shapes, sizes, and colors. So, of course, you want to add your own little unique embellishments to them to create your own style. While choosing the color of paint is the first part, I love the idea of adding other bits of flair to make them different. Below are a few great ideas for making your own cars customized.
Add glitter glue for extra sparkle
Use aluminum foil for added chrome accents
Cut small strips of the egg carton and attach on the sides or back to create a spoiler for a sports car look
Trim a hole in the top as a sunroof
Use a marker to draw stripes on the sides
Add stickers with flames or other fun decals along the back or sides
Add an extra rectangle on the back for the rear windshield
Glue an extra flat piece to the back to create a "truck"
The real point of this is to have fun and make the car unique. This is all about creating something new out of an old item, and upcycling egg cartons is a fun activity everyone enjoys. Even us adults can have fun making this one!
Supplies Needed
How to Make Egg Carton Toy Cars
Cut apart the individual cups of an egg carton.
Once the cups are apart, you will paint them on all sides and set aside to dry.
Using white craft paper, cut a small rectangle that will fit easily onto the front of the cup.
Then glue that in place.
Now, cut two tiny yellow circles out of craft paper.
Glue the yellow circles just below the rectangle.
Next, add two dots of glue on one side and two dots of glue on the other side, then attach the four buttons as wheels.
Continue this process for as many cars as you wish.
Add any additional embellishments to make the cars unique and your own.
Keep the kids busy with more ideas for crafts. Start with these great toilet paper craft ideas and fun popsicle stick crafts. So many easy ways to keep the kids busy. If your kids are Disney fans, they might even prefer this list of easy Disney crafts for kids to keep busy.
If you want a bit more grown-up idea for egg cartons, check out this gorgeous egg carton rose bouquet. A perfect idea for gifting to others! If that isn't enough to keep you busy, check out this huge list of recycled egg carton projects. So many fun ways to use these for easy crafts!
Crafter's Tips

If you don't eat eggs, you may need to find egg cartons elsewhere. You can easily grab batches of empty egg cartons on Etsy. Another great option is to use
Yield: 1
Adorable Repurposed Egg Carton Toy Cars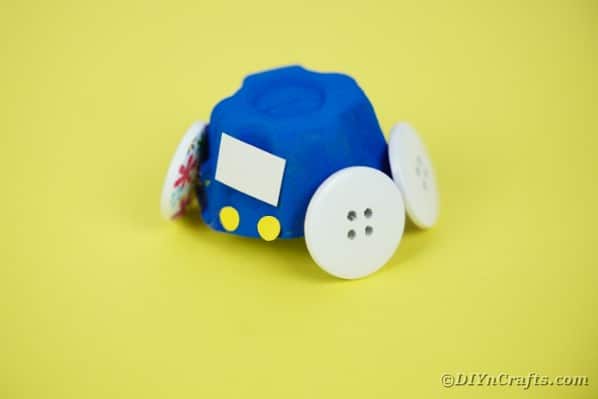 Grab the egg cartons and make these adorable repurposed egg carton toy cars with your kids as a fun way to create and play together!
Additional Time
15 minutes
Instructions
Begin by cutting apart the egg carton to create individual cups;
Once you have as many cups as you want, you will begin painting the outside of the cups the colors you want for your cars and set the cars aside to dry;
Cut a small white rectangle out of craft paper and then glue in place on the top half of the front of the car;
Cut two small yellow circles from craft paper, and then glue them just below the white rectangle as headlights;
Now, glue two buttons on each side to create wheels;
Add any additional embellishments you want, and then have fun playing with the cars with your kids!
Notes
Add any colors, additions, or creative updates to make your cars truly unique.
Recommended Products
As an Amazon Associate and member of other affiliate programs, I earn from qualifying purchases.
Finished Project Gallery