Turn pages of an old book into this cute little paper flower. This is a beautiful and easy craft that anyone can make in just a few minutes. I love that while I can use a whole book to make a bunch of these paper flowers, I can also use scrap papers from other projects. A bit of cutting, sewing through pages, and suddenly you have a lovely flower addition to many projects around your home.
Paper Flower Made from Old Book Pages
I've made hundreds of paper flowers over the years. Potentially thousands if you count the many quilled flowers I have made through the years. I love flowers in general, and knowing I can make my own out of paper just makes me happy. These simple flowers are ideal for adding to many projects and creations around your home, but also absolutely beautiful on their own.
If you've been hesitant to work with old book pages, this is a great beginner craft. While there is a bit of folding and cutting involved, it really is a simple process that virtually anyone can create. It's even simple enough for your kids to help you make to give to friends and family.
Can I Use Any Paper for These Flowers?
Yes! I love using old book pages for crafts, so this is my go-to for almost any papercraft. That doesn't mean that you can't use any paper you prefer to make your own flowers. Below are a few ideas for making these with different items.
Craft paper
Scrapbook paper
Cardstock
Newspaper
Wrapping paper
Greeting cards
Coloring pages
Magazine pages
Can These be Painted?
If you'd like to make sure your paper flower matches a theme or your home decor, don't hesitate to paint it! If you are using old book pages instead of craft paper, you can easily paint them with a bit of watercolor, some stain, or any acrylic craft paint. I prefer to paint them prior to making the actual flower so all edges are covered, but that's not necessary. You can easily paint them just a little around the edges after you have assembled the flower.
It may be easier to use colored craft or scrapbook paper instead of painting, but I also love the rustic look that comes from painting these vintage papers. There is something special about the aged look a bit of watercolor gives to the paper. So, if choosing to add paint, I highly recommend trying that method.
How Can I Use My Paper Flower?
Once you've made these flowers, what should you do with them? Well, anything you want, of course! Honestly, these work beautifully for a number of different uses. My favorite is to add them as table scatter in place of confetti or other items around a table. They make a beautiful addition to the tables at Thanksgiving.
There are almost as many ways to use these as there are ways to make them unique. I love adding them to gifts in place of a bow. You can add them to a hair tie or a barrette for a simple hair accessory for special occasions. I've even used them on a wreath frame for a unique and rustic looking wreath idea.
Glue them onto a picture frame as an accent. Add them to a gift bag, or even to your holiday packages. Use them on top of a basic napkin ring at your holiday table. Just get creative making them fit into your daily life and decor needs.
Supplies Needed
How to Make a Paper Flower from Old Book Pages
Tear multiple pages of paper out of an old book.
Cut each page in half.
Fold that page one corner down into a large triangle, and trim off the excess page.
Fold that triangle in half.
Then fold it in half again.
Fold the triangle in half a third time.
Now, trim a rounded edge on the open edge of the paper.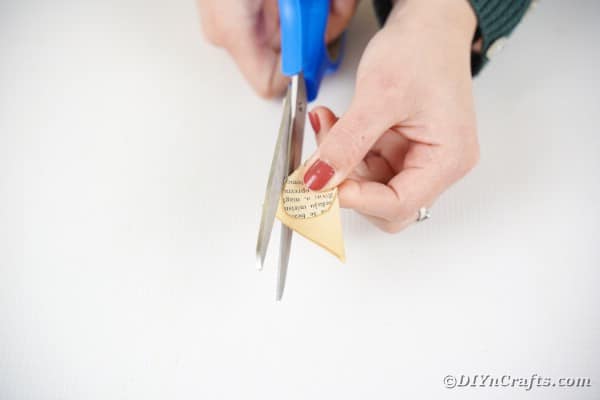 Unfold slightly and set aside. Continue this process for all of your pages making 6-8 of this per flower you wish to make.
Thread a needle, and then begin running the needle and thread through the pointed edge of the flower petal bundles.
Continue this until all are on the thread, then pull it tight so that it comes together to form a circle.
Tie off the thread and trim the end then fluff out the petals.
Glue a bead on the middle top of the flower.
Use your flower as a decoration in your home or on presents for friends and family!
If you want more amazing book page crafts and flower ideas, we have a ton to share! Start with this great list of DIY ways to make paper roses. Along with this list, I've made literally thousands of flowers through the years and recently have been sharing favorites with you here. Here are some beautiful handmade paper flowers to start your flower making journey.
Here are tissue paper flowers, or you can make these cute paper flower photo cards. Of course, you can also make more paper flowers from old book pages using this tutorial, or add them to a wreath or bouquet. Check out this paper rose bouquet and this old book page rose wreath.
Crafter's Tips:

If you don't have old books to use for this craft, check out the many options for vintage book page bundles found on Etsy. There are always a nice variety of options in styles and sizes for your crafting needs.
Yield: 1
Cute Paper Flower Made from Old Book Pages
Grab your old books and turn their pages into this cute paper flower! A perfect easy to make craft anyone can put together in a matter of minutes!
Materials
Tools
Instructions
Remove pages from an old book;
Fold and then cut each page in half;
Take each of those halves, and fold it down into a triangle, there will be an extra paper on the bottom of the triangle, trim off the excess paper at the bottom;
Fold that triangle in half;
Then fold it in half a second time;
Finally, fold it in half a third time creating a very small triangle;
Now, using scissors, trim a rounded edge onto the open ends of the triangle;
Once unfolded slightly, it looks like a stack of flower petals;
Now, thread a needle, and on the inner pointed part of the petal bundles, thread the pages through the needle and onto the thread;
Continue this until all 6-8 bundles are on the thread, and then pull them together to form a circle;
Tie off the thread and cut any loose ends;
Glue a bead onto the top of the flower;
Now you can display or use your paper flower as desired.
Notes
Use any craft or scrapbook paper in place of old book pages if desired.
Recommended Products
As an Amazon Associate and member of other affiliate programs, I earn from qualifying purchases.
Finished Project Gallery