I'm not one to brag, but this may be the best idea yet! This upcycled old CD or DVD curtain holder is just adorable! What a great way to update your window coverings while also upcycling something that usually gets thrown away. This is just too adorable and a great way to use up some craft supplies and really update the look of your curtains.
Upcycled Old CD or DVD Curtain Holder
If you are anything like me, you have a box tucked back in a closet full of scratched up CDs and DVDs. We all have them, but what do we do with them? Well, this craft is such an easy way to use them up and be useful!
I love having curtains in my family room, but when I want a bit of sunshine in, I have to look for a way to pin back the curtains. This is such a brilliant solution! So pretty and so easy to make, I am in love with this idea and plan to make them for every curtain in the house!
If you need more ideas for updating your window treatments, you'll love this list of curtain rods and hooks ideas, and these amazing DIY curtains. You can really update the style of your home with just a few simple changes. After you update the old for new, use those for these great repurposing ideas for old curtains.
How do You Safely Cut a CD?
Very very carefully. Seriously though, cutting a CD or a DVD is pretty simple, but you do want to be careful as there will be sharp edges.
All you have to do is score it with a craft knife, and then tap to pop the center out of the CD. I highly recommend wearing a pair of work gloves and doing it on a piece of newspaper so you don't cut yourself or leave shards of the CD on your table or workstation.
Just wad up the newspaper and throw it away when you are done!
What Type of Ribbon is Best for Wrapping This?
I like a nice wide satin ribbon for wrapping the CD or DVD. Thin ribbon can work but takes more time to cover and that's just not something I like dealing with regularly.
A tulle or sheer ribbon will catch on the edges and could rip, but also wouldn't cover the labeling on the CD. So, make sure it is thick enough to cover and not be see-through, but also wide enough that you only need a few passes over the CD to cover properly.
Supplies Needed
How to Make Old CD Curtain Holder
Using a ribbon spool or lid, trace a circle onto the CD.
Carefully use a craft knife to score the CD and then pop the middle out turning it into a ring.
Now, you will begin wrapping the light blue ribbon around the CD securing every few inches with glue.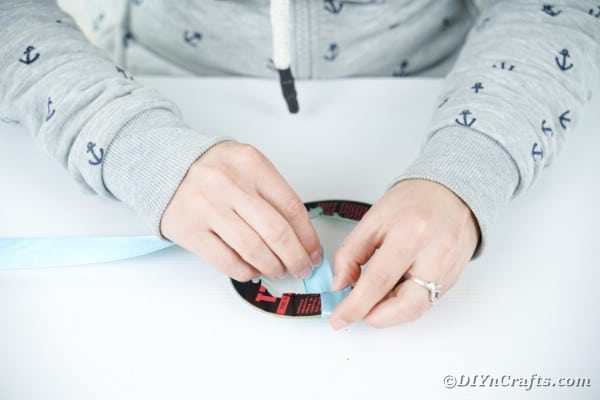 Continue wrapping until the entire CD is covered, then secure the ribbon in place with glue.
Now, you will measure small pieces of the dark ribbon to create the flower. Choose a length you are comfortable with, but for this about 3" is a good length. Cut out 6 lengths of ribbon.
Now, you will begin folding the ribbon and connecting it with thread. Fold the ribbon in half, then fold those halves together. The video helps see this process a bit better.
Once you have folded the ribbon, you will use a needle and thread to secure the open. Leave the thread in the ribbon as you will then thread the next ribbon "petal" onto the same thread, and continue this process pulling each petal through to form a flower.
Arrange the ribbon petals into the flower shape and tighten the thread in the center with a few extra stitches to secure it.
Flue or sew on additional sheer ribbon on the bottom of the blue flower, then glue a small artificial flower on top.
Arrange the ribbon until you are happy with the look.
Glue the ribbon flower onto the CD, and then add additional flower embellishments along the sides as shown.
Now, you will attach ribbon to the end of the dowel, and wrap it tightly covering the entire dowel and securing at the end.
Make another small darker blue ribbon bow and attach to one end of the now wrapped dowel
Now, you have the curtain holder pieces.
To use the curtain holder, you will slip the curtain through the middle of the CD, then you will slide the dowel behind the curtain inside the CD and through the other side as shown.
What Else Can I Do With Old CD's?
I just love upcycling and repurposing, and of course, those scratched CD's and DVD's are no different. I've made a few fun things in the past with them, and if you have tons laying around in your closets or drawers, you'll love them too.
I love this DIY CD owl wall messenger for adding to the side of your refrigerator for keeping track of your grocery needs. Another good idea is this cute little Old CD pocket oganizer for storing things like pens and pencils, makeup brushes, or similar.
If you have the cases laying around, you might want to make this 3D hologram from CD cases, or even this great photo cube from CD cases. So many great ways to repurpose items you have laying around your house!
Crafter's Tips

If you don't have old CDs or DVDs on hand, you can grab them in large batches on Etsy. I love that others share old cd's for sale so everyone can reuse and repurpose them!
Yield: 1
Decorative Upcycled Old CD or DVD Curtain Holder
Make this adorable upcycled old CD or DVD curtain holder for a beautiful addition to your window treatments!
Materials
Tools
Instructions
Trace a circle onto the center of the CD;
Use a craft knife to score the circle and pop out the center of the CD;
Now, attach an end of ribbon to the CD and begin wrapping it around the CD keeping the ribbon flat until you have covered the whole ring and secure at the end with glue;
Cut 6 3" strips of dark ribbon;
Fold a piece of ribbon over then in half against itself as shown in the video;
Now, pull needle and thread through the open end of the ribbon to secure, and then move on to the next ribbon. You will continue folding, then sewing the ribbons together and forming a flower;
Add additional tulle ribbon onto the back of the blue ribbon for added accent and glue a small flower into the center of the ribbon flower;
Attach the ribbon flower to the CD along with a few more flower embellishments;
Now, you will wrap the dowel in ribbon;
Make an additional ribbon bow and attach to the end of the dowel with another small flower in the center;
Now you can pull the curtain through the center of the CD, then push the dowel behind the curtain through the CD to secure.
Notes
You can use any color ribbon you prefer for this craft and can add an artificial flower instead of the ribbon flower if you prefer.
Recommended Products
As an Amazon Associate and member of other affiliate programs, I earn from qualifying purchases.