Clothespins are one of those incredibly versatile items everyone has in their home. This fun little clothespin bird craft is a great idea for making with your kids using that super versatile item. Whether you paint them blue and yellow as I did, or a totally different color theme, this is always a hit with the kids!
Clothespin Birds Craft
Growing up, my mom had a clothesline outside for hanging our laundry to dry in the summer. Today, my current home had a fun little spinning clothes drying line right outside my office window. To say I am familiar with clothespins is an understatement. I've probably gone through thousands of these over the years between actually doing laundry, and creating fun crafts like this one.
This is a great choice to add to your Easter decorations and crafts list but it is also just a fun idea for any time. Kids love this one because it's just a little bit messy with the paint. Feathers add texture and personality to this, and it's just adorable added to many different crafts.
If you have leftover clothespins, you'll want to make these painted bunnies out of clothespins. Here is another Easter bunny clothespin idea that is a bit easier to make if that one is too hard for you to paint. They are both adorable!
How do I Display These?
These are a cute little project, but how can you use them? After the kids are done creating their own birds, they may want to take them to play. My kids always like to pretend with things like this and have fun creating little stories of what the bird's names are and what they do. That said, what are other ways to use them or display them? Some of my favorites are below.
Glue a small magnet to the back of the clothespins and add to your refrigerator filing cabinet to hold papers, notes, calendars, etc.
Clip them onto the outside of a potted plant to add a bit of fun springtime decor to the house.
Glue them to a dowel and stick in a bouquet with flowers.
Use to clip goody bags together that you are giving to your kids.
Glue to the handle of an Easter basket as an added decoration.
This adorable plastic spoon Easter bunny is a great addition to your Easter crafts. Kids will love making these easy cotton swab lambs and add them to their decorations. Easter is so fun to create fun decorations for! Of course, there is this huge list of Easter crafts for kids and toddlers to check out for more ideas. One of my favorites is this super cute bunny nose for Easter.
Tips for Painting Clothespins
Since this is one of those crafts that can get a bit messy, I recommend you clip the clothespins onto a stick or straw to hold while you paint. This will keep the paint off your hands. It lets you paint all sides without having to wait for one side to dry first. Another bonus of this method is that it keeps kids from getting too messy.
Bonus Tip: Grab some paint smocks or old t-shirts for kids to wear over their clothes when painting. Even if it is a small project like this, paint stains can happen. Better to prevent than take a chance.
You'll love this adorable little Easter basket out of a plastic cup to add this clothespin to as a fun decoration. But, my favorite, has to be this wall art carrot made from buttons. It's just so pretty!
Supplies Needed
How to Make a Clothespin Bird
First, you will paint your clothespins on all sides, then set aside to dry. You can clip them onto a paper or plastic cup while it is drying to prevent the paint from smearing.
When dry, you will glue a feather to one side of the clothespin.
Next, you will add the googly eyes onto the top of the clothespin opposite of the part that clips.
Cut and glue a small orange triangle just below the eyes.
Now you can clip your clothespin bird to a basket, plant, or add to your refrigerator!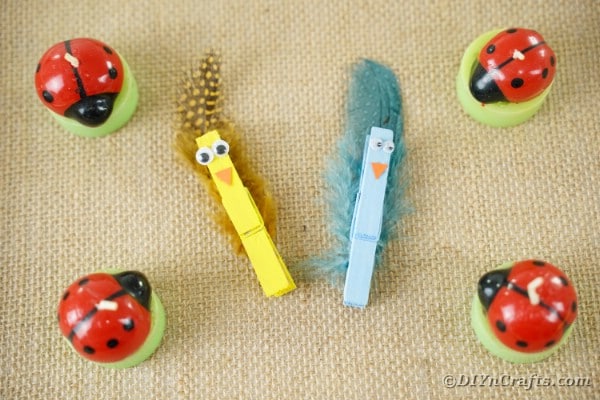 Crafter's Tip:

Make these in various sizes by buying mini clothespins, regular clothespins, and super sized clothespins. Then, you will have a fun little bird clothespin family!
Yield: 1
Cute Upcycled Clothespin Birds Craft
Make these adorable upcycled clothespin birds with just a few craft supplies you already have on hand. These are ideal for adding to your Easter baskets this year!
Additional Time
30 minutes
Tools
Instructions
Paint your clothespins on all sides then set aside to dry;
Once the clothespins have dried, you will glue a feather to one side;
Next, you glue googly eyes to the non-clip end of the clothespin;
Cut out an orange triangle and glue just below the eyes as the beak;
Decorate with your clothespin birds!
Notes
Make your birds in various colors for a fun family of Easter birds!
Recommended Products
As an Amazon Associate and member of other affiliate programs, I earn from qualifying purchases.