This flower pot carrot Easter decoration is the perfect hostess gift this spring. A cute little addition to your Easter decor, this carrot is a simple project that doubles as both a gift holder and a decor item. Stuff it with your favorite treats, candy, or small favors, and share it with your friends! Such a simple craft to make, you will want dozens of these to share with your friends and family this year.
Flower Pot Carrot Easter Decoration
My love of upcycling flower pots has no end in sight. This fun carrot is a simple choice that really has added some fun to Easter this year. Not only am I repurposing something, but it creates an excellent "gift box". A dual-purpose gift? Yes, please! Nothing makes me happier than seeing a cute idea that is easy to make, inexpensive, and can be used for multiple purposes.
While I use the smaller 4" or 6" terra cotta pots for these crafts, you aren't limited to only those sizes. You can easily make this with the smallest option, the largest, and every size in between. That means you can turn one of these into a giant decoration on your lawn or in your garden that also serves as storage outside. It also means you can make tiny ones to add single pieces of candy into and give out to larger groups of people.
Do I Have to Paint This?
No! You sure don't! I like the brighter orange color that happens with paint, but that doesn't mean you have to paint them. In fact, since terra cotta is already a deep orange hue, it naturally works for this project to just skip the paint.
I do, however, like the idea of adding something unique to the project. If you don't want basic orange, why not paint it white and then sketch on some small eggs or bunnies around it using paint pens? Maybe even paint purple or dark red to look like an heirloom carrot. Just have fun with this, and if you want to leave them natural and not paint, then don't. As with all of the crafts I share here, it's meant to be fun, not stressful.
Another great Easter decoration is this adorable carrot wall art out of buttons. So fun to make!
What Will Fit in This for Gifting?
This really depends upon what size flower pot you choose to turn into a carrot. The 4-6" like is most often used in our projects is a great size for several small items. Smaller pots, really only can fit 2-3 pieces of candy. Of course, larger ones fit much more so the ideas below would fit in larger amounts.
Fill with wrapped pieces of candy that fit the holiday or the preferences of the receiver.
For children, add a few small party favor sized toys or treats.
Wrap cookies in paper or in a cellophane bag and place inside the pot.
Put a bag of bath salts in the pot along with a small scoop.
Fill with tea bags and honey packets or a few K-cups and creamer pods.
Add gift cards with candy.
For little girls, add a few cute hair bows, headbands, or other items that can easily be tucked inside.
Ladies might enjoy a new scarf tucked inside.
Add a bottle or two of nail polish and a nail file.
Create a spiced tea mix or hot cocoa mix and pour it into bags to put inside the flower pot.
Add a bean soup mix with directions.
A pancake mix, biscuit mix, muffin mix, or cookie mix with directions would all be great gifts.
If you are using this for candy, you might also want to check out this cute paper carrot candy holder. Another fun idea is this. So many cool ways to share candy and treats with your friends and family!
Supplies Needed
How to Make a Flower Pot Carrot
Paint the outside of the flower pot and set aside to dry.
Paint the bottom side of the flower pot water catching tray as you will put it on top upside down.
While the flower pot is drying, you will cut a long strip of green paper, and then begin cutting strips onto the paper leaving one side connected as shown.
Roll the green paper up so that it forms a "stem" for your carrot.
Now, glue the step to the top of the flower pot.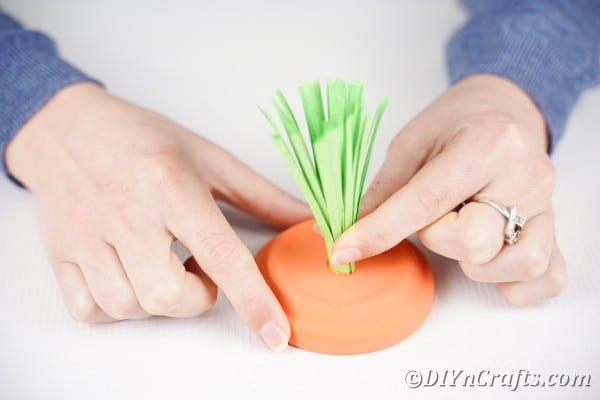 Fill the flower pot with candy or treats then put the tray on top as a lid.
Wrap an orange ribbon around it and tie.
Make a large red bow, and add to the top, using the loose end of the orange ribbon to tie it in place.
Now, you can add this to display for Easter or gift to a friend!
Crafter's Tip:

Watch for end of season sales to pick up these flower pots at a great price. You can also often find them in large lots of flower pots on Etsy and Amazon for a great rate, but in those cases, you need to watch shipping prices just in case it would negate the savings.

If you have extra flower pots on hand, you should make this cute Easter bunny flower pot, You might also love this upcycled flower pot ladybugor this adorable upcycled flower pot frog for the garden. So many cute ideas to add fun to your decor! You can even pick some great ideas from this list of ways to decorate with garden pots in your outdoor spaces.
Yield: 1
DIY Flower Pot Carrot Easter Decoration
This adorable flower pot carrot Easter decoration is a great way to gift candy and treats to kids or a fun way to share a hostess gift on Easter!
Additional Time
30 minutes
Materials
Candy or toys to fill the flower pot
Tools
Instructions
Paint the flower pot orange on the outside and set aside;
Next, you will paint the water tray to the pot orange, but paint what would normally be the bottom side, and set aside to dry;
Cut a long strip of green paper, and cut fringe on it leaving one side of the paper intact;
Roll the green paper together to create a stem;
Glue your stem to the top of your tray/lid;
Fill the pot with candy or treats, and place the lid on top;
Tie a length of orange ribbon around the flower pot and over the lid leaving long ends;
Make a larger red bow, and then tie it to the top of the carrot using the longer ends of the orange ribbon;
Use as a decoration or gift to friends or family!
Notes
Feel free to add different colors of ribbon or even unique paint to the outside if preferred.
Recommended Products
As an Amazon Associate and member of other affiliate programs, I earn from qualifying purchases.