This adorably upcycled old book page Easter egg garland idea is a perfect addition to your mantle. Combine scrap colored craft paper and book pages for a rustic banner. This is a great craft for using up small bits of paper, but also old books you would have otherwise thrown away. Easy to assemble and rustic while being festive, it's a perfect choice for Easter decorating!
Old Book Easter Egg Garland
One of my favorite things to do is to rescue books that would otherwise be thrown away. My local library often throws out books that are torn, water damaged, or otherwise not repairable.
Most of these are just regular titles and aren't really worth keeping, but I find a use for them. They are so easy to turn into beautiful crafts, just like this Easter egg garland.
This gives an otherwise drab paper egg a whole new look. It appeals to my book-loving heart and turns basic paper into a fun look that really accents and makes the simple 3D eggs stand out.
Plus, it is so cheap and often free, which appeals to my frugal sensibilities.
If you want an even easier idea - check out this easy Easter bunny butt garland with free printable. Such a cute idea! It goes great along with many of these fun Easter crafts for kids and toddlers.
What's the Best Way to Hang This?
If you are wondering what to attach the individual banners to, then I have a couple of good options. If you prefer a more rustic look to your decor, then go for the rustic twine or even a thin rope for this.
For something a bit prettier and perhaps matched to the color of the eggs, you can use any ribbon. If you make your eggs from various colors of paper like this one, you could even twist different colors of ribbon together for a rainbow effect.
I also found this cute burlap leaf ribbon that would fit this idea perfectly.
If you are wondering how to attach this to your mantle, the usual methods that I choose are to create a loop at each end of the ribbon. Then, I will attach command hooks to the sides of my mantle and slip the loop over each hook.
Other options include a nail, thumbtack, push pin, or even simply some tape. Use whatever works best for you and the location you are hanging this Easter egg garland.
I like to add this garland and these burlap bunnies to the mantle for traditional sweet decoration.
Do I Have to Use Old Book Pages?
No, you don't. I happen to like the rustic look and feel good about using up book pages that would otherwise end up in the landfill. You can use any craft paper or even construction paper for this project.
The paper adds a bit more character to the bunting, but it doesn't have to be specific to what I used here.
For a bit brighter look, you can make this super cute little Easter bunny bunting with bright purple and multi-colored papers. I love this for a whole different decorating idea.
Using different papers can create a whole new look at the same process. Of course, I also absolutely love this brightly colored paper fan garland as an accent to your Easter decor.
How Can I Preserve My Garland for Next Year?
I have a great area in my basement that allows me to pack away decorations and crafts for each season, but not everyone has that option. For me, it includes a row of hooks on a corkboard where I can simply hang bunting or garland by their ends.
This keeps them untangled and easy to grab and hang the next year.
If you don't have that option, you can do a few different things to keep your garland from getting torn or tangled.
Laminate the individual bunting pages before connecting to the thread or ribbon.
Use a piece of cardboard and wind the bunting around it making sure the individual banners lay flat.
Fold each page on top of each other gently and place it into a small box or craft paper storage box.
Place the folded garland into a large Ziploc bag for future use.
Another one of my favorite Easter crafts is this cute method for making a rice filled sock Easter bunny. Super cute on the mantle next to these rustic glitter Easter eggs or this rustic floral Easter decoration.
Supplies Needed
Multiple colors of craft paper
Old book pages
Scissors
Pen or pencil
How to Make an Easter Egg Garland from Old Book Pages
First, you will remove old book pages from the binding and trim any excess glue from the paper.
Fold a page in half horizontally and cut along the fold.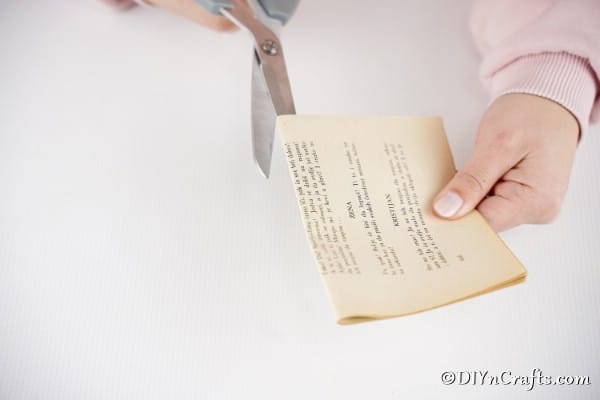 Fold each piece in half again, then trim one end into a point.
Repeat this process for as many banners as you want on your garland. The typical mantle will need 6-8 of these.
Now, you will use a pen or pencil and draw an Easter egg shape onto craft paper.
Cut out the egg, and use it as a template for the rest of your eggs. You will need 3 egg cut outs per egg you will use, and 1 whole egg per banner. So, if adding 6 banners, you will need to cut out at least 18 egg shapes making sure each color is in groups of 3.
Now, to create each egg, you will place one piece flat on the surface, and fold the other two in half vertically.
Now, glue one of those pieces onto the flat piece, and another on top of it gluing in the seam of the fold.
Next, you will glue a completed egg onto each old book page banner piece.
Using ribbon, tie a small bow to then glue at the top of each banner.
Glue or tape the banners onto the twine or ribbon about 3-4" apart.
Display on your mantle or in a doorway as desired.
Step by Step Printable Tutorial:
Yield: 1
DIY Old Book Easter Egg Garland - With Video
This adorable 3D Egg Easter Egg Garland is a perfect use for those old book pages! It creates an adorable but rustic look that fits any home decor.
Materials
Multiple colors of craft paper
Old book pages
Twine or ribbon
Tools
Double sided tape
Craft glue or glue stick
Scissors
Pen or pencil
Instructions
Remove old book pages from the binding and trim off excess glue from the edges then separate the pages;
Fold a page in half horizontally and then cut along the fold;
Now, take each half, and fold it in half, then trim along one end bringing it to a point as shown;
Repeat this process for as many as you need for your garland (usually 6-8 fits an average mantle garland);
Draw an egg shape onto your craft paper;
Cut out one egg, and use it as a template to create the others. You will need 3 eggs per whole egg;
To make the 3D eggs, place one egg cut out on a flat surface, then fold the other 2 pieces in half vertically;
Glue one of those pieces onto the flat one, just sealing along the center fold and add the second piece on top of the first sealing along the fold also;
Place the completed egg onto the center of the prepared book page banner and glue in place;
Create a small bow with ribbon and secure on the top of each banner;
Glue the banners onto your twine or ribbon until secure;
Display on your mantle as desired.
Notes
To save time, you can purchase 3D paper eggs to simply glue in place instead of creating your own.
Recommended Products
As an Amazon Associate and member of other affiliate programs, I earn from qualifying purchases.