I love spring crafts, and I especially love crafts that allow me to recycle things that I would usually just throw out. This easy DIY lightbulb planter craft is both! If you want something to spruce up your indoors or your outdoors this spring, this beautiful little lightbulb planter is it!
How Do You Take Apart A Light Bulb Without Breaking It?
That is the million-dollar question, isn't it? Taking lightbulbs apart can be tricky, but if you are really careful, you can make so many beautiful things with those burnt out bulbs.
The easiest way is to start by cutting a small section of the metal at the bottom of the bulb with a sharp knife. Hold the bulb carefully yet firmly and slice a section of the base. Once you have that off, the rest is pretty straightforward.
Lightbulb planter hanging from a tree
What You Need For This DIY Bulb Decoration
To take apart the bulb, you will need pliers and a really sharp knife. To make the decoration, you need:
Light bulbs – one for each planter that you want to make
Hot glue gun
Decorations – Lace, flowers or anything else that you want to use
What Can You Do With This DIY Lightbulb Planter?
This is the fun part! You can do so much with these little bulb planters. I used these to decorate for a DIY wedding, and they turned out beautifully. You can also just hang them on the porch and use them as planters for:
Succulents
Smaller flowers
Ferns
Faux greenery or flowers
To say that the possibilities are endless would be quite the understatement! I've also shown you easy DIY Christmas ornaments from bulbs that are great for the holidays. Also, take a look at these other DIY vases to show off your flowers, and some great repurposing ideas for broken glass. You can turn any trash into treasure with just a little imagination – and of course, a great tutorial!
Now, let's get started making these adorable little planters. You're going to find so many beautiful ways to use these in your spring decorating!
Lightbulb Planter Video Tutorial:
How To Make This Simple DIY Lightbulb Decoration
Step by Step Photo Tutorial:
If you are looking for a beautifully unique way to show off those spring flowers, this DIY bulb planter is the perfect craft. Hang these on the porch, from a tree or anywhere in the house for a burst of spring color!
Yield: 1 Per Lightbulb
Prep Time: 5 Minutes
Active Time: 10 Minutes
Total Time: 15 Minutes
Difficulty: Easy to Intermediate
Materials:
Thread or Twine
Old Lightbulbs
Hot Glue Gun
Lace – Or Other Decorations
Tools:
Scissors
Pliers
Sharp Knife
Instructions:
1. First and foremost, you must be very careful when working with lightbulbs. Taking them apart can be difficult. You have to be cautious that you don't break the glass and cut yourself. So, do this step very, very carefully.


2. Remove the base of the bulb by cutting on the metal end with a sharp knife. Once you have part of the metal part removed, use pliers to remove the inside section of the bulb – the wires and such. Note that you do not have to remove all of the metal, just a small part so that you can get to the inside of the bulb.


3. Start your decorating by adding twine or thread to the remaining metal part of the bulb. To do this, just apply some hot glue and work your way around with the string. Do this in small sections so that the glue doesn't dry while you're working. When you are finished with this step, the entire bottom part of the lightbulb should be covered in thread or twine.


4. If you don't have a hot glue gun, you can just wrap the cord around the bottom several times to secure it into place and then tie it off.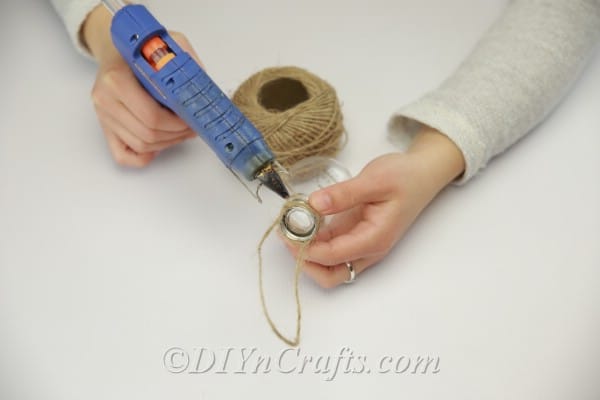 5. Leave enough of the twine loose so that you can turn it into a hanger of sorts. Create a loop with the twine while you are wrapping and then wrap more twine over to hold the loop in place.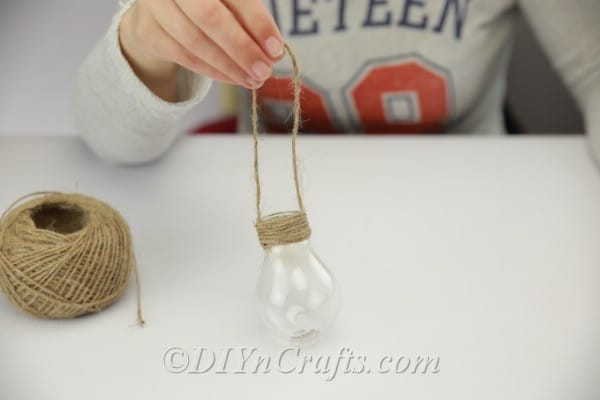 6. Add your decorations. If you are using lace, glue it where you want it. This goes for any embellishments that you want to add, or you can just leave the twine as the decoration.
7. Fill the bulb with water, about two-thirds of the way up to keep your plants healthy. If you are doing succulents, you can also add potting soil in this step instead of water.


8. Add your flowers, succulents, plants or whatever you want to show off.
9. Hang and admire!
10. Repeat until you have as many of these adorable lightbulb planter decorations as your heart desires.
11. Your finished DIY lightbulb planter should resemble this one:


And there you have the perfect way to repurpose an old lightbulb into a new decoration!