My dream has always been to have an outdoor kitchen.
I love entertaining outdoors during the warmer months and an outdoor kitchen would just be perfect for summer parties and even intimate dinners with just the family.
Of course, having a professional contractor come out and build an outdoor kitchen can get very pricey.
So, I did what I always do and started looking for some great DIY ideas for my outdoor kitchen.
I found 15 amazing DIY outdoor kitchen plans that you can build yourself in just a few days and all of these are much cheaper than paying a professional to do it for you.
Jump to:
1. DIY Outdoor Deck Kitchen
This outdoor kitchen can be built right into your deck and it has everything that you need to entertain outdoors. You can of course, pick and choose what you include and the type of finish that you want – stainless steel, etc. This one is pretty quick and easy to build and if you don't have a deck to build it on, you can build a small patio section pretty easily.
Plans: placeofmytaste
2. DIY Stone Covered Grill Island
If you have a space for it, this DIY grill island is the perfect outdoor kitchen. You can have this one built in a weekend, if you have a few friends that will help with the heavy work. It can be covered in stone when it's finished, which gives it a wonderful appearance or you could cover it in brick or another material. This is a pretty simple one to build and is sure to save you a bundle over having one professionally built. There really are some great DIY stone and pebble projects for you to add beauty to your life.
Plans: thisoldhouse
3. Outdoor Kitchen Bar With Pergola
I love this outdoor kitchen! It has a gorgeous pergola overhead and although it may take you a week or so to build it, it's not at all a difficult project. The pergola really gives it a relaxing Caribbean look, don't you think? You could even put this one on the end of your deck or build is as a freestanding kitchen.
Plans: instructables
4. DIY Outdoor Kitchen With Concrete Countertops
This stainless steel outdoor kitchen has concrete countertops, which are perfect for the outdoors. With concrete, you don't have to worry about the weather causing your countertops to buckle or crack. This one is pretty easy to build – you start with steel studs and then build it up from there. You can even add a lovely tempered glass inlay to your concrete countertops on this one.
Plans: instructables
5. DIY Outdoor Kitchenette
You can turn a plain patio or deck into a great little kitchenette in just a couple of weekends. This one takes a bit more time but you have so much more space in it than a traditional outdoor kitchen. It has so many cabinets! There is even a bar on one side that provides seating and gives you the perfect place to enjoy those summer evenings outside while you are dining.
Plans: remodelaholic
6. DIY Concrete And Corrugated Steel Outdoor Kitchen
This little outdoor kitchen was made with materials that were reclaimed from an old barn. If you have the boards and steel, you can construct your own outdoor kitchen without spending anything and then just add an off the shelf grill and maybe a small dorm fridge. This one is super easy to build and it's one that you can have finished in just a weekend or two. Add this one to your list of creative DIY concrete projects!
Plans: oldworldgardenfarms
7. Upcycled Wood And Brick Outdoor Kitchen
You can build the perfect outdoor kitchen cabinets to surround your grill with some leftover wooden posts and a few old bricks or stones. I love the rustic look of this one and you can have it completed in just a weekend. Once it's done, you just slide your grill into place and you have a lovely outdoor kitchen for just a fraction of the cost of having a professional build it for you.
Plans: manmadediy
8. DIY Poured Concrete Outdoor Kitchen Countertops
With just a few bags of concrete, you can construct your own little outdoor kitchen. This project only takes a couple of days – including drying time for the concrete. Once you have the countertops completed, you just add your grill and other outdoor kitchen appliances. The concrete is perfect for outdoors because it won't rust, crack or otherwise succumb to the weather.
Plans: homedepot
9. Super Easy 10 Step DIY Outdoor Kitchen
You can build your own outdoor kitchen in just 10 steps! And, the steps are all pretty simple. This one has a wooden base, that you make from plywood and you can easily adjust the plans to make it larger or smaller to meet your space and cooking needs. Add a rinsing sink and a mini fridge and you have everything you need for outdoor entertaining.
Plans: ronhazelton
10. Simple DIY Outdoor Grilling Island
If all you really need is a small outdoor kitchen, this little grilling island is for you. This one just has cabinets that surround your grill and you can easily build it in a weekend or less. The cabinets still give you plenty of storage space for your outdoor cooking essentials and they help to dress up your grilling area just a big.
Plans: diynetwork
11. Repurposed Cabinet Outdoor Kitchen
If you are really looking to build your outdoor kitchen on a budget, you can check with thrift stores or salvage yards to see if you can come up with some old kitchen cabinets. Then you just have to redo those and make them fit into your outdoor cooking space. Add some bricks or stones to dress them up a bit. This is a really cheap and easy way to create an outdoor kitchen, and you can have it easily completed in a weekend.
Plans: bhg
12. DIY Portable Outdoor Kitchen
If you don't really have the space or the need for a full fledged outdoor kitchen, this little DIY portable outdoor kitchen is perfect. You can make this one in just a few hours and it has everything that you need for grilling season. Plus, it's portable so you can easily move it in and out of the garage or gardening shed to save it from the weather and to keep it neatly put away during the colder months.
Plans: instructables
13. DIY Rustic Farmhouse Outdoor Kitchen
You have to love the rustic farmhouse look of this DIY outdoor kitchen. If the outside of your home is done in the farmhouse style, then this one is a must. You can build it in a weekend and it's pretty simple. It includes a sink, bar and of course, a grill and fridge and it has a lovely pallet look that is sure to match your DIY outdoor farmhouse décor.
Plans:
14. DIY Tiled Outdoor Kitchen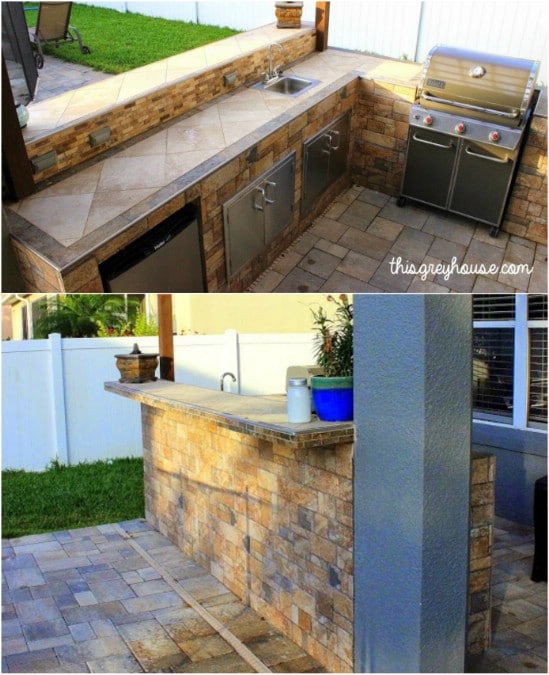 Tile is a great choice for covering the wood on your outdoor kitchen. It is very versatile and you can find it pretty cheap if you shop in the clearance section of your local home improvement store. This DIY outdoor kitchen has stainless steel and tile and it couldn't be easier to build. You just frame it in and then add your tile as a cover.
Plans: thisgreyhouse
15. DIY Outdoor Kitchen With Food Fired Pizza Oven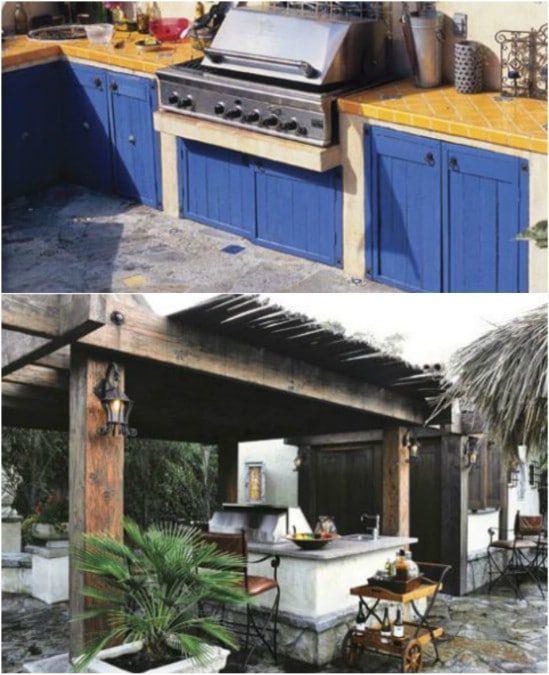 This DIY outdoor kitchen has a wood fired pizza oven! What could possibly be better than making your own pizza…outside? This one is actually pretty simple to build and the pizza oven fits in perfectly with the rest of your outdoor cooking essentials. If you have ever wanted your own pizza oven, this is definitely the outdoor kitchen plan for you.
Plans: popularmechanics
Conclusion
Whether you have a deck that you want to turn into the ultimate grilling area or you are starting completely from scratch, you will find the perfect outdoor kitchen for your summer grilling needs.
All of these are relatively simple to build and many of them can be done in just a weekend or less.
There is even a great little portable outdoor kitchen that you can build in a couple of hours!
And, you can customize these plans by adding whatever you want such as a gas grill, a rinsing sink and even a mini fridge.
Once you have your outdoor kitchen built, be sure to take a look at these 40 delicious grilling recipes that are sure to make you the most popular hostess on the block.
Some of these are going to cost a bit more than others and some will take more time to build.
However, all of them are cheaper to DIY than to buy and you can do some of them with reclaimed wood and other items, which makes them really cheap to build.
If you have ever wanted your own outdoor kitchen, now is the time to make your dream come true.
And, be sure to add some of these 35 DIY backyard games to make your summer even more fun this year.