My kids love going to the park. Of course, I loved going to the park as a child, so that really comes as no surprise.
The thing is, I don't always have the time to load them up into the car, drive to the park and then spend a couple of hours playing, at least not every day. And then there is always the occasional meltdown when it's time to leave.
What's a mom to do? Well, I'm glad you asked.
I have found 30 amazing and fun DIY outdoor play areas that are sure to keep your little ones entertained all summer long.
Jump to:
1. DIY Backyard Ball Run
This DIY ball run is amazing and it's pretty easy to build. Your kids are going to love it! You can attach it to a fence in the backyard or if you don't have a fence, use a tree or set up a base with plywood or something similar.
You can paint plastic guttering in bright colors and they will have hours of fun dropping their balls into the guttering to see where they come out.
Tutorial: learningthroughtheclutter
2. DIY Off The Ground Playhouse
If you don't have a tree to build a treehouse, this DIY off the ground playhouse is the next best thing. Kids will love playing in their own little clubhouse and you will be amazed at how quickly and easily this one comes together. The supply list is a bit expensive if you have to purchase everything new, but if you have some reclaimed wood and boards that you can use, this one is really not that expensive.
Tutorial: thehandmadehome
3. DIY Upcycled Bookcase Color Block Sandbox
Turn an old unused bookcase into this adorable DIY color block sandbox. Kids love sandboxes but that doesn't mean that you have to pay a small fortune for one at a department store. This one is easily built with an old bookcase. You just have to paint it the bright colors that you want and then fill it with sand. There are so many wonderful ideas for repurposing old bookcases.
Tutorial: thehomesihavemade
4. DIY Construction Site Gravel Pit
Little boys, and little girls too, will love this little construction site gravel pit and you are going to love how cheap and easy it is to make. You just need a small bit of gravel and a few old logs or boards to frame it in. Your little ones are going to sit outside for hours playing with this little construction site. You just have to add the trucks and other construction type toys.
Tutorial: theimaginationtree
5. DIY Backyard Climbing Wall
Kids love to climb and they will adore this DIY climbing wall that you can build in the backyard. You could hook this up to a fence – provided it's pretty stable – or put it right on the side of your garage or the backside of your house. And, you can make it as high or as low as you want so you know that they will be safe when they are climbing. It's easy to put together and your little ones are going to love you for this one!
Tutorial: impatientlycrafty
6. DIY Repurposed Tire Seesaw
An old tractor or big truck tire and a board are just about all you need to create this amazing DIY seesaw. Kids love seesaws and this is one of the easiest and cheapest ones that you can make. The tractor tire, cut in half, gives it just the right back and forth motion. If you happen to have a board that you can repurpose, you could actually make this one for free.
Tutorial: builtbykids
7. Homemade Old Fashioned Tire Swing
When I was growing up, we always had a tire swing hanging from a tree in the front yard. I love those things! You can make your own DIY tire swing and add a little kick to it with some paint and a little imagination. This DIY swing is not vertical like those old fashioned ones. You hang this one so that kids can sit right in the hole and paint it to look like any number of fun spring critters.
Tutorial: janiszettel
8. DIY Tetherball
I loved playing tetherball as a child and I'm sure your little ones will love it, too. This DIY tetherball is super easy to make and will give your kids hours of enjoyment outdoors. It's a great way to upcycle an old tire and the materials are all really inexpensive. You may even already have most of them on hand. Give your little ones some of the same joy that you had playing tetherball!
Tutorial: stylewithcents
9. Giant DIY Reclaimed Wood Blocks
I love this idea of creating giant wood blocks from reclaimed wood. You can even let the kids help with painting them, which is a fun project all on its own. When the blocks are finished, they will really enjoy playing with them. If you don't have any old wooden blocks that you can use, check with pallet mills in your area. They typically sell them for just a few dollars for quite a large load of blocks.
Tutorial: filthwizardry
10. DIY Hopscotch Stepping Stones
How adorable are these stepping stones? You make them with really cheap concrete pavers – they're around $1 each – and some paint. Paint them all different bright colors and don't forget to add the numbers for each one. This is a great project for the backyard or you could even use these as your regular stepping stones. Your visitors will get almost as much enjoyment out of them as your kids do. I really love creative DIY stepping stone ideas.
Tutorial: readbetweenthelimes
11. Cheap And Easy Hula Hoop Hideout
You can get a hula hoop at the Dollar Tree for just a dollar. Then, you can turn that hula hoop into a little hideaway for your kids with just a sheet and some twine. These are great for giving your little ones a space of their own outdoors. Not only will they enjoy playing in their little clubhouses, but they'll also have a shaded space to keep them out of the sun where they can read or play, whatever they want.
Tutorial: alannageorge
12. DIY Inground Trampoline
What better outdoor play space for your little ones than a trampoline? The thing with trampolines is, they can be dangerous, especially for really young children. This DIY inground trampoline takes away the worries of your kids falling and getting hurt because it is ground level. Plus, if you do it yourself, you're going to save several hundred dollars over an inground trampoline kit, which cost upwards of $500 or more, depending on where you buy it.
Tutorial: familyleisure
13. Repurposed Kitchen Sink Play Area
You can turn an old kitchen sink into a fun sand and water table for the kids. If you are redoing your kitchen, this is an excellent way to repurpose that old sink. If you don't have an old sink that you can use, check with wholesale hardware stores or thrift stores. Chances are, you can get one for under $20 and then you just create the sand and water table to give your kids hours of fun in the sun.
Tutorial: remodelaholic
14. DIY Kid Sized Balance Beam
My favorite toys for kids involve some sort of development play. This DIY kid sized balance beam helps them to learn balance, which is really important as they are growing. And, this is a really simple play area to create. You just need some 4X4s and some 2X4s. I love home décor projects from 2X4s – I always seem to have so many on hand. This balance beam project is the perfect outdoor play station for kids and parents are going to love it, too.
Tutorial: thechirpingmoms
15. DIY Backyard Water Slide
Water parks are fun and all, but they are pretty expensive and they can be awfully crowded, which is never a good idea when you have little ones. Instead of hitting the water park this summer, why not just make your own DIY backyard water slide? Your kids are going to love playing and cooling off on this and you are going to love how cheap and easy it is to make.
Tutorial: happyhooligans
16. DIY Music Wall
If you have a fence in the backyard, this DIY music wall is perfect for giving your little ones some outdoor playtime. You could even do this on the side of the house or deck and it's a great project for using up those old pallets that you may have on hand. The musical instruments are made from old pots and pans and other things that you probably having lying around the house. Add this to your list of DIY fence decorating ideas.
Tutorial: prekandksharing
17. DIY Modern Playhouse
Here is another wonderful idea for creating a personal space for your little ones. This DIY playhouse has such a wonderfully modern look and it is super easy to build. This is a great project for using up that reclaimed wood or those old pallets that you have on hand. Kids are going to adore playing in this little house for hours at a time and it's a great place to store all of their outdoor toys and keep them out of the yard.
Tutorial: sweetpotatopeachtree
18. DIY Mound Slide
Kids love slides and you are going to love how easy to make this DIY mound slide is. This is a great way to use up a mound of dirt or to add some appeal to a small hill in the backyard. You need a plastic slide, which you can get pretty cheap and then you create the rest of the fun all by yourself. This one is a bit safer for toddlers because they're not climbing up tall steps just to slide down.
Tutorial: mummymusingsandmayhem
19. Cute DIY Mud Pie Station
I loved making mud pies when I was a little girl. And, I'll bet your kids love it, too. Instead of having muddy toys and mounds of dirt all over the backyard, move all of that mess to this cute DIY mud pie station and let your little ones have all of the muddy fun that they want. This is a really easy station to make and believe me when I say that your kids are going to love it.
Tutorial: mysmallpotatoes
20. Outdoor Chalkboard
Kids will love playing with their own outdoor chalkboard and you will love how cheap this little play area is to make. You could put this on a fence or right there on the side of the house. Buckets hold the chalk on hooks and if you want to keep them safe from too much sunlight, you could add an awning to cover the entire thing, which will also protect your chalkboard from rain. I do love good DIY chalkboard paint projects!
Tutorial: heytherehome
21. DIY Backyard Racetrack
Little boys love racetracks and you can give your little ones hours of outdoor fun with this DIY backyard racetrack. This is a really easy project and your little ones can even help you to design and build their racetracks. There is a bit of digging involved and then you'll need to mix up cement with black oxide power, which gives the racetrack it's color. You could do this in any size or shape that you want.
Tutorial: thewhoot
22. DIY Sand Pit With Seats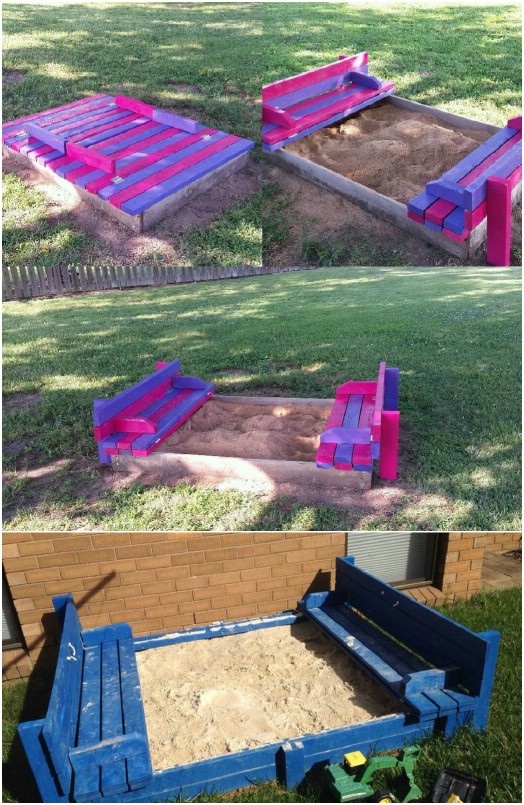 Kids love playing in the sand. Unfortunately, we parents do not love cleaning their clothes when they sit in a sandbox for hours. This DIY sandbox has seats along the sides so your little ones are not sitting right in the sand. Instead, they can sit on the build in benches, which is much more comfortable and makes their clothing so much easier to clean when they're finished playing.
Tutorial: instructables
23. Repurposed Wooden Spool Science Lab
If your kids love science, they will really love this DIY science lab that you can build from an old wooden spool. They can make so many science related things with this outdoor station and it saves you from having to clean up so many messes inside the house. You can even add a patio umbrella right through the hole in the middle of the spool to keep them from getting too much sun.
Tutorial: tpcraft
24. Repurposed Old Boat Sand Box
If you happen to have an old boat that you aren't using on the water, you can turn that boat into a wonderful sandbox play area for the little ones. For that matter, you could use any number of large items to hold their sand and keep it off of your grass. I love the idea of sand in a boat – it has such a nice beach theme, don't you think?
Tutorial: twolittlepirates
25. DIY Backyard Kiddie Car Wash
This backyard kiddie car wash is definitely going to be something that your kids will want to play in all summer long. They can take their bicycles or toy cars through it or just run through it – depending on how tall you make it. It's so much fun and it will be a cooling activity that they can enjoy when the summer heat reaches its peak – plus, it's pretty easy to build.
Tutorial: afewshortcuts
26. Repurposed Tire Play Area
If you need to set up a dedicated backyard play space and you wonder what to use to define it, why not repurpose those old tires? You can add sand or gravel to the tires to keep them in place and make them more decorative and use as many as you need to outline the play area for toys, sand and other fun activities. This is a great way to repurpose old tires and turn them into something fun and exciting.
Tutorial: pin
27. Fun Backyard Cornhole Play Area
Cornhole is a huge thing here in the South and I'm betting that you and your little ones would love to have a cornhole play area set up in the backyard. And, you don't have to spend upwards of $100 or more to create the set.
You can build your own cornhole boards and make your own beanbags, which makes it much cheaper for you to set it up. And, your entire family will have hours of fun playing!
Tutorial: thisoldhouse
28. Homemade Leak Proof Water Blob
This homemade water blob is so much fun to make and to use and it doesn't leak so there are no worries of wet clothes or messes in the backyard. You can set this up in less than an hour and your kids are going to have so much fun playing on it. It's so bouncy and so much fun and even your youngest little ones will love it.
Tutorial: homemadetoast
29. DIY Wooden Playground
If you have ever priced those gorgeous wooden playgrounds for your kids, you know that they range anywhere from $500 to more than $1,000. You can build one yourself however, for around $300 or less. The set has swings, a slide, and a great area underneath the little clubhouse section for a sandbox. It's pretty easy to build and so much cheaper than buying one.
Tutorial: viewalongtheway
30. Easy DIY Backyard Zip Line
Here's a fun activity station that you can enjoy with your kids. This DIY backyard zip line gives you hours of fun and it is super easy to make.
And, if you have really young children or are afraid of them falling and hurting themselves, you can build this one low to the ground so they can stand up at any given moment and be off of the zip line.
Tutorial: makezine
Conclusion
From DIY ball runs to playhouses and so much more, you are going to find the perfect outdoor play area for your kids. While you may still want to take them to the park for the swings and slides, these outdoor play areas are sure to entertain them when they are home.
And, many of these are shaded so there are no worries of your little ones getting too much sun. If they – or you – do happen to get too much sun this summer, I have a great list of 5 homemade sunburn remedies that will instantly stop the burn and keep your skin from peeling.
It's so hard to keep the kids entertained when they are out of school, especially on days that you just can't take them to the park or the pool. These DIY outdoor play areas are perfect.
They will keep your little ones happy and give you time to get things done around the house – or you could go outside and enjoy these play areas with them.
Whether you want a sandbox, a fun zip line or a DIY seesaw, there is a plan in here that will help you to build it quickly and easily and many of these use recycled materials, so they are really cheap to build. You should also check out these 35 DIY backyard games that will keep the entire family entertained this summer.