Butterflies are such a wonderful sight in spring and summer. I love nothing more than watching hoards of butterflies near my flowers.
Unfortunately, not all flowers attract these beautiful creatures. If you are looking to add more butterflies to your garden this year, you may need to reevaluate the plants that you have in your flower garden.
Or, you could just make your own DIY butterfly feeder and I have a list of 10 easy-to-make ones that you can try.
Jump to:
1. DIY Butterfly Feeder Jug
If you have an old glass jug, you can use it to make a gorgeous and functional butterfly feeder. Even if you don't have a jug on hand to use, you can often find them at thrift stores for just a dollar or so each.
Decorate the jug however you want and then you will need some thin rope or twine and a tight fitting lid to create the feeder part.
You can fill the jug up completely with nectar and it will last for weeks.
Tutorial: carolynshomework
2. Upcycled Glass Dish Butterfly Feeder
You don't have to have a jug or buy materials to make a great butterfly feeder.
You can upcycle some old glass dishes to create one that is just as gorgeous as it is functional.
Just grab those old glass plates, glasses, teacups or whatever you have on hand and fashion them into a lovely feeder that you can stand in your garden.
This one is really easy to make and it is so gorgeous – plus it is a wonderful way to upcycle those old glass dishes.
You could even turn this into a lovely painted glass project.
Tutorial: feedingbig
3. DIY Mason Jar Butterfly Feeder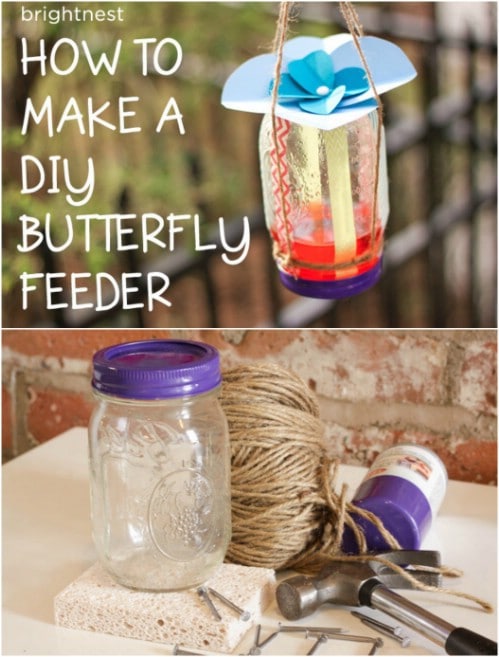 To make a butterfly feeder, you just need something to hold the nectar and then something to hang it with.
An old mason jar makes a wonderful holder for your nectar and this project is so simple. It's also a really gorgeous feeder when it is finished and since it is made with a mason jar, it's a great way to add some rustic charm to your lawn and garden area.
Tutorial: brightnest
4. Repurposed Pie Tin Butterfly Feeder
This is a great project for the kids. You can take an old pie tin – one of the cheap ones that comes with premade pie crust – and turn it into a lovely DIY butterfly feeder. Let the little ones help you to create a hanger from beads and twine and then decorate the tin however you want.
Butterflies will flock to this one and they can all eat at the same time so you may see hoards of them hovering over your garden at feeding time.
Tutorial: ocmentor
5. Hanging Grapevine Wreath Butterfly Feeder
A grapevine leaf makes the perfect base for your hanging butterfly feeder. You just buy or make a wreath from grapevine and hang it on a tree or pole with twine or ribbon. Then you can place a basin in the wreath to hold your butterfly nectar.
This is such an easy feeder to make and it won't cost you much to make it. You can buy grapevine wreaths at any craft store for just a few dollars each.
Tutorial: empressofdirt
6. Upcycled Thrift Store Supplies Feeder
Head out to your local thrift store and literally look for anything that will hold nectar.
When you find something, buy it because that is what you will use to make your butterfly feeder.
Old wine bottles, plates and other items can be upcycled into beautiful butterfly feeders that will add décor to your garden and perfectly hold nectar to feed your little butterflies. And, these items are really cheap and easy to decorate, too.
Tutorial: upcycledstuff
7. Rustic Jute Butterfly Feeder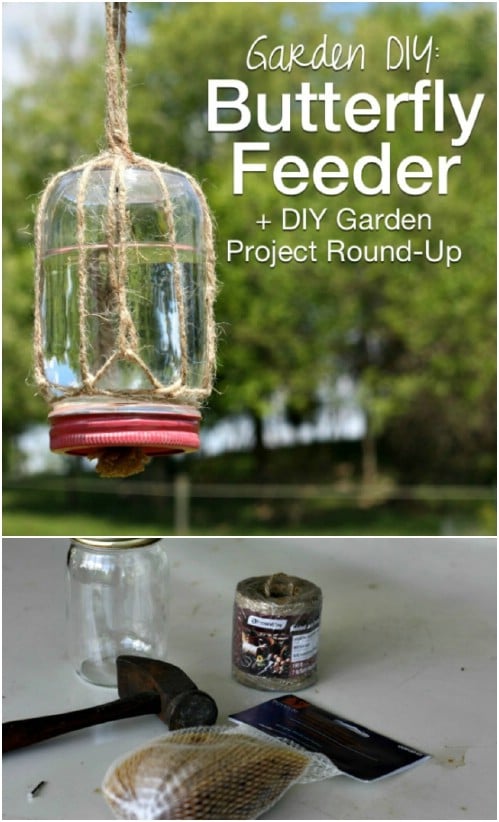 Some jute or twine and an old jar make the perfect base for your DIY butterfly feeder.
You just have to fashion a hanger from the jute and then fit the jar inside.
This is a great way to add some rustic DIY décor to your outdoors and it only takes a few minutes to make this one. Just fill the jar with nectar and give the butterflies a way to get to it and you're all set. I really love DIY rustic twine projects!
Tutorial: traditionalcookingschool
8. DIY Hanging Plate Feeder
An acrylic plate and something to hang it with are all you really need to feed those butterflies and keep them coming back for more.
This is one of the easiest butterfly feeders you could possibly make and you can really embellish it by adding beads and other decorations to the line that you are using to hang it. Then just add your homemade butterfly food and hang it up!
Tutorial: brankletsnbling
9. Upcycled Tin Can Butterfly Feeder
The next time you empty a can of something, save the can. You can turn it into a lovely hanging butterfly feeder.
This one won't cost you anything to build and it is a wonderful way to upcycle tin cans.
Just decorate however you want and then fill the can with flowers and other items that butterflies love to eat. This is a great project for the kids, too and they can help to make sure that the can always has food for your butterflies.
Tutorial: parents
10. DIY Butterfly Feeder And Waterer
You can DIY a butterfly feeder that also gives the little creatures the water that they need. I love how easy this one is.
You just stack a couple of plates or terra cotta pieces and then hang them together. The top plate will be used to hold water and you can add nectar or fruit pieces or flowers that your butterflies love to eat to the bottom section. It's an all in one buffet for your butterflies!
Tutorial: diynetwork
Conclusion
Adding a butterfly feeder to your garden adds instant décor, especially if you try these 10 DIY butterfly feeders.
All of these are really decorative and beautiful. Plus, when you fill them with nectar, they attract so many butterflies!
Butterflies are essential for helping to pollinate many flowers and plants and let's face it, there is just nothing as lovely as seeing several butterflies in your yard. Adding a butterfly feeder to your garden is going to help you to attract these creatures and they will do the rest.
And, if you really want to add some beauty to your garden, you have to see these 30 gorgeous DIY mosaic projects that add style and beauty to your outdoors.
So, if you love seeing tons of butterflies in your garden, these DIY butterfly feeders are going to help you to draw them in.
They are all so simple to build and many of them can be made with upcycled or recycled materials, which essentially makes them free to build, too. You know that you want to add one of these – or all of them – to your garden this spring.
And, you should check out these 20 easy DIY trellis ideas to add even more charm and beauty to your outdoor living spaces.