Have you ever painted glass? This is such a fun craft and one that creates such beautiful décor for your home. Painted glass is pretty easy and it makes a wonderful gift. If you have never tried it, now is the time. I've found 25 of the most creative and gorgeous glass painting projects that you can do that will give you beautiful new décor for your home. These all range from vases to calendars and some of the most fabulous dishes you have ever seen.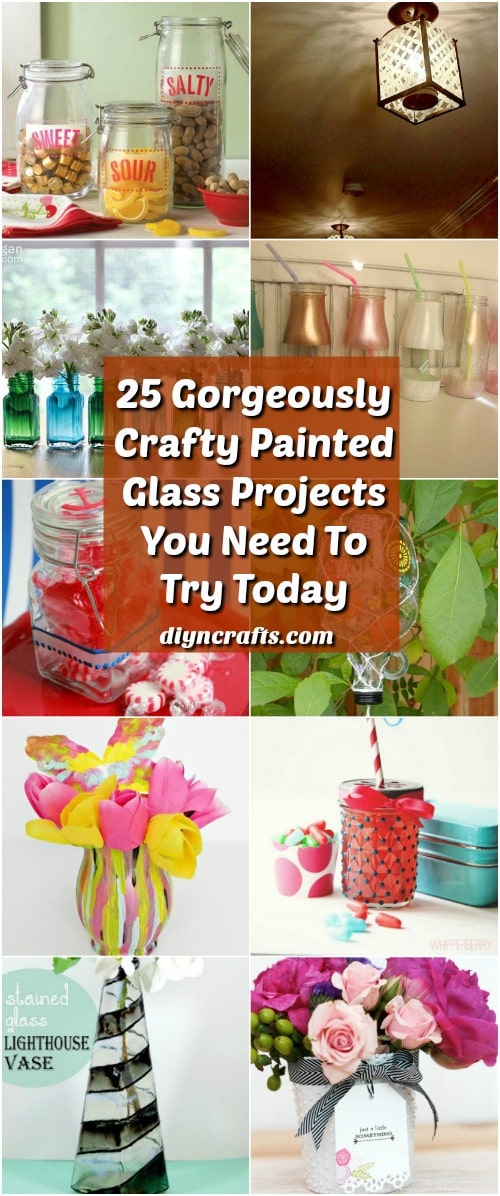 Painting glass can be very relaxing and it really does give you some beautiful pieces. The best part is that this is a really cheap craft to do. You can find really cheap glassware at the Dollar Store. From vases for just a dollar or two each to bowls and glasses that cost even less than that, you can find so many plain glass items to paint and turn them into decorative art pieces that look like they came from a high end department store. You have to love a craft that is really cheap and looks really expensive. And if you really do love Dollar Store crafts, be sure to take a look at these 150 Dollar Store organizing projects for your home.
I love how easy it is to take something relatively cheap and make it look spectacular. These painted glass crafts are all really easy and you don't need any special supplies, aside from your glass and some acrylic paints. You can freehand or follow a template and however you decide to do it, your painted glass crafts will be lovely. If you're really into painting glass, you should also check out these 5 painting ideas for wine glasses. You can turn ordinary wine glasses into the most adorable Christmas decorations. And, with these glass painting projects, you will be able to turn ordinary glass items into décor that will beautify every room in the house.
1. DIY Beaded Glass Vases
These little beaded glass vases are perfect for gift giving. They really have a gorgeous old time look to them and are really easy to make. You'll need a glass tumbler or small vase for every one that you want to create, as well as gloss spray, a paint sprayer, transparent gloss glass paint and transparent glass paint in clear.
Tutorial: damasklove
2. Easy DIY Tinted Mason Jars
Tinting mason jars is really easy and it gives them such a gorgeous look. You can use tinted mason jars for any number of decorating projects. Make them into vases or use them to organize the kitchen. They're also great for giving as gifts and you can tint them in just about any color that you want – although these blue ones have a gorgeous old fashioned look to them, don't you think?
Tutorial: diyncrafts
3. DIY Silk Screened Butterfly Glasses
A set of cheap glasses from the Dollar Store give you the base for creating these gorgeous silk screened butterfly glasses. Silk screening is really elegant and super easy to do. You'll need a couple of different colors of paint – depending on your preference, and a few other craft supplies for this one – plus those cheap $1 tumblers from the Dollar Store.
Tutorial: dollarstorecrafts
4. Cute DIY Painted Fish Bowl
A cheap fish bowl can be turned into quite the work of art with just a little painting. This is the most adorable project and it's perfect if your little ones are asking for a fish – and you really don't want to get one. You just paint little fish (don't they look like Goldfish crackers?) onto the bowl. How adorable is that?
Tutorial: plaidonline
5. Easy DIY Glass Paint Lamp
A plain glass lamp can be turned into a beautifully decorative piece with some glass clings and paint. You just add the clings – in whatever design you want – to the glass lamp base and then fill in with paint. This is a really easy project and one that won't take you long at all to complete. You could do a couple of these in an afternoon and have a gorgeous set of lamps for the bedroom.
Tutorial: thecardswedrew
6. Dry Erase Board And Calendar
You can paint your own dry erase calendar! This is such an easy project and one that may not cost you anything. If you have an old window on hand, you can use that for the board. I love old window repurposing projects and this is one of my favorites. Not only does it serve as a calendar to keep your important dates displayed, it's a dry erase so you can change it up as much as you want.
Tutorial: radmegan
8. Pottery Barn Inspired Decorative Sea Glass Vases
You could head out to Pottery Barn and buy a sea glass vase, if you want to spend more than $50. Or, you could simply DIY your own. You make these with clear glass vases and frost paint, which is really inexpensive, especially if you buy your vases at the Dollar Tree (where everything is just $1). The paint will run you less than $10, so you save more than $40 by making these instead of buying them.
Tutorial: sandandsisal
9. DIY Stained Glass Votive Holders
Some cheap $1 votive holders can be made fabulous with a simple stained glass effect. This one is really easy and really cheap. You don't use paints – you use food coloring and mod podge! If you have those items on hand, you can create beautiful stained glass votive holders without spending anything and these make beautiful gifts.
Tutorial: greenweddingshoes
10. Adorable DIY Polka Dotted Jars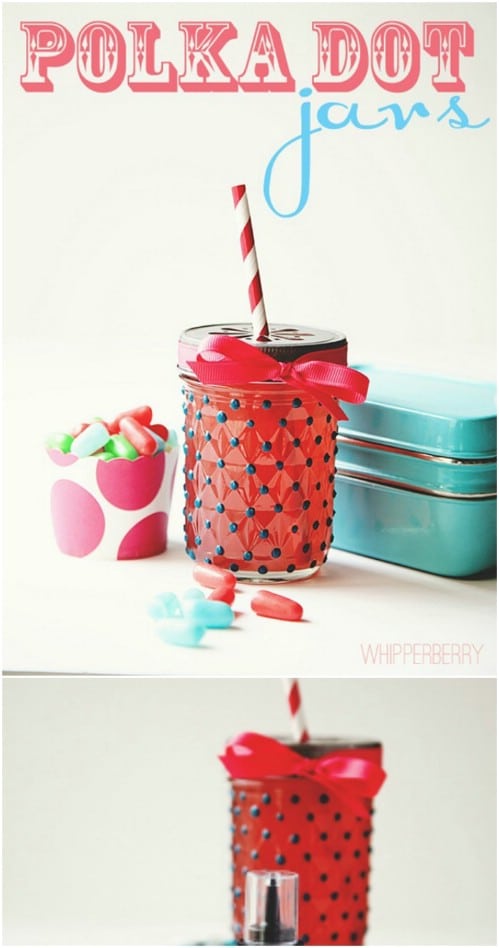 Take a few quilted jelly jars and add some paint and you have the most adorable glasses or vases. These polka dotted jars are really easy and this is a great craft for the kids. You can do these in any number of colors and they're great for parties – cut a hole in the lids for straws and they're also great for keeping messes to a minimum.
Tutorial: whipperberry
11. Painted Frosty Glass Anchor Pendant
I love the idea of painting glass for jewelry. This frosted anchor pendant is so easy to make and it would make a wonderful gift. You don't have to paint an anchor – you could do any design that you want. The process is really easy and you paint the design onto small glass tiles, which are pretty inexpensive. If you're into DIY jewelry projects, this is a great one for you to try.
Tutorial: happyhourprojects
12. Gorgeous DIY Painted Light Fixture
You really don't have to spend a fortune on home décor to make it look like you did. This lovely DIY painted light fixture is a testament to that. This one is really easy and you have the freedom to paint any design that you want. You could print off a template to get the design and when you use an inexpensive glass light cover, this one will cost you very little to do.
Tutorial: prettyhandygirl
13. DIY Decorative Emoticon Mugs
You have to love those emoticons – and if you do, then you will really love these DIY emoticon mugs. You can make these from really cheap mugs that you pick up at the Dollar Store or Dollar Tree, which makes them cost just around a dollar each. Choose your favorite emoticon or create an entire cup set of different ones. These make the perfect gifts for anyone you know who loves those little smiley faces.
Tutorial: number-2-pencilreviews
14. Hand Painted Glass Kitchen Jars
You could create an entire set of new kitchen canisters with some clear glass jars and paint. These make excellent gifts and you will absolutely adore them in your own kitchen. Not only are they pretty to look at, they're great for helping you to keep things organized and they are super easy to achieve. If you don't have any jars that you can use, check out your local thrift stores or indoor flea markets.
Tutorial: plaidonline
15. DIY Decorative Mason Jars
Turn those plain mason jars into spectacular glasses, vases or organizers with just a little paint. I love the idea of repurposing mason jars – they have such a beautifully rustic look to them, and you can create any design that you want. This one is as easy as you want it to be – just choose a color, pick a design and start painting those mason jars. Turn these into DIY mason jar organizers to keep everything in the house put neatly in its place.
Tutorial: sheskindacrafty
16. DIY Faux Bois Painted Drinking Glasses
These painted glasses are absolutely gorgeous and they are pretty easy to do. You can turn a cheap glass into something that looks like it cost a small fortune in a department store with just a little paint. These faux Bois glasses have that great woodgrain look which makes them the perfect gift for the man in your life.
Tutorial: flamingotoes
17. Hand Painted Alphabet Box
Turn an ordinary shadow box into something that is perfect for a kid's room by just adding the alphabet. These little boxes are great for helping to teach little ones their ABCs and you can use the inside of the shadow box for storing toys or put something in each section that matches its designated letter. And if you don't have a shadow box to use, you can easily build one yourself.
Tutorial: matsutakeblog
18. DIY Stained Glass Lighthouse Inspired Vase
This vase may just be one of the easiest glass painting projects that you will ever do, and it is beautiful when it's finished. You use a stained glass technique to turn a plain glass vase into something that looks for all the world like a lighthouse. This is a great gift for anyone you know who loves the beach or you could use it to accent your coastal décor.
Tutorial: thescrapshoppeblog
19. Cute Metallic Drinking Bottles
Turn old glass bottles into the most adorable drinking bottles – all you need is a little paint. These metallic bottles are great and they are perfect if you are planning a party. You could do any design or color that you want to match your party theme or just create a few of these fun drinking bottles to take the place of your glass tumblers in the kitchen. They also make great vases.
Tutorial: cupcakesandcrinoline
20. Hand Painted Butterfly Feeder Jar
Love butterflies? You can have loads of them in your yard when you hang this beautiful DIY painted butterfly feeder jar. You can use any number of painting designs on this one and all sorts of glass jars or jugs to make it. Just paint on your design and then hang the jug upside down and fill with nectar. You will want to make sure that you have a jar with a tight fitting lid for this one.
Tutorial: carolynshomework
21. Designer Inspired Painted Vase
This painted vase has such an eclectic style and it is really easy to make. The hardest part of this one is choosing your colors. You'll need a clear glass vase, which you can get at the Dollar Store for a dollar and then the paints that you want to use. You could also use this technique to create candle holders and even drinking glasses.
Tutorial: madincrafts
22. Hand Painted Cupcake Plate
You can take a clear glass plate and turn it into a lovely cake plate just by adding some painted designs. I love this little cupcake plate – it's perfect for single servings for the birthday guest or you could take a cheap set of clear glass saucers and create the most adorable birthday serving plates – or turn an ordinary plain glass cake plate into something really decorative.
Tutorial: alwaysexpectmoore
23. Geeky Tea Love Mugs
These mugs are so cute, and perfect if you know someone who is a bit geeky. Of course, you could do them in any design that you want. You start with ceramic mugs, or you could use clear glass if you prefer. Then just add your design with quality paints. I love the look of these and they are perfect for teachers or students.
Tutorial: thezenofmaking
24. DIY Teacher's Gift Jar
If you struggle to find something for your kids' teachers for the holidays or other special occasion, this teacher's gift jar is a great choice. You can do this with a mason jar or a glass candy jar. Once you have it painted, you can fill it with their favorite candies or add in some homemade fudge or coffee mix – or how about a homemade hot chocolate? This would also be great if you filled it with homemade bath salts.
Tutorial: sweetrosestudio
25. Painted Salt And Pepper Shaker Vases
If you want something that is great as a gift, these little salt and pepper shaker mini vases are perfect. Not only are they easy to make, they are super cheap. You can get glass salt and pepper shakers at the Dollar Tree for a dollar per set. Then you just have to turn them into adorable little vases. Add a small plant or some flowers and you have the perfect gift for any occasion.
Tutorial: madiganmade