If you're like me, you have tons of hangers. I mean, I have probably 10 closets in my house and they are all full of wooden, plastic and wire hangers.
We don't even use that many hangers but you just never know when you might need them, right?
Recently I wondered about maybe throwing a few of them out but then I thought, why not turn them into DIY projects?
I'm always up for a good repurpose project, so maybe there is something that I can make from those hangers, right?
I found 16 amazing things that you can make from repurposed hangers! There are projects in here for wire and wooden hangers and they are all so creative.
Jump to:
1. DIY Neon Nonslip Hangers
Those old wire hangers may be the cheapest way to hang your clothing but they are certainly not the prettiest. What can you do about that? You can turn ordinary wire hangers into these gorgeous neon nonslip hangers with just a bit of yarn. Not only are these gorgeous, they will keep dresses and other clothing from falling off while they're hanging in the closet.
Tutorial: brit
2. Repurposed Wire Hanger Book Holder
A wire hanger can be repurposed into a lovely book or magazine holder that you can hang on the wall or over the back of a door.
The great thing about this project is you don't need anything aside from the hanger and something to hang it on. It's super easy and a great way to keep those books organized. This would be perfect in kids' rooms for keeping their storybooks put away.
Tutorial: superziper
3. Repurposed Wooden Hanger Dish Drainer
Take old wooden hangers and put them together to create this beautiful dish drainer. This is such an easy project and it really looks like those more expensive dish drainers that you see in department stores.
This would be a wonderful gift for someone you know who is getting married or just anyone on your gift list. There are also some wonderful frugal uses for Dawn dish soap – while you're focusing on your dishes.
Tutorial: instructables
4. Repurposed Wire Hanger Wreath
Turn an old ordinary wire hanger into a beautiful floral wreath for the front door or anywhere in the house.
This one is really easy and it's a great way to use up those old wire hangers. If you have several on hand, you can make one of these lovely wreaths for every room, or make them as gifts. You can use silk flowers or real ones if they are in season. It's simple and a great way to add some color to your décor on the cheap.
Tutorial: liliinwonderland
5. Upcycled Wire Hanger Entryway Holder
Just a plain old wire hanger is all you need to make this great entryway holder. This thing can hold everything from keys to scarves and mittens. You just hang it on the wall and use the hanger part for holding all of those essentials that you need to keep near the door.
You could also do a couple of these and maybe attach them to a painted board for more design?
Tutorial: annaleenashem
6. DIY Flip Flop Organizer
Do you love flip flops? I do – and I have several pairs to prove it. What I don't have is a nice way to keep them organized – other than just stacking them on the floor of my closet. Well, until now, that is. I love this idea of taking old wire coat hangers and turning them into hangers for flip flops.
This is a really simple project and if you have the room in your closet to hang them, it will keep all of your beloved flip flops perfectly organized and right there where you can find them when you need them. You can use this to hang your DIY flip flops.
Tutorial: epbot
7. Upcycled Wire Hanger Topiary
I love topiaries. They just add so much beauty to the front porch, and you can make your own with a few old wire hangers.
I love the design of this one – the circle at the top makes it so unique and that's where the wire hangers come in. This is super easy and you can do it with any number of plant types, maybe do an evergreen one for the holidays. There are some wonderful ways to decorate with fresh evergreen for Christmas!
Tutorial: thistlewoodfarms
8. Upcycled Wooden Hanger Chandelier
I absolutely love this chandelier that is made from wooden hangers. It's got such a unique look and would be perfect for the kitchen or breakfast nook.
You'll need quite a few hangers to make this one and the gist of the project is to create a circle with the hangers that you can hang over an existing light fixture. It's pretty easy and it looks so amazing when it's finished.
Tutorial: inhabitat
9. Wooden Hanger Artwork Display
This old wooden hanger has been turned into a rustic looking art display and it's fabulous. I found this one on Etsy for less than $20 and it's the perfect way to show off your favorite photos.
This would make a wonderful gift for the holidays or an upcoming wedding. It's so unique and has such a gorgeous rustic look to it.
Tutorial: etsy
10. Suit Hanger Turned Glasses Rack
The pant part of an old wooden suit hanger is perfect for keeping your glasses organized. You can use this for sunglasses by the front door or all of your reading glasses above your desk.
It's the perfect, and cheapest, way to avoid losing or breaking your glasses and it keeps them right there where you can find them whenever you need them.
Tutorial: onlyhangers
11. Ribbon Organization From Old Hangers
Turn an old wire hanger into the perfect way to organize and store your craft ribbons! This is such a genius idea and it's really simple. You just load your ribbons onto the hanger and then hang it up.
Your ribbon will move perfectly, so you don't even have to take it off the hanger to get what you need. What a wonderful way to get your craft room organized!
Tutorial: syko
12. Repurposed Wire Hanger Scarf Organizer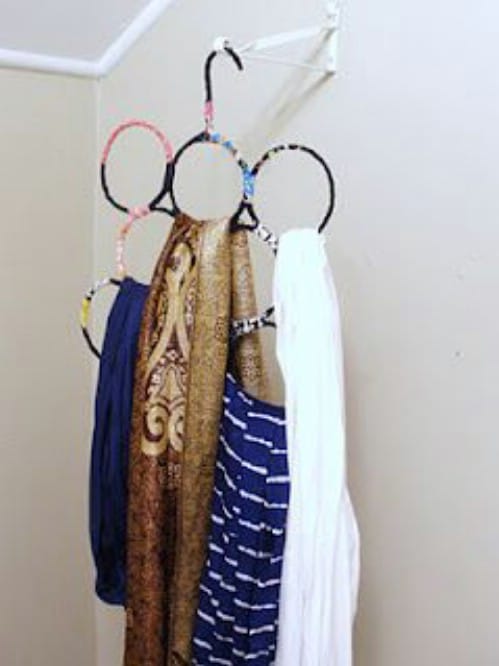 Turn an old wire hanger into the perfect place to organize and store all of your scarves. This one is super easy and you just need a wire hanger and leftover wire or cheap wooden or plastic bangles. You just wrap them all in fabric – or washi tape if you want to make it really easy – and then use the circles to keep your scarves organized. Use this to keep your DIY scarves organized!
13. Wood Hanger Wedding Shower Gift
You can turn a wood hanger into…well, a hanger but this one is really special. With a bit of customization, you can make a beautiful wedding shower gift from that hanger by turning it into a personalized wedding dress hanger.
I found this one on Etsy, and it's just $15, but you could totally DIY this one if you wanted to take the time to do it.
Tutorial: etsy
14. Decorative Coat Hanger Tree
This tree is really cute and you can make it from repurposed wooden coat hangers. This would be great as an extra little Christmas tree over the holidays or you could decorate it with spring decorations and turn it into an Easter tree and use it to hang all of your DIY Easter decorations. Or, just hang colors of the season on it and leave it up all year long. It's simple to make and so gorgeous to display.
Tutorial: decor8blog
15. Unique Upcycled Wooden Hanger Coat Hanger
So why not use those wooden hangers for the purpose that they were designed?
Of course, you want to add a little twist, like turning them into deer antlers and using them by the entryway as coat hangers. This is the most adorable use of wooden hangers that I have ever seen and it's super easy. You just turn your hangers upside down and then create the "deer" head.
Tutorial: designmag
16. Upcycled Wire Hanger Sunburst Mirror
This mirror makes me think of the ones that my grandmother had when I was growing up. It has a great vintage look and it's made from wire hangers. You will need quite a few hangers to do this one but the process is pretty simple. You could also paint it if you wanted and make it perfect to match any of your existing décor.
Tutorial: lovecreatecelebrate
Conclusion
From book holders to dish drainers, you will find a wonderful way to reuse those hangers and make them useful once again…even if you're like me and have way too many on hand. I do so love a good repurpose project.
Remember these 30 crafty ways to repurpose old magazines? There is always something to be made from items that have outlived their original use.
So, if you have a ton of hangers on hand and you are looking for a new DIY project, here it is.
Choose one or all of these great hanger repurposing projects and turn those otherwise useless old hangers into new and exciting things. These are all very easy to do and many of them don't require much more than hangers.
And, if you don't have hangers to use but you still want to do the projects, check your local thrift store. They typically have them in bunches for a dollar or so. And, be sure to check out these 30 creative ways to repurpose old bed sheets, too.