Boho chic is a style that is very reminiscent of the hippie or bohemian look.
It's been popular for quite some time now and it seems to have gained in popularity with regards to home décor.
If you love this look, I have a wonderful list for you.
I love home décor that has that great bohemian influence, so I found 20 DIY boho chic décor ideas that you can do yourself to add some charm to your home decorations.
Jump to:
1. DIY Birch Wood Tealight Holder
This tealight candle holder is made from a birch wood ring and it is absolutely gorgeous.
This one is pretty easy to do and it is free if you happen to have a birch wood ring and the tealight candles to use. You could do these in different sizes and create a really gorgeous centerpiece for the dining room table or even stack them and make a lovely candle display.
Tutorial: abeautifulmess
2. DIY Fabric Scrap Garland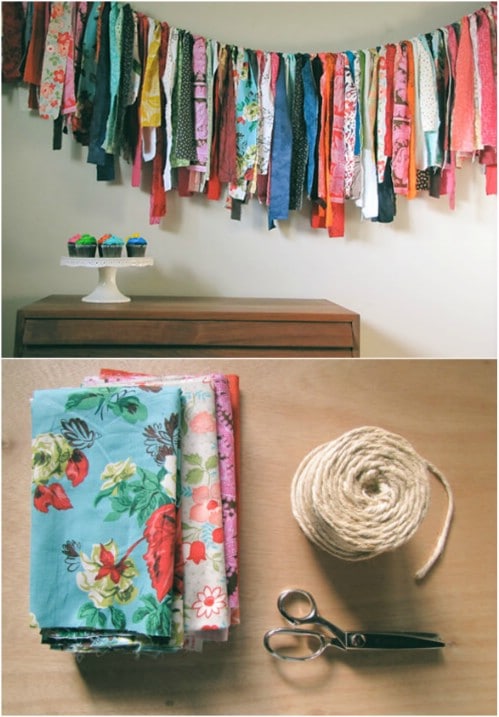 This fabric scrap garland is the perfect way to add some chic bohemian charm to your home and it is so easy to make. This is the perfect project to upcycle those leftover fabric scraps and you can hang them with twine, rope, or whatever you have on hand.
This is perfect for hanging on the stair bannister or in the entryway, or anywhere you want to add that little bit of bohemian charm.
Tutorial: handmadecharlotte
3. DIY Shabby Boho Mirror
I love this mirror! It has a gorgeous color and the flowers and pearls just really make it perfect for adding to your boho chic décor. This is also a great one to add to your coastal décor. You make this from an ordinary mirror that you decorate to give it that great boho appeal.
The distressed wood really adds character and this one makes a beautiful gift for an upcoming wedding.
Tutorial: sweetinspirationsbyjpdesigns
4. Boho Chic Jewelry Hanger
This boho chic jewelry hanger could possibly be the easiest thing that you have ever made. It is perfect for holding all of that bohemian or gypsy themed jewelry and it's made from a piece of driftwood, so it's basically a free project, too.
You could use just about any piece of wood that you have on hand for this and find some really cool drawer pulls at thrift stores to make the jewelry hooks.
Tutorial: unetouchederoseeng
5. DIY Boho Chic Jewelry Tray
These boho chic jewelry trays are so easy to make and they make the most wonderful gifts. If you need something for the holidays…or any special occasion…these are perfect. You can make them from cheap wooden leaf trays that you can find at the Dollar Store and then just use paints to give them that great boho chic appeal.
Tutorial: jenniferrizzo
6. Bohemian Inspired Decoupaged Trays
These trays are perfect for adding that touch of bohemian inspired décor to your home. They are also really easy to make. If you love decoupaged projects, then this one is for you. Hit up your local thrift store to find old ceramic or silver trays and then you can use wallpaper or other similar paper to create the bohemian look. Use these for jewelry holders or just about anything you want.
Tutorial: youngamerica
7. DIY Decoupaged Gypsy Chair
How utterly adorable is this chair? I love the bohemian look in furniture and this one is perfect for adding that little bit of décor wherever you need it. You can do this with an old wooden kitchen chair and decoupaging it is so easy. Note the yarn tassels that hang down from the seat. Is this not the most adorable chair you have ever seen?
Tutorial: gypsylovecafe
8. Chic DIY Flower Chandelier
This flower chandelier is gorgeous and it is really easy to make.
You will need several dozen flowers, along with a few floral supplies and an embroidery hoop to make this one. It's perfect for adding a bit of bohemian charm to the bedroom and if you want it to last for quite a while, skip the fresh flowers and use silk ones. This would also be a beautiful DIY rustic wedding decoration.
Tutorial: honestlywtf
9. DIY Kilim Rug
This DIY kilim rug is super easy to make and gives you so much room for creativity.
This would be perfect in the entryway or kitchen or anywhere you wanted to add that little bit of boho charm. You can paint so many different symbols on it to express what you want to say and you can create the rug by sewing together a few straw mats, which are really inexpensive.
Tutorial: paperplateandplane
10. Gorgeous Bohemian Doily Lamp
Have you made anything with mod podge and a balloon? It's such a fun and easy process and it's the technique that you use to create this lovely bohemian doily lamp. It's the same process that you use to make scrumptious chocolate bowls – minus the mod podge, of course.
You just fit the doilies around the balloon and then when the balloon is popped, you end up with the most beautiful lamp that is as elegant to look at as it is easy to make.
Tutorial: emmmylizzzy
11. DIY Hanging Macramé Chair
If you have ever done macramé, this chair will be a breeze for you to make. This is a great way to add some boho chic décor to your home and you get a really comfortable chair from it. This would also look great on the front porch. Once you have the chair finished – which is pretty easy in itself – you just hang it from the ceiling wherever you want it to go. It's super comfy to sit in and makes such a great focal point for any room.
Tutorial: apartmenttherapy
12. DIY Inspirational Clip Garland
This is possibly the easiest boho chic décor that you could make. This clip garland is just a piece of rope or twine with some of your favorite things clipped onto it. You can choose to hang pictures, silk flowers or just about anything else that you want to showcase.
The key is finding items that give you inspiration and hanging them onto a DIY garland wherever you want to add that bit of chic design.
Tutorial: threadsence
13. Easy DIY Branch Photo Mobile
Here is another great way to display your favorite pictures in bohemian chic style. Just grab a branch from the front yard and use it to hang your favorite images Instagram style. The pictures can be added to cardstock to make them a bit sturdier and you can laminate them to keep them safe from dust and other harmful things. Just hang this wherever you want to add that bohemian décor.
Tutorial: decozilla
14. Easy DIY Macramé Wall Hanging
Macramé is a gorgeous way to add some boho chic style to your home and it is a fun and easy craft. This wall hanging won't take you long at all to make and you can hang it wherever you want to add some extra style.
Do different colors and hang one in every room. You make this with jersey fabric that you cut into strips, so if you have an old jersey that you can use, you won't have to buy anything to make this one.
Tutorial: brit
15. Boho Mason Jar Lanterns
Here is another beautiful boho décor idea that uses mason jars. With a little paint and a few embellishments, you can turn a plain old mason jar into a beautiful lantern that is perfect for decorating any room in your home.
These little lanterns are as fun to make as they are gorgeous to look at and when they're finished, just add tealight candles or some clear lights to bring out their beauty.
Tutorial: jackandjinger
16. Easy Patchwork Boho Curtains
Turn ordinary fabric into the most beautiful curtains for your kitchen – or anywhere you want to hang them. These patchwork curtains have such a gorgeous boho look to them and they are super easy to make.
This is a great way to use up those leftover scraps of fabric from other DIY projects and they make a wonderful gift for others you know who love the boho chic style.
Tutorial: dottieangel
17. Boho Hanging Mason Jar Lanterns
I love mason jar home decorating projects! They work with so many different design schemes, including the boho chic style. This DIY hanging mason jar lantern project is super easy and adds so much charm to your home or front porch. You can add just one mason jar or as many as your rope will hold and you could even frost or tint the jars if you wanted. This one is so customizable.
Tutorial: brit
18. DIY Canopy Bed
You can make this gorgeous canopy bed for under $20 and it is perfect for adding boho chic style to the bedroom. You make the canopies from PVC pipe, which is really inexpensive.
Once you have the canopy done, you just add the sheer curtains and you're all done. The best part is that you can do this with any bed, no matter what style of headboard or columns you may already have.
Tutorial: takeitfrom-me
19. DIY Suzani Covered Ottoman
Turn an ordinary ottoman into something that looks like it stepped out of the boho section of your favorite department store with just a bit of work. You can buy fabric to cover your ottoman that gives it that nice boho chic style and this is a project that you can complete in just an afternoon.
This is perfect for adding style to your living room or bedroom.
Tutorial: sueathome
20. Test Tube Chandelier
A few test tubes and some imagination are all you need to create this gorgeous test tube flower chandelier. I love the colors and you can do this in any number of color combinations. I found this particular chandelier on Etsy and it's under $300, which is a steal considering just how gorgeous it is. You could do it yourself if you wanted, or just take advantage of this one. Either way, you get a nice boho chic chandelier for the dining room.
Tutorial: etsy
Conclusion
Whether you're a huge fan of Stevie Nicks or you lived through the hippie era, or perhaps you just really love this eclectic style, you are going to adore these DIY home décor projects.
If you love making your own home décor items, you should really take a look at these 50 DIY ombre décor projects, too.
They will go beautifully with your boho chic décor.
You can make so many things to decorate your home with boho chic style, and many of these can be made with things that you probably already have on hand, so they are basically free.
From chairs to jewelry holders and everything in between, we're going to see so many cool décor ideas that you can make in just a few hours. And these all go wonderfully with farmhouse or rustic décor, too.
Check out these 60 barn door projects for adding a wonderful farmhouse look that goes beautifully with your boho chic style.