You want to give your little ones the very best start in life, and that includes a lot of homemade and DIY things. Take baby food for instance, no matter how natural and trusted a brand is, you can always make a healthier version if you do it yourself, which is what I'm here to share with you. I looked for some easy homemade baby food recipes that will help to save you money. I also wanted recipes that babies are sure to love and I believe that I have found the best 25 homemade baby food recipes for your little one. whether you're in the first stages of solid foods or you're little one is starting to walk, these recipes are going to help you to save money and to ensure that you are feeding your baby only the best, healthiest and most natural foods available.
Making baby food is not at all difficult and you don't need any fancy machines or appliances to do it. You will need a blender or food processor for some of these, but many of them can literally be done by hand, which saves you even more money – and the cleanup is much easier, too. If you love doing homemade things for your little one and you just don't want to bother with buying preserved baby foods, this is definitely the recipe list that you need to see. You should also take a look at these 24 clever baby food jar crafts for those jars that you have already bought.
There's nothing I love more than babies – or puppies – and I really love doing homemade things for the babies in my family. That's why I love these cheap and easy to make homemade baby food recipes. Not only are they inexpensive but they give you the chance to try your baby on new foods and to adjust the recipes to include foods that you know he or she loves. Some of these are definitely for older babies – like the lasagna recipe – but they are all really easy and will all save you money. And, you have to be sure to check out these 28 adorable DIY baby projects that you can use to save even more money while your little ones are little.
1. Easy Five Minute Applesauce Combo
This easy applesauce will thrill kids of all ages, including babies and those picky toddlers. It's such a simple all natural recipe and you can customize it to their specific likes and dislikes. You just start by making your own applesauce and then add in flavors like strawberries, beets, squash or any other veggie or fruit that you can't normally get them to eat.
Recipe: babyfoode
2. Homemade Apple Fennel Puree
This homemade apple fennel puree makes six servings of baby food and it is really healthy. You need one fennel bulb and two apples – any type that you like, although babies would probably prefer something sweeter like a gala or Fuji apple. Steam the fennel and then add your cored, peeled and chopped apples and cook for about four minutes. Run it through the food processor and then store in airtight containers in the fridge
Recipe: weelicious
3. Homemade Avocado Baby Food Popsicles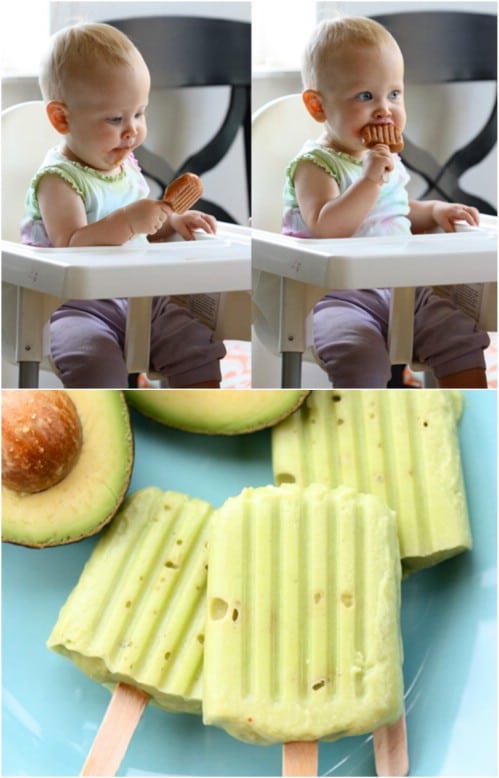 Popsicles are an excellent form of baby food for a couple of reasons. Not only are they great on hot days, they're perfect for babies that are teething as the cold helps to relieve sore gums. You make these baby food popsicles with two avocados and two pears. Just puree the two together and then fill popsicle molds half full and freeze. The recipe makes six popsicles. Let your little one enjoy his or her own popsicle while you and your older children enjoy your favorite homemade popsicle recipes.
Recipe: thespunkycoconut
4. Baby Food Lasagna
Once your little one starts eating vegetables and cheese, this baby food lasagna is an excellent homemade recipe. It's best to wait until around six months before feeding this one and it's a super easy recipe to make. This one has zucchini, carrots, pasta, cheese and so many wonderful flavorings in it and babies will love it. It cooks together in about 15 minutes and stores in the fridge for a week or so.
Recipe: loveandduckfat
5. Baked Cinnamon Apple Baby Food
Baked cinnamon apple is a treat for kids of all ages (and some adults) and this recipe is super easy. You can add yogurt to this one or leave it out – yogurt is great for diaper rash so if your little one has this issue quite a bit, I would definitely add plain yogurt to this one. You can also add prunes that are healthy and help to keep them from being constipated, which can happen once they begin solid foods.
Recipe: honestfare
6. Blueberry And Chickpea Baby Food
Chickpeas are another really healthy veggie that little ones tend to not like. This one is really flexible and a super fast and easy baby food to make. You can add walnuts, once you know that your little one can handle nuts, and even yogurt or ricotta cheese for additional nutrients. Add pureed spinach to this one for a really healthy green veggie meal that has enough sweet to get them to eat it.
Recipe: babyfoode
7. Homemade Brown Rice Baby Cereal
Moms normally start their babies on cereal at around six months, which is what most doctors recommend. When it comes time to begin your little one on something a bit more solid than formula, this brown rice baby cereal is a good choice. You make this with short grain brown rice and it's super easy. Just grind the rice in a spice grinder or blender until finely ground and then store in a sealed container. Mix one serving at a time and this will last for weeks.
Recipe: weelicious
8. Butternut Squash Baby Puree
My kids always loved baby food squash. This butternut squash is a really good recipe and it is really easy to make. Plus, butternut squash has a bit of a sweeter taste so little ones are bound to like this one. Just bake your squash and then once it has cooled, run it through a food processor with a bit of water until it is smooth.
Recipe: frugalfanatic
9. Chicken, Corn And Cilantro Baby Food
Homemade baby food gives you the opportunity to create culinary treats for your little ones, like this chicken and corn with cilantro. This is such a flavorful dish and it is really easy to make. The recipe makes a cup and is best for babies between nine months and one year old. You need chicken breast and broth, onions, garlic, cilantro and corn, along with brown rice to make this one and it's sure to be a tiny crowd pleaser.
Recipe: babybulletblog
10. Chicken And Carrots Baby Food Puree
This chicken and carrots puree is really quick and easy to make and you can store it in the freezer for months. Just pour into ice cube trays until frozen and then store in a freezer bag. The recipe has fresh carrots, white meat chicken, vegetable broth and cumin and only takes about five minutes to prep.
Recipe: dessertfortwo
11. Beet And Blueberry Puree
Beets are such a healthy food, even for babies but it can be difficult to get them past the taste. When you combine them with blueberries, the blueberries overwhelm the beet taste just enough to get your little ones to like them. This beet and blueberry mash is really easy you just need two beets and about a half of a cup of frozen or fresh blueberries. It will be like you are feeding your little one a piece of your favorite homemade blueberry pie.
Recipe: mashyourheartout
12. Homemade Baby Puffs
Baby puffs are great for when your little ones start feeding themselves finger foods and this recipe makes a huge batch of homemade puffs. You make these with flour, baby cereal (Use your homemade baby cereal), pear or apple puree and optional ingredients like cinnamon or vanilla for flavor. Just mix your ingredients together, bake for about an hour and then store these in the fridge for a week or the freezer for up to a month.
Recipe: .sensitivemommy
13. Homemade Baby Yogurt Melts
My kids loved these yogurt melts when they were younger, but they can get a tad expensive, especially if you have more than one baby at a time. This homemade version is so much better and cheaper and it is really easy to make. You just cut up fruit and puree it and then add yogurt and blend together. Put this on a cookie sheet and freeze until solid.
Recipe: couponing101
14. Kiwi, Zucchini And Apple Baby Food
This kiwi, zucchini and apple puree makes three full cups of baby food, so that's about six servings or more depending on how much your little one eats. It only takes about half an hour from start to finish and this one stores really well in the fridge or freezer. You just steam zucchini and apples in water and then add the kiwi when you put the ingredients in a food processor.
Recipe: simplywhisked
15. Homemade Pear And Prune Baby Food
Prunes are essential for helping little ones to stay regular when they start eating solid foods. Unfortunately, not all babies are going to appreciate the taste of prunes, which is where this pear and prune puree comes in. This one also has kale, which is super healthy for your little ones and the pears help to cover up the taste a bit so they'll eat it.
Recipe: baby-foode
16. Fast And Easy Pureed Carrots
Carrots are often one of the first solid foods that babies experience. This particular recipe is so easy and it makes so many servings! You can store your pureed carrots in the freezer for up to three months so you have months of baby food on hand. Just puree them after cooking and then add to an ice cube tray until frozen. Pop them out and store in a freezer bag or another airtight freezer container and thaw as needed.
Recipe: chocolateandcarrots
17. Homemade Pureed Peas
Pureed peas are so easy to make and you can store them in the freezer for months at a time. When you have time, make up a batch or two of these and keep them on hand. You just cook three cups of frozen peas with breast milk or formula – whichever one you feed your little one – and then freeze. And, while you're making your own baby food, you could also be making your own DIY baby clothes.
Recipe: allrecipes
18. Easy Quinoa Ratatouille
When you and the older members of your family are enjoying a great homemade ratatouille, you can serve your little one the same. This recipe is really easy and cooks up in less than half an hour. You'll need onion, garlic, bell peppers, zucchini and a few other ingredients for this one, including quinoa – and this one is best served to little ones once they reach about nine months or so because of the various spices in the recipe.
Recipe: loveandduckfat
19. Blueberry, Mango And Avocado Puree
Babies do love blueberries – and especially when you puree them with mango and avocado. Depending on the age of your little one (if they are eating chunky foods for instance) you may not even need a food processor for this one. The fruits can be mashed with a fork to a nearly smooth consistency, which is perfect for babies that have a few teeth or are reaching their first birthday.
Recipe: babyfoode
20. Homemade Sautéed Zucchini Baby Food
Zucchini is a great veggie to start little ones on and this recipe couldn't be easier. Note that this one has a few additional ingredients, so you may want to hold off until you're feeding him or her spicier foods. This one has zucchini as well as tomatoes, mushrooms, garlic, basil and a bit of parmesan for flavor.
Recipe: knowyourproduce
21. Spiced Apple And Lentil Baby Puree
Apples give this homemade baby food its flavor while the lentils increase the nutritional value considerably. To make this one, you use lentils, water, olive oil, chopped onion, apples, garlic, cinnamon, cumin and coriander. Cook the lentils first and then sauté the other ingredients and puree in a food processor or blender until smooth.
Recipe: homemade-baby-food-recipes
22. Apple, Carrot And Sweet Potato Baby Food
When your little one is ready for combination foods, this apple, carrot and sweet potato puree is a good starter. You just cook the foods down until you can easily mash them with a fork and then puree them together. You can also add any number of additional flavors like cinnamon and ginger, when your baby is ready for spices and flavorings.
Recipe: jenloveskev
23. White Peach And Banana Puree
This puree is filled with potassium and other vitamins and is perfect for little ones between four and six months of age. You just peel and chop a white peach and add a banana to that, pureeing until smooth. Babies will certainly love the flavor of this one – all babies love bananas, right? And this one is really easy to make and stores in the freezer for several months.
Recipe: babybulletblog
24. Fresh Veggie Medley Baby Food
When it comes time to start your baby on veggies, this vegetable medley is an excellent choice. You can cook all of the veggies together in a slow cooker, which makes it really easy for you and then just puree them together when they're finished cooking. Add in any veggies that you want like carrots, peas, green beans, and broccoli – or you can use frozen mixed vegetables which makes it much faster and easier to make.
Recipe: superhealthykids
25. Easy Sweet Potato Puree
Fresh sweet potatoes are the basis for this yummy puree and you can customize it as your little ones grow older by adding any number of spices or sweeteners. About four ounces of sweet potatoes make one serving, depending on how much your little one eats, and if you have extra you can freeze it for weeks. Also, you can easily adjust this recipe to make an entire batch for freezing. It's always a good idea to have a plan for creating freezer meals to save time and money.
Recipe: rasamalaysia