I get so excited when the weather begins to get warmer. Summer is my favorite season, mostly because there are so many things to do and so many wonderful days spent outdoors with my family. Since my kids were babies, one of our favorite summer activities has been making our own popsicles. We've created so many flavors over the years and it's still a huge tradition in my house today. There's just something special about biting into a popsicle that you've created yourself as opposed to anything you can buy in the store. Plus, when unmake your own, you can ensure that they are filled with healthy ingredients.
If you have never made popsicles, you are missing out on some serious deliciousness. I love making my own because I can add the ingredients that my kids love best, and use healthy fresh fruits and even a few vegetables to make sure that they are having a refreshing snack that also gives them loads of healthy vitamins and nutrients. Whether you like fruit based or cream based popsicles, there is sure to be one in this recipe collection that will become your favorite. From strawberry banana to a great two ingredient fudgesicle, you're going to love creating these yummy flavors and you may even be inspired to create your own unique flavor. These homemade popsicles are going to make your summer parties great, and if you are planning a get together this summer, be sure to check out these 7 outdoor entertaining tips to give you the best summer party ever.
All of these popsicles use the freshest of ingredients, so you don't have to worry about additives or preservatives, which is one of the things that we worry about most as parents, right? From fresh fruits to delicious yogurt based creamsicles, these are certainly going to be a hit with your kids this summer. And, if you want some amazing milkshake recipes, which are also perfect for summer, you just have to see these 5 delicious homemade milkshake recipes. They're bound to make you the most favorite mom on the block!
So if you're ready for summer (and aren't we all?) then you must be ready to try out these amazing homemade popsicle recipes. Your kids are going to love them, your neighbors are going to love them, and you are definitely going to love them. Try one or try them all – you can make a new one every day and just fill your summer with popsicle goodness!
1. Delicious And Healthy Homemade Avocado Popsicles
Avocado is so very good for you and not typically something that you can get the kids to eat. These delicious avocado popsicles however, will mask the fact that they're eating something healthy because they're so delicious. You can dip the ends in chocolate to make them even more appealing to little ones, and they're very easy to make and only require a few ingredients.
Recipe/Source: thelittleepicurean
2. New Orleans Bananas Foster Pops
These bananas foster popsicles will make you think of New Orleans, where the famous dessert originated. Kids are going to love the sweet banana flavor and they're really easy to make. They use rum extract for flavor, as opposed to real rum in the famous dessert, so they're perfectly kid friendly. They're also a creamy and delicious treat that is sure to make your summer grand.
Recipe/Source: snappygourmet
3. Tropical Berry Lime Coconut Popsicles
Raspberries, blackberries, coconut milk and just a hint of lime juice give these popsicles a wonderfully tropical taste, and the Greek yogurt makes them creamy and delicious. They're the perfect refreshing pop for a hot day and they're even better for breakfast. You can roll them in granola and have a wonderfully refreshing and filling treat any time of the day.
Recipe/Source: dessertsforbreakfast
4. Delicious Blackberry Ice Pops
Blackberries are my favorite summertime berry and these blackberry pops combine everything that's great about the season in a delicious treat. Fresh blackberries, lemon juice, and rose water make them tasty enough for kids yet sophisticated enough for adults. They're an easy to make, delicious treat that will certainly help you to beat the summer heat.
Recipe/Source: countryliving
5. Blueberry Lemon Popsicles
Blueberries and lemon are such a delicious combination. If you've never had blueberry lemonade, you are seriously missing out on something tasty and these blueberry lemon popsicles are like lemonade in frozen form. They're not too tart and not too sweet and yogurt gives them a wonderfully creamy texture. Plus, they only have three ingredients, so they're super easy to make.
Recipe/Source: biggerbolderbaking
6. Yummy Blueberry Tea Pops
Here's another great homemade popsicle that has blueberries – in case you're like me and love blueberries. They're made from a concentrate of blueberry tea and you can get the tea bags at Wal-Mart for around $2 a box. You brew and steep your tea and then add frozen blueberries and puree before adding to your popsicle molds. These are healthy and nutritious and filled with delicious flavor.
Recipe/Source: homecookingmemories
7. Cake Batter Ice Cream Pops
These popsicles taste just like cake batter ice cream and they are amazing. You need actual ice cream to make them as well as yellow cake mix and a few other ingredients, including sprinkles. These would be perfect for summer birthday parties or just a yummy treat anytime that you want something extra special. They're pretty easy to make and will rival any cake batter ice cream that you can buy in the stores.
Recipe/Source: just-add-sprinkles
8. Refreshing Cantaloupe Lime Popsicles
Cantaloupe is a summer favorite of many. I myself can never get enough which is why I love this cantaloupe lime popsicle recipe. You make it with pureed cantaloupe, lime juice, and a simple syrup that is just sugar and water. They freeze well and if your little ones love cantaloupe as much as mine do, this is a great way to keep them happy all summer long without worries of cantaloupe turning too ripe.
Recipe/Source: wayfair
9. Summertime Favorite – Cherry Lime Pops
These cherry lime popsicles will take you back to your childhood with their rich cherry taste and just a hint of lime. They're so easy to make and they contain nothing but the freshest ingredients so they're healthier than most popsicles that you buy in stores. You use fresh cherries, lime zest and agave nectar instead of sugar to sweeten, which makes them an even healthier option for your little ones.
Recipe/Source: stemilt
10. Fresh Chia Strawberry And Raspberry Mint Popsicles
Despite the somewhat sophisticated name, these popsicles are sure to satisfy even the youngest, and pickiest eaters. The ingredient list is really simple and includes strawberries, raspberries, chia seeds, fresh mint and maple syrup to sweeten. They're not too sweet and the nutrition content is amazing. If you're looking for a way to get your kids to eat healthier snacks, this is definitely something to try this summer.
Recipe/Source: eatgood4life
11. Coconut Pineapple Ice Pops
Coconut and pineapple combined are my favorite. They have such a wonderfully tropical taste when they're together, which is what makes these coconut pineapple ice pops one of my favorites on the list. You make them with fresh pineapple, almond milk, honey, sweetened coconut and coconut extract. They're not too sweet and are filled with nutritious goodness. They're pretty easy to make, too so they're perfect for a quick summertime snack.
Recipe/Source: livewellbakeoften
12. Delicious Homemade Cookies And Cream Pudding Pops
Pudding pops are always a favorite for kids and these cookies and cream pudding pops are as easy to make as they are delicious. It only takes about five minutes to get them ready to freeze, too, which is amazing since they're such a delicious treat. Plus, there are only three ingredients. You need Oreos, vanilla pudding mix, and milk. Just mix them up and pour into your popsicle molds and they'll be ready in about four hours
Recipe/Source: houseofyumm
13. Creamy Dole Whip Pops
These Dole whip pops are creamy and delicious and they're super easy to make. You need a can of crushed pineapple, a tub of Cool Whip, lime juice and just a bit of sugar. Just blend everything together and then pour into your popsicle molds for freezing. You can have them in the freezer in five minutes or less and they only take about four hours to freeze.
Recipe/Source: anightowlblog
14. Fruit And Yogurt Pops
These fruit and yogurt pops are as healthy as they are scrumptious. You can use fresh or frozen fruit in any variety that you want. Berries are great and you can mix and match to create your own unique flavor. Puree the fruit and then layer in the fruit and yogurt parfait style. They're a healthy and pretty to look at snack that is perfect for beating the heat this summer. You could also add granola if you wanted something with a crunch, and that would make them perfect for summer breakfast – yes, you can eat healthy popsicles for breakfast!
Recipe/Source: countryliving
15. Traditional Summertime Fruit Pops
These traditional popsicles are simply whatever flavor you choose. You can make them with cantaloupe, watermelon, pineapple, or any fruit that you choose. They take just a bit of sugar and corn syrup to make them just sweet enough without being overbearingly sweet and you add yogurt to give them a wonderfully creamy texture. These will seriously take you back to summertime as a kid.
Recipe/Source: countryliving
16. Easy Two Ingredient Fudge Pops
Who doesn't love a good fudge pop? Honestly, these are my favorite and if I can make them in a jiffy and with only two ingredients, they're just that much more special. This recipe is so easy even the kids could do it. So what are the two magical ingredients? Nutella – or any chocolate hazelnut spread – and chocolate almond milk. You just mix the ingredients together, pour into your ice pop molds and let them freeze.
Recipe/Source: crazyforcrust
17. Luscious Dulce De Leche Lemon Popsicles
These lemon dulce de leche popsicles are a dream and they're really easy to make. You need a can of sweetened condensed milk, fresh lemon juice – you could also substitute lime juice if that's what you have – and lemon pulp. Just blend all the ingredients together, pour into your molds and wait four hours for a lemony delicious summertime treat.
Recipe/Source: muydelish
18. Perfect Mango And Strawberry Honey Pops
These mango lassie and strawberry honey yogurt pops are the perfect touch of sweetness and cold for those summer days. You can make them with or without the strawberry honey, so if you really love mango, just make plain mango pops. You'll need fresh mangos and fresh strawberries if you want the strawberry version. Greek yogurt and cardamom give them a wonderfully creamy kick and they're the perfect summertime dessert after a cookout.
Recipe/Source: dessertsforbreakfast
19. Creamy Mango Almond Ice Pops
Here's another great popsicle recipe for all you mango lovers. This one is a combination of mango and almond that is absolutely delicious. They're really easy to make and only require three ingredients. You'll need frozen mango, sugar, and almond milk. If you use Silk almond milk with protein and fiber, these are just filled with nutrition and kids are going to absolutely gobble them up!
Recipe/Source: amyshealthybaking
20. Salted Coconut And Mango Pops With Crushed Peanut Topping
These popsicles are just like dessert on a stick. With yummy mango and salted coconut inside and a wonderful crushed peanut topping, you definitely won't have a sweet tooth after eating one of these, although they're really not too sweet. They're pretty easy to make, too and are perfect for those hot summer afternoons when you want a little something sweet but want to keep your snack options a little healthier.
Recipe/Source: thedesignfiles
21. Banana And Nutella Fudge Pops
Nutella is such a favorite at my house. My kids will eat an entire jar in just a day or so if I let them. Luckily for me, I have a stash that they can't find, which allows me to make these delicious banana and Nutella fudge pops. These are so yummy and creamy and so very easy to make. You need frozen bananas, cocoa powder, Nutella, vanilla extract, and a pinch of salt. Just blend everything all together and pour into your popsicle molds for freezing. Trust me when I say that your kids are going to absolutely love these!
Recipe/Source: chocolatecoveredkatie
22. Easy Orange Banana Smoothie Pops
My favorite smoothie recipe of all time calls for oranges and bananas, which is why this orange banana smoothie pop recipe caught my eye. It follows the same delicious principle and adds Greek yogurt for a creamy texture. Lime zest and juice give it just the right kick and overall, this is one of the easiest popsicle recipes I've seen. Just blend everything tougher and pour into your molds. In about four hours, you'll have a wonderfully traditional tasting smoothie in frozen form.
Recipe/Source: countryliving
23. Old-Fashioned Orange Creamsicles
If you grew up loving the taste of orange creamiscles in the summer, this recipe is going to make you very happy. You can recreate that wonderful taste of your past and with just a small handful of ingredients. This one requires fresh or frozen orange juice, heavy cream, honey, orange extract and vanilla extract. It will really, really take you back to those summers as a kid when orange creamsicles were the highlight of your day.
Recipe/Source: ovenloveblog
24. Starbucks Rival Passion Tea Lemonade Pops
If you've ever had passion tea lemonade from Starbucks, then you know how wonderful it is. It's such a refreshing drink that's not too tart and not too sweet. If you love that drink, or just the thought of passion tea lemonade in general, these popsicles are going to make you very happy. This is a recreation of that famous Starbucks drink but in ice pop form and it is absolutely wonderful.
Recipe/Source: thefirstyearblog
25. Two Ingredient Creamy Peach Popsicles
Peach is one of my all-time favorite flavors. Living in the south, we get a lot of peaches and I love learning new recipes to include them in. These creamy peach popsicles only require two ingredients and they are so easy to make. You'll need a few peaches and some peach flavored non-fat Greek yogurt. Not only are these delicious, they're perfectly healthy and sure to be a hit with kids and adults alike.
Recipe/Source: chocolateandcarrots
26. Peanut Butter And Jelly Ice Pops
I got so excited when I saw these peanut butter and jelly popsicles. Really. My kids adore PB&J and I just knew that they would love these ice pops. Plus, these are packed with protein so they're perfect for a pre or post workout snack. They do have a few ingredients but they're going to be so worth the extra effort. Imagine your favorite peanut butter and jelly sandwich but in popsicle form!
Recipe/Source: dailyburn
27. Peanut Butter And Banana Popsicles
Elvis would absolutely adore these peanut butter and banana popsicles and your kids will, too. You only need four ingredients to make them and they are the perfect satisfying snack for summer. Bananas, creamy peanut butter, honey and yogurt give them a creamy texture and a taste that is out of this world. If you are a fan of peanut butter and banana sandwiches, you will certainly love these frozen ice pops that carry on that same great taste.
Recipe/Source: homecookingmemories
28. Kid Popular Rocket Pops!
If you, or your kids, have ever chased down the ice cream man for a rocket pop, know that you are not alone. These popsicles are probably the most popular of all and now you can make them yourself. The best thing about these homemade rocket pops is that they are all natural, so you know that you're giving your kids a nutritious and healthy snack. Plus, they're easy to make and delicious and sure to be the best snack of your summer.
Recipe/Source: aroundmyfamilytable
29. Multi-Layer Rainbow Popsicles
These rainbow popsicles are almost too pretty to eat with their layers of colorful fruit. You'll want to eat them though, because they are also delicious and the perfect cool down treat on a hot summer afternoon. Mind you, these do take a bit of time because there is a different fruit layer for each color. when you're finished, you'll see just how worth it they are. And, your kids will love them which gives you the opportunity to offer them a healthy treat, which is always a winner.
Recipe/Source: thefirstyearblog
30. Raspberry Coconut Pops
If raspberry is your favorite summer berry then you will love these popsicles that have raspberry and coconut. You use coconut milk for the coconut part and then top that with a raspberry puree that is absolutely divine. You end up with a two toned popsicle that is creamy on one end and purely natural fruit flavored on the other. Kids and adults alike are bound to love these frozen treats and they're really easy to make.
Recipe/Source: chelseasmessyapron
31. Homemade Strawberry Cheesecake Popsicles
These homemade strawberry cheesecake popsicles are literally like frozen cheesecake on a stick, right down to the sprinkling of crushed graham cracker crumbs on the bottom. With real cream cheese, fresh strawberries and sour cream, they taste just like your grandma's cheesecake and are the perfect dessert choice for those summertime barbecues. They're also a lot easier to make than you may think.
Recipe/Source: domesticfits
32. Wholesome Strawberry Banana Pops
If you're looking for a delicious cool treat that is also wholesome and nutritious, you can't go wrong with these strawberry banana popsicles. They use fresh ingredients as well as milk and yogurt and you don't even have to add sugar unless you just want that extra sweetness. Even at that, you only add enough to taste, so these are about as healthy as you can get and in flavors that most kids love.
Recipe/Source: blessthismessplease
33. Cool Striped Fruit Popsicles
Remember Fruit Stripes gum? That was my favorite as a kid and these striped fruit ice pops make me think of that gum for some reason. You use pureed fruit to make the stripes and just layer it in in whatever design or fashion you prefer. You can add yogurt if you want a creamy layer but you could also just use fresh fruit which would make these super healthy and kids are going to love the colors as well as the taste.
Recipe/Source: luziapimpinella
34. Awesome Watermelon Popsicles
Not only do these watermelon popsicles taste like their namesake, they look like it, too. Pureed watermelon makes the actual watermelon section while canned coconut milk gives you the white area and kiwi makes up the green "rind" section. Then, you just add in mini chocolate chips for the watermelon "seeds" and you're all done. These are just as delicious as they are adorable and are perfect for every summer event you have on your schedule.
Recipe/Source: cookingclassy
35. Yogurt And Honey Fruit Pops
Fruit, whatever fruit you choose, along with honey and Greek yogurt make these wonderful freezer pops that are sure to be a great cooling snack for those summer days. You don't even need popsicles molds to make these. You can pour them into Dixie cups, add a popsicle stick and then freeze. They're really easy to make and the fresh fruit and yogurt is so good for you.
Recipe/Source: simplyshellie
36. Yogurt Parfait Freezer Pops
These yogurt parfait popsicles are so yummy and they make an awesome presentation, too. They're so gorgeous with their colorful bits of fruit against the white of the yogurt. Add some granola and you've got the perfect parfait on a stick. These are great for snacks or you can even enjoy them for breakfast. They're filled with nutritious ingredients and pack a powerful bit of protein for energy.
Recipe/Source: lezoemusings
37. Healthy And Delicious Blackberry Grape Pops
Blackberries and grapes go really well together, as you will see when you indulge in these luscious blackberry grape popsicles. You need six ounces of blackberries and about a pound of red grapes to make them. That's it – just two ingredients to summertime deliciousness. These are so simple to make and are sure to be a hit with kids of all ages.
Recipe/Source: veganinthefreezer
38. Gummy Bear And Sprite Pops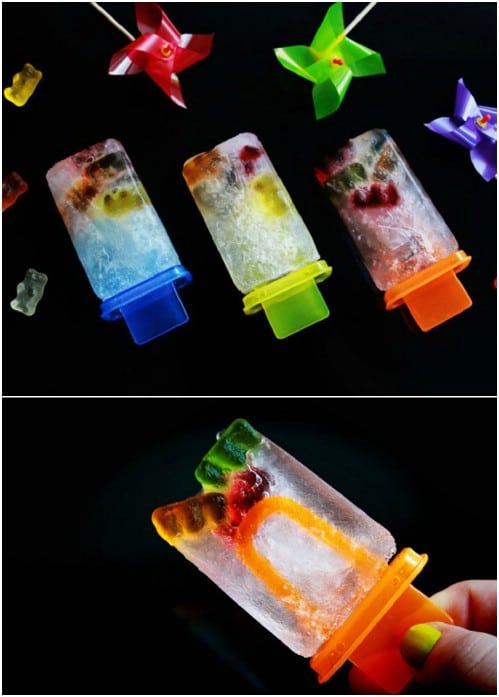 add some gummy bears to your popsicle molds and then fill the molds with sprite. Freeze for about four hours and then you've got a delicious treat that has a fun little surprise waiting when they eat through the frozen soda to get to the gummy bears.
Recipe/Source: zoomyummy
39. Two Ingredient Refreshing Grape Popsicles
These grape popsicles are so unlike those in the stores. Instead of being all purple from manufactured, and otherwise unhealthy, grape flavors, you use actual grapes to make these. The only two ingredients you need in fact are grapes and grape juice. This one calls for white grape juice but if your kids really love the purple color, you could do traditional purple grape juice just as easily. And, you drop in sliced grapes before adding the juice and freezing so they have that extra something special inside.
Recipe/Source: theminiaturemoose
40. Strawberry White Chocolate Freezer Pops
Strawberries and white chocolate – what could possibly be better? Oh, maybe putting the two together into a frozen treat that is sure to keep you cool and satisfied on those hot summer days. I love these two ingredient popsicle recipes and this one may just be my favorite. You only need strawberry flavored Greek yogurt and melted white chocolate to make them and they are absolutely amazing. Seriously, you will want to make these year round!
Recipe/Source: honeyandfigskitchen