I love sewing…and I love making my own Christmas gifts to give away to friends and family.
So, I am so excited to show you these amazing Christmas gifts that you can sew to give to your loved ones.
From coasters and pen holders to bookmarks, laptop cases and even a really gorgeous faux leather purse, there are so many things that you can sew that make wonderful gifts for the holidays.
I started making my Christmas gifts a few weeks ago but if you haven't started yet or you just can't figure out what to make, don't worry…you still have plenty of time and I'm going to share 30 easy to sew gifts that you can have finished in just a day.
Jump to:
1. Hand Sewn Apple Coasters
These little are made from felt and they are really cute. You just cut the apple shapes from a template in any number of colors and then sew them together. You can honestly have a set of these finished in an afternoon, even if this is your first sewing project. These are great for couples or anyone who loves an apple theme and if you don't need coasters, you could turn them into kitchen magnets with just a bit of glue.
Pattern/Tutorial: purlsoho
2. DIY Faux Leather Handbag
This faux leather handbag would cost you a small fortune if you bought it in a department store. This one however, is a DIY project and it's a really easy one, too. You can find faux leather in all sorts of different colors at any fabric store and most hobby or craft stores. Just choose your colors and then sew. This one will only take you a couple of hours from start to finish. You gotta love free sewing patterns!
Pattern/Tutorial: theaspiringhome
3. Easy To Sew Business Card Holder
If you have someone in your family who carries around business cards, this business card holder is the perfect gift. It's great for new college graduates who may want to keep their contact information handy for job interviews and it's very easy to sew together. You just need a couple of small pieces of fabric and if you prefer, you can hand sew this as opposed to using your machine.
Pattern/Tutorial: thefallenhem
4. Hand Sewn Camera Strap
If you know someone who loves photography, or perhaps you are buying a camera as a gift, then you can make this camera strap to go with it. This is such a simple sewing project and one that won't take you longer than a couple of hours to complete. Customize it with any cotton fabric you choose or you could also use faux leather to make it look a bit more professional.
Pattern/Tutorial: everythingetsy
5. Easy Potluck Bowl Cover
These potluck bowl covers are perfect for moms and grandmas who tend to do a lot of cooking and taking food to church, family gatherings or other events. They're so easy to sew together and really do come in handy for keeping a lid on all that delicious food. Make an entire set of these – three or four would constitute a set, right? You can even customize them by using different fabrics or even adding an embroidered initial.
Pattern/Tutorial: thecottagemama
6. Easy To Sew Fabric Feather Dish Towels
You can use a store bought towel for this project or make your own dish towel – it's really easy. The great part of this one is the fabric feathers that you sew on and they have a great patchwork design. You use different fabrics to get the look and just cut out the feather shape and then sew it onto your dish towel with fusible webbing behind it to give it a nice quilted look.
Pattern/Tutorial: flamingotoes
7. Hand Sewn Drawstring Patchwork Bag
If you have a collection of fat quarters that are just begging for a project, put them to use and create a stunning Christmas gift for someone special. This patchwork designed drawstring bag is perfect for teens and adults and it's really easy to put together. Patchwork designs are really popular and you can add a quilted look to this one if you love quilting.
Pattern/Tutorial: ayumills
8. Personalized Drop Cloth Coasters
Drop cloth is a great material to work with. Seriously, there are so many wonderful DIY drop cloth projects and these personalized coasters may just become your favorite. They're super easy to make and take very little time from start to finish. You can personalize them with initials or any other design that you want and the drop cloth canvas works great as a coaster to keep condensation from reaching tables.
Pattern/Tutorial: thatsmyletter
9. Lovely DIY Bow Tote
For girls, teens and grown women, this bow tote is a wonderful gift idea. For you, it's a very easy to sew gift idea that won't take you longer than an afternoon to complete. You need about three quarters of a yard of canvas fabric to make these, or you could expand them if you wanted and make them a bit larger.
Pattern/Tutorial: elmstreetlife
10. DIY Fabric Gift Bag
Turn that scrap fabric into a gorgeous little fabric gift bag and then fill that bag with any number of smaller gifts. I love this idea for homemade candy or even homemade bath salts or other beauty items. The bags themselves are super easy to make and won't take you any time at all to complete. You can even make these a bit more functional for after the holidays by adding an easy to sew invisible zipper.
Pattern/Tutorial: handmadiya
11. DIY Portfolio And Notepad Holder
You can use fat quarters to make this lovely portfolio and notepad holder, which is perfect for everyone from young professionals to teenagers. If you want a nice patchwork design, use multiple colors and designs of fat quarters. Or, if you prefer solid colors or designs, just choose enough of the same fabric to equal the same number of fat quarters. If you also love doing embroidery, this would be great personalized.
Pattern/Tutorial: thecottagemama
12. DIY Fabric Scrap Bookmarks
These little bookmarks require very little fabric and even less time to make. These are perfect for anyone who loves to read – or needs to read for school. You just use leftover pieces of fabric from other projects to make them and you can literally have one finished in less than an hour. These would be perfect for pairing with a favorite book series or you can use them as homemade stocking stuffers.
Pattern/Tutorial: thecraftymummy
13. Handmade Pen And Pencil Holder
I love handmade pencil holders and his DIY journal pen holder is one of my favorite projects.
Not only is it easy to sew, it gives you a wonderful pen holder that is perfect for college students or high school students, or just anyone who keeps a personal journal.
The holder keeps pens and pencils organized and fits perfectly into journals or other books.
Pattern/Tutorial: madetobeamomma
14. Easy DIY Key Fob Wristlet
Do you have a new driver this Christmas? If you do, this easy DIY key fob wristlet is the perfect gift.
You will need to purchase key fob hardware, which comes from a number of stores online and in craft and hobby stores.
You'll also need a couple of strips of cotton fabric and some fusible webbing to make these. When they're finished, they hold those car keys and fit perfectly on the wrist.
Pattern/Tutorial: craftystaci
15. Homemade Lavender Sachets
These lavender sachets are perfect for giving for Christmas and they are really easy to make. I love the scent of lavender and use it quite often in my home.
You can add that scent to your own home, or give these as gifts to any teenager or adult who wants the scent in their dresser.
You just sew fresh lavender into sachet squares – this is easier than you think and it doesn't take much time to finish an entire collection of them.
Pattern/Tutorial: everythingetsy
16. DIY Leather Trimmed Laptop Case
A laptop case is an excellent gift idea for anyone who has a laptop and this leather trimmed one is very easy to sew.
The pattern is made to fit a 13 inch Mac Book Pro but if you're quite the sewing fanatic, you can easily adjust the pattern to fit any laptop that it needs to fit.
You use colored canvas to create the case and then trim it with real or faux leather.
Pattern/Tutorial: weallsew
17. Easy To Sew Gardening Apron
If you know someone who loves to garden, this gardening apron is the perfect holiday gift. It has multiple pockets for holding all sorts of gardening needs and it's a pretty easy apron to sew together.
You just need about a yard of fabric total and some double fold bias tape, along with your sewing machine to make this one and it will only take you an hour or so to complete.
This is a great project to upcycle leftover fabric scraps.
Pattern/Tutorial: sewcando
18. DIY Patchwork Travel Pillow
If you know someone who travels a lot, for business or pleasure, this patchwork travel pillow will be very well received.
If you prefer, you can do this without the patchwork design and just choose a solid color of fabric.
The patchwork really is lovely though and it is so easy to put together. It's filled with fiberfill – or you can use rice if you want it to be more pliable.
Pattern/Tutorial: thecottagemama
19. DIY Quilted Chess Set For Kids
If your kids love to play chess, or you want to teach them, this quilted chess set is a wonderful gift idea.
Not only is it a functional chess board, it's also really adorable. It even comes with a carrying case!
The chess pieces – or checkers – are actually bottle caps and you can paint them two different colors to make playing a bit easier.
Pattern/Tutorial: itsalwaysautumn
20. Easy DIY Quilted Wine Tote
If you are planning to give the gift of wine, make this easy to sew quilted wine tote to go along with it.
It's a wonderful gift addition and you can make it perfect for the holidays by choosing fabrics with reds and greens or holiday images.
This one sews up really quickly and easily and it's quilted, so it will help to protect the wine that it is carrying.
Pattern/Tutorial: needleandspatula
21. Easy Hand Sewn Patchwork Trivet
Here's another beautiful patchwork piece that is perfect for anyone who loves to cook. This would also be a great addition to a coffee or tea themed gift basket and it is so easy to make.
You'll need scraps of fabric in different designs and colors to create the patchwork look and this filled with quilt batting so it works perfectly as a trivet to protect tables and other furniture from hot items.
Pattern/Tutorial: mypoppet
22. Beautiful Hand Sewn Quilt
If you are planning to make a quilt as a Christmas gift, you will need to get started soon.
Don't worry too much about the specifics of making a quilt, they're a bit easier than you may think and they are certain to get you loads of thanks when you give them as gifts.
Anyone would love a handmade quilt for Christmas and if you have time to sew them, you can actually do a couple of these by the holidays.
Use any combination of fabrics and designs you want – you could even create a stunning upcycled denim rag quilt.
Pattern/Tutorial: cluckclucksew
23. Handmade Sunglasses Case
Give the gift of sunglasses protection with this really easy to sew sunglasses case.
This is great for pairing with a nice pair of sunglasses or you can just give the case if you know someone who owns their own treasured pair.
Sunglasses aren't cheap – not the good ones, anyway – so a protective case is an excellent gift and this one sews up really quickly.
Pattern/Tutorial: crazylittleprojects
24. DIY Vintage Apron
If you know someone who cooks or bakes a lot and who loves vintage everything, this is a wonderful gift idea.
This vintage looking apron is so easy to sew and it is absolutely stunning when it's finished. You can do this with more modern looks too if you prefer or choose colors and designs that match her kitchen.
You could do several of these and make them all really unique and they sew together really quickly so you have time to make one for everyone on your gift list.
Pattern/Tutorial: sew4home
25. Easy Handmade Zippered Pouch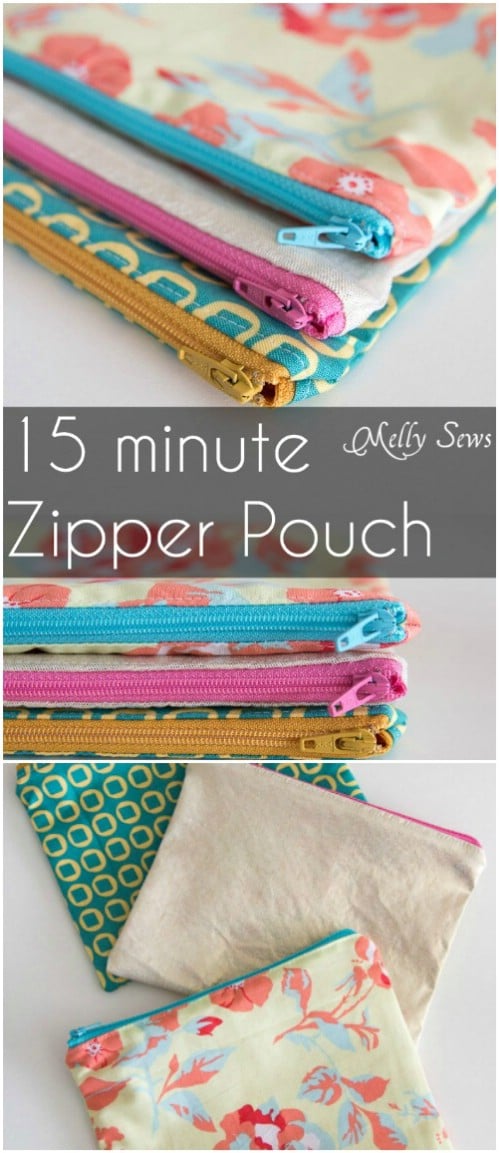 For little girls or pre-teens, this zippered pouch is an excellent gift idea.
These can be used to hold money, pencils, or any number of other things and girls are going to love them.
You can make so many of these before Christmas – they only take about 15 minutes each!
So, if you have a list of teenagers and little girls who would love a homemade gift, make these in different styles with different fabrics and treat them all to some homemade joy this holiday season.
Pattern/Tutorial: mellysews
Conclusion
If you love to sew, you can easily make any one of these gifts for the holidays.
Even if you're just beginning to sew, these are pretty easy.
And, if you are a sewing newbie, you should be sure to take a look at these 80 sewing hacks and tips that will make it much easier for you.
These are all really simple sewing patterns and all of them are things that your loved ones will actually want for the holidays.
Whether you're looking for something for a teen or the man, or woman, in your life, there is a DIY hand sewn gift in here just waiting for you to make.
I get so much satisfaction out of making Christmas gifts.
People do love a good homemade gift and whether it's candy, sweet bread or a nice little tote or camera strap, you can be sure that they will adore your homemade gifts, too.
If you prefer not to sew, I've got a great list of 30 really creative no-sew projects that you should check out, too.
If you do love sewing, you just have to take a look at these 25 DIY Christmas gifts. If you start now, you have time to make them all!