Thanksgiving is so close, which means it's time to start thinking about what you'll be cooking. We always go all out in my family and make so much food. Of course, then we're left with leftovers for days, and you know there's just so many turkey sandwiches that you can eat without getting sick of turkey. Well this year, I thought about other recipes…other things that I can make with those leftovers so that my family would actually look forward to the days after Thanksgiving.
I'm so excited to share these recipes with you! Whether you have an over abundance of turkey, mashed potatoes, cranberry sauce, or any other traditional Thanksgiving food, there's a recipe that will turn it into such a culinary delight that your family will be begging you for leftovers every year. I do love cooking and baking, along with just about any craft project for Thanksgiving and Christmas. So before your guests arrive, you should check out these 25 easy to make Thanksgiving decorations. They'll really get you in the mood for all that cooking and baking.
There are some wonderful recipes that will let you use up those Thanksgiving leftovers and actually look forward to your meals. Oh, and if you're looking for a great appetizer recipe to serve on Thanksgiving, you have to try these delicious zucchini balls. So, if you're ready to forgo the traditional leftover sandwiches and heated up meals, we'll look at some delicious ways that you can turn the days after Thanksgiving into meals that you actually look forward to eating. I can't wait for you to try these recipes and thrill your family with those leftovers this year.
1. Cheesecake Brownies From Leftover Cranberry Sauce
If you like your brownies a bit less sweet, these cranberry sauce cheesecake brownies are it. With swirls of leftover cranberry sauce, they pack quite the powerful taste punch and there's the cheesecake aspect, which makes them perfect in my book. Don't throw out that cranberry sauce. Use it to make these after Thanksgiving treats that are sure to please.
Recipe: damndelicious
2. Leftover Cranberry Coffee Cake
Leftover cranberries or cranberry sauce and a bit of yogurt give this coffee cake a marvelous taste and texture. This one is really easy to make and is perfect for using up those leftover cranberries. Make it for breakfast the day after Thanksgiving to give your house guests a wonderful morning surprise.
Recipe: userealbutter
3. Homemade Croutons From Leftover Rolls
We always have a few rolls left over from big dinners that normally get thrown out after a few days. This year, I plan to use those rolls to make my own croutons instead of tossing them out. Croutons are a huge hit at my house and although they can be a bit expensive in stores, making them from leftover bread or rolls makes them perfectly cheap, and you can add flavors as you like. Just add the flavors you want, bake for about 15 minutes to dry them out and store in a tightly sealed container.
Recipe: savorysweetlife
4. Leftover Pumpkin Pie Ice Cream
I must say, we rarely have pumpkin pie left over in my family. However, I may hide some this year just so I can make this great pumpkin pie ice cream to enjoy after Thanksgiving. You can also make this a bit thinner and turn it into the most delicious milkshake! Even if you have to hide some of that pumpkin pie this year, you simply have to try this recipe.
Recipe: abeautifulplate
5. Cranberry Cream Cheese Stuffed French Toast
You can start enjoying those Thanksgiving leftovers the very next morning with this cranberry cream cheese stuffed French toast recipe. Just mix your leftover cranberry sauce with softened cream cheese and add some powdered sugar. The cranberries give your French toast a nice little kick without making it too sour. You could even make this up ahead of time and freeze it for later.
Recipe: alaskafromscratch
6. Leftover Sweet Potato Biscuits
Use that leftover sweet potato casserole to make these somewhat sweet biscuits for breakfast. You could even use leftover candied yams for this one and you can make these even if you put marshmallows on top of your casserole. They're perfect with a little cream cheese or butter and they're a sure way to get your kids to eat sweet potatoes!
Recipe: homecookingmemories
7. Leftover Turkey Sandwiches With A Twist
Forgo those traditional turkey on white bread sandwiches with your leftover turkey and instead, make these delicious sandwiches with turkey, cranberry and avocado. This is also a great way to use up that leftover cranberry sauce. The brie and avocado give it a wonderfully different flavor than traditional turkey sandwiches and you grill it, so it's perfect for those cold days. It's a great twist on traditional comfort food and a great new way to make a grilled cheese sandwich.
Recipe: foodiecrush
8. Easy Leftover Mashed Potato Gnocchi
Normally, I would make potato cakes or potato pancakes from my leftover mashed potatoes, but this gnocchi recipe gives me a new way to use up those leftovers. I love gnocchi and this recipe is so easy! You can serve these with any number of toppings and either boil or fry them. They're the perfect warm lunch option for the day after Thanksgiving and they can be frozen for cooking later, so you'll be able to enjoy them weeks after Thanksgiving if you want.
Recipe: theartofdoingstuff
9. Easy Leftover Cranberry Sauce Bread
Here's a wonderful way to use up that leftover cranberry sauce and have a delicious sweet bread for breakfast. You can bake these and freeze them to have for later or serve them up the morning after Thanksgiving with cream cheese, butter or any number of other toppings. They're pretty quick and easy to bake up and you only need a cup of cranberry sauce for each batch.
Recipe: ohmyveggies
10. Mashed Potato Crusted Quiche
What's better for breakfast the day after Thanksgiving than a delicious quiche? A quiche that you make with your leftover mashed potatoes! You need a couple cups of mashed potatoes and some broccoli, so this is also a good recipe if you have broccoli and cheese leftover or broccoli from a vegetable tray. This is a great way to wake up the next morning and it doesn't take long at all to make.
Recipe: teacher-chef
11. Turkey And Stuffing Enchiladas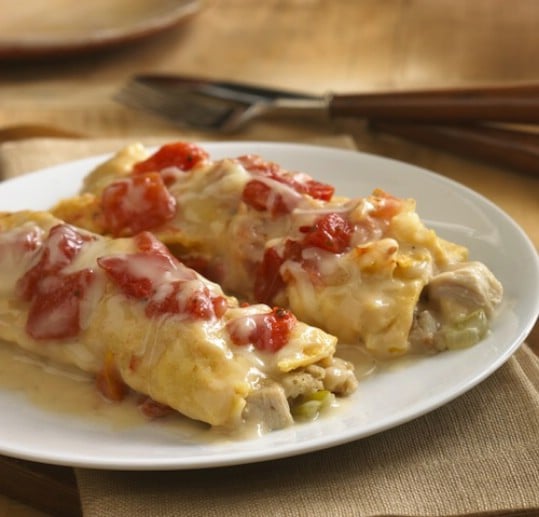 Whether you use Stove Top stuffing or make your own traditional dressing for Thanksgiving, you can turn those leftovers into these delicious enchiladas. Take that leftover turkey and stuffing and create something so delicious that your family will be begging for leftovers. These are so easy to make and you could make them up and freeze them for later.
Recipe: readyseteat
12. Easy Leftover Turkey Gumbo
Here's another wonderful way to use up those turkey leftovers. Instead of sandwiches and heated up turkey, turn it into this amazing gumbo. If you've never made gumbo, don't worry. This recipe is just as easy as it is delicious. This is a really light recipe too, so it won't weigh heavy on your already overstuffed tummy. With okra, rice and tomatoes, it's a warm and delicious meal. And it gives you the chance to practice making roux.
Recipe: steamykitchen
13. Traditional Leftover Turkey Pot Pie
So you have to have a traditional recipe for those leftovers, right? This turkey pot pie is as traditional as they come. It really reminds me of the pot pie my mom would make after Thanksgiving when I was growing up and it's filled with wholesome goodness. You can top it with puff pastry or if you have leftover mashed potatoes, use those for the topping and give it a great shepherd's pie taste.
Recipe: damndelicious
14. Delicious Pulled Turkey With Cranberry Barbecue Sauce
This great pulled turkey is perfect for after Thanksgiving sandwiches and is so much more delicious than traditional turkey sandwiches. It's made with a wonderful cranberry barbecue sauce. Pulled pork is a staple in the South and this pulled turkey comes in really close to that Southern favorite. The cranberry barbecue sauce gives you a wonderful way to use up that leftover cranberry sauce and this is definitely a recipe that the family will love.
Recipe: pink-parsley
15. Leftover Turkey And Bacon Chowder
Chowder is an all time favorite at my house, especially when it contains bacon. This turkey and bacon chowder is so delicious and it's perfect for cool evenings, which typically follow Thanksgiving. You make it with leftover turkey and sweet potatoes, so it's a great way to use up a few of your leftovers. With heavy cream and loads of bacon, it's also a delicious comfort food and it's gluten free.
Recipe: ibreatheimhungry
16. Leftover Turkey Stromboli
Not only does this delicious Stromboli give you a wonderful way to use up that leftover turkey, it also calls for your leftover stuffing, cranberries and mashed potatoes. You just pile your leftovers onto rolled out pizza dough and bake to perfection. You could also add in sweet potatoes and any number of other Thanksgiving leftovers to completely customize your Stromboli. This is such an easy and delicious recipe!
Recipe: betsylife
17. Savory Leftover Stuffing Muffins
These stuffing muffins are perfect for serving with your Thanksgiving dinner or for making leftovers the day after. They're also great to freeze and enjoy later. They're super easy to make and give a new twist to traditional stuffing. With crispy edges and savory flavor, these may be your family's favorite recipe to make with Thanksgiving leftovers. Plus, you can store them in the freezer for months.
Recipe: yumsugar
18. Yummy Leftover Sweet Potato Waffles
Create excitement for the morning after Thanksgiving with these luscious sweet potato waffles. You just mix your leftover sweet potatoes, or sweet potato casserole, with oats and a few other ingredients and then load them into your waffle iron. If you don't have a waffle iron, you could also make these into delicious sweet potato pancakes.
Recipe: cookinglight
19. Leftover Thanksgiving Feast Nachos
Nachos are sure to be a hit for those Thanksgiving leftovers. These have leftover turkey and cranberries for a nacho recipe that is unlike anything you've ever tried before. This bakes altogether too, so it's a really fast and simple recipe, and your family is sure to love it. With jalapenos and cheese like traditional nachos, as well as turkey and cranberry sauce, this is great twist on a traditional recipe and it gives you a delicious way to use up those leftovers.
Recipe: girlversusdough
20. Leftover Thanksgiving Crepes
These scrumptious crepes are made with leftover turkey and stuffing and you can even add some leftover cranberries to the top! You also use up those leftover mashed potatoes, so this one helps you to completely rid your kitchen of Thanksgiving leftovers in an easy to make and quite delicious way. Crepes are sure to be a hit with the family, especially these leftover crepes that are perfect for lunch the day after Thanksgiving.
Recipe: butterwithasideofbread
21. Delicious Leftover Turkey And Mashed Potato Pizza
Imagine a delicious pizza from those Thanksgiving leftovers. This turkey, mushroom and mashed potato pizza is the bomb and is sure to be a hit with the entire family. You even get to use up that leftover gravy and just about any other leftovers that you may have on hand. Add in sweet potatoes, vegetables, cranberry sauce or anything you still have on hand the next day for a pizza that your family is going to love.
Recipe: allrecipes
22. Leftover Turkey And Mashed Potato Soup
This leftover turkey soup is served with potato patties that you can make from leftover mashed potatoes. It's a great way to warm up on a cool day and perfect for freezing and eating later. It's also a great soup for using up other leftovers like all sorts of veggies. The mashed potato patties are a nice addition and helps to make this the perfect lunch for the day after Thanksgiving.
Recipe: foodnetwork
23. Stock From Leftover Turkey
You can use that leftover turkey, as well as the turkey carcass, to make turkey stock that will last you all winter long. This is the perfect way to use up those turkey bones and gives you plenty of stock for other recipes. You can seal this in a jar or if you have quite a bit, freeze it for use later. It's the perfect stock for soups and pot pies and will keep in the freezer for up to a year.
Recipe: theendlessmeal
24. Leftover Cranberry Sauce Whipped Butter
What better way to top those biscuits on the morning after Thanksgiving than with this luscious whipped cranberry butter? This is so easy to make. You literally just mix butter with your leftover cranberries or cranberry sauce. This would be a wonderful butter to include in those homemade Christmas goodies baskets. Just mix it up and freeze it until you need it. It will keep for months in the freezer.
Recipe: goodlifeeats
25. Leftover Stuffing Baked Eggs
Turn the morning after Thanksgiving into a feast with these stuffing baked eggs. You use your leftover stuffing, as well as eggs and chicken stock to make these and they are super easy…and super delicious. They're the perfect morning after Thanksgiving breakfast. Just top stuffing with eggs, stock and a few spices to create this delicious leftover stuffing recipe that is sure to please everyone the morning after.
Recipe: kitchenkonfidence