I have been out in my garden a lot this summer, and ended up buying one of those big sacks of stones to make a path. I had a fair amount left over, so I decided to think about crafting ideas using little garden rocks.
You've probably noticed that recently I have been fixated on fast and easy crafts that you can do in a matter of minutes, like these popsicle stick ideas or these candle holder crafts.
That's because while I love big, complex, and involved projects, I know a lot of new crafters are just looking for something quick and easy to get started. Plus, plenty of folks are busy juggling tons of responsibilities throughout the day, and you sometimes only get a few minutes to sit down and be creative.
Below, you can learn 5 super simple crafts using simple garden stones. The entire video is under 5 minutes long!
Materials:
(Amazon.com Affiliate Links)
Wooden frame
Small garden gravel rocks
Medium river rocks
Shells, twine and other embellishments
Hot glue and glue gun
Pipe cleaners
Small glass bottle
Cardboard or paper
Votive candle
Green and white paint
Small flower pot
Small clip
Directions:
Picture Frame
1. Get a wooden picture frame.


2. Glue small garden gravel rocks around the edges along with shells, twine, pearls, and other embellishments.
Picture Display
1. Get three larger, rounded river stones and glue them together.
2. Wrap a pipe cleaner around them.
3. Glue on any embellishments you like.
4. Add a small clip at the top and use it to hold a photograph.
Bottle
1. Grab a small glass bottle and insert rocks, pearls, and/or shells inside.

3. Insert a piece of bamboo or whatever other embellishments you want.
4. Use twine to attach a tag which you can personalize.
5. Close it with the cork.
Candle
1. Put a bunch of small gravel chips inside a glass votive candle holder along with some pearls.
2. Tie twine around the outside along with a starfish or other embellishments.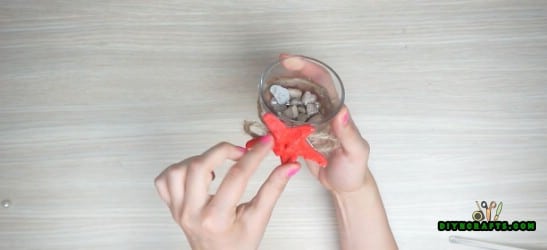 3. Put a votive candle inside.
Cactus
1. Paint several rounded river rocks green and add white dots. Add some stripes and details to make them look like cacti.
2. Put gravel chips in a flower pot.
3. Insert the "cacti" and embellish the pot.
What is awesome about these ideas is that they all use the same basic supplies (for the most part). So if you can make one project, you probably also have the materials you need to make the rest. Have fun!