I simply adore votive candles—and who doesn't? I have a closet with a shelf which is full of them. Some I purchased and others were gifts. Still others are probably going to eventually be outgoing gifts. I have at least one sitting out in practically every room of my house.
But the real fun with votive candles is candle holders—specifically shopping for or making beautiful and unique ones which can showcase the light in a lovely way. Recently I was thinking about how I haven't done a votive candle project in a while. A few months ago I posted 15 cool candle votives for under $1 (see them here).
So I put on my crafting hat and got to work, and I came up with three super cool projects for you! Check out the video below to learn how to make three gorgeous candle holders out of simple, cheap supplies!
Video Tutorial:
Materials:
(Amazon.com affiliate links)
3 simple clear glass votive candle holders or cups
Hot glue and glue gun
Cinnamon sticks
Twine
Lace
Embellishments of your choice
Plastic spoons
Scissors
Directions:
Cinnamon Stick Candle Holder
1. Use hot glue to attach cinnamon sticks to the outside of a small glass votive container. Attach them all around the outside so that they completely enclose it.

2. Tie a piece of twine around the outside and add any embellishments you want for a lovely rustic look.

Spoon Candle Holder
1. Cut the bowls off a set of plastic spoons.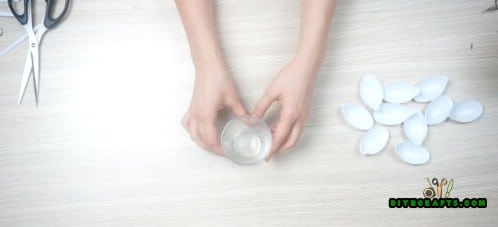 2. Use hot glue to attach the spoon bowls around the top of a glass votive candle holder or glass.

3. Attach more spoon bowls in a circle just below those so that they overlap like flower petals.

4. Do a third circle of spoon bowls around the bottom. The finished look should resemble a blossom. When the candle is lit inside, the entire thing will glow.

Lace Candle Holder
1. Wrap some lace around a glass votive container and glue it in place.

2. Add any extra embellishments you wish.

That's it! You now have three gorgeous candle holders, all made with simple supplies in a matter of minutes!