A few years ago, we moved into a larger house and we needed a lot of new furniture. At first, we were just going to head to the store to pick something up, but I thought, "Why not go the DIY route?" We knew we wanted something really rustic, and nothing we were seeing in the stores was really fitting the bill. Plus, we knew we could save a lot of money if we just upcycled something.
This led me to discover pallet furniture. We have a lot of pallet furniture throughout our house, and I just love it! It really is incredible what you can do with the simplest supplies, and the finished look to me is amazing. Now we're redoing and expanding our kitchen, we've decided we want to go with pallets again. So I've been researching for ideas.
There really are a lot of pallet furniture ideas for your kitchen out there—but it's hard to trace most of them back to their source links. I've compiled a list here of some of the best pallet kitchen furniture ideas I've found, along with links back to the crafty creators who constructed them. There is some great inspiration here! Previously I've covered an outdoor pallet project collection and a few individual pallet ideas like this.
1. Pallet Wine Bar
This is a project for a free-floating pallet wine bar, where the wine storage actually doubles as a table. As you can see, the hollow space inside the pallets is perfect for storing the bottles. You can then eat and drink at the table, comfortably situated on bar stools. This project would be easy and fun to customize to your needs—it looks like it would require very little to set it up. Also notice that it lights up from within for really awesome ambiance!
Source/Tutorial: thepoorsophisticate
2. Wine Rack
Don't want or need a new table in your kitchen? Here is a project for a simple pallet wine rack which you can hang on the wall of your kitchen. This rack is awesome because it not only holds wine bottles, but holds goblets as well, so it is serving double duty! What a great space saver!
Source/Tutorial: thecartens
3. Coffee Mug Holder
Maybe you aren't looking for a rack to hold your wine glasses—maybe instead you drink a lot of coffee, and want a way to display all of your cups! Click the source link and you will see a step-by-step photo tutorial to creating your own beautiful, rustic coffee mug holder. I like that this pallet project offers you a way to showcase your favorite mugs, and they are all easy to grab when you need them!
Source/Tutorial: onelittlebirdblog
4. Simple Kitchen Island
If you enjoyed the project for the free wine bar, you may also be interested in this one for making a simple kitchen island. There is no step-by-step tutorial, but there are a few assembly photos. A lot of people complain that they don't have a kitchen island and wish they did—there is no reason to go out and spend a ton of money to get one installed when you can just upcycle a pallet into a lovely homespun island all on your own!
Source/Tutorial: joanneinspired
5. Gorgeous Rustic Kitchen Design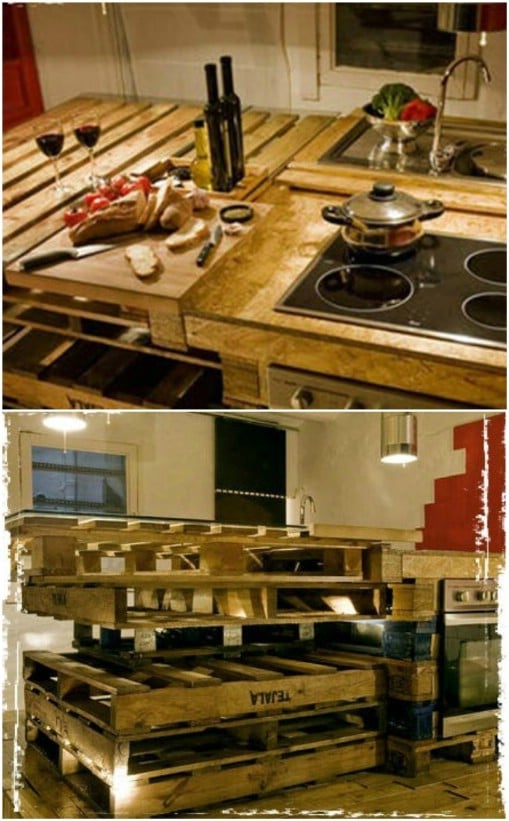 This is an amazing design for a kitchen using recycled pallets by Spanish designers Paco Serinelli and Alessandra Samson from Anatomica Design. As you can see, pallets are used here for some of the cooking surfaces, and there are some lower pallets as well which could function as shelves. In conjunction with other rustic materials, you get a look which is at once rustic and industrial.
Source/Tutorial: gizmag
6. Pallet Pot Rack
Looking to free up space in your cabinets by adding a little overhead storage to your kitchen? This pallet pot rack is affixed to the wall (near the ceiling) with chains. Hooks on the bottom can hold pots, pans, and cutlery. It's a simple, beautiful project which is great for small kitchens!
Source/Tutorial: agreenpointkitchen
7. Canning Pantry Cupboard
Do a lot of canning, or like to make preserves in jars? If so, you know that cans and jars can quickly devour a ton of space in your kitchen. One great solution is to use a disassembled pallet to construct a canning pantry cupboard. If you follow the source link, there is no tutorial, but there is a picture of the disassembled pallet and shipping crate which were used. This can help you figure out how to create a canning pantry cupboard of your own!
Source/Tutorial: oldworldgardenfarms
8. Another Kitchen Island
If you liked the kitchen island project that I shared previously, then you will definitely want to check out this kitchen island project as well. As you can see, the construction is very similar, but the finish is very different. I particularly love the rough transition to the red paint on the bottom.
Source/Tutorial: bec4-beyondthepicketfence
9. Rustic Pallet Cabinet
Want to replace your kitchen cabinets with gorgeous rustic pallet cabinets? I think these look just incredible, and this is definitely something that I am planning on doing in our kitchen! There is a step-by-step tutorial at the source link, so be sure to check it out!
Source/Tutorial: simeonhendrix
10. Bonus: Build a Play Kitchen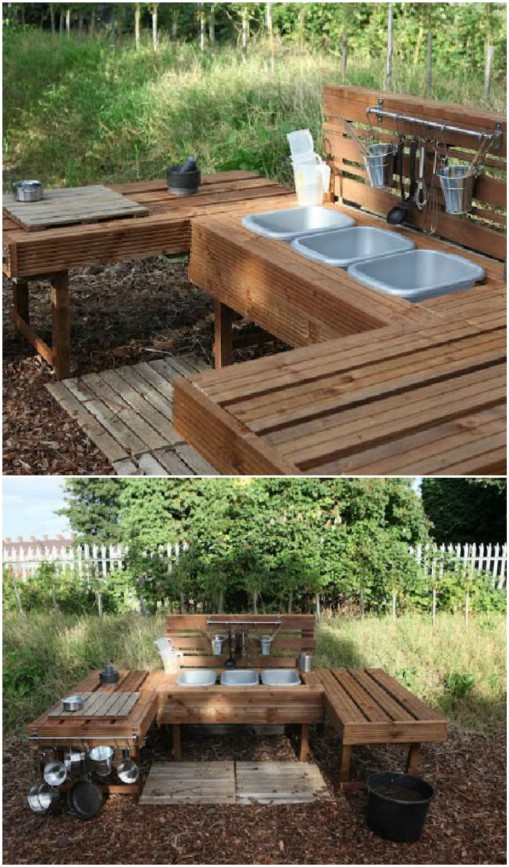 Finally, here is one more "kitchen" project with pallets. Instead of using pallets to build furniture for your real kitchen, use them to construct a play kitchen for your children! Personally I think this play kitchen looks absolutely amazing—very much like the real thing. The design could also give you ideas for furniture you could build for your real kitchen.
Source/Tutorial: diypalletfurniture
Now you have seen 10 of the best original pallet projects for kitchens! I hope that these projects inspired you as much as they inspired me. Be sure to share your favorite pallet projects with us in the comments, as well as anything you create for your own kitchen!