I get so excited at this time every year. Finally that bitter wintry chill is gone, and there are some warm, sunny days to go out in the garden and work. Each year I start out with a new vision for my lawn and garden and set out to make it happen!
In the past, I have stumbled across some very cool ideas for planters, like this project to turn simple terracotta pots into whimsical artistic planters, or this one for planting strawberries. But this year I am more excited than ever, because I think I have found the ultimate cool gardening idea!
Tutorial Video:
Video by HerToolBelt's Youtube channel.
It starts out looking like this:
Not too exciting, right?
After a few months, it looks like this:
It's a kind of fake bush of flowers!
How do you do it? We show the basic steps for detailed plans and other mind-blowing projects like this visit HerToolBelt.com Projects, Her tool belt pallet planter box.
Here is the cut list (you can disassemble a pallet for this):
4 – 2″ x 4″ x 40″ – legs
2 – 2″ x 2″ x 15″ – bottom support
4 – 1″ x 4″ x 36″ bottom
1 – 1″ x 1 ½″ x 36″ bottom
40″ long pallet slats as needed
16″ long pallet slats as needed
1. Attach the legs together.
2. Attach the bottom pieces.
3. Add pallet slat pieces to form the sides.
4. Drill holes for the flowers.
5. Have gaps? Fill them with weed guard.
6. Plant the flowers row by row, using Styrofoam for filler as needed (so you don't use more soil than necessary).
You'll end up with this. It doesn't look to amazing, but this is just the beginning:
7. Wait for your flowers to grow, watering and caring for them as needed as the months go by. Then watch in amazement as your planter transforms!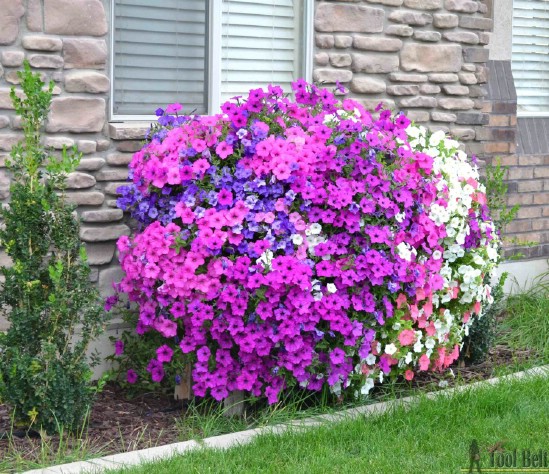 You can find the full plans here. This is just astoundingly beautiful! Imagine a whole row of these!