When you've finished decorating your Christmas tree, there's nothing more satisfying than placing the perfect topper on it to give the perfect finishing touch. However, it's an even better feeling when you've actually made your own Christmas tree topper- you're really putting your own stamp on it then!
While stars are certainly a popular option, there are lots of other ideas out there to get those creative juices flowing. From more traditional toppers to some more quirky ones, keep reading to see our top picks for DIY Christmas tree toppers, as well as links to discover how to make them for yourself!
You can also fill your home with beautiful rustic decorations by utilizing some of the ideas in this 40 Rustic Christmas Décor ideas. Seriously, from the tree to the windows and everything in between, there are so many ways that you can DIY your Christmas decorations. And most of them are as inexpensive as they are easy. I bet you didn't know that you can create tons of things from cheap Dollar Store finds, and that those items will look like you bought them in an expensive department store.
Check out these 40 Festive Dollar Store Christmas Decorations. You can create most of these in under an hour and fill your home with homemade cheer this holiday season.
Starburst Tree Topper
Stars are a staple of Christmas decorations, but usually of the five-pointed variety. However, this starburst topper takes things a step further, and brings some light into your home with its bold design. All you need to make this sparkle starburst-inspired topper is a polystyrene ball, some wooden skewers (like the kind you'd use to make kebabs), and some gold or silver spray paint- a cheap and easy way to create the perfect topper.
DIY Instructions: dwellingsbydevore
Christmas Wrapping-Inspired Topper
Every great gift is finished off with a gorgeous bow- why not take the same approach with your tree? This topper, which can be made out of any ribbon you might have, makes a magical addition to your decorations, and it's super easy to create. You can even make multiple ones to switch things up throughout the holiday period!
DIY Instructions: southerncharmwreaths
Sweater Star Tree Topper
If you've got an old sweater lying around, then this topper design will allow you to give it a second life as a Christmas tree topper. With just some cardboard and a hot glue gun, it's incredibly simple to make, so even if you're not especially crafty, this makes the perfect introductory project. Even better, if you have an "ugly Christmas sweater", then you can turn it into something truly beautiful- and make it a key part of your Christmas tradition, too!
DIY Instructions: whilewearingheels
Monogram Tree Topper
This great monogram tree topper is so simple to make, yet it lets you put a real personal stamp on your tree. You might like to use the initial of your family name, or remember someone who's missing from the festivities this year. You're free to paint it in whatever colors you like- while glitter is a popular choice, the versatility of this topper makes it a great choice for those who prefer to stick to a strict color scheme with their decorations.
DIY Instructions: mandywithmultiples
Videogame-Inspired Perler Toppers
Eschewing tradition in favor of something more quirky, these retro-inspired Mario decorations would look fantastic on top of any tree- a real talking point when you have guests over. While it takes quite a bit of time to create these decorations, the results are certainly worth it. Best of all, the pixel-perfect designs mean you can easily take any character from your favorite retro game and turn them into an incredible tree topper.
Project Credit: etsy
Rustic Star Tree Topper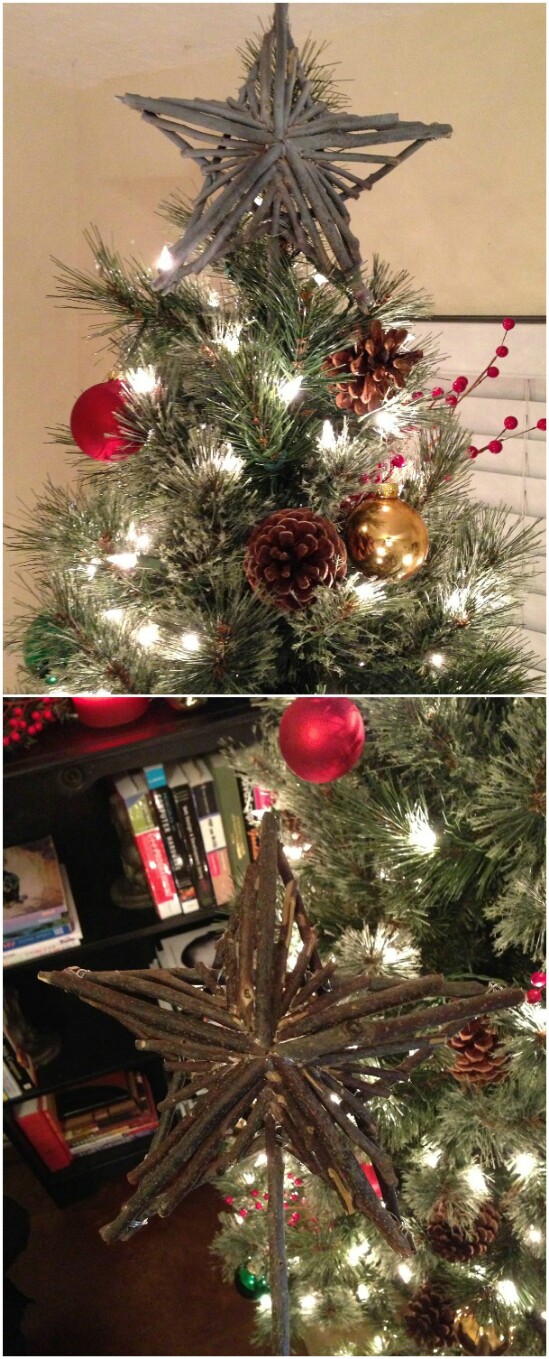 For the perfect rustic style Christmas decoration, try this star tree topper on for size. Made out of twigs, you'll be able to get most of the materials you need for free- and make a family adventure out of gathering them, too. It is easily scalable, so even if you have a smaller than average tree, this topper will be the perfect fit.
DIY Instructions: sheffiel
Woven Paper Star Christmas Tree Topper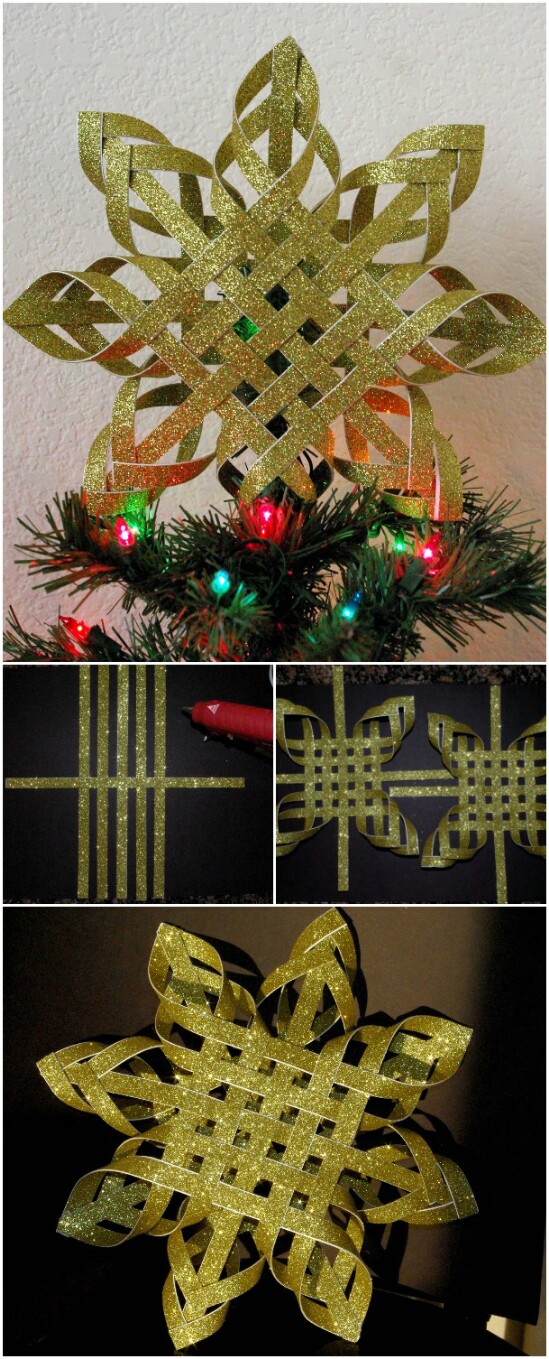 Combining the classic star tree topper with a snowflake design, this woven paper star topper is an impressive piece that really shines. While it might look complicated from the picture, this topper is actually extremely easy to put together so long as you follow the instructions.
DIY Instructions: happinessishomemade
Sheet Music Star Tree Topper
Music is an integral part of our Christmas celebrations, so why not use some sheet music to craft this beautiful tree topper? Just print out some of your favorite Christmas carols and follow the instructions provided to bring some extra festive cheer to the top of your tree this year.
DIY Instructions: bhg
Snowman Hat Christmas Tree Topper
Frosty the Snowman wouldn't be complete without his top hat, and placing one on top of your Christmas tree is a great way to bring a white Christmas into your living room. Even if you don't have a top hat to hand, the instructions below tell you how to make a mini one that's just the right size for putting on the top of your tree.
DIY Instructions: thebearfootbaker
Geometric Star Topper
This topper is no ordinary star- it's a veritable crown for your tree, to give a regal feel to things. Made from basic brass tubing that you can pick up from any hardware store for dirt cheap, it's a handy project that puts a modern twist on traditional tree design. It is a little complicated, but results in a breath-taking topper.
DIY Instructions: ehow
Easy Burlap Tree Topper
Even if you're on a tight budget, this burlap tree topper comes dirt cheap, yet still looks fantastic. With an old burlap sack, you can create a charming topper to put a bow on all your careful decoration. You can even use any leftover material for the perfect rustic style tinsel!
DIY Instructions: shanty-2-chic
Mickey and Minnie Mouse Tree Toppers
If you're a Disney fanatic, then you'll instantly fall in love with these incredible Mickey and Minnie Mouse toppers. Combine a couple of baubles and a polystyrene ball into this classic design, which will have your little ones dancing around the tree in delight. You can even make a couple more smaller decorations for the rest of the tree!
DIY Instructions: smartschoolhouse
Smiling Snowman Tree Topper
Take one large Styrofoam ball, add some decoration, and voila- the perfect snowman tree topper! This project is a great one to do with the kids, as they'll love bringing this happy fella to life before giving him pride of place on the top of your tree. Make sure to give this one a try!
DIY Instructions: grinninglikeanidiot
Lighted Starburst Mirror Topper
If you really want to wow your guests this Christmas, then a lighted starburst mirror is certain to dazzle them when you place it atop your tree. Although it looks impressive, it's actually pretty easy to put together, and doesn't cost a lot- yet the effects are tremendous.
DIY Instructions: diyshowoff
Double Sided Star Topper
If your tree is situated in the middle of the room, then this double sided topper is ideal for making each side of the tree distinct and beautiful to look at. The instructions below suggest you paint one side of the topper with chalkboard paint, so that you can draw on all manner of festive designs and switch things up regularly. There's plenty of room for improvisation, too, so whatever materials you have to hand, you'll be able to create a truly personalized piece.
DIY Instructions and Project Credit: mysocalledcraftylife