The weather is warming up outside, the flowers are blooming, and the sun is shining!
Birds and butterflies are everywhere; it's springtime! This is the perfect time to hang out on your patio with a cold, refreshing glass of lemonade and a good book.
Your patio also makes the perfect spot for a spring or summer barbecue.
Of course, if your patio looks like mine, it may not be the perfect spot for anything!
Over the winter I have let it go; right now it's being used to store some stuff I don't have room for indoors. It certainly doesn't have a whole lot going for in terms of décor and ambiance.
So I have been looking up patio ideas online to see if I can find some inspiration to turn mine around! I don't want to waste any more of this beautiful weather indoors. And guess what—I have found some gorgeous patios to share with you all.
Check it out; maybe you will find the gem of inspiration you need to redo your patio this year.
Jump to:
Cheerful Colors
This backyard patio didn't have much in the way of color originally, but look how beautiful it is now that it's been painted! The bright colors of the window frame are whimsical and fun, and the white and yellow serves to unite the planter with the bench.
This is a simple but effective way to inject some vivaciousness into your patio décor without going out and totally redoing it all.
Source: transformationsfromtheheart
Cozy Patio Makeover
What is really inspiring to me about this one is that you can actually see the before and after pictures. "Before," this patio was nothing you would even glance twice at, much less want to spend any time in. But "After?" It is absolutely gorgeous and looks so cozy and inviting!
Source: hometalk
No More "Driveway" Feel
Here is another project with an inspiration "Before" and "After." As you can see clearly in the "Before" shot, this patio was right up against a driveway, and it looked like … well, a driveway with a bit of concrete attached.
In the "After" shot, you can see how the addition of a rug and some nice, cozy patio furniture and planters managed to eliminate that "driveway look" entirely.
Source: happystronghome
Brand New Patio
Okay, so this one isn't a patio makeover; it is actually a brand new patio. So this is not a project to undertake unless you are super handy, but once again I am blown away by the "Before" and "After" shots. I love the nice ambiance provided by the lights at night!
Source: bebehblog
Front Yard to Outdoor Living Room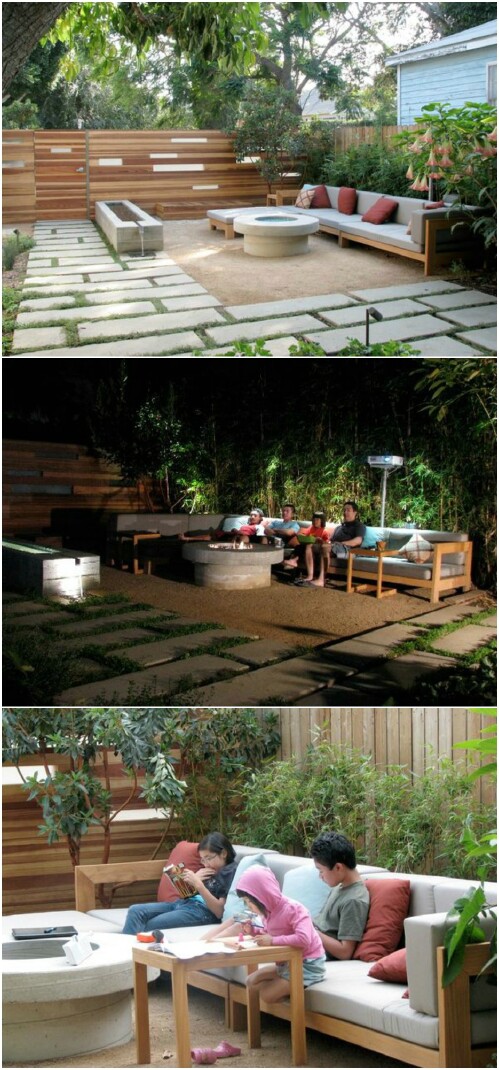 This patio was constructed over a grassy yard which previously had a thin fence and not a whole lot of privacy. Landscape architect Mark Tessier did an amazing job transforming this space. It has a comfortable sofa now, chairs, a beautiful and very private wall that does a much better job than the fence, and even a couple of fountains!
Source: latimesblogs.latimes
Outdoor Banquet Hall
This has to be the most gorgeous outdoor dining spot I've ever seen!
And to think this patio started as nothing more than an overgrown bit of backyard with a narrow concrete slab against one wall of the house.
Now it looks like an absolutely amazing place to enjoy a nice family dinner or entertain guests!
Source: southernliving
Beachy Ambiance
Here is a patio revival project which also includes great before and after shots. As you can see, before the makeover, this patio was nothing you would glance at twice; aside from one lone ornament on the side of the house, it was completely barren.
Now though it has a bright, colorful feel that reminds me of a day at the beach. I just love how the colors have been coordinated between the pink mat on the floor and the pillows and even the table tray!
Source: hisugarplumsblog
Cheerful Arbor Patio
As you can see from these shots, this patio has had a total makeover!
Originally it was just a drab slab of concrete in the yard. In fact, it made the entire yard look drab! After an arbor was added along with some décor for the floor and patio furniture, it took on a whole new look. The beautiful lighting completes it, adding a homey glow!
Source: thehandmadehome
Colorful Spring Patio
This patio already had a lot going for it; the brick exterior of the house is plenty colorful on its own and lends a great starting point.
But this decorator has really gone all out with the flowers and the furniture. I love how the colors are coordinated between the flowers and the cushions. It looks gorgeous!
Source: hometalk
Lush Landscaping
This is an incredibly beautiful patio with lush landscaping that bears a strong resemblance to some of the lovely outdoor spaces you find at event venues.
It would take quite an investment of time, money, and hard work to put something like this together, but the finished result is luxurious!
Source: casarezassociates
Green Accents
Here is a patio which actually was quite nice even before it was worked on, but afterward you can see that it has some homier touches. The rug makes it look a lot cozier, and the addition of both greenery and green accents helps to balance out the warm tones of the floor and the bareness of the walls.
Source: nyclq-focalpoint
Beautiful Budget Makeover
This commissioned patio was a budget makeover job. The result is actually pretty close to the original patio, but everything looks much nicer in the new version. The horse tails and granite pebbles lining the perimeter add a nice border to the tiles, making for an elegant finished look.
Source: mhs-works
Vintage Accents
There are three things I really like about this particular patio makeover. The first is the vintage accents; both the blue chair and the table have a nice rustic look to them, but still work well with the other contemporary chairs.
The second thing I really like is the soft colors; the third is the openness. What a great view of the forest!
Source: thehappierhomemaker
Door Patio Trellis
Here is an unusual décor addition to a patio which has a very cool finished look. Two old doors hold up an arbor; the windows in the doors offer perfect spots for hanging potted plants. I think this creates a very folksy look!
Source: empressofdirt
Perfect Mood Lighting
This patio is sheltered by a beautiful custom pergola made out of red cedar. The stone walls are beautiful, and the mood lighting suspended from the pergola is just perfect.
Source: thekitchn
Bold, Bright, and Beautiful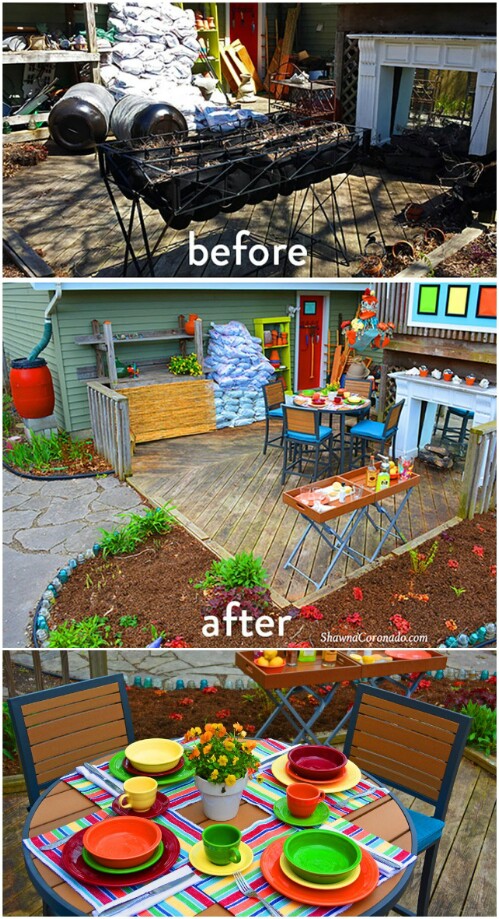 The transformation of this patio is incredible! Just look what a total pigsty it was in the "Before" photo. In the "After" photo, it is scarcely recognizable. The bright, bold colors are very welcoming, and all that clutter and chaos is well under control.
Source: shawnacoronado
Amazing Backyard Patio with Fire Pit and Lush Garden
Here is a professional project by Alderwood Landscaping that I am positively in awe of.
Originally, this home had a totally plain, standard backyard. Afterward, the landscapers transformed it into a lush garden paradise.
It has a feel of privacy, comfort, and even a sense of the exotic. What a way to get away from it all without going anywhere!
Source: seattle.curbed
Romantic Dining Patio For Under $100
On a budget but still want to make your patio gorgeous? This inspiring project was completed for only $100 and looks wonderfully romantic. It actually is romantic too; that chandelier was actually from the couples' wedding!
Source: hometalk
Navy and White
The bold contrasting hues of navy and white make for a beautiful look for this patio. There is an umbrella for shade, an outdoor fireplace for warmth, and a birdhouse for feathered friends. It's the perfect expansion of living space outdoors!
Source: myhouseofgiggles
Curtains for Privacy
Here is a really cool pergola patio which includes curtains for privacy. They can be pulled aside to showcase the beauty of the yard, or they can be shut to screen in the patio. Rustic furniture completes this beautiful patio ensemble!
Source: prodigalpieces
Woodsy Backyard Patio
Isn't this patio just gorgeous? I'm in love with the woodsy atmosphere and the custom barbecue, which includes a ceramic grill as well as a refrigerator. This entire look and feel makes me think of being on vacation in a beautiful park somewhere. Amazing to think that this is in someone's backyard.
Source: artscapesonline
Waterfront Patio
Here is an amazing waterfront patio makeover by the same company that created the woodsy patio featured above. I just love the large brick fire pit and unique benches. This looks like such a luxurious place to sit and enjoy the tranquil rippling sounds of the water.
Source: artscapesonline
Modular Fireplace
Finally, I cannot help but feature at least one more patio makeover by Artscapes; they simply do phenomenal work. This patio includes beautiful flagstones, lovely landscaping, and a simple but stunning modular fireplace. This should be such a cozy place to sit and enjoy the evening.
Source: artscapesonline
Another Beautiful Beachy Patio
Here is another patio that features a beachy look.
This is conveyed by the soft but cheerful colors, the beach-themed pillows, and the relaxing hammock between the fence and the tree.
The tile fire pit looks especially pleasing to the eye; the same colors that grace the tiles are also repeated in the cushions and pillows for unified look.
Source: mom4real
Bright, Cheery Colors
Looking at these two photos, it is hard to believe that they are the same spot in the yard. Previously, this patio was honestly quite ugly. But after the makeover, it looks very inviting and cheerful with those bright colors and lovely potted plants.
Source: studiograyhouse
Simple Color Changes and Décor Upgrades
Here is a patio makeover where I highly suggest that you click on the source link to view all the photos associated with the project.
The reason for this is that most of the changes that were made involved upgrades to the color scheme and simple replacements in decor and furniture. While these changes may seem minor, the overall improvements in the look of the patio are undeniably impressive.
Source: sawdust2stitches
Restful Retreat
This patio belongs to television host and author Karen Bertelsen.
Before the makeover, her patio was a complete mess and not very nice to look at, much less spend time in. Following the makeover, I think we can all agree that it looks like a delightfully restful retreat right in her backyard!
Source: styleathome
Desert Patio Makeover
As you can see, this patio involves a lot of white stucco and concrete, neither of which contribute much in the way of color or hominess to this outdoor space. This is why a large number of succulent plants were brought in to help add some color and life. This has transformed the patio into a livable, welcoming space.
Source: westelm
Cabana Patio
The goal of this project was to create a seating area inspired by a cabana. There are so many lovely design elements that are all working together here to create that look. I particularly like this shot of the patio since it shows off the lighting under the pergola.
Source: fancyfrugallife
Vintage Flair
The "Before" and "After" photos of this patio truly are impressive! As the designer stated, it really was a blank slate before. But it looks amazing with all the cool vintage décor and the bright, welcoming colors, doesn't it? This may just be my favorite patio on this list!
Source: caruth-studio
Oftentimes when you move into a house, the patio really is an unfinished space. It is up to you to bring your creativity and imagination into play to turn it into a cozy backyard sanctuary.
Hopefully, these amazing patio projects have given you the inspiration you need to transform your own patio this spring or summer!
Other Summer Projects/Ideas:
70 Summery Backyard DIY Projects That Are Borderline Genius
35 Ridiculously Fun DIY Backyard Games That Are Borderline Genius
30 Creative and Stunning Water Features to Adorn Your Garden