Add some fun to your child's bedroom with this adorable plastic bottle Minion! Such a cute little craft that calls back to your favorite little yellow and blue creature from the Despicable Me movies. They can make it themselves with some help from you and then display it proudly for all to see. It's a great way to recycle those empty plastic bottles and have some creative fun at the same time!
Minions Plastic Bottle Craft
This is the perfect craft for any Minion fan! Our DIY little Minion is made out of an empty water bottle and just a bit of paint. I fell in love with these cute little guys when the movies came out a few years ago, and they continue to be my favorite animated character. This is a great way to show your love for the Minions. Plus, it's really easy to make - all you need are a few simple supplies, a plastic bottle, and some paint.
You'll love how adorable your finished project will be. It's the perfect addition to any room in your home, and it makes a great gift for any occasion. If you like this idea, then you might also like this list of Disney crafts for kids that include all sorts of popular characters.
What Can I Use These Minions For?
Anything you want! This adorable little bottle Minion is a great addition to many different things from a kid's room decor to favor at a birthday party. Below are some fun ideas that I love!
Add to a shelf as decor along with a variety of other sized bottle Minions.
Cut a hole in the lid and use it as a piggy bank for your child.
Fill with candy and give it out as a favor at a birthday party
Make them in different sizes and use them as a ring toss game or bowling game for kids in the backyard.
Fill with beans, rice, or beads and let kids shake them as musical instruments.
I am sure your kids can think of other bottle-style games that you can make these plastic bottle minions into. Just use your imagination and let them have fun!
What Should I Use For the Minion Goggles?
I am using gray crafting foam to form the back of the goggles. Then I am using white crafting foam for the whites of the eyes and then decorating the eyes with paint. This method resembles the characters the best and is inexpensive and simple to do.
You can also make them with construction paper, felt, or just paint. I've even seen some people go the extra mile and purchase miniature glasses to then glue or tie around the bottle and create the goggle look.
How Can I Get Labels Off Empty Plastic Bottles?
First, take the label off and scrub it with water. If the bottle is still sticky, you can try using vinegar or Goo Gone. Paint remover and nail polish remover also work well for removing sticky residue.
Of course, you can always go with the most simplistic option which is to soak them in hot soapy water to remove any residue. If the bottle you are using has a painted label or printed label, the paint thinner or polish remover will probably be your best option.
What Type of Paint Should I Use?
You can use any kind of paint you have on hand. I used acrylic paint because it sticks the best and lasts the longest. Spray paint is another excellent option, especially if making several of these at the same time. In that case, make sure that you let the first color dry completely and cover it before painting on the second color.
Craft paint, tempera paint, or even paint pens can all be used with varying coverage. In a pinch, you can always use markers, but they may not stick to the plastic well or would rub off easily. Just have fun and be creative!
How Can I Make These Minions Without a Plastic Bottle?
If you want to make these minions without using a plastic bottle, you can use a cardboard tube instead. Just cut the tube into pieces and then follow the same instructions. You may need to use some hot glue to keep the pieces together, but other than that, you can make these minions any way you want!
The most important thing to remember when making these is that you need a cylinder-shaped item. Bottles of all kinds work for this. You just need something that has that tall shape or is rounded and has a flat base.
Supplies Needed
How to Make a Plastic Bottle Minion
Remove the labels from a plastic water bottle, then wash and clean it well. Let it dry completely before painting it. Start by painting the top ½ of the bottle yellow, then let it dry.
Once the yellow paint has dried, cover the bottom half of the bottle with bright blue paint then set it aside to dry.
While the paint dries, create the Minion goggles. Draw two circles onto a piece of white foam paper so they are beside each other with around ¼" space between them.
Now, cut out the circles, but keep them attached in the center. It should look like a figure 8 shape, but whole.
On each side, draw a smaller circle in the center. This creates the eyes inside the goggles.
Now, draw an even smaller circle in the very center of those circles.
Next, use a black marker or paint pen to color in the smallest of these circles in the center of the eyes.
Then color the circle around this small one with a brown marker or paint.
Now, use the white paint pen to add a little dot of white in the top corner of each eye.
Once this is done and dry, lay the goggle shape onto a piece of gray foam paper, and trace around the edge, about ½" wider.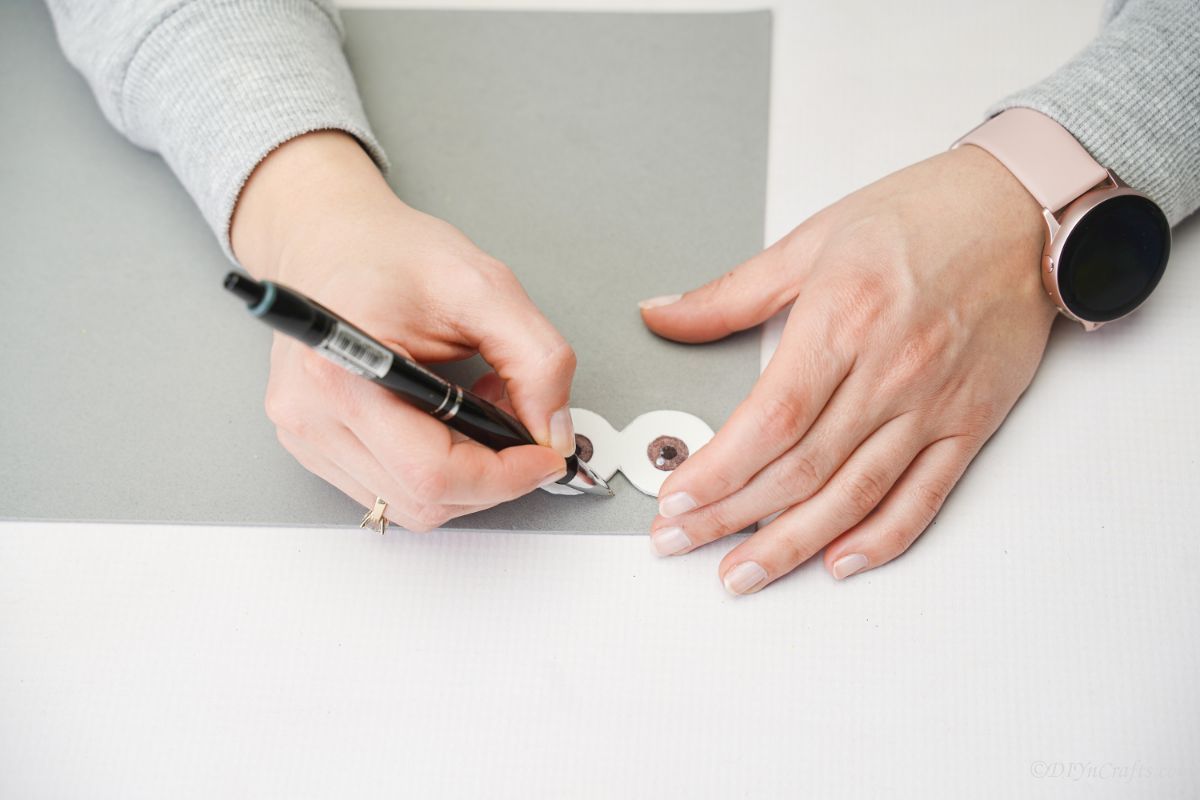 Cut out this second gray figure 8 shape, and then glue the white to the middle of it.
Glue this to the middle of the bottle, at the seam of yellow and blue.
Use a marker or paint pen to add a smile to the Minion, and add sides to the glasses/goggles.
Now it is ready to play with for the kids or display on a shelf.
More Easy Bottle Crafts
Use your imagination to turn those empty water bottles or drink bottles into fun and creative new crafts. Below are a few more of our personal favorites with tons of variations that are sure to be a hit. Make sure that you bookmark these ideas, print out the tutorials, or pin them to your crafting boards on Pinterest.
Yield: 1
Adorable Plastic Bottle Minion Craft
Turn an empty water bottle into this adorable little plastic bottle Minion! The blue and yellow little guys are super easy to customize!
Additional Time
30 minutes
Instructions
Paint the top ½ of the bottle yellow then set it aside to dry.
Once it has dried, paint the test of the bottle blue. Set this aside to dry.
Draw two circles onto white foam paper right next to each other.
Now, cut around the circles leaving the middle intact to look like a figure 8.
Next, draw a smaller circle in the middle of each of the circles.
And then a smaller circle in the center of those to create the eyes.
Use a black marker to color in the very center circle on the eyes.
Then color in the ring just outside that one with a brown marker.
Add a white dot onto the brown portion of each eye.
Now, glue these onto a piece of gray foam paper.
Trim around the eyes so you see just a small bit of the gray outside the white of the eyes.
Cut this out and glue the eyes to the bottle, at the seam of the yellow and blue.
Then use a black marker to draw a smile and the sides of the goggles onto the bottle.
Notes
Use this as a party favor for a kid's birthday party and fill with candy!
Recommended Products
As an Amazon Associate and member of other affiliate programs, I earn from qualifying purchases.
Finished Project Gallery
A cute idea that is perfect for Minion or Despicable Me themed birthday parties!