Looking for a unique and stylish way to store your pens and pencils? Check out our amazing idea to turn a plastic bottle into a bottle pencil case! So cute and easy and definitely a one-of-a-kind project. This one-of-a-kind case is handmade from upcycled plastic bottles, making it eco-friendly as well as super chic.
Plastic Bottle Pencil Case
The funky geometric design is sure to turn heads, while the sturdy construction ensures that your pens and pencils will be safe and sound. Plus, the plastic bottle material is wipeable, so you can easily keep your case clean. Whether you're a student, artist, or just somebody who loves cool stationery, this pencil case is perfect for you!
You can use any color or pattern you want to make your new pencil case stand out from the crowd. It's also a great way to recycle those old plastic bottles that are just taking up space in your recycling bin. I love my little craft stick pencil organizer, for my desk, but sometimes you want and need something a bit more portable. This is the solution!
What Do I Use to Connect My Pencil Case?
When you are attaching the two pieces of the pencil case, you want to use a zipper with no-sew glue or tape. If you don't have a zipper, you can also use loop and hook fasteners. The beauty of this is that you are just going to focus on making sure that you can seal the two sides together and make it easy to open. I love the idea of gluing a zipper in place. It's super-fast, easy, and works great.
What Ways Can I Decorate My Pencil Case?
There are tons of ways to decorate your pencil case! You can use paint, markers, stickers, or even fabric to give it a unique look. Below are a few specific ideas that I think will add to the fun of this project and give you something unique to show off.
Paint the outside of the bottle with a fun spray paint color before you connect with the zipper. You can match the zipper to the paint color.
Glue on beads, rhinestones, or other small embellishments like these foam animal stickers. This gives the outside of your case a little bit of an extra fun look.
Use a paint pen or marker to write a name or a slogan/phrase onto the outside of the case.
Add stickers to the outside for things you love, themes, animals, movies, or motivational quotes.
Glue on ribbon, lace, or rope to give it another extra texture or special look.
Use Mod Podge to coat the bottle pieces with a piece of paper that has a theme or design you like on it.
Have fun customizing your own pencil case to create the perfect addition to your backpack or desk!
Is This Washable?
Yes, the plastic bottle pencil case is washable. Just hand wash it in warm soapy water and air dry. You do not want to put this in the dishwasher or washer. Allow the plastic bottle pencil case to air dry completely before adding items back inside and zipping up.
The zipper will stay in place after washing because it is glued in place. The only thing to remember is to make sure you let it dry so you don't create mold on the inside of the case. Plus, it is a good idea to be careful when washing if you have extra items glued on the outside that don't tolerate getting wet well.
What Else Can I Use This For?
While I had a kid's pencil case in mind when I made this, it is super versatile. It's a great way to add items you want together in any bag or drawer. It's ideal for things like makeup brushes, eyeliners, lip liners, lipstick, lipgloss, or other long slender makeup items.
Another use could be to store paintbrushes between art projects. This is especially handy if you plan to take a sketchbook with you somewhere. You can add a tube of paint and some brushes, or just your pens, charcoal, or pencils inside the case for use.
Of course, it's ideal for your purse to hold loose items such as a pack of gum, sunglasses, tissues, pens or pencils, or even makeup items you use frequently. And if you have kids with you all the time, it's great for holding snacks or just a piece of paper and some crayons so you have an on the go art kit at all times.
Supplies Needed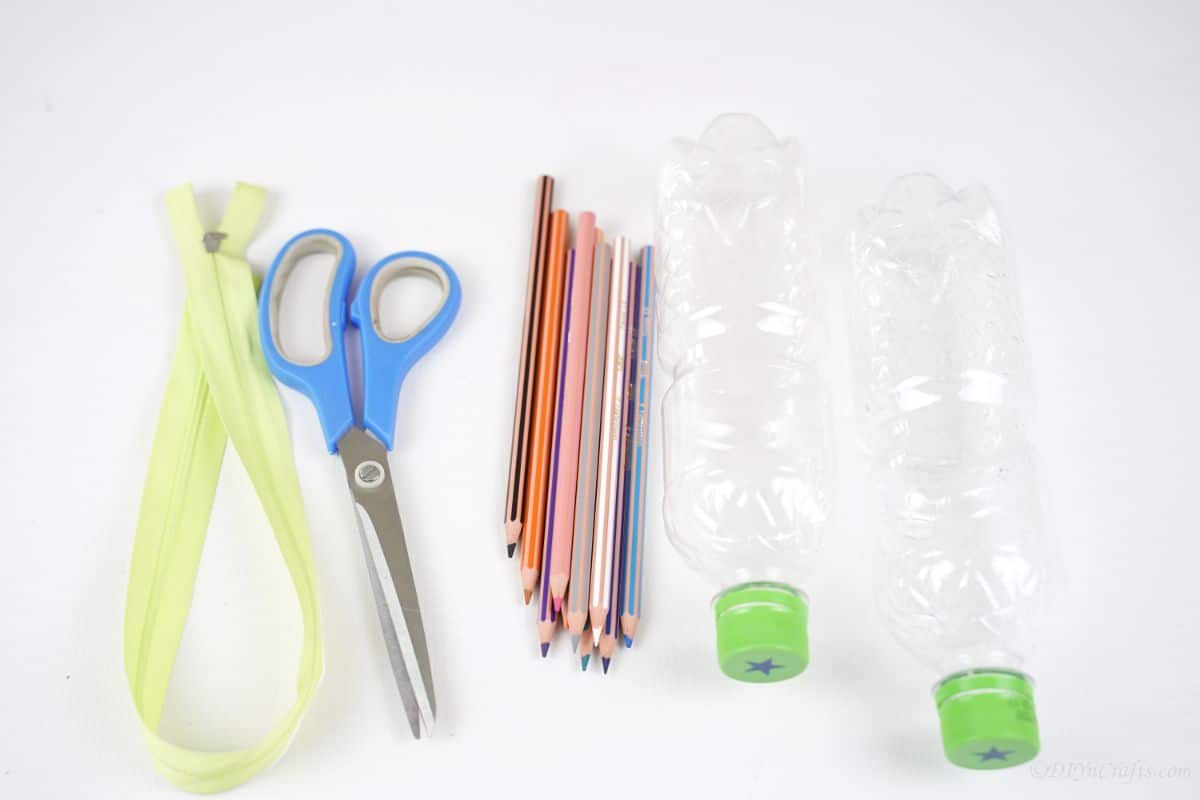 How to Make a Pencil Case
Wash and dry the plastic bottle and remove any labels and glue from the outside. Then, cut the bottle in half at the center.
If painting the bottle, do so at this point then allow it to dry. If not, simply begin gluing the zipper onto the bottle. Glue on the bottom open edge of the bottle.
Then glue the other half of the zipper onto the top piece.
When done, trim off any excess material.
Now, you can just decorate the bottle with stickers, paint, or slogans you want to go on it and make it more personalized.
Fill it with pens or pencils, and tuck it into your bag! If desired, you can make multiple cases so you have one for pens, one for markers, one for pens, and one for your makeup items.
More Easy Pencil Holders
I love organizing everything on my desk, and I love crafting. So, why not combine the two into this adorable little idea? If you like it, then I know you'll like some of my other craft ideas that can be used to organize or store pens, pencils, or other small items on your desk. Below are some more fun ideas that you can use to hold your pens, pencils, markers, or other office supplies in easy reach on your desk!
Yield: 1
No Sew Upcycled Bottle Pencil Case
No-sew upcycled bottle pencil case is a great kids' craft project they can carry in their backpack to school and easily customize!
Instructions
Cut an empty plastic bottle in half.
On one half, at the edge, add a strip of hot glue, then place one side of the zipper over the glue.
Continue this process around the entire bottle.
Now, repeat with the other half of the zipper on the other half of the bottle.
Trim off any excess on the zipper and glue in place on all edges.
Now you can add on a few animal stickers or other preferred decals around the outside of the case.
Unzip and fill with pencils!
Notes
Use this to hold pens, pencils, markers, or makeup on the go.
Recommended Products
As an Amazon Associate and member of other affiliate programs, I earn from qualifying purchases.
Finished Project Gallery
Fill your pencil case with crayons, markers, colored pencils, and paper to tuck in a bag for kids on the go!