It's springtime and that means fairy garden time for me! This wine cork fairy garden house is a perfect example of a simple afternoon craft you can make for practically free and using items already on hand in a matter of minutes. It's a great way to recycle all those wine corks you've been collecting, and it's so easy even the kids can help. You'll love seeing your very own fairy house in the garden, and it makes a great decoration for any party or special occasion. Let your imagination run wild and create your very own fairyland.
Wine Cork Fairy Garden House
A wine cork fairy garden house is a charming and easy way to create a special place for fairies or children's imaginary friends. Kids will love having their very own fairy garden house to play with, and you'll love knowing that you recycled something instead of throwing it away. It also makes adorable decorations around the house or in the garden. This project is so easy that even young children can help with the construction.
And if you don't already have a fairy garden, check out these great fairy garden ideas and the list of fairy garden accessories to get started with for creating your own magical space in the garden.
What Can I Use for the Fairy Garden House Roof?
If you are displaying this wine cork fairy garden home indoors, you can use decorative scrapbook paper. It is easy to cut it into the shape of a fairy house roof. If you want to place this fairy house in the garden you can use paper that you have sealed or laminated or you can use a more durable material. Foam paper or plastic is best for long-term outdoor use, but paper can work when coated well with a sealant such as Mod Podge.
How Do You Clean Wine Corks For Crafts?
It is important to clean the wine corks when you are using the ones that have come from wine bottles and are not bought at the craft store. To clean the wine corks, place them in a solution of water and a splash of bleach or you can use a solution of water and vinegar.
Since cork floats, you'll want to occasionally stir them or even put a plate over them in the water to hold them submerged. Do this for 15 to 30 minutes, then rinse them well and let them air dry completely. I recommend leaving out paper towels for at least 24 hours so you know they are completely dry.
Can I Paint The Cork for My Fairy Garden House?
If you want to paint the cork of the fairy house, you can easily paint it. I would use either spray paint or if you want to be able to add a little more detail, I would recommend acrylic craft paint. If you want a hint of color but not full coverage, you can use a watercolor paint or thin the acrylic paint down to resemble a stain.
If you are painting details on the cork, you can also use a paint marker or even a permanent marker. Just remember that what you use will be exposed to the elements outside if that is where this will be housed. If that is the case, then you'll want to use something that isn't going to drip and ruin in water.
Ways to Customize a Wine Cork Fairy Garden House
Make this craft your own with a few changes. While it is a pretty simple project, there are tons of ways to take this base idea and make it unique. Below are some of my favorites.
Use different colors for the roof, button, or twine for hanging.
Paint the cork or spray with glitter spray.
Remove the button and instead cut out a small piece of bark or plastic to give it a real door look.
Add a flat base of board or cardstock so it can sit flat on the ground or in a potted plant indoors.
Use beads, sequins, or rhinestones for windows, the door, or even around the edge of the roof to sparkle.
Cut a second cork in half and glue ½ to each side of the main cork to give it a larger home look.
Just have fun and let your kids get creative when making these to sit or hang in your garden.
Supplies Needed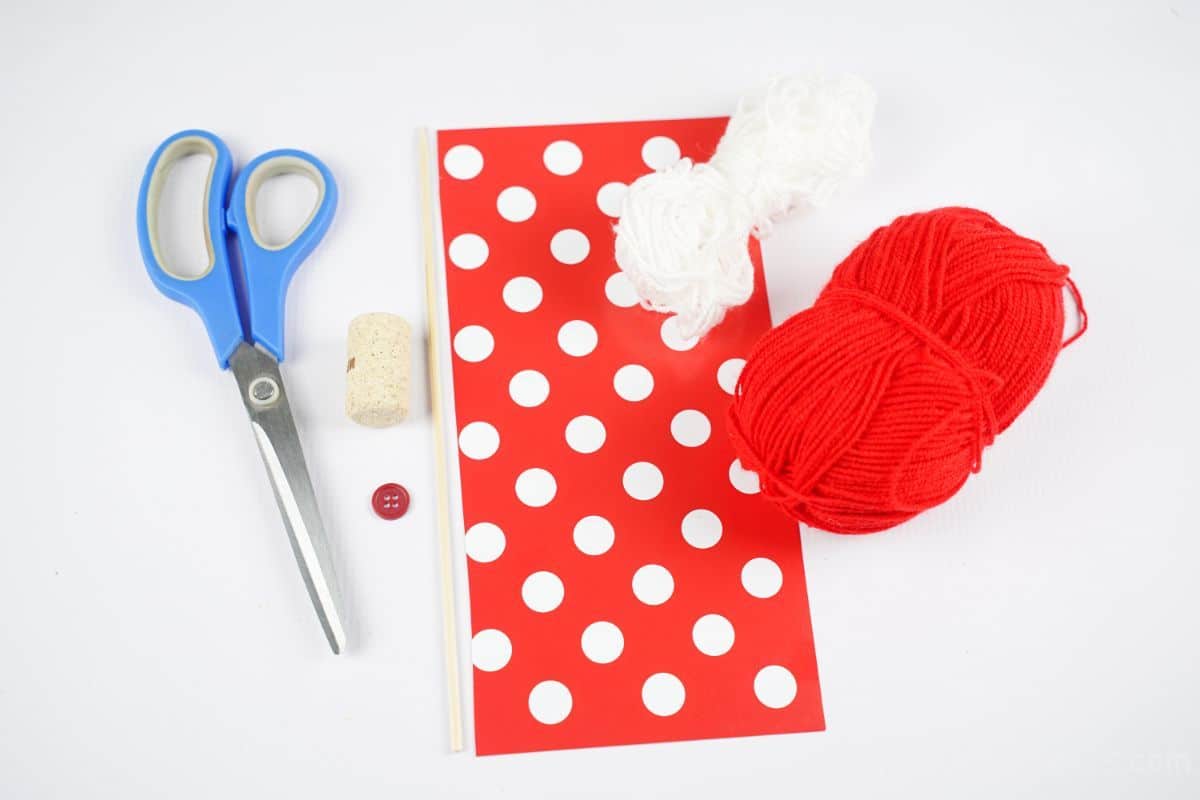 How to Make a Wine Cork Fairy House
Simple steps will give you a super cute little fairy house. Start with making the spiraled yarn for hanging this house from a tree or in the garden. I twisted together red and white yarn then tied both ends to hold the twist together. You can also just use any solid or variegated yarn, twine, ribbon, or string.
Next, on a piece of scrapbook paper, trace a 3" circle and cut it out. I added scalloped edges to make it look a bit more unique.
Cut to the center of the circle, then fold it slightly over itself. It should be a sloped look but round.
Then, cut a small 1" piece of dowel and glue it onto the front bottom of the wine cork.
Next, glue a button just above this piece. It makes it look a bit like a birdhouse.
Slide the ends of the twine through the slit on the roof, and bring the loop through the top for hanging.
Then, glue the roof together at the cut and make sure the twine is glued or attached so it won't pull through the top of the roof. Glue the roof to the top of the cork.
Now you have a fairy house or mini birdhouse!
More Fairy Garden Ideas
If you like the idea of making fairy gardens, then you will love some of the ideas below. They are such a fun and whimsical addition to any garden! Super easy to make, cute, fun, and definitely great for kids to help make. Make sure that you bookmark these ideas, print out the tutorials, or pin them to your Pinterest board so they are handy to make when you are ready.
Yield: 1
Miniature Wine Cork Fairy House Garden Decoration
A fun upcycled craft, the wine cork fairy garden house is a super fast and easy idea for anyone to make and tuck into their garden!
Instructions
Place the white and red yarn together and tape one end together on a table or flat surface.
Twist the yarn into a 6" length and tie on both ends so it is a twist of red and white.
On the back of a piece of scrapbook paper, trace a 3" wide circle then add scallop edges all around it.
Cut out the circle of paper.
Then cut a slice into the paper to the center and fold it over itself to create a sloped roof. Set it aside.
On a wine cork, use a skewer or dowel to create a small hole toward the base, then glue a 1" piece of the dowel into place.
Just above the dowel, glue a button.
Slide the loop of twisted red and white yarn through the slit on the roof, and glue it together.
Then glue the roof on top of the cork to create a fairy house.
Add additional embellishments then use to decorate your fairy garden!
Notes
Add glitter spray to the cork so it sparkles for fairy house style.
Recommended Products
As an Amazon Associate and member of other affiliate programs, I earn from qualifying purchases.
Finished Project Gallery
I love the idea of adding sparkling ribbon instead of yarn for the roof to hang this fairy house.
It's such an easy idea to make that is perfect for kids!